Creative Work Anniversary Celebrations with Group Ecards
Imagine a workplace where employees feel truly seen, appreciated, and celebrated. A place where milestones are not just numbers on a calendar, but moments of collective joy and heartfelt recognition. In today's fast-paced and digital-driven world, cultivating a positive work culture and fostering employee engagement has become more crucial than ever. That's why we're here today to learn about a heartwarming and innovative way to elevate special occasions like work anniversary celebrations with happy work anniversary group ecards.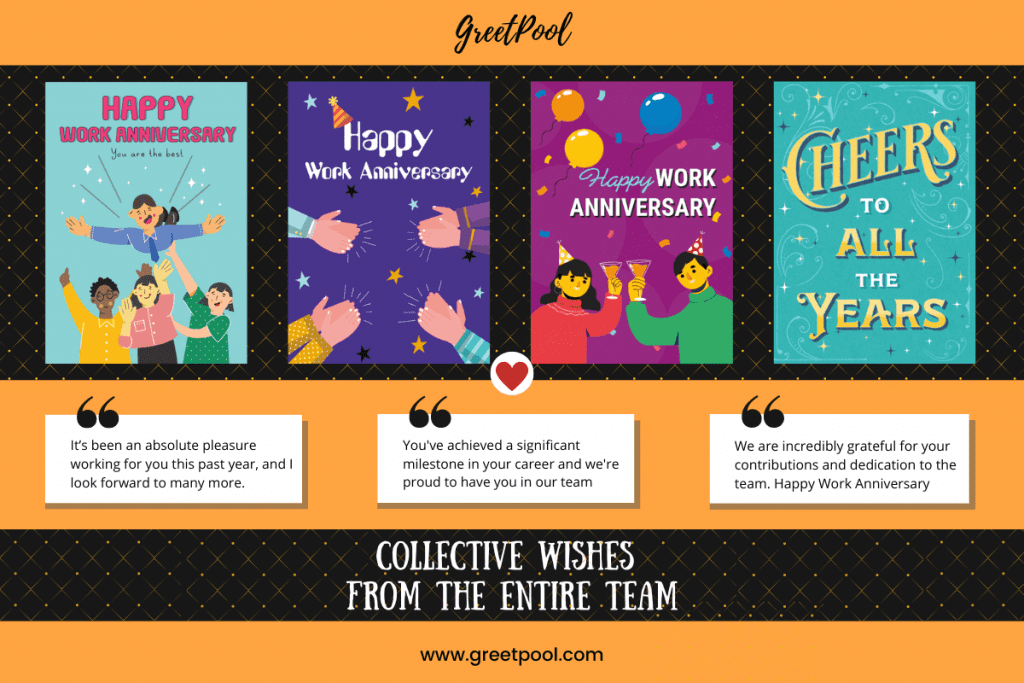 What makes digital work anniversary cards unique?
Work anniversaries are a happy occasion to thank employees for their hard work and dedication and contributions to the organization. While traditional ways of celebration, such as emails or in-person meetings, have their advantages, group ecards have emerged as an effective tool for enhancing work anniversary celebrations and increasing employee engagement. This article will look at how group ecard can change the way businesses honor work anniversaries, making them more meaningful, engaging, and memorable occasions for employees.
1. Work Anniversary Ecards have Personal Touch and Thoughtfulness
Virtual Happy Work Anniversary Cards offer a unique way to celebrate employment anniversaries with a personal touch. Unlike generic emails or gift cards or mass greetings, personalized ecards allow colleagues and team members to come together, add personal messages, and create a collective token of appreciation for the employee reaching a work milestone. We have examples or references of work anniversary messages that you can use. Confused about what to write in a work anniversary card? These blogs can help 75+ Best Happy Work Anniversary Messages and wishes, Ways To Wish Coworkers And Friends A Happy Work Anniversary, Most Amazing Office Greetings For Work Anniversary, New Employees, Farewell & Job Promotion Wishes
The collaborative nature of virtual group cards adds an element of employee appreciation, and thoughtfulness and demonstrates the collective congratulations of the entire team or department. Our lives today have become highly tech-savvy, and we lack the emotional touch that we once had. Work anniversary virtual cards offer customization options that allow you to customize and personalize your special message by adding photos, gifs, etc. to express heartfelt wishes for your recipient's continued success. It is easy and convenient to unleash creativity in you with digital work anniversary cards. 
2. Amplifying Recognition is Easy with an Online Group Work Anniversary Card
Work anniversaries are an ideal opportunity to recognize and appreciate employees' dedication and commitment. Digital greeting cards provide a platform for colleagues to share heartfelt messages, memories, and well wishes, amplifying the recognition and making the celebration more meaningful. By involving the entire team with a few simple steps, ecards create a sense of camaraderie and reinforce the importance of each team member's contribution.
Online work anniversary cards multiply acknowledgment by allowing colleagues to join together and show their gratitude in a public and visible way. A virtual work anniversary card, as opposed to traditional methods of appreciation such as emails or vocal acknowledgments, allow for a collaborative effort in which team members may contribute personalized messages, share memories, and even insert multimedia elements such as images or videos. This increases recognition by displaying the entire team's collective enthusiasm and admiration, making the celebration more meaningful and memorable for the employee accomplishing the work milestone. The public aspect of online cards also ensures that the recognition is visible to others inside the organization, adding to the employee's sense of importance and validation.
3. Group cards help Foster a Sense of Belonging
One of the key factors in employee engagement is fostering a sense of belonging and connection among remote employees in an organization. A study published in the Journal of Applied Psychology found that employees who feel a strong sense of belonging are more likely to be engaged in their work and demonstrate higher levels of job satisfaction.
Virtual workplace anniversary cards promote collaboration and inclusivity, allowing employees to celebrate their colleagues' work anniversaries in a participatory way. Online office cards are the ultimate team boosters, sparking unity, teamwork, and appreciation among colleagues while fortifying bonds that last a lifetime.
4. Work Anniversary Ecard provides an Interactive and Engaging Experience
Virtual work anniversary cards offer a dynamic and interactive experience that engages employees and sparks creativity. With various multimedia options, such as images, videos, and GIFs, online work anniversary cards provide an opportunity to create visually appealing and engaging content. Employees can collaborate, brainstorm ideas, and add personalized elements, making the work anniversary celebration more interactive and enjoyable. The team can also decide upon a card theme to create a more vibrant card.
By involving colleagues in the creation of online cards, employees experience a collective effort that reinforces their sense of being part of a supportive and appreciative team. Virtual greeting cards evoke emotions and sentiments. Colleagues have the opportunity to express their genuine appreciation, share heartfelt messages, and reflect on the positive impact the employee has made within the organization. This emotional connection deepens engagement and creates a meaningful experience for both the sender and the recipient.
5. Online Work Anniversary card becomes a Long-lasting Memento for all including Recipient
Unlike traditional methods of celebration that may fade away with time, employee anniversary ecards serve as a long-lasting memento of professional milestones. More than 68% of Americans enjoy keeping a card as a keepsake. A beautiful group greeting card created by the team can be a wonderful keepsake for the recipient for life. Employees can revisit their beautiful group ecards, read heartfelt messages, and relive the memories shared by their colleagues. This cheerful card serves as a reminder of their valued contributions and the strong relationships they have built within the organization, further reinforcing their engagement and commitment. 
6. Celebrate the Work Anniversary of Every Coworker with Flexibility and Accessibility
Corporate E-cards offer flexibility and accessibility, making them an ideal choice for remote teams or organizations with geographically dispersed employees. Regardless of the physical location, team members can contribute their lovely messages to the joyful card, ensuring that every employee's presence is felt during the work anniversary celebration. The digital format also allows for easy sharing and distribution across various platforms and devices.
Why create an online work anniversary eCard for coworkers?
Work anniversary eCards can serve as a meaningful way to show appreciation for coworkers' loyalty and contributions. With a personalized eCard, you can express your appreciation, admiration, and gratitude in a way that is visually appealing and heartfelt. This goes beyond simple verbal acknowledgment, showing you care and are thoughtful. Additionally, online work anniversary eCards provide recipients with a lasting memento they can look back on, reaffirming their value within the organization. Make your coworkers happier, more engaged, and more satisfied at work by creating a work anniversary eCard.
How to send virtual work anniversary cards as a team?
GreetPool makes collaborative ecard creation simple and enjoyable. Follow the process mentioned below.
Browse and choose an online work anniversary group card from our distinguished collection
Add the recipient's details and schedule the delivery date and time for the group ecard
Make payment
Personalize and send the collaborative ecard link to the whole team (all the participants of the group ecard) via any communication channels such as Slack, WhatsApp, Email, etc.
We shall take care of the rest!
Group greetings help recognize and celebrate an employee's professional milestone and offer congratulations as a group together. We offer a wide range of group ecards, that multiple people can sign and include unlimited messages. Our group greeting cards provide a convenient way to celebrate special occasions and personal milestones. Each member of the group can contribute to the card at their convenience via a simple link (click process). This method enhances the experience of creating and sending a group greeting card, making it more enjoyable and effortless.
GreetPool provides a user-friendly interface, ensuring seamless collaboration among contributors. Customize and personalize your ecard with ease, adding heartfelt messages, relatable gifs, stickers, and cherished photos to create a truly personalized experience. Our platform also offers various privacy settings, ensuring that the group card remains private and accessible only to the invited contributors and the recipient.
Conclusion
Sending a work anniversary card is important for employee morale, recognition, and engagement. Group ecards are a modern and inclusive way to enhance these celebrations. They foster a positive work culture and strengthen employee relationships. Ecards combine personalization, collaboration, and creativity to create a lasting impact and make employees feel valued. Incorporating group ecards into work anniversary celebrations can boost employee engagement, loyalty, and organizational success.