A work anniversary, also know as employment anniversary or service anniversary or corporate anniversary, is an important milestone in the professional journey of an employee. Celebrating this event is a great way to show your employees and coworkers that you value their contributions and that you're committed to their continued success at the company. It can be easy to forget sending work anniversary messages or slip the occasion without recognition, but taking the time to celebrate each milestone is a valuable way to show your employees that you notice their good work and care about them and their career development.
Not only does it show that you're invested in their future at the company, but it also creates a sense of camaraderie and belonging that can boost morale and encourage retention. So, whether it's a big milestone like a 5- or 10-year anniversary, or a more modest one like a 1-year anniversary, take the time to celebrate your employees' hard work and dedication!
There can be different ways to wish happy anniversary to colleagues but nothing beats a personalized handwritten card, or a group ecard together with your team mates. In this article, we will provide a few examples to write happy work anniversary messages for your employee, coworker, or a friend, that you can utilize as it is and a few tips for helping you frame greetings yourselves.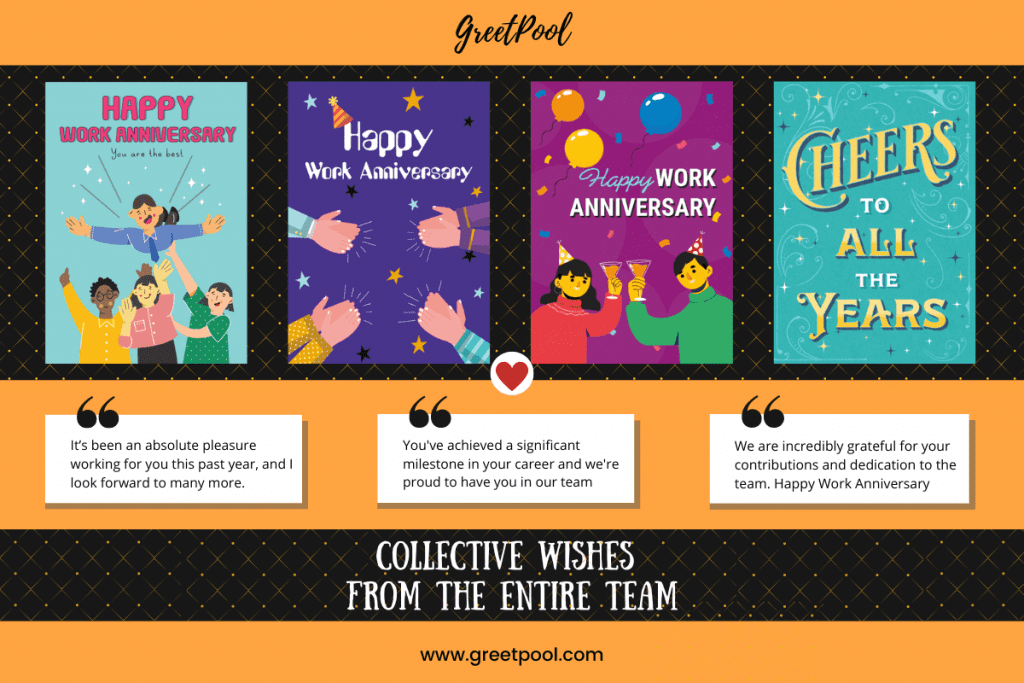 Why should you wish happy work anniversary to colleagues?
The simple act of employee recognition on this important milestone can bring in huge rewards for not only the recipient, but for the whole team. We must celebrate work anniversary at the workplace for the following reasons:
Brings a sense of accomplishment – Work anniversary marks a important milestone for the employee's professional life. Public recognition and celebration with the team definitely brings a sense of pride and accomplishment in their career.
Higher employee satisfaction – A work anniversary celebration recognizes the efforts and the hard work that the employee puts into the company. It brings meaning to the work they do and can also rejuvenate any weaning interest in the company.
Boosts team morale and confidence – Knowing that the team members are sticking around longer in the team and celebrating work anniversaries keeps the team morale high and brings confidence in the team's abilities and the company's ability to retain talent.
Improves team bonding – Celebrating events at work makes the team members feel part of a professional family, appreciated and motivated to continue together.
Strengthens company culture – A company culture where employee achievements are recognized and celebrated attracts and retains top talent. People like a work environment where their work is appreciated and recognized.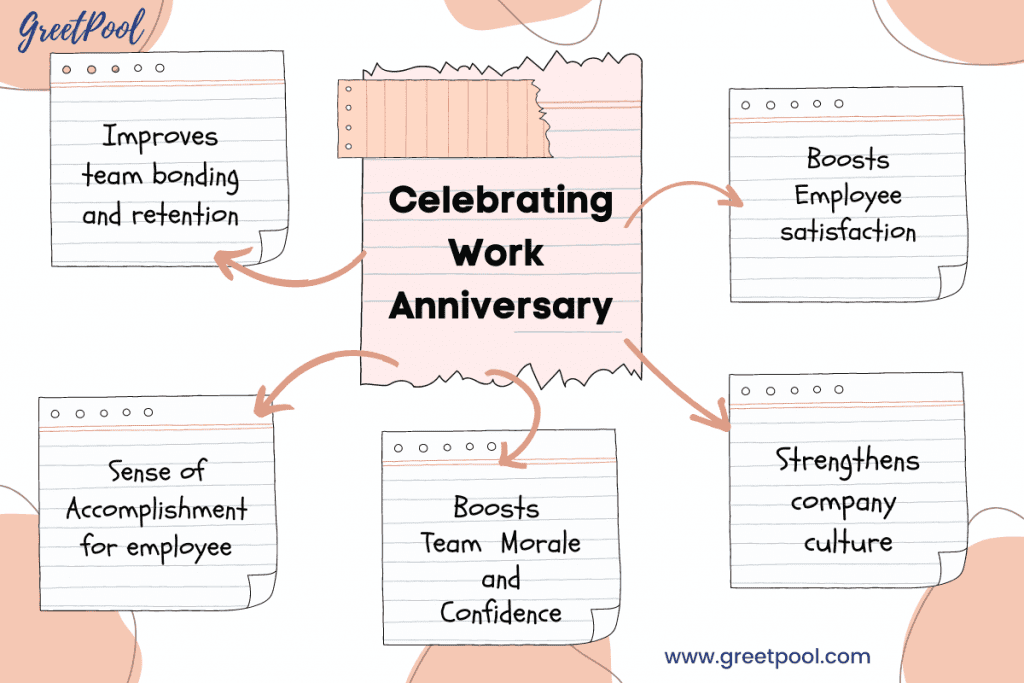 Happy work anniversary messages for employees
All employees at work deserve to public recognition for their contributions and celebrated for completing another milestone in their journey with the company. Here are some ideas to help you create memorable and heartfelt work anniversary wishes for your employees:
On this day of your work anniversary, we would like to thank you for all the hard work and the utmost dedication you have given to our company.
We are grateful for the service you have provided us with and we hope that in future years, you will continue to grow with us. Thank you!
You are an integral part of this team and I know that you'll continue to be a valuable asset in the years to come. Heartiest wishes on your work anniversary.
Congratulations on your work anniversary! It's hard to believe it's been [length of time] already. You've made such a positive impact on the company and we're truly happy to have in our team. Here's to many more years of success!
Thanks for everything, and we look forward to celebrating many more anniversaries with you in our team. Heartiest Congratulations on the one-year anniversary with us.
Dearest colleague, Congratulations on completing yet another year with us. Your hard work and dedication is unmatched and you are a true inspiration.
Happy fifth service anniversary to an irreplaceable team member. You are an incredible team member and we wish you continued success. We are lucky to have such a loyal employee.
Your hard work, positive attitude and impeccable work ethics set an exemplary standard for all of us and we are lucky to have you with us. Thank you for everything!
Thank you for being an important member of the team over the years. We highly appreciate your hard work, dedication and loyalty to the company. Happy tenth work anniversary.
Success cant elude us when we have hardworking and dedicated employees like you on our team. Wish you a happy corporate anniversary.
It's an absolute pleasure working with such a confident, talented and ambitious individual who is a promising candidate to be an essential part of the company's future. Happy work anniversary and wishing you many more to come.
Warmest regards on your employee anniversary. Please know that all your efforts and contributions are greatly appreciated and we are lucky to have you on our team.
Sending heartiest work anniversary wishes to one of the most valuable member of our team. Cheers to many more years to come.
Wishing you a wonderful 10th service anniversary dear colleague. You are an integral part of the team and we appreciate all that you bring to the table.
Work anniversary messages for coworkers and colleagues
When it comes to wishing work anniversaries, it's always nice to show your appreciation for your colleagues. Whether it's a big career milestone or just another year under their belt, wishing your colleagues a happy anniversary by writing a card message is a great way to show your appreciation.
Happy work anniversary to someone who I could always count on for help, guidance, and clarity. You are a true genius and set an exemplary work ethics for us all.
Time flies when you're having fun at work. Thank you for making each day at office a fun and happy place to be. Happy 1st work anniversary.
Thanks for being my partner in crime and desk buddy. I've absolutely loved our time together and I send my best regards on your special day.
Happy 1st joining anniversary, dear colleague. You set exemplary standards with your hard work, helpful attitude and dedicated service. I'm so glad to work by your side.
I can't believe we've been working together for 5 years! Time flies when you are having fun…Happy job anniversary to my favorite coworker.
Happy joining anniversary <name>. Thanks for all your mentorship and coaching in the past year. I would have been so lost and confused without your help. Heartfelt wishes to you and best of luck for future endeavors.
Congratulations on another milestone in your professional career. Happy work anniversary from the entire team.
You have truly made a great deal of impact on our team's success and I am so blessed to watch and learn from you. Happiest work anniversary, hope we celebrate many more together.
We are grateful for the countless contributions you have made to the team over these years. Happy corporate anniversary to a truly skilled professional!
I wish you the happiest of corporate anniversary. Besides all the professional help, thanks for being a great friend and being there for me.
I admiration your work ethics and appreciate of your dedication to our team. Happy anniversary to you, dear amazing colleague!
Thank you for making our team fun and enjoyable. I hope we continue to work together for many years to follow.
You are a source of inspiration for me and for the rest of the team as well. Deepest gratitude for all that you do around here.
Congratulations on surviving another year in the jungle. You are one committed person.
Because I know you're such a workaholic, I wouldn't say, "Take it Easy." Happy working for the past (number) years.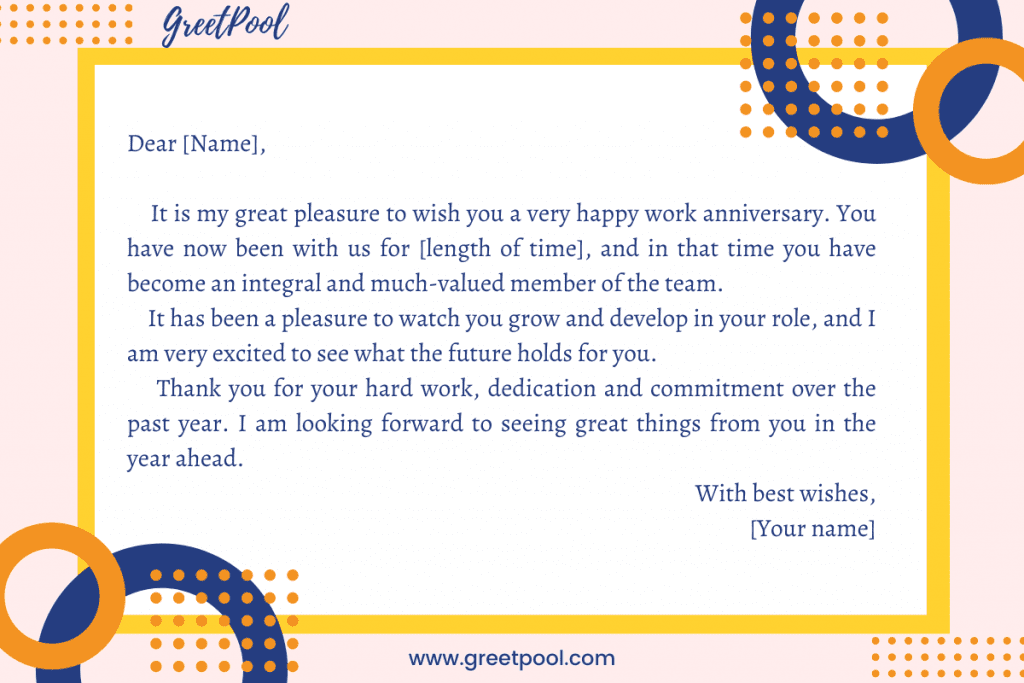 Work anniversary wishes for remote coworkers
It's hard enough to keep track of work anniversaries for the coworkers we see every day, but remembering that for remote coworkers and colleagues can feel impossible. Whether you've been working remotely for years or are just starting to get used to the idea of never seeing some of your colleagues in person, a little recognition on these special days can go a long way. Here are a few work anniversary messages for remote coworkers and colleagues that you can use to show your appreciation:
Happy work anniversary! I'm so grateful to be able to work with you, even if it's from afar. Here's to many more years of collaboration!
I can't believe it's already been [X] years! It feels like just yesterday we were all working in the same office. Congrats on a fantastic milestone!
Happy anniversary, [name]! I hope you have a wonderful day. I'm looking forward to many more years of working together, and hopefully seeing you in person.
I've worked with you remotely for 2 years now. We may not have met in person but i feel so comfortable and easy working with you. Thank you for being an awesome buddy and making this virtual work a pleasant experience.
For all the challenges remote work has brought, I can safely say that working with you has been the silver lining. You are such a wonderful person and your go-getter attitude is evident even beyond the screen lol. I wish you the best in professional and personal life.
Cant wait for next team offsite to see you in person and eat cake, drink wine, and celebrate. Cheers buddy, have a great day.
Thanks for being the glue of the team during these tough remote work days. We could not have done without your commitment and perseverance. Cheers to another year!
The passion and productivity that you have demonstrated in the last 2 years of working remotely are a testimony that remote work can work with the right dedication and perspective. Congrats on another year, I wish you the best.
Work Anniversary messages for your boss or manager
Sending work anniversary wishes to your company's leadership is a great way to celebrate their career achievements, appreciate their efforts for the team and forge positive work relationships while acting in a kind and considerate manner. It can be hard to strike a balance and find genuine anniversary wishes for your boss or manager. Here are some card messages to serve as your guide:
Happy 15th work anniversary! Thank you for your leadership and dedication to our company. We're excited to see what the future holds for us under your guidance.
Thankful for an amazing boss who went above and beyond to help our team grow over the last year. We hope he continues to be a positive influence on us and inspires us to go even further.
Thank you for another year of exemplary leadership and guiding us through various challenges that we faced as a team.
Your dedication and leadership is a gift to our company. It will be hard to find someone as committed and dedicated to the cause as you. Cheers to many more upcoming milestones.
Congratulations on reaching ten years at our company! Thank you for making us proud by contributing so much to our success. Happy Anniversary!
"Good bosses are hard to find and harder to leave" Congrats on completing another year – cheers to many more to come.
They way you have turned things around in the last year, and revolutionized the way we operate, I'm sure you have been the best manager in the company history and I'm glad to be in this team. Congrats on another successful year of leading teams and making impact.
You have helped, guided, and taught so many of the team members and shown them the true meaning of leadership. We are lucky to be in your team! Cheers!
We are lucky to get a boss with an abundance of positive vibes and confidence to get things done perfectly. Heartfelt best wishes on your work anniversary!
Congratulations on your years of service with our company. You've been an effective leader by setting good examples and showing us what great leadership is. Have an amazing work anniversary!
Our team would have been lost without your vision and leadership. Thanks for being there for us. Have a wonderful work anniversary celebration.
Thank you being my guide, mentor, coach and leader in the past year. I could not have asked for a better boss. Sincere congratulations on your work anniversary.
Happy workiversary to the best boss around! Our gratitude for being so supportive and helpful to the entire team.
This is such an amazing team to be in, and you have done a wonderful job leading us all. Hope to be working with you for a long time to come! Cheers to your work anniversary.
Congratulations on your one year anniversary! If I achieve half of what you've done in the past year, then I will consider it a successful year.
Thank you for making each working day so enjoyable. I admire your skills and management style and am grateful for all the help. Happy work anniversary.
Happy work anniversary! Don't you dare think about taking another job – but if you do, please take me with you.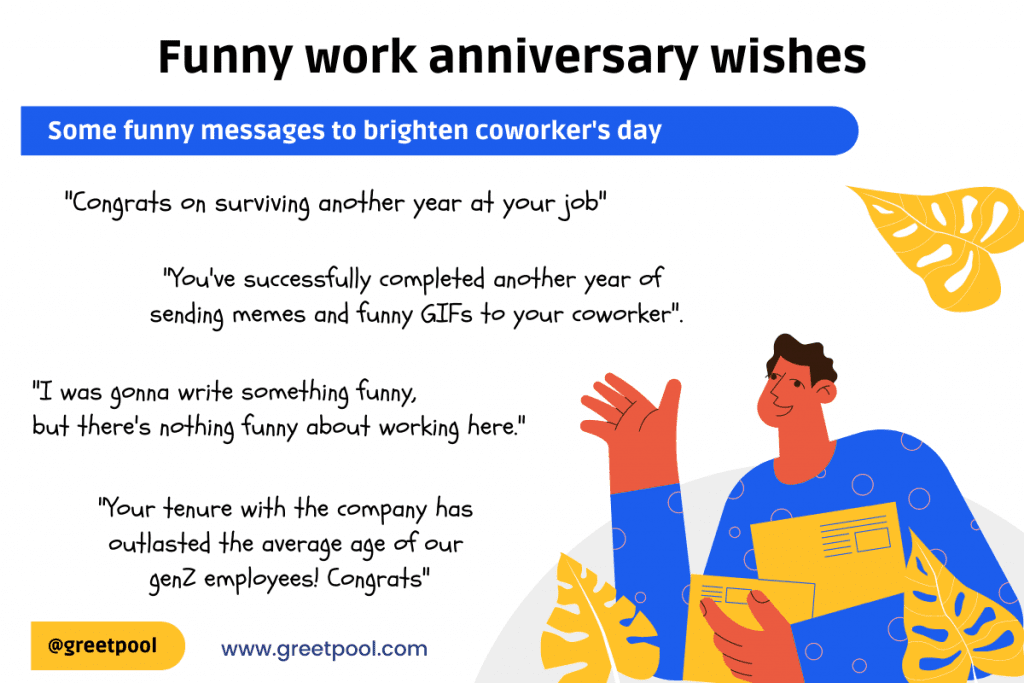 Funny work anniversary messages
Congratulating colleagues on their journey of success doesn't have to be all formal and superficial. Throw in some humor and put a smile on their face to make your message stand out. Check out these funny work anniversary wishes:
You made it through one more year! Congrats.
Here is your token of appreciation. Oh, and some endless gratitude too.
I just came to know you are still here. Wow! Congratulations on make it so far
Happy work anniversary! Maybe next year you will finally get a cake from the company
We would've gotten you a work anniversary cake, but you know, cost-cutting… So accept these heartfelt sentiments instead.
It has been a looooooong time buddy.. i've lost count. Well done!
You've successfully completed another year of sending memes and funny gifs to your coworkers.
I swear you just had one of these thingys last year! Stahp it man.
Happy work anniversary. Are you waiting for a corporate gift? Accept this ecard and our best wishes for now.
Happy workiversary! We were going to go out and celebrate.. but, budget cuts, so just enjoy this card instead.
Happy work anniversary. I have to write this so I can eat cake. Thanks.
You're amazing! I don't understand how you manage to stay so calm when things get crazy. Thank you for staying with us through the madness.
I swear I thought you retired..! Well, my bad.. happy work anniversary I guess 😉
Your tenure with the company has outlasted the average age of our genZ employees! Congrats.
We thought about a work anniversary gift. But clearly we didn't get any further than just thinking about it.
I was gonna write something funny, but there's nothing funny about working here.
Congrats on surviving another year at your job. Lesser mortals would have gone insane by now
Work anniversary quotes
You cannot go wrong with motivational quotes. Spruce up your message with some conventional wisdom using these work anniversary quotes:
People may hear your words, but they feel your attitude.~ John C. Maxwell, author, pastor and speaker
The strength of the team is each individual member. The strength of each member is the team.~ Phil Jackson, NBA player, coach and executive
A team is not a group of people that work together. A team is a group of people that trust each other.~ Simon Sinek, author and speaker
Pleasure in the job puts perfection in the work.~ Aristotle, Greek philosopher
If your actions inspire others to dream more, learn more, do more and become more, you are a leader.~ John Quincy Adams, statement, lawyer and U.S. president
People rarely succeed unless they have fun in what they are doing.~ Dale Carnegie, writer and lecturer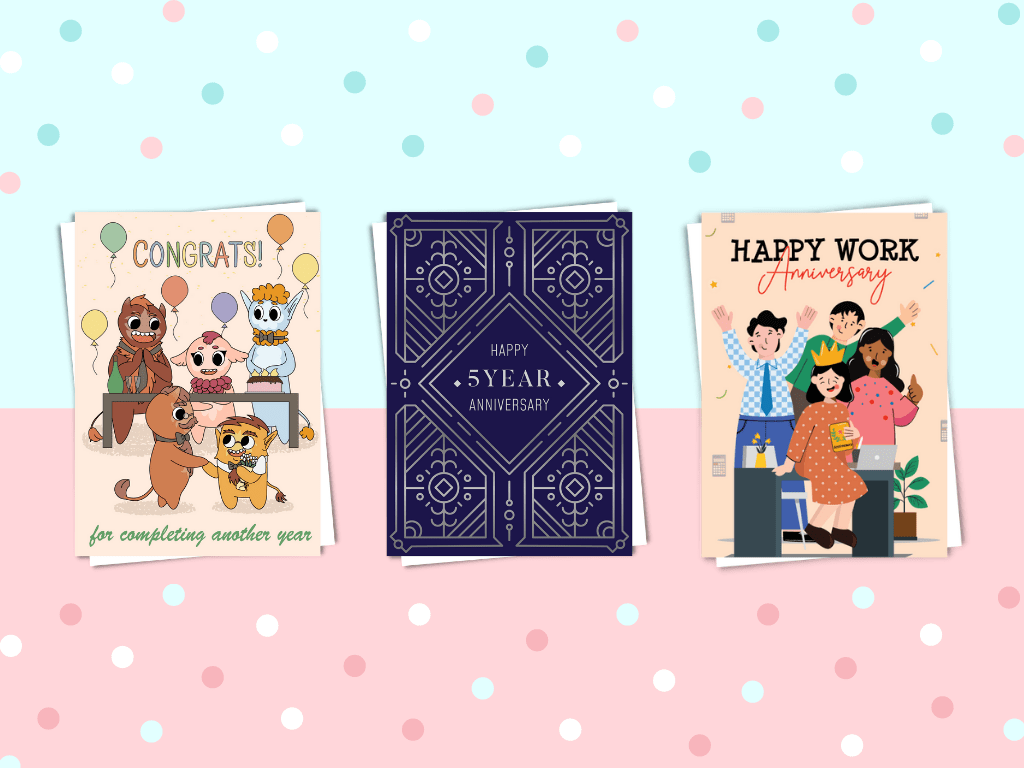 Meaningful happy work anniversary wishes
For coworkers who are close to you, or special employees, you'd want to make your message memorable, personal and meaningful. Check out some examples of meaningful work anniversary messages below:
Thank you for being an integral part of our team, and for making this place feel like home.
It's been an honor to work with you these past five years. I can't wait to see what we accomplish together in the next five.
I am so grateful for your friendship, your trust and your support. You are such a lovely person to work with and I'm glad to be a part of your anniversary celebration.
It's been an honor to work with you, and I'm looking forward to many more years of collaboration. Thank you for your passion and commitment to your work – it's truly an inspiration.
Happy work anniversary! We're so glad to have you on our team and we appreciate the great work you do to help us grow and succeed. Here's to many more years of working together!
Congratulations on your work anniversary! You've achieved a significant milestone in your career and we're proud to have you as part of our team. Here's to continued success in the years ahead!
I have been with the company for over 10 years now and have worked with so many great people during this time. However, I have not see anyone make an impact in such a short amount of time as you have. Congrats on yet another memorable year under your belt. I salute your passion and admire the excellent work. Happy work anniversary my excellent colleague.
Tips on how to write a work anniversary card message
When it comes to work anniversary messages, it's important to find the right words to express your congratulations and well-wishes to your remote coworkers and colleagues. If you are crafting your own message, just keep these simple things in mind:
Be brief but specific – The beauty of anniversary wishes lies in how crisp it is. While writing a message for work anniversary cards, make sure you cover everything you want to say but in a concise way. Describe all that you admire about them in a specific way. The sharp the message is more impact it will have.
Mention their specific milestones – Throughout their years of work, there must be specific accomplishments. Make sure you mention them to convey how proud and happy you were for them at that time and still are. This flashback of their achievements from their entire journey will make them smile and boost their morale.
Wish good luck for the future – It is a happy work anniversary card, not a farewell card; still, convey your best wishes to them for their future ahead. Ensure that they know that you wish for them to reach for greater heights.
Hope these work anniversary images, ideas and tips help you find the right words to wish you coworkers. GreetPool brings you group greetings for every special occasion such as birthday, farewell, appreciation, employee anniversary cards, employee appreciation cards and so many more. Our collection of Group Ecards has a unique design and template. You can add photos, GIFs, stickers, emoticons, and fonts to make your greeting fun, personalized, and memorable.
Check us out and let us celebrate together!