Though you spend the larger part of your day with your colleagues, it is the greetings for their work anniversary ecards, birthday cards, farewell cards, or any other special occasion card that we cannot figure out quickly. Isn't that strange? One-third of your life you spend at your work, so that same amount of time goes for the time spent with coworkers. Even so, it isn't an easy task for us to frame an ideal greeting for your coworker, conveying your desired sentiment for them on their special occasions.
If it makes you feel any better, this is a universal thing. Everyone, including a wordsmith, faces this dilemma of what to write in office greetings. GreetPool is well aware of this situation. So, here we are to assist you with a few examples of greeting card messages. Select the occasion of your group card, and then the card design. May it be a work anniversary ecards, a card to welcome a new team member, farewell cards, we have greeting card messages for every occasion listed below.
GreetPool has a wide range of group ecards for every occasion. You can personalize the card by adding relevant photos, stickers, GIFs, and emoticons. Now, when you reach framing a message or the greeting, you can refer to the examples listed below. Create or modify your greeting as per these suggestions, or you can use it as it is. Whatever works for you!
We have grouped it as per the occasion, so it is easier for you to refer.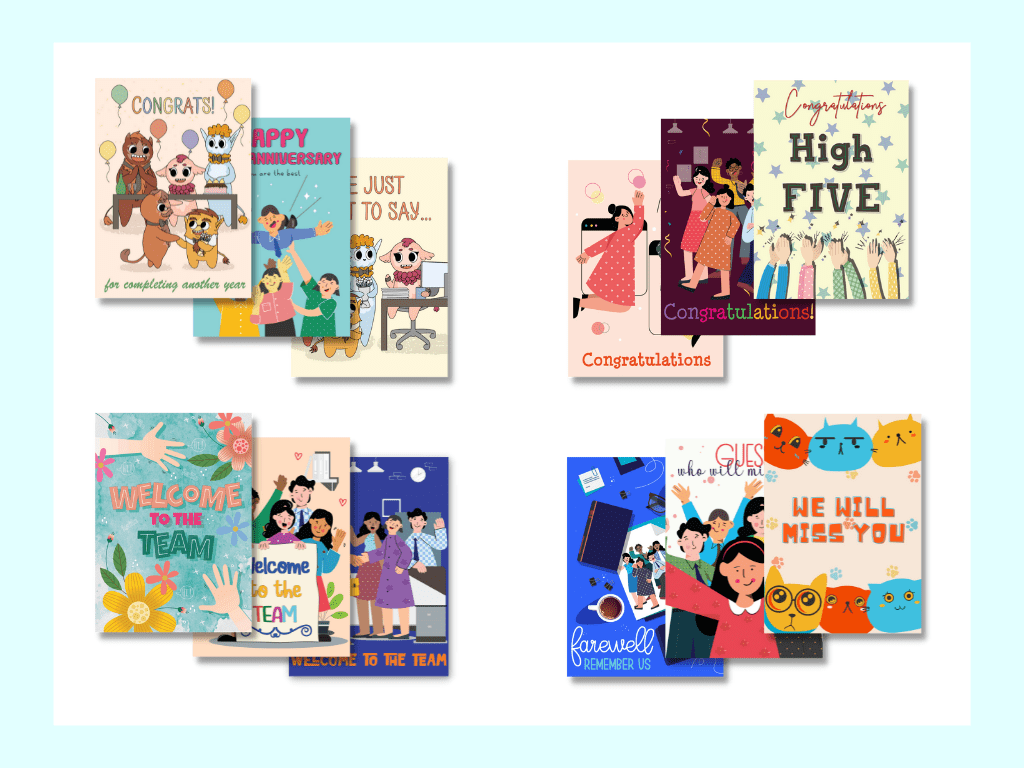 Greetings for Work Anniversary Cards
Congratulations on your Work Anniversary! Here is to celebrating your hard work, dedication, and competence. Keep it up.
Happy Work Anniversary to my best pal and workmate! Your devotion and zeal for your work are contagious and commendable. I am so glad to have you around every day.
Congratulations on your Corporate Anniversary! May the journey of your corporate success continue in the coming years. You are an inspiration to many.
You are excellent at what you do. Congratulations on your Work Anniversary. Keep moving higher with each passing year on the ladder of your career. Let's party and celebrate this happy occasion of yours!
We celebrate your Work Anniversary today while you make each day at work a celebration with your presence. Happy Work Anniversary to you! You are doing the best job at cultivating your profession. Keep conquering more and more.
Sending you the best wishes on this special day of your career. Happy Work Anniversary! May you continue to be the best employee and coworker this organization has.
Happy Work Anniversary to you! Thank you for making outstanding contributions to making our team successful. May you persist in being the best.
Congratulations on completing another successful year of your career. Happy Work Anniversary! Thank you for being an asset to the team and the company. I hope this association continues to flourish. Cheers.
Your passion for your work is always praiseworthy. Continue to raise the bar with your creative and innovative approach to everything. Many congratulations to you on your Work Anniversary!
Many congratulations to you on your Work Anniversary! Wishing you all the best as you embark on an even brighter future. Keep excelling your hustle game as you do.
Greetings for Welcoming New Team Members
Welcome to the team! We look forward to a long-term and harmonious association.
Congratulations on joining our team! Let's grow together.
We are so excited to have you on board. Your talent and competence will add to our team's success. Happy first day!
We are delighted to have you on the team. I welcome you with my warm greetings on behalf of management. I hope you will enjoy working with us.
Welcome aboard! Congratulations on joining the team of achievers. Together we will reach new heights.
It is a pleasure meeting you. I have heard some great laurels of yours from the team. Glad to have you aboard. Congratulations on your new journey!
We are thrilled to begin this new journey together. Many congratulations to you on joining the dynamic team of go-getters!
A Warm Welcome to the team, (name)! We are known as a team of dynamic professionals. We are very excited to bring a young and go-getter like you aboard. Let's touch new heights together.
Thank you for joining us! Our staff is delighted to have you on board. Your knowledge and experience would be highly beneficial to the company's success.
Thank you for joining us, new pal! We are confident that you will be an excellent addition to our team and office!
Greetings for Job Promotion Wishes
Many Congratulations to you on your well-deserved promotion! I hope this promotion presents you with a variety of new possibilities.
Congratulations to a fantastic leader with extraordinary management abilities! More and more success to you, boss.
Hard work always pays off. Congratulations on your promotion! Here is to achieve better and bigger milestones ahead.
Your shining example constantly inspires us. Congratulations on your much-awaited promotion!
Please accept my genuine best wishes for your promotion. There's no one better for the part than you.
You were driven by a desire to succeed. You have earned every ounce of prosperity that has come your way. Congratulations!
I've seen your unrelenting passion and commitment personally. This promotion is a well-deserved reward for your efforts. Many Congratulations to you!
May your professional aspirations come true as you climb the corporate ladder. Congratulations on your promotion, boss! We applaud you on this special day.
Congratulations and best wishes for your upcoming role. We are delighted to learn of your promotion. It's another foothold on your success ladder that you've added. Keep up the excellent work.
Allow this moment to serve as a reminder of your potential while you work toward your goals. I eagerly anticipate the remarkable influence you will undoubtedly have. Congratulations on your promotion!
Greetings for the Farewell Cards
Throughout your tenure here, you've been faithful, helpful, motivating, and genuine. Your new workplace is fortunate to have you. You will be missed. Keep the good work up.
Your resignation serves as a sad reminder that all good things inevitably come to an end in life. You may no longer be a colleague, but you will always be a buddy of mine. Farewell.
It's been a pleasure working with you, boss. Thank you for making work a pleasant experience. I wish you all the luck in your new position. Good luck and goodbye.
While it is tough for me to say goodbye as you embark on a new chapter in your career, I wish you great success in all of your future pursuits.
I hope your future job will give you as much joy as this one has given you. I shall always cherish the time we spent together. Goodbye workmate. All the best for the future. Keep in touch.
Without the warm presence of a colleague like you, the cold meeting room walls will be even harder. Farewell, pal!
The only way to progress is to follow your dreams. And now that you've made a significant step forward and landed your dream career, you're a lot closer to realizing your ambitions. Best wishes for the future!
I'll miss working with a colleague who is both entertaining and competent. Meetings will be unpleasant if you are not present. My friend, I bid you a hearty farewell.
Thank you for teaching me so much. I am very grateful to have had the pleasure of working with a coworker like you. Goodbye, buddy. All the Best for the future!
Your one laugh undid the miseries of miles of commute. I will miss you around here the most. Goodbye. Do your best.