Though you spend the larger part of your day with your colleagues, it is the greetings for their work anniversary ecards, birthday cards, farewell cards, or any other special occasion card that we cannot figure out quickly. Isn't that strange? One-third of your life you spend at your work, so that same amount of time goes for the time spent with coworkers. Even so, it isn't an easy task for us to frame an ideal greeting for your coworker, conveying your desired sentiment for them on their special occasions.
If it makes you feel any better, this is a universal thing. Everyone, including a wordsmith, faces this dilemma of what to write in office greetings. GreetPool is well aware of this situation. So, here we are to assist you with a few examples of greeting card messages. Select the occasion of your group card, and then the card design. May it be a work anniversary ecards, a card to welcome a new team member, farewell cards, we have greeting card messages for every occasion listed below.
GreetPool has a wide range of group ecards for every occasion. You can personalize the card by adding relevant photos, stickers, GIFs, and emoticons. Now, when you reach framing a message or the greeting, you can refer to the examples listed below. Create or modify your greeting as per these suggestions, or you can use it as it is. Whatever works for you!
We have grouped it as per the occasion, so it is easier for you to refer.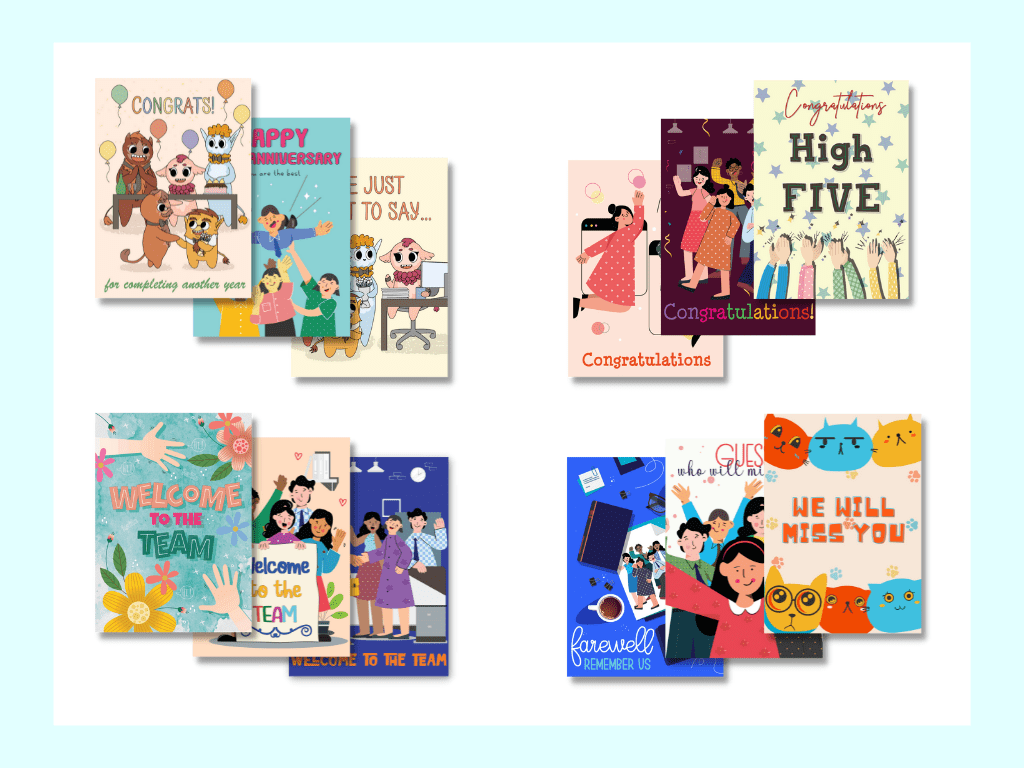 Greetings for Work Anniversary Cards
Congratulations on your Work Anniversary! Here is to celebrating your hard work, dedication, and competence. Keep it up.
Greetings for Welcoming New Team Members
Greetings for Job Promotion Wishes
Greetings for the Farewell Cards
Throughout your tenure here, you've been faithful, helpful, motivating, and genuine. Your new workplace is fortunate to have you. You will be missed. Keep the good work up. 
Without the warm presence of a colleague like you, the cold meeting room walls will be even harder. Farewell, pal!
The only way to progress is to follow your dreams. And now that you've made a significant step forward and landed your dream career, you're a lot closer to realizing your ambitions. Best wishes for the future!