The rationale to celebrate work anniversaries is based on a very simple idea. Celebrate what you want to see more of. It all boils down to the fact that our emotions are closely related to how we perform. Work anniversaries should always be celebrated as a way of expressing gratitude for your work and maximizing your performance. The same goes for your coworkers and friends as well. You wish them by sending a happy work anniversary card or a bouquet with thoughtful greetings or by putting up a meaningful LinkedIn post for them. There are several ways.
Employment anniversaries should be as important to celebrate a wedding anniversary. It is a milestone after all. The trouble is not to choose how to convey your regards but what to write in work anniversary cards. In any way, you decide to convey your regards that framing or writing a greeting or a message stays undeniably constant. Sometimes, it isn't easy to verbalize or write down your desired sentiments for a dear one's happiness and success, and you face a hard time writing something that conveys your accurate desired sentiments.
At GreetPool, you get a wide range of work anniversary cards for your coworkers and friends, along with the ideas and tips to make the cards unforgettable. GreetPool brings you group greetings for every special occasion such as birthday, farewell, appreciation, employee anniversary cards, employee appreciation cards and so many more. The collection of Group Ecards for every occasion has a unique design and template.
In this article, we will provide a few examples to write happy anniversary messages for a happy work anniversary card that you can utilize as it is and a few tips for helping you frame greetings yourselves.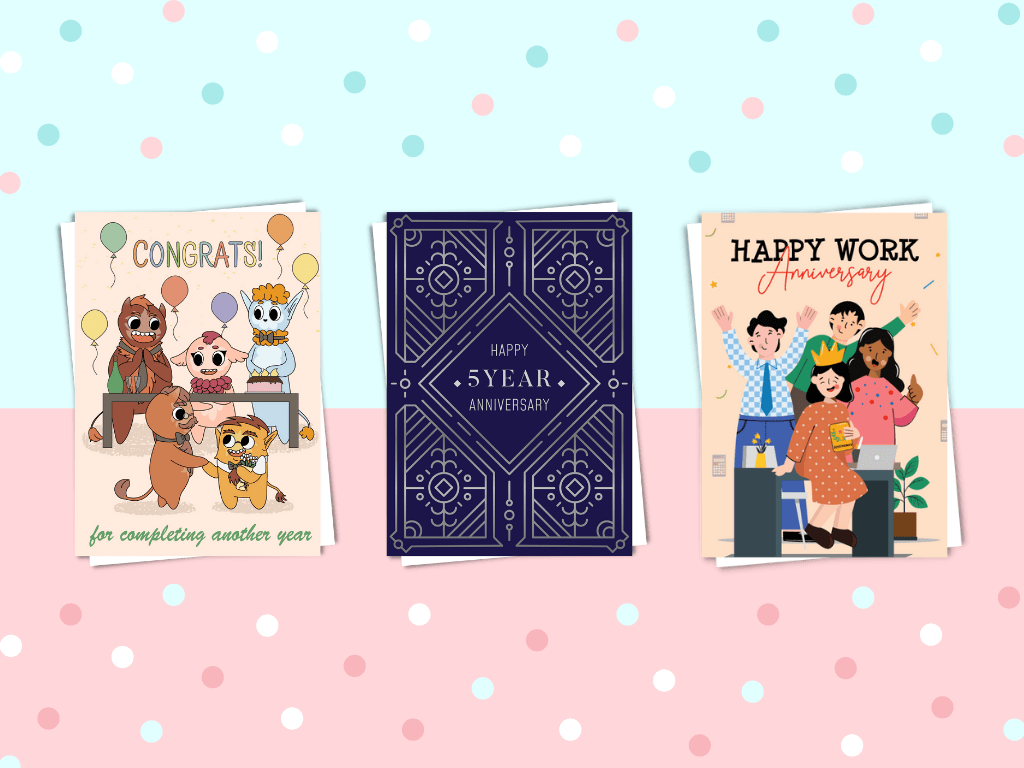 Let us first provide you with examples:
I'm amazed you've only been here for X years. I mean it in the best possible manner when I say you feel like you've been a part of our team, work-family for a long time. Your work ethic, talent, and guts perfectly fit our culture, and it's been a joy to see every member of our team accept you from the start. We're all delighted you work here. Happy Work Anniversary!
I realize today is your work anniversary, and I should be celebrating you, but to be honest, I'm celebrating myself since I get to have you on my team. Thank you for being the one person I know I can rely on to [skill/talent/characteristic]. For example, thank you for being the one person I know I can trust to find every single arithmetic error on every spreadsheet, every time. Happy Anniversary!
Being dedicated and reliable criteria of a good person, even after many years of work. And you're the one who's doing it! Wishes to commemorate this special day in your life. Happy Work Anniversary!
Congratulations on your (number) milestone at work. I am delighted to have a coworker like you on our team who bought their skills and dedication on this particular day. You are admired for what you do. Have the best work anniversary!
It's been another year of tolerating you, and I'm looking forward to many more years of working with you ahead. Warm wishes to you on your happy work anniversary.
We hired a highly skilled and likeable member of our team a year ago today. And you were that member. Congratulations on your first year of working!
Kudos on your Work Anniversary. It's been an absolute pleasure working with you this past year. Happy Work Anniversary!
You are unique; I can't think of anyone who comes close to you. Thank you, (name), for nurturing me and assisting me in my development. You are truly an inspiration to us all. Have a happy work anniversary!
You have accomplished so much in such a short period. You're a leading embodiment of how hard work pays off. I want to wish you a happy work anniversary.
With immense pride, I want to let you know that the energy and vibe you bring to work each day is so optimistic and vibrant. I am lucky to be a part of the team with you. Many congratulations to you on your work anniversary!
Because I know you're such a workaholic, I wouldn't say, "Take it Easy." Happy working for the past (number) years.
Every organization should have a leader like you to lead it forward. Your all-around abilities are awe-inspiring in every way. Wishing you a happy work anniversary!
Bright minds go long distances, and you are a perfect example. You take work ethics to a new level. Congratulations on your work anniversary.
Only a few people at work are loved and respected as much as you are. You go above and beyond to help others. You're going to go a long way. Warmest congratulations on your (number) work anniversary!
You are one in a million because of your devotion and love for your career. Continue to push the threshold with your innovation. Happy Work Anniversary!
Let us discuss the tips you should consider while framing a greeting.
Be brief but specific – The beauty of anniversary wishes lies in how crisp it is. While writing a message for work anniversary cards, make sure you cover everything you want to say but in a concise way. Describe all that you admire about them in a specific way. The sharp the message is more impact it will have.
Mention their specific milestones – Throughout their years of work, there must be specific accomplishments. Make sure you mention them to convey how proud and happy you were for them at that time and still are. This flashback of their achievements from their entire journey will make them smile and boost their morale.
Wish good luck for the future – It is a happy work anniversary card, not a farewell card; still, convey your best wishes to them for their future ahead. Ensure that they know that you wish for them to reach for greater heights.
With GreetPool's work anniversary cards with beautiful colorful designs, you can add photos, GIFs, stickers, emoticons, and fonts to make your greetings for the happy occasion, fun, personalized, and memorable.