Birthdays are special occasions that deserve to be celebrated in a unique and memorable way. In today's digital age, sending e-cards has become a popular and convenient way to convey heartfelt wishes and greetings. However, standing out from the sea of generic e-cards can be a challenge. That's why we've compiled a list of 10 creative ideas to make your birthday e-cards truly exceptional. From personalized messages and photo collages to interactive elements and scheduling in advance, these ideas will help you craft e-cards that leave a lasting impression. Join us as we explore these delightful ways to make your birthday e-cards stand out and make the recipient feel truly special. Get ready to unleash your creativity and create memorable birthday greetings that will be cherished for years to come.
1. Send a group greeting card together with your mutual Friends/Coworkers/ Family Members
Receiving a group card is equivalent to receiving a virtual group hug. There is nothing that can match the joy of receiving greetings together from all the people you love and cherish. This card will make their Birthday overwhelming and unforgettable. Involve friends and family members by creating a collaborative e-card. Ask them to contribute personal messages, photos, or drawings, and compile everything into a single memorable e-card.
It may seem like a task to coordinate everyone together and get them to sign it. But at GreetPool, we make all that a breeze and everything is done in a few clicks. Check out our collection of Best Birthday Group Ecard.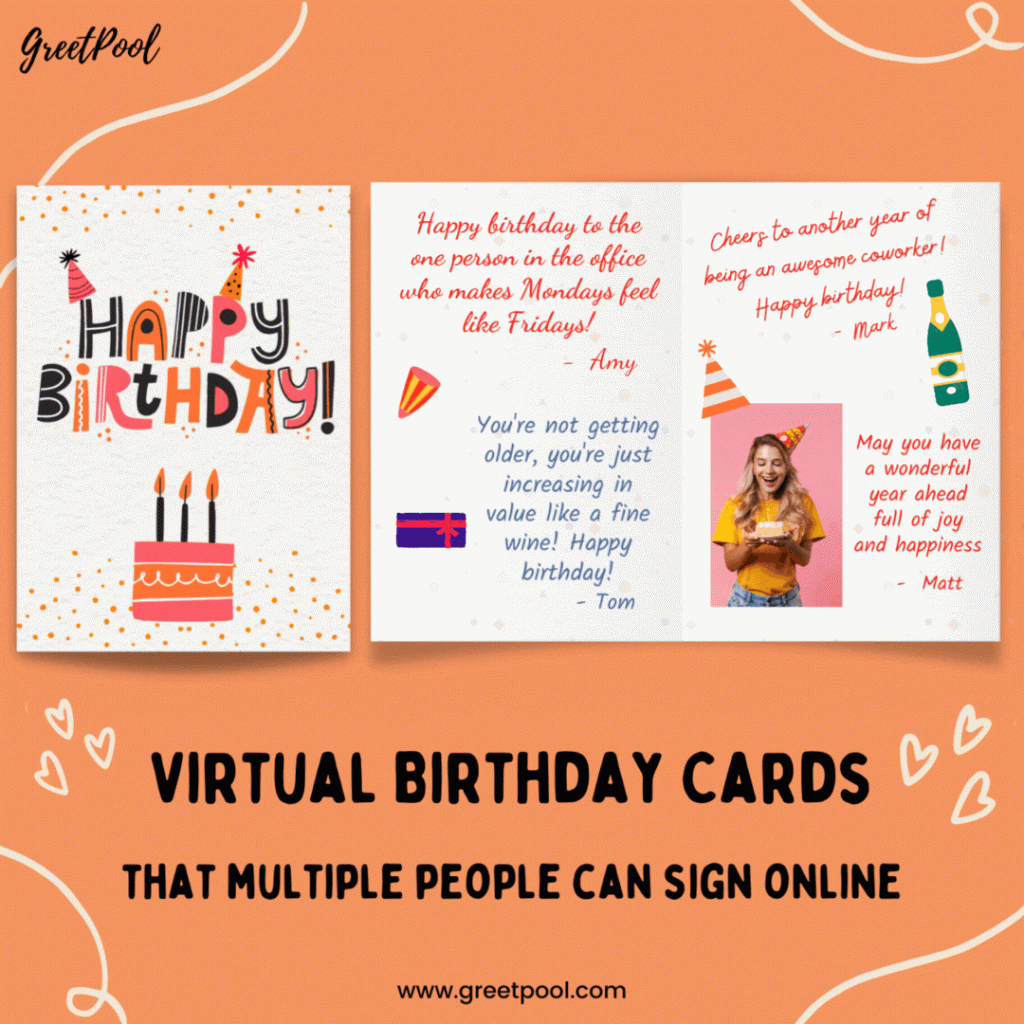 2. Set a Theme for the Card or Messages
You can collectively decide upon a theme based on the recipient's list of likes and interests. The theme can depend on the type of birthday celebration as well. If it's a milestone birthday like an 18th or 25th or 50th birthday the card can be designed revolving around that. For belated birthdays the theme can be changed accordingly.
If you are sending the virtual birthday card on their actual birthday day then choose a theme that is based on their favorite fictional characters, movies, series, and so on. For example, the recipient is someone who is a crazy Marvel movies fan. Everyone contributing to the card can choose a Marvel character of their choice and write the recipient a personal message (birthday wish) as that Marvel character would write it.
Our platform provides you with features of customization to help you create an aesthetically and emotionally appealing personal message for the receiver. Other examples for the theme can be the very popular Sitcom Friends' theme, Disney characters theme, etc.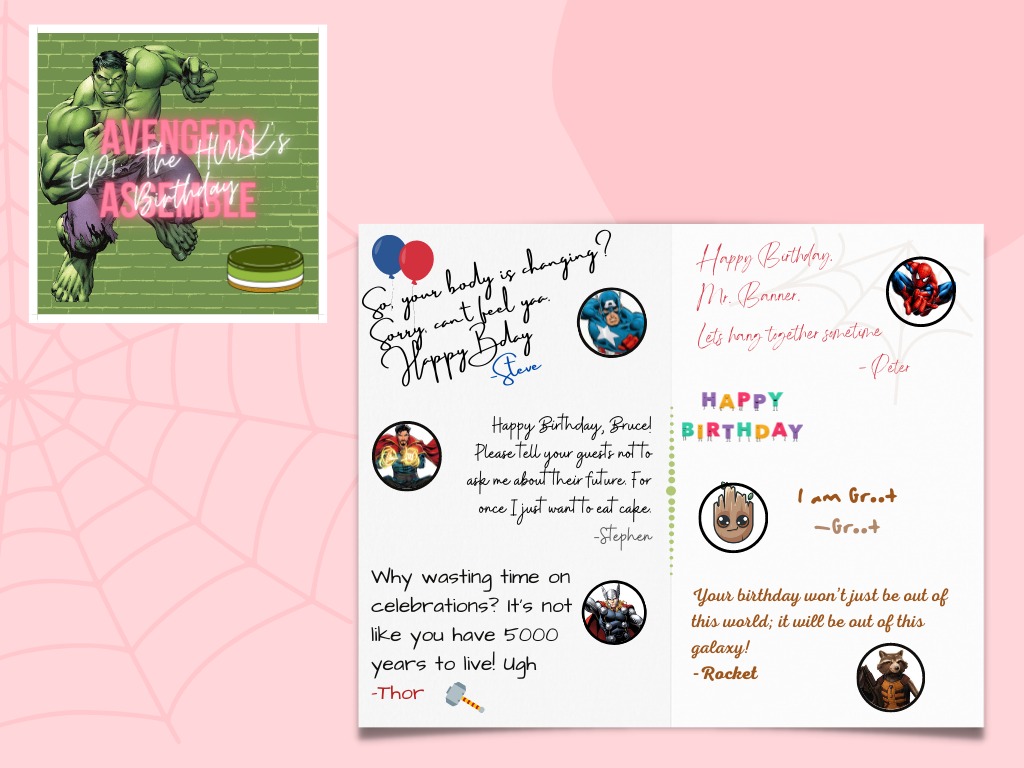 3. Add Personal Photo Gallery
Include personal photos of the birthday person or photos that capture special moments you've shared together. This adds a personal touch and evokes nostalgia.
GreetPool Group Ecards have a feature that allows you to attach as many personalized images as you desire. This allows you to make your card a beautiful memento of memories. Include images of the two of you making great memories together. You may include images of their family, pets, or other important people in their lives.
4. Add Animated Elements
Adding animated elements, such as GIFs or stickers, will make the birthday group card so much merrier. You may use them to augment the theme of your card, for example using GIFs from The Office TV show, or GIFs from Avengers, etc. Use stickers to add the adorable element to the card and make your wonderful person (the receiver of the card) smile wide on their special day. Stickers to convey birthday hugs, cake, a heartfelt message and so many more options are available at GreetPool.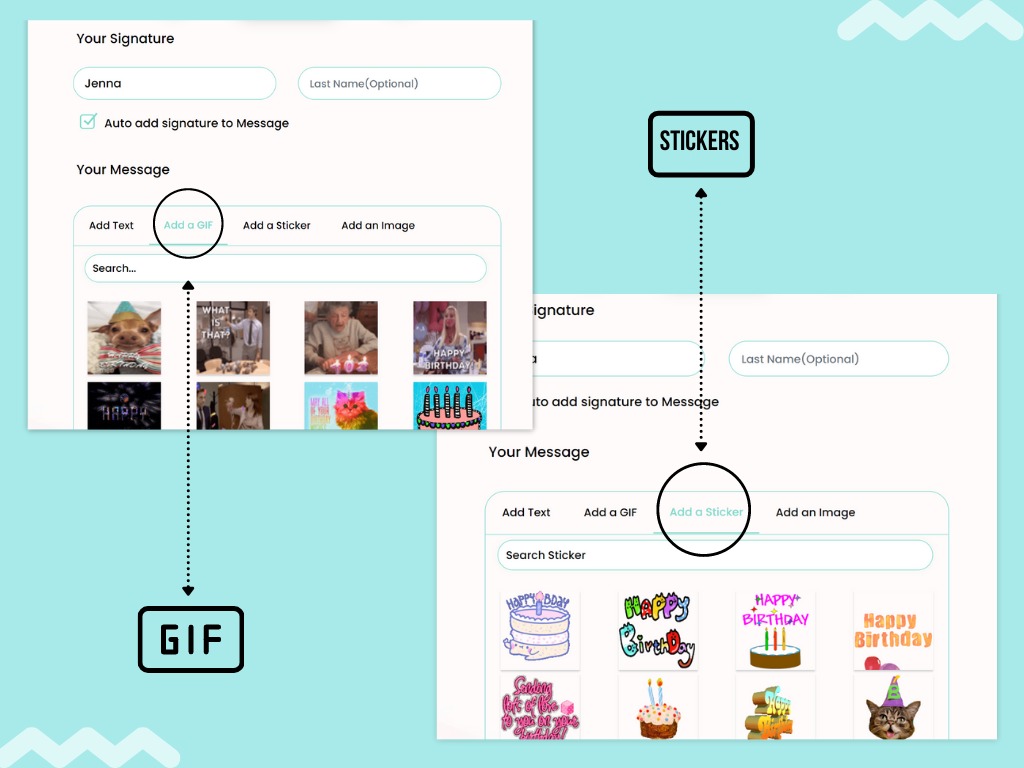 5. Use Funny Card Designs
Using funny card designs in a birthday e-card is a wonderful way to bring laughter and joy to the recipient. It allows the e-card to stand out and be unique, capturing attention with its unexpected humor. By incorporating personalized jokes, puns, or references that resonate with the birthday person, the e-card becomes more meaningful and shows that you understand their sense of humor. The lightheartedness of funny card designs can also help lighten the mood, creating a memorable and enjoyable birthday celebration.
6. Personalize the Wishes and Messages
Craft heartfelt and personalized messages that mention specific memories, inside jokes, or qualities that make the recipient special. This adds a personal touch and shows your thoughtfulness. Tailor your message to their personality and make it truly unique.
7. Schedule Cards in advance
Scheduling a birthday e-card in advance is a thoughtful and practical idea that can make the card even more unique and memorable. By planning ahead, you ensure that the e-card reaches the recipient precisely on their special day, regardless of any unexpected circumstances or last-minute hiccups. It shows your attention to detail and care for their celebration. Additionally, scheduling in advance gives you ample time to put in extra effort, such as crafting a personalized message, selecting the perfect photos, or adding creative elements. This way, the e-card becomes a well-prepared surprise that reflects your thoughtfulness and consideration, making it a truly memorable birthday gesture.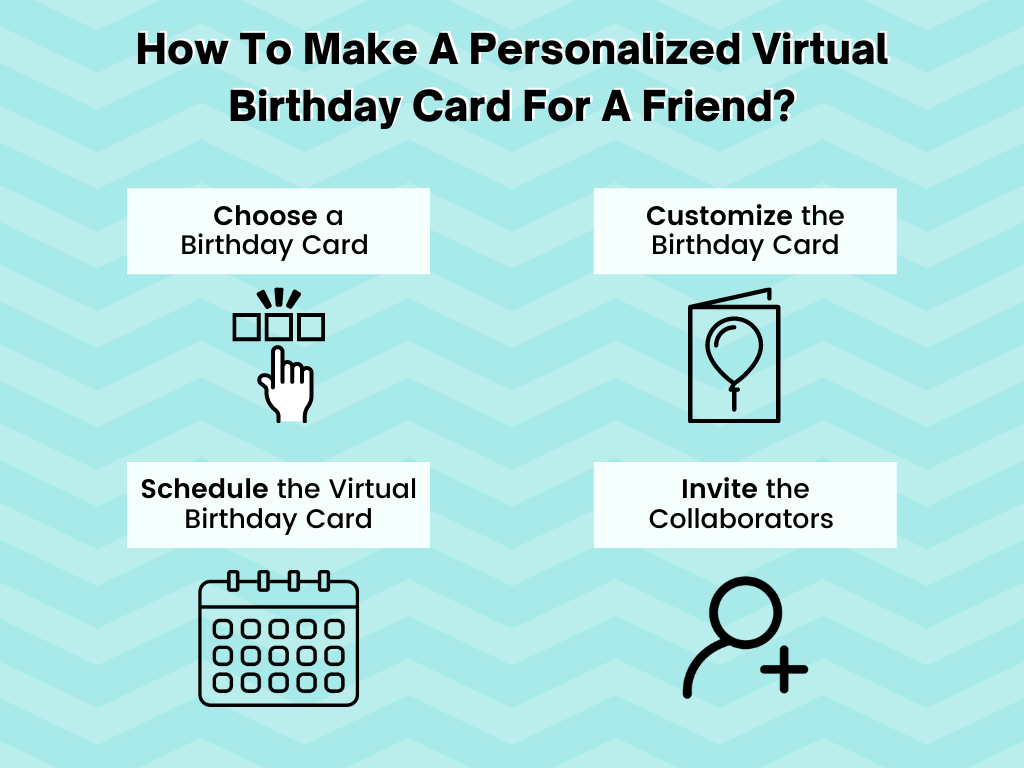 8. Music and Sound Effects:
Choose a catchy and upbeat background music or sound effects that complement the e-card's theme. The right music sets the mood and enhances the overall experience, making the e-card more memorable.
9. Video Messages:
Instead of a traditional card, consider recording a personalized video message. Express your birthday wishes directly to the recipient, sharing heartfelt emotions and creating a lasting memory.
10.Virtual Surprise Party:
Create a virtual surprise party atmosphere within the e-card. Include virtual confetti, pop-up messages from friends and family, and virtual candles to blow out. This surprise element adds excitement and makes the e-card unforgettable.
What is the best way of sending an electronic birthday card?
The best way to send an electronic birthday ecard is through specialized ecard platforms, such as GreetPool.
GreetPool provides a user-friendly interface that facilitates seamless collaboration among contributors. With features like customization and personalization, contributors can easily add their own messages, photos, and videos to the group card, ensuring a personalized touch for the birthday boy/girl. The platform also offers various privacy settings, allowing the group card to remain private and accessible only to the invited contributors.
In terms of collaboration, GreetPool implements interactive features that enable contributors to interact, comment, and share ideas within the group card. The platform also ensures a seamless delivery process, allowing the couple to receive the group card via email, a unique link, or as a digital download, ensuring easy access and enjoyment of the heartfelt messages and well wishes.
However, it's important to note that there are other platforms and methods available for sending wedding group cards online. It's recommended to explore different options and choose the one that best suits your specific requirements and preferences.
Overall, GreetPool offers a user-friendly experience, customization options, privacy features, collaboration functionalities, and seamless delivery for sending electronic birthday cards online. Check out some designs and learn more feature at www.greetpool.com