Have you wondered why last impressions do not get as much importance as first impressions? When given a thought, I feel maybe because first impressions are pre-planned, they come mostly invited. The last meetings are majorly uncertain, unplanned, and unfiltered. They don't let you have that much time to prepare and realize that for the last impression.
Ideally, farewells, goodbyes, and last impressions can be made memorable when they are known early and given adequate time to prepare. All good beginnings deserve a great end. Don't they? Henry Wordsworth Longfellow has a beautiful statement justifying this. "Great is the art of beginning, but greater is the art of ending".
Goodbyes and Farewells are one of the hardest times in life yet undeniably constant. May it be a personal bond or a professional one, the heartaches in both. After all, it's their warm smile and a 'Good Morning pat' which gives a bright start to your hectic day at work. A joke from them even helps you get over your 'Monday blues'. They are your work family. And when it's time to say Goodbye, it is unpleasant, especially when you both have been working buddies for your entire journey at the office.
GreetPool brings you a unique collection of farewell cards. We have e greetings for every special occasion. You can send a goodbye card to a coworker together as a team effortlessly using our platform. In a world obsessed with the trend of materialistic gifts, the culture of gifting personalized cards remains classic. People love reading as well as saving cards, the chemistry of words and emotions in the card is uncanny, unfathomable, and everlasting. Hence, Goodbye cards for coworkers on their farewells are the ideal gift. Let us give you a few practical reasons for that.
What are the benefits of giving goodbye cards to coworkers?
Goodbye cards have long been a popular way to express gratitude and appreciation to a departing coworker. However, many people may not realize that sending a goodbye card can have numerous benefits for both the recipient and the sender.
Build stronger relationships: Sending a goodbye card shows that you care about your colleague and value the relationship you have built with them. This can help build stronger professional relationships in the long term even after they The departing coworker may be a valuable contact in the future and a good farewell party can help maintain professional connections and foster future collaboration.
A lasing impression: A thoughtful and well-crafted goodbye card can leave a lasting positive impression on the departing coworker. They are more likely to remember their experience at the workplace and recommend the company, or the team, to others in the future.
Improves Team Culture: Sending goodbye cards can help foster a culture of gratitude and appreciation in the workplace. It can encourage others to recognize and acknowledge the contributions of their colleagues.
Strengthen team bonds: By collaborating on a goodbye card as a team, coworkers can strengthen their bonds and work together to create a meaningful farewell message.This will be a different activity than the usual work and can be an engaging fun change.
Inspires and motivates team members: A culture of recognition not only boosts morale and improves motivation of team members, but also foster a positive atmosphere in the workplace.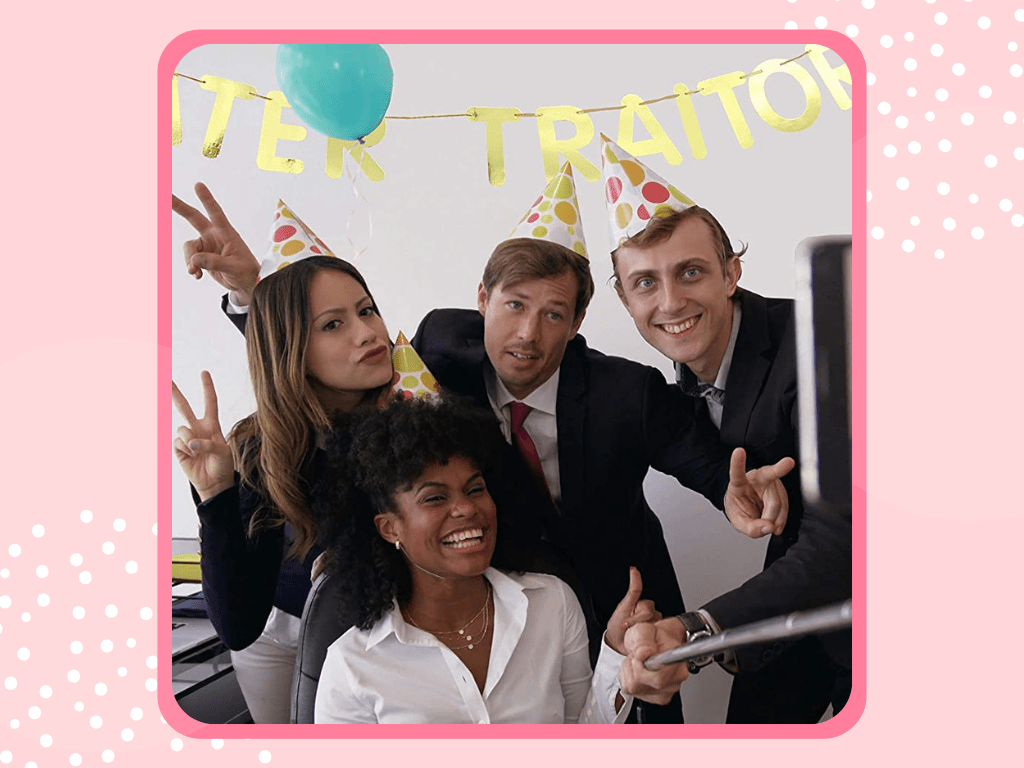 Why farewell cards are an ideal going away gift?
Cards never fail to create a lasting impression. Because they contain heartfelt farewell messages. A handwritten note to your favorite coworker will be his most memorable keepsake. It's impact doesn't decrease if it's a farewell note on a digital card too. Wish your wonderful colleague all the good luck for their career path ahead together with your team by choosing a lovely farewell group greeting card by GreetPool.
Goodbye cards are like a time machine – they take you back in time. The sentiments and warmth in the greeting cards make them a dose of happiness and affection forever. A goodbye gift may run out of its durability, visibility, utility, beauty, and impact after a time, but nothing as such happens with a Goodbye ecard. It stays termless and uninterrupted.
Goodbye Card Ideas
Creating a goodbye card for a coworker can be a fun and creative process, but sometimes coming up with ideas can be a challenge. In this section, we will explore several goodbye card ideas to help inspire you and make the process of creating a meaningful card easier. These ideas can be adapted to suit your personal style and the relationship you have with your departing coworker.
Group Card – Consider creating a group card for the departing coworker, where everyone on the team can sign their name and leave a personal message. This is a great way to show that the entire team appreciates the departing coworker's contributions and wishes them well in their future endeavors.

Photo Collage – If you have photos of the departing coworker from work events or other team activities, consider creating a photo collage on the front of the card. This is a thoughtful way to showcase your shared memories and highlight the contributions of the departing coworker.

Inside Jokes – Inside Jokes If you and your departing coworker share inside jokes or a common sense of humor, consider incorporating these into your card. This is a great way to add a personal touch and bring a smile to the departing coworker's face.

Handwritten Notes – A handwritten note can also be a meaningful addition to a goodbye card. Take the time to write a heartfelt message expressing your appreciation for the departing coworker and your wishes for their future success.
By using these goodbye card ideas as inspiration, you can create a card that truly captures your relationship with your departing coworker and helps them leave their current workplace feeling appreciated and valued.
Conclusion
Gifting a Goodbye card to your coworker is equivalent to giving them that ecstasy state of mind for life. The receiver shall smile forever going through that card in the future as well. They will relive every memory of that part of their life's journey. All the moments of success, failure, difficult times, work stress, and boredom spent with you will go through their mind once.
They will relive that journey each time they revisit that card and also take you down memory lane while they do so. The bond you both share will strengthen and become a lifelong friendship beyond work. So, are you still second-guessing over the idea of a Goodbye card for a coworker's farewell? Don't spend time giving it a second thought, and just go for it already!
Wish them Goodbye and Goodluck in the most memorable way for their future career path. Here are a few beautiful templates for the Goodbye cards for coworkers that you can check out.