Have you wondered why last impressions do not get as much importance as first impressions? When given a thought, I feel maybe because first impressions are pre-planned, they come mostly invited. The last meetings are majorly uncertain, unplanned, and unfiltered. They don't let you have that much time to prepare and realize that for the last impression.
Ideally, farewells, goodbyes, and last impressions can be made memorable when they are known early and given adequate time to prepare. All good beginnings deserve a great end. Don't they? Henry Wordsworth Longfellow has a beautiful statement justifying this. "Great is the art of beginning, but greater is the art of ending".
Goodbyes and Farewells are one of the hardest times in life yet undeniably constant. May it be a personal bond or a professional one, the heartaches in both. After all, it's their warm smile and a 'Good Morning pat' which gives a bright start to your hectic day at work. A joke from them even helps you get over your 'Monday blues'. They are your work family. And when it's time to say Goodbye, it is unpleasant, especially when you both have been working buddies for your entire journey at the office.
A farewell gift for that coworker is mandatory! Now, that is one brain-teaser.
GreetPool brings you a unique collection of farewell cards. We have e greetings for every special occasion. You can send a goodbye card to a coworker together as a team effortlessly using our platform. In a world obsessed with the trend of materialistic gifts, the culture of gifting personalized cards remains classic. People love reading as well as saving cards, the chemistry of words and emotions in the card is uncanny, unfathomable, and everlasting. Hence, Goodbye cards for coworkers on their farewells are the ideal gift. Let us give you a few practical reasons for that.
Digital Supremacy 
With everything entering digital space after the pandemic, cards have made and adapted this new way of existence too. The concept of ecard is now gravitating its way for greetings. It is a lovely way to greet each other individually or with a group, together. There is a wide selection of attractive group greeting cards available on GreetPool for any occasion.
We offer online greeting cards for both personal and professional relationships. So, you can send ecards for every occasion together with your friends, family, or coworkers as a group. By every occasion, we mean birthdays, work anniversaries, farewells, good-byes and good luck, etc. The platform is very convenient, reasonable, and effortless to use. GreetPool also has fun features like GIFs, emoticons, photos, and stickers, which can make your farewell card so much more interesting visually as well as emotionally. 
Another pointer, here, is that some offices have shifted to the remote mode of working permanently, while some have chosen a hybrid model of working. In that scenario, goodbye ecards for coworkers' farewells become a very convenient option of gift. The process of collaborating with your team for the group card at GreetPool is easy, quick, and smooth.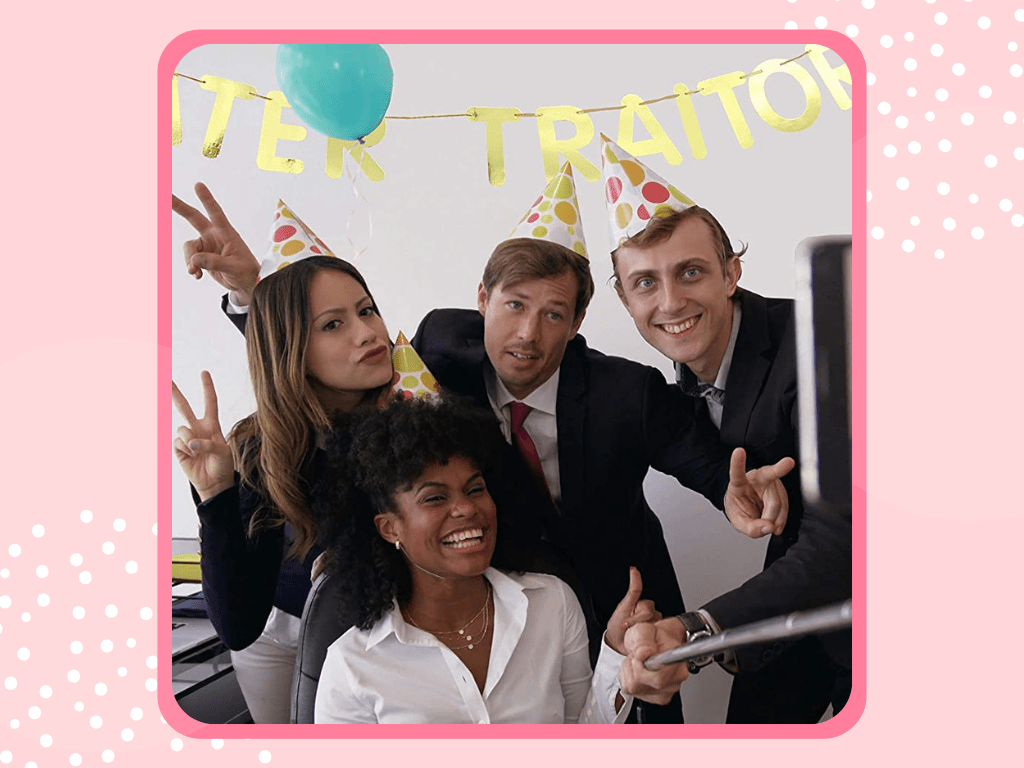 Everlasting Durability of this Gift
Speaking of Goodbye cards for coworkers, they are an amicable way to experience nostalgia. It's like a time machine. It takes you back in time. The sentiments and warmth in the greeting cards make them a dose of happiness and affection forever. A goodbye gift may run out of its durability, visibility, utility, beauty, and impact after a time, but nothing as such happens with a Goodbye ecard. It stays termless and uninterrupted.
Cards never fail to create a lasting impression. Because they contain heartfelt farewell messages. A handwritten note to your favorite coworker will be his most memorable keepsake. It's impact doesn't decrease if it's a farewell note on a digital card too. Wish your wonderful colleague all the good luck for their career path ahead together with your team by choosing a lovely farewell group greeting card by GreetPool. 
How precious, delightful, and endeared your coworker will feel on receiving a dainty Goodbye card from you. The group card will revive their journey with the entire company. The farewell card messages in the card will always preserve the warmth of the bond you share with them
Strengthens your Relationship with your Coworker
You spend a large part of your day with your coworkers, either in the traditional way or in the new hybrid model of working. According to one of the articles mentioned on the Forbes website, as per the study of the University of Houston, research findings depict that job satisfaction has a lot more to do with the people we work with than it does with the actual work we do.
Evidently, as per 2019, a study from Korn Ferry found that employee stress levels had risen to 20% over three decades in America. That same survey identified that direct bosses and coworkers as the most important source of stress, according to 35% of respondents. This number makes a lot of sense because our jobs account for the majority of our social interactions nowadays. The moral of the study is that it is important to have healthy and harmonious relationships with your coworkers and professional network for the wellbeing and best functioning of your mental health.
Small gestures like sending and receiving egreetings will boost your job satisfaction to a whole new level. It is so much more than enjoying a cup of coffee with your coworker during break time. The joy of cards/ecards is because of the kind and loving words written on them. They make you feel like you not only gained and delivered incredible professional experience but also earned lifelong friendships. Those goodbye cards for coworkers establish a strong foundation of your relationships beyond the company/organization for life.
Conclusion
Gifting a Goodbye card to your coworker is equivalent to giving them that ecstasy state of mind for life. The receiver shall smile forever going through that card in the future as well. They will relive every memory of that part of their life's journey. All the moments of success, failure, difficult times, work stress, and boredom spent with you will go through their mind once.
They will relive that journey each time they revisit that card and also take you down memory lane while they do so. The bond you both share will strengthen and become a lifelong friendship beyond work. So, are you still second-guessing over the idea of a Goodbye card for a coworker's farewell? Don't spend time giving it a second thought, and just go for it already!
Wish them Goodbye and Goodluck in the most memorable way for their future career path. Here are a few beautiful templates for the Goodbye cards for coworkers that you can check out.