Birthdays are indeed special times for everybody. Everyone receives an outpouring of affection, greetings, and well wishes from everyone they know on this one day. It is not only a special day for the person who is celebrating their birthday, but it is also a special day for the individuals who are close to them. Birthdays are moments when we want to show how much we care for the birthday person by writing a meaningful message to send birthday wishes.
We are willing to go to great lengths to make the birthdays of our favorite people memorable, meaningful, and one-of-a-kind. What to write on a birthday card is a big concern for all the non-wordsmiths and non-expressive folks. GreetPool is here to take care of all of your birthday card worries. Whether it's about finding the perfect card, or the personal message, you can get help with everything at GreetPool.
We live in a time when work pressures, responsibilities, and commitments may prevent us from doing what we want to do. Our time has become more valuable than it has ever been. The thing is that it is not just time that's a constraint; it's also mental energy and our state of mind. Materialistic gifts fall short of expressing your feelings and affection to the full extent that you meant.
There is no greater satisfaction than receiving words and emotions wrapped in a mesmerizing digital way for your birthday gift. GreetPool's 'Happy Birthday' ecards are the way to go. Ecards are a way of sending virtual hugs on birthdays. GreetPool allows you to create a lovely digital surprise with your friends, family, and coworkers. To make your ecard warm, memorable, and special for the birthday boy/girl, you can add customized photographs, a personal message, hilarious stickers, captivating GIFs, alluring fonts, and relevant emoticons.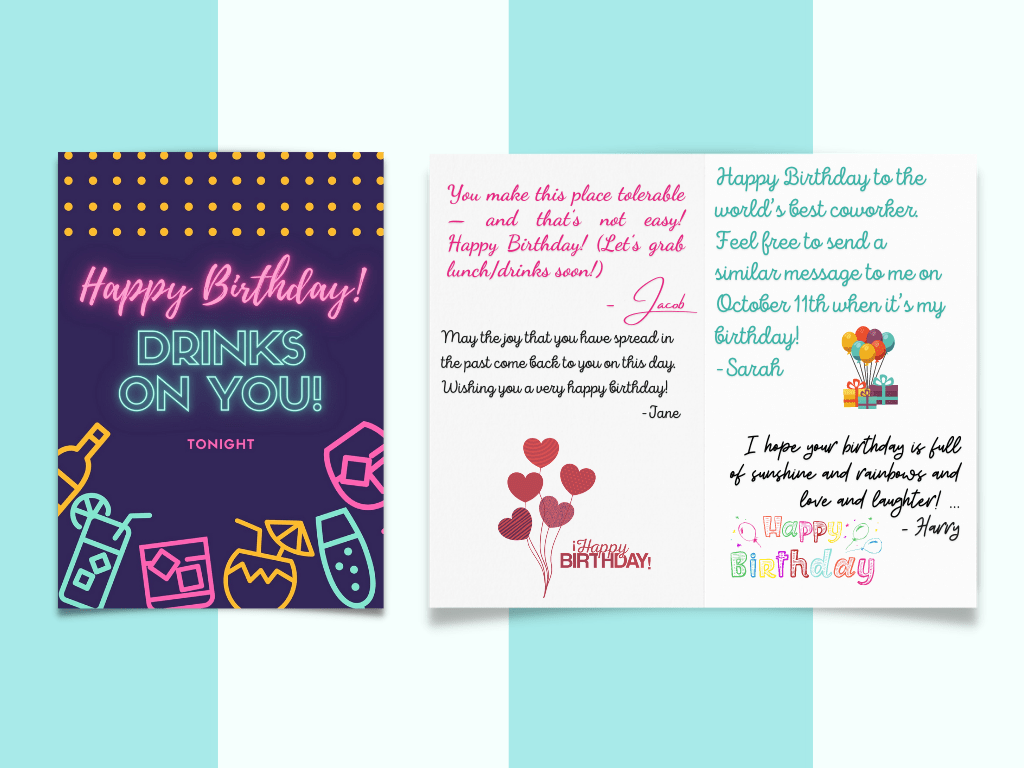 We are helping you with a few examples of a heartfelt message wishing 'Happiest Birthday' to assist you in deciding what to write on a birthday card. We have a list of birthday greetings for milestone birthdays, belated birthdays, and every kind you can think of. We are going to categorize based on your needs so that you can better distinguish between them and use them accordingly. However, the general rule is that you must try to make your birthday message as precise and personalized as possible.
Greetings to your dearest friends on their birthdays:
Your beauty, strength, willpower, and grace to live life inspire me, every day my special friend! Happy Birthday! May you always be the ball of sunshine that you are. Have a fun-filled day.
Happy Birthday to my Best friend for life! You are loved and idealized in ways more than you know. I wish you a pot of gold and every happiness your heart can hold. Stay like the crackhead that you are. I love you.
Happy Birthday to my very sweet friend! No matter, if we are near or far geographically, I will always stay closest to your heart and be the first one to wish you on your birthday, forever. Remember that no matter what. Have a wonderful birthday and an immune year ahead. Cheers.
Thank you for bringing countless reasons for happiness to my life! I am grateful for your presence in my life. Happy Birthday to the most wonderful person, I know. I hope that your coming year brings immense joy and success for you. Sending lots of virtual birthday hugs your way.
May you find a zillion reasons to smile today and always. Happy Birthday to my precious! Please stay as fabulous, witty, kind, and brilliant as you are forever.
Greetings for your Officemates/Workmates/Professional Network on their birthdays:
To a wonderful friend and colleague, Happy Birthday! Have a great year ahead.
The only agenda for today is to celebrate your birthday. Happy Birthday, Pal. Working with you is a great honor and joy.
Happy Birthday to my role model! Wishing you the best day and a memorable year ahead.
Happy Birthday to the best teammate ever! Thank you for making work fun and lively. Have the best year ahead.
Wishing the best boss, the best birthday celebration ever. Happy Birthday to an amazing workmate.
Greetings for your Partner/Spouse on their birthdays:
Happy Birthday to my companion in everything for Life! Thank you for making each day of my life beautiful by just being there for me, with me, by my side. I am lucky I got to meet you at the perfect time. I pray for you to be blessed with everything that your heart desires, today and all other days of my life, my love.
To my soulmate, my better half, my wife/husband, Happy Birthday! I am so lucky to have you as my partner for life. Every year you keep getting better and better, now that's something to celebrate and rejoice. I am blessed to be your wife/husband. Thank you for lending never-ending support in tough times and always celebrating and cheering in happy times. Here is to all our happy memories and to making countless more in the future.
Happy Birthday to the most special person of my life, my bae! You are my joy, my strength, and my bliss. Thank you for existing and thank you for being mine.
Happy Birthday to the love of my life! You complete me always and forever. You are the best thing that has ever happened to me and I am grateful for it every single day of my life. Have an extremely blessed year ahead babe.
Happy Birthday, Love! On your special day, I just want to let you know that you make me the happiest woman/man in this world. The best part of my life is sharing my journey with you. I want you to be eternally blessed by the choicest blessings of the Universe.
Greetings to your parents on their birthdays:
Happy Birthday to the best parent in the whole world! Thank you for guiding me, loving me, and teaching me everything in life. I might not be the person I am today if it were not for you. Thank you for everything.
Happy Birthday Mom/Dad. Forever your little version. May I be at least half as wonderful a person as you are!
Happy Birthday to my Superhero/Superwoman. You are my idol in every which way possible. May you live the longest and happiest life ever.
Happy Birthday to the person I admire the most on this planet, and in this lifetime. Your little version prays for your long, happy, and healthy life today and till eternity.
Happy Birthday Mom/Dad. Thank you for giving me the best life and fulfilling all my wishes always. Wishing you everlasting health and happiness always.
Greetings for your Siblings on their birthdays:
If only everybody had an amazing brother/sister like you! The world would be a much better place. Happy Birthday, brother/sister. Have a lot of birthday fun and cake.
Your birthday is a great occasion to remind you how much older you are than me. Happy Birthday! Have a rocking year ahead.
My childhood would have been incomplete and imperfect without a brother/sister like you. Happy Birthday you crazy human!
Being related to me is the only gift you need. Just saying. Happy Birthday!
Happy Birthday kid! May you be more sensible this year. More and more of everything you wish to have. Here is to our all the hilarious, hysterical, sweet, and wonderful memories that we have made and shall make countless more in the life ahead.
Greetings for your Children on their birthdays:
Daughter/Son, Watching you grow up has been many things, joyful, impactful, stressful, and beautiful. Above all though, it has been the most meaningful part of my life. Happy Birthday my boy/girl!
Being a parent is hard, but you made it easy for me. I am so glad that you grew up to be such a wonderful human. Happy Birthday, daughter/son!
Another year has passed and I am so happy to see you grow even more beautiful and wiser with each year. My sweet daughter/son, I love you. Happy Birthday!
Today I am celebrating the best gift that I ever received in this lifetime and that is your birth. Thank you for being a blessing to my life, my child. Happy Birthday! Have the best one.
As a parent, we hope that you touch the lives of thousands of other people with the same dignity, happiness, care, and love that you have touched mine. That will be your gift to me on your birthday. Wishing you a very happy birthday dear daughter/son.
Greetings for your Teachers/Mentors on their birthdays:
Your blessings and lessons shall accompany me forever. You are a great teacher. Happy Birthday to you!
To the best teacher in the whole world, may you have the best birthday ever!
To an incredible mentor – may you remain a blessing to many who come your way Thank you for this far. Wishing you a very Happy Birthday!
You are not the only teacher I have had but yours are the only classes that I miss real bad. Happy Birthday to the best teacher and wonderful human!
Nothing in this whole world is completely flawless, except my teacher's advice which is completely priceless. Happy Birthday to my teacher!
Greetings for your Elderly family members on their birthdays:
Happy Birthday to the forever young at heart person in our family! No matter how old you grow, you will always have the youngest vibe around. Here is to your cheerful life.
Having you around is a great blessing of God to us and I shall always pray for your health and happiness, Nanna.
You are the coolest Grandparent in town. Happy Birthday! Love from your favorite grandchildren.
You are one fine example of why old is gold, and why old people are the classiest! Happy Birthday, stunner!
Your words are my strength and your success in life is my inspiration. Happy Birthday Grandpa/GrandMa
Greetings for a Milestone hitting birthdays:
This is the beginning of a truly wonderful and roller coaster journey. Enjoy. Happy 25th Birthday!
You are just an 18 year old with 12 years of experience. Happy 30th Birthday! Wishing you an outstanding life ahead as you celebrate an important milestone.
Great things happen at 40, especially to someone like you. You know precisely what you want out of your life and you dare to get it. Happy 40th Birthday to you!
May you have the fortune and strength to carry on in the other half of the century that is waiting for you. Happy 50th Birthday to you! If grey hair is a sign of wisdom, then you are a genius.
When you look back over 80 years, I hope that your memories are warm ones. When you celebrate today, I hope that your heart is filled with love and joy. When you look at your future, I hope that you feel the courage and excitement to make all your dreams and wishes come true. Happy 80th Birthday!
Conclusion:
At GreetPool, you get the best combination of a birthday greeting card and a birthday card message. Along with the warm wishes, adjoin your favorite photos, interesting stickers, funny GIFs, and expressive emoticons in your birthday cards to create a card with a warm personal touch.
In answering your question about what to write in a birthday card to make them feel special, we hope we covered all kinds of bonds and relationships. Create a perfect birthday gift together with a GreetPool birthday group greeting card.