71% of people, regardless of their age, enjoy celebrating their birthdays. Are you one of them?  Well, we suppose your friend is! Everybody has a friend who is a huge fan of birthdays. Only then can you be reading our blog titled how to create a virtual birthday for a friend.
It is believed that birthday invitations date as far back as the 1st century AD. Isn't that just amazing?! Birthday celebrations are that old. In the times we live in today, it has become difficult to celebrate the birthdays of your loved ones together. A virtual birthday card for a friend or anyone special is a lovely fill-in when you are unable to celebrate a birthday together in person due to one of many reasons.
It is so exciting to think about sending a birthday greeting card to a dear friend. The advent of online birthday cards has further enhanced the excitement around creating a perfect card. GreetPool brings you a unique collection of virtual birthday cards for friends, family, and coworkers. You can collaborate to create with your group quickly and simply.
It is this collaborative feature that makes online greeting cards so helpful. With GreetPool you can collaborate with as many people as you desire with an easily shareable link. We offer online group greeting cards for every special occasion.
Let us quickly describe to you the 4 simple steps to create a virtual birthday card for a friend.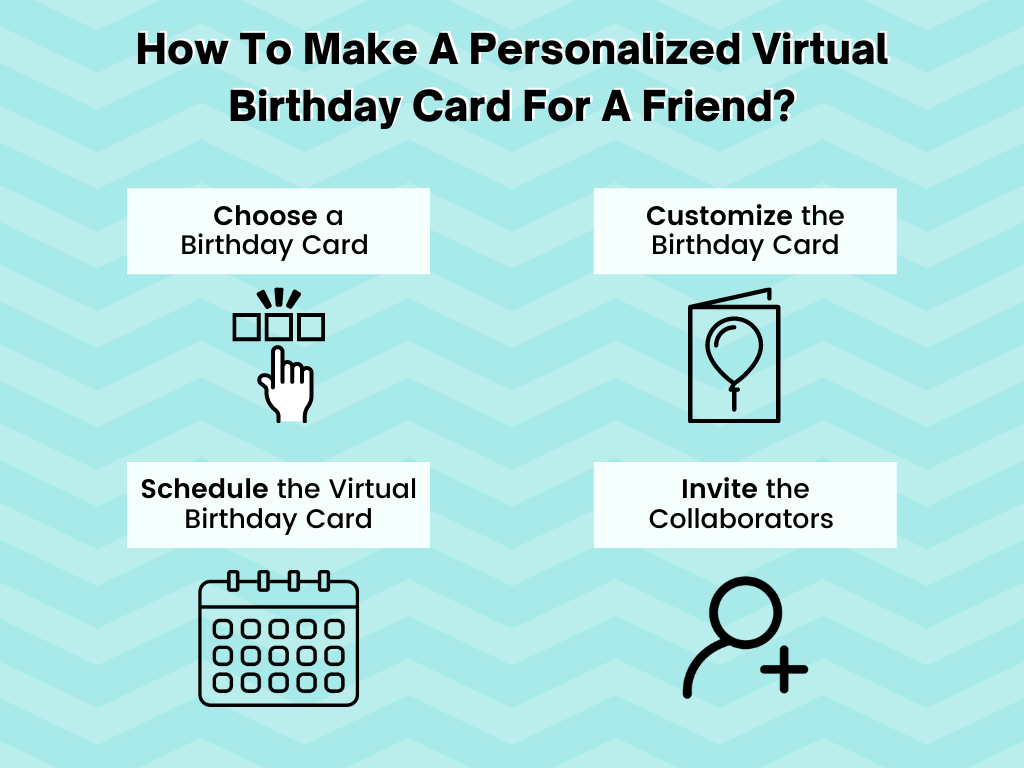 1. Choose a Birthday Card 
The colors and illustrations of a virtual birthday card will greatly influence the feel of the card. Colors play a remarkable role in emphasizing the sentiments conveyed in the card. Choose an electronic birthday card with colors and illustrations that relate to your friend or the bond you share in some way to make it more meaningful.
At GreetPool, you get to explore a collection of handpicked, love-filled birthday card templates. You get to choose your perfect virtual birthday card for a friend from a great collection.
2. Customize the Birthday Card
GreetPool lets you add personalized messages, photos, GIFs, stickers, and emoticons to your online custom cards. You also get to select the handwriting of your choice from the multiple available. Since GreetPool offers unlimited pages for any ecard, you can write long and heartfelt messages for the virtual birthday card of your friend to make them feel warm and fuzzy at the same time.
The greatest gifts are not the ones wrapped in paper but in love. A personalized birthday card will symbolize your love in a meaningful way. Gift cards so they have a keepsake to cherish for life. Our customization features let you make a fun virtual birthday card that your friend will love.
3. Schedule the Virtual Birthday Card
Like it's said time is an illusion, timing is an art. Schedule the delivery date and timing of the virtual birthday card that is most ideal for you, receiver, and the entire group if it's a group card.
GreetPool keeps you informed on the necessary updates regarding your birthday group card through mails. The necessary updates will be received only when the collaborator will sign up for an account with their email address.
4. Invite the Collaborators 
Here comes the best part of sending online group greeting cards. At GreetPool, you can invite any number of signers for the card simply by sharing a link. Gift cards together because like we say greetings are always better together. The element of togetherness will add a wholesome vibe to the special occasion of a birthday.
Birthdays are a great occasion to tell your loved ones how much they mean to you. Make your loved ones birthday special with a personalized birthday group card.