Birthdays are fantastic occasions to celebrate the existence of your favorite people. These occasions provide life with an unrivaled sense of accomplishment and honor. Many acquainted people wish you; some may be close, some may be distant. The exchange and communication that happens with happy birthday greetings and gifts involves so much effort and thinking, right? All that to make their special day unforgettable.
What to write on a birthday card and what to do to make their wonderful birthday memorable are the two questions you think about majorly. Just because you know that they will receive many happy birthday messages that day, and you want your happy birthday message to stand out. To come out different, concise, and expressive becomes a task. All you want is to make that person smile and add a little spark to their special day!
We are here to help make your special person smile wide. GreetPool has a beautiful collection of Group Greeting Cards for every occasion that you can send together with your friends, family, and coworkers. The process for the same is extremely simple and fun-filled. Sending a group card together and sharing that experience of joy is unbeatable when compared to individual cards. A personalized birthday group card will make a unique birthday gift for your favorite people. Following are the steps to do the same:
A) Create a Greeting Pool:
Go to our website – Select Occasions – Select 'Happy Birthday'. From the wide range of birthday cards, select the greeting card of your choice and customize it as per your wish. Add your hearty personal message to the ecard. We have awesome features like including GIFs, emoticons, and photos to add joy to your creativity as well as the card.
B) Collaborate with your group:
Once the first step is done, GreetPool will generate a link. Copy that link and share across with as many people you want to give access to contribute to the card.
C) We'll deliver the card:
Once the card is ready, schedule the date and time for its delivery and fill in the name and email address of the recipient, and it's done. We will take care of the important reminders and follow-ups, and we will also notify you once the recipient opens the card.
Simplest! As we assured you.
In just three steps, you can create a wonderful birthday present. You must have come across the popular saying by philanthropist Oprah Winfrey, "The more you praise and celebrate your life, the more there is in life to celebrate."?  Your birthday card messages exactly need to follow that. Describe the important events of the birthday person's life and personality, praise them, celebrate them. You can enhance the impact of your gesture by using a more customized and personalized card. Let us tell you the 12 unique and interesting birthday card ideas that will surely bring a smile to the recipient's face.
1. Invite your Mutual Friends/Coworkers/ Family Members to Collaborate for a Group Card
Receiving a group card is equivalent to receiving a virtual group hug. Trust us on this, for sure. There is nothing that can match the joy of receiving greetings together from all the people you love and cherish. This card will make their Birthday overwhelming and unforgettable.
The idea of a Group Card seems a task, but not with GreetPool. Just follow three simple steps as above, and you are sorted.
2. Decide a Theme of the Card
This title means that you can collectively decide upon a theme based on the recipient's list of likes and interests. The theme can depend on the type of birthday celebration as well. If it's a milestone birthday like an 18th or 25th or 50th birthday the card can be designed revolving around that. For belated birthdays the theme can be changed accordingly.
If you are sending the virtual birthday card on their actual birthday day then choose a theme that is based on their favorite fictional characters, movies, series, and so on. For example, the recipient is someone who is a crazy Marvel movies fan. Everyone contributing to the card can choose a Marvel character of their choice and write the recipient a personal message (birthday wish) as that Marvel character would write it.
Our platform provides you with features of customization to help you create an aesthetically and emotionally appealing personal message for the receiver. Other examples for the theme can be the very popular Sitcom Friends' theme, Disney characters theme, etc.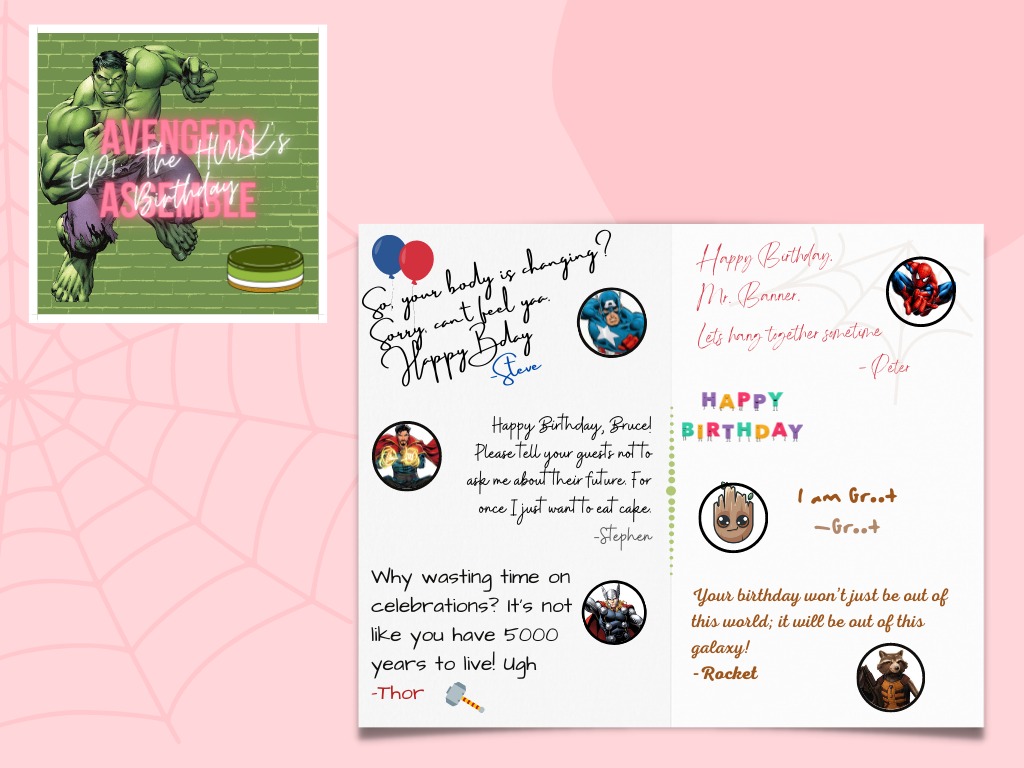 3. Make it a Photo Gallery
GreetPool has a feature that allows you to attach as many personalized images as you desire. This feature allows you to make your card a beautiful memento of memories. Include images of the two of you making great memories together. You may include images of their family, pets, or other important people in their lives.
4. Add Stickers for Joy
The stickers will make the birthday group card so much merrier. Our platform allows you to access a large number of stickers. You may use the stickers as per the theme of your card, and it will enhance the card's appearance. Use stickers to add the adorable element to the card and make your wonderful person (the receiver of the card) smile wide on their special day. Stickers to convey birthday hugs, cake, a heartfelt message and so many more options are available at GreetPool.
5. Push Something Hilarious
A bunch of hilarious GIFs are also available on the platform of GreetPool. You get to include trending meme, viral GIFs, whatever matches your theme or meaningful message of the birthday card. There are inside jokes in every group of friends, and GIFs are a great way to illustrate these inside jokes. Make the birthday boy or girl giggle with your funny birthday message or any other elements of the birthday ecard.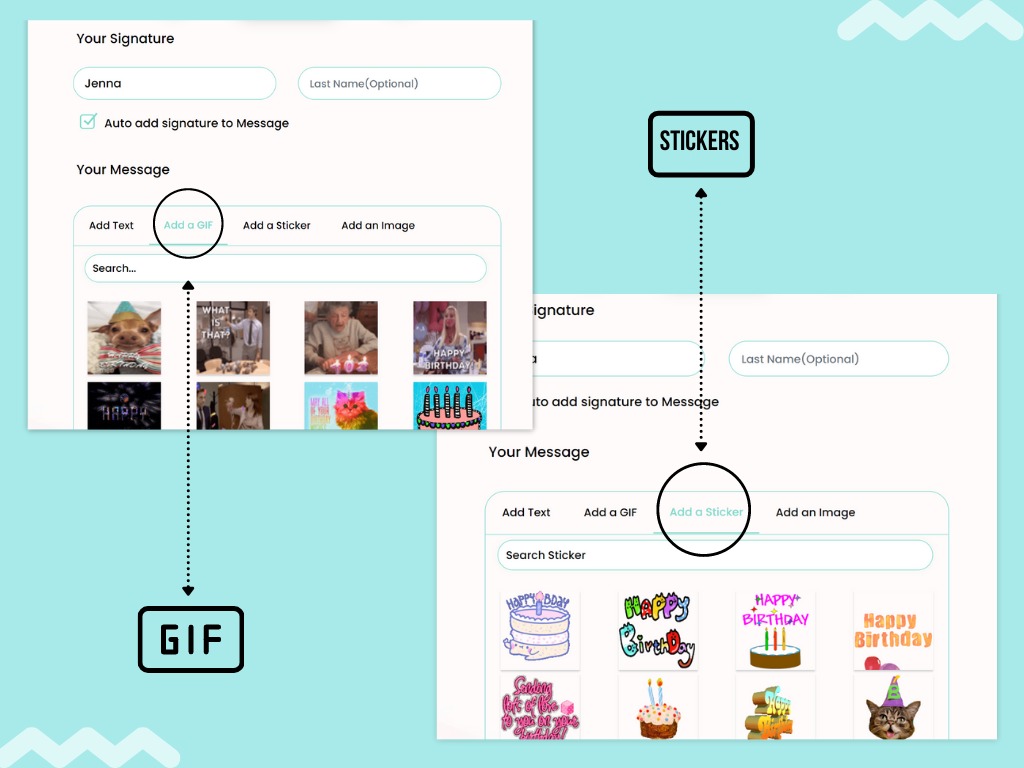 6. Personalized Messages for Friends and Family
Cards are primarily composed of messages, and GreetPool lets you add unlimited pages to the Group Card. To take advantage of this feature, don't set any form of limits on the length of the messages. Allow everyone to write as much as they want, so it happens beautifully and with a personal touch.
GreetPool also lets you check what the other members of the group card have written, so no two people write the same things unless they genuinely want to!
Suppose you are someone who has trouble framing messages for the birthday wish. Here we are to assist you with it. Below mentioned are a few small examples of lovely birthday greeting messages:
Here is to celebrating the blessing that you are, your wholesome affection, heartwarming efforts, and unconditional love and care that you shower upon your loved ones. You are one quintessential soul. I am grateful for you today and every day. Happy Birthday to my role model for life!
Happy Birthday to the person with the purest soul, prettiest mind, and loveliest heart. The most beautiful inside-out and the kindest human I know! Keep slaying as you do.
Happy Birthday my precious! The one who easily gets on my nerves and my heart. Wishing for you the best of all worlds and praying for your great life ahead. Thank you for always being there in my tough times. Sending lots of love and light your way!
I feel safe in this world because you exist in it and thinking that there must be people of your kind existing! Happy Birthday my friend. Wishing for you a life of your dreams and, even more importantly, a life of your unapologetic choices.
To my eternal source of love and happiness, my perennial shower of support, my constant indulgence of madness, and my never-ending spring of care, Happy Birthday My Forever!
We have tried to include a variety of forms of messages so that you can pick the one that appeals most to you and matches your perfect card.
7. Messages for the Group Card at Work 
The messages and cards shared with people you have professional relationships with are naturally different than your personal relationships. The importance of greetings is pivotal at both places.
In professional relationships, the messages advised are short and subtle. Furthermore, they need to be grammatically correct. While using GreetPool, you can use any extensions that can point out the error in your messages, grammar-wise. Examples of the short and subtle messages are as below.
Happy Birthday to an exemplary workmate! Wishing you a year filled with bliss and a life filled with success.
Many, Many happy returns of the day, pal! May luck be the most generous to you always. Happiest Birthday.
Happy Birthday, (name)! Always be the ball of sunshine that you are.
May happiness and success be the constant companions in your journey of life! Happy Birthday to you.
Happy Birthday, Superhuman! Keep conquering everything as you do since forever until forever.
8. Schedule a Delivery Time Suitable to All If Possible
Since GreetPool notifies you via mail once the recipient has opened the card after receiving it, all the group members can rush for a quick conference call to check the recipient's reaction to the card. This is much more possible for your personal relationships.
So, schedule a perfect time for delivery that is suitable for all so that you can have a conference call later. This gesture shall certainly add to the happiness of the recipient.
9. Excite the Creative Head in You
GreetPool's features enable you to be creative with all your ideas. The photos option offers to upload any picture that you want to be a part of the card. What you can do is add a little human touch to this card. You can write it on a piece of paper. Then, with all the scanning apps, you can scan and put the scanned image of the message into the virtual card. That is like one great combination of physical and virtual touch in the same card.
Similar to the text, you can do with pictures and emoticons. If you have someone in the group who is an artist, they can sketch a picture of the recipient and attach the scanned copy in the Group Card. This is one out-of-the-box idea for you to implement.
10. Design Card like a Slam Book
All of us have felt that curiosity and craze for Slam Books in our childhood. Well, the GreetPool Ecards are a great way to recreate that feeling. The first page of the card or the first few pages can be customized as a slambook of the recipient. Their photographs and everything that describes their likes, interests, hobbies, zodiac signs, passion, etc., can be added, and boom! Just imagine the smile on the recipient's face receiving such a personalized, cute, and lovely card on their Birthday. This section will be their most favorite.
11. Include their Bucket List
The bucket list is such a wonderful concept. Ticking off something from your list is the best feeling ever. If you know the recipient's bucket list, do not forget to include that in your card. Use the feature of unlimited pages of GreetPool and design pages describing their bucket list in your finest way. For example, if they love traveling and have traveled to the places on their bucket list, you can do something with a picture of the globe, or the emoticons can be used for that nation's flag. Birthdays are auspicious occasions to assess and upgrade your bucket list in life, so yes, this would make them smile too.
12. Try Multiple Languages to Make the Card Interesting.
GreetPool allows you the input of any language available on your keyboard while using the platform. If the recipient is proficient in more than one language, you can use it to make the card interesting and diversified.
In the world of business, many languages cross paths when it comes to international trade. This becomes catchy and fancy for sending Group Cards to the corporates. You can also use translators to write in a language you are not good with. The multi-linguistic feature can be fairly attractive for group greeting card
Conclusion
We are sure that the 12 ways mentioned above will indeed make the one receiving your card smile again and again as they look through it.
Happy 'Happy Birthday' card-making to you!