21 Thoughtful Work Anniversary Gifts to Honor Employee Work Anniversaries
In the fast-paced world of modern business, where time seems to blur by in a whirlwind of meetings, projects, and deadlines, there exists a precious and often overlooked treasure – employee loyalty and dedication. Every year, amidst the daily hustle, there comes a moment that deserves to be cherished and celebrated – the work anniversary of your invaluable team members.
Acknowledging an employee's years of service and commitment is not just a formality, but an opportunity to express genuine gratitude and admiration which in turn will lead to their increased job satisfaction. After all, it is the unwavering dedication of these incredible individuals that propel our organization forward, turning dreams into reality. We understand that choosing the perfect work anniversary gift is not merely a matter of picking something from the shelf. It is an art, a gesture that speaks volumes about appreciation and recognition. It's about celebrating the unique talents, skills, and personality that each employee brings to the table, making our corporate family a mosaic of brilliance. Give your employee appreciation that they deserve on their special milestone. Show employees they are an important part of the team.
In this blog, we are delighted to present '21 thoughtful work anniversary gift ideas'. We've handpicked these appreciation gifts to ensure that every moment of their journey is filled with joy, warmth, and the knowledge that their continuous service is cherished beyond measure. Build a positive company culture with these employee gift ideas and celebrate a work anniversary that shows employees you care. Celebrate your employees and reward their milestones, making work anniversary always a happy and memorable occasion.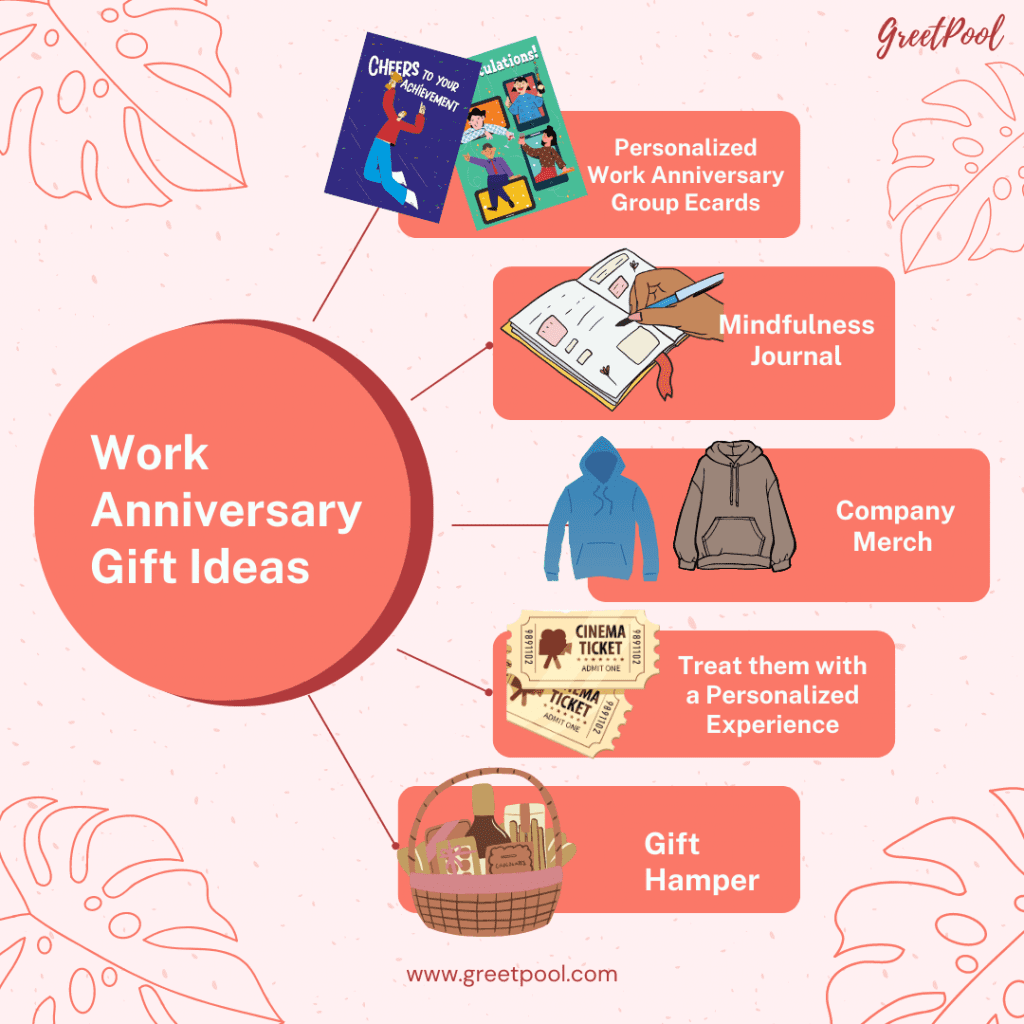 Best Work Anniversary Gift Ideas for Employees or Coworkers
Work anniversaries are worth celebrating. A simple yet thoughtful gift has the power to forge deeper connections, boost team morale, and create a workplace culture that radiates appreciation and camaraderie. So, let's delve into this treasure trove of gift ideas for employees' work anniversaries, and together, make each work anniversary an unforgettable moment etched in the hearts of those who make our organization truly remarkable. Choose what suits best your loyal employee from this list of work anniversary gift options.
1. Personalized Work Anniversary Group Ecards
When it comes to commemorating the work anniversaries of exceptional employees, we believe in going the extra mile to make them feel truly special and valued. That's why we are thrilled to introduce the perfect blend of personalization, creativity, and team spirit with our Personalized Work Anniversary Group greeting cards. GreetPool allows the entire team to collaborate and create a cohesive digital card filled with heartfelt messages, custom touches, and multimedia elements. With a timely delivery and eco-friendly approach, these work anniversary cards become lasting keepsakes, reminding employees of their impact and the strong bonds they've formed within our workplace family.
The Personalized Work Anniversary Group Ecard remains accessible online, allowing the employee to revisit it whenever they desire, and it becomes a treasured reminder of their impact on the team and the heartfelt connections they have made along the way. It can be a perfect addition to any anniversary ideas you have for celebration. The personal messages from the entire team make the true employee reward for the anniversary celebrant. Make your company culture rich with this treasure of heartfelt gratitude.
You may be interested in reading: 75+ Best Happy Work Anniversary Messages and wishes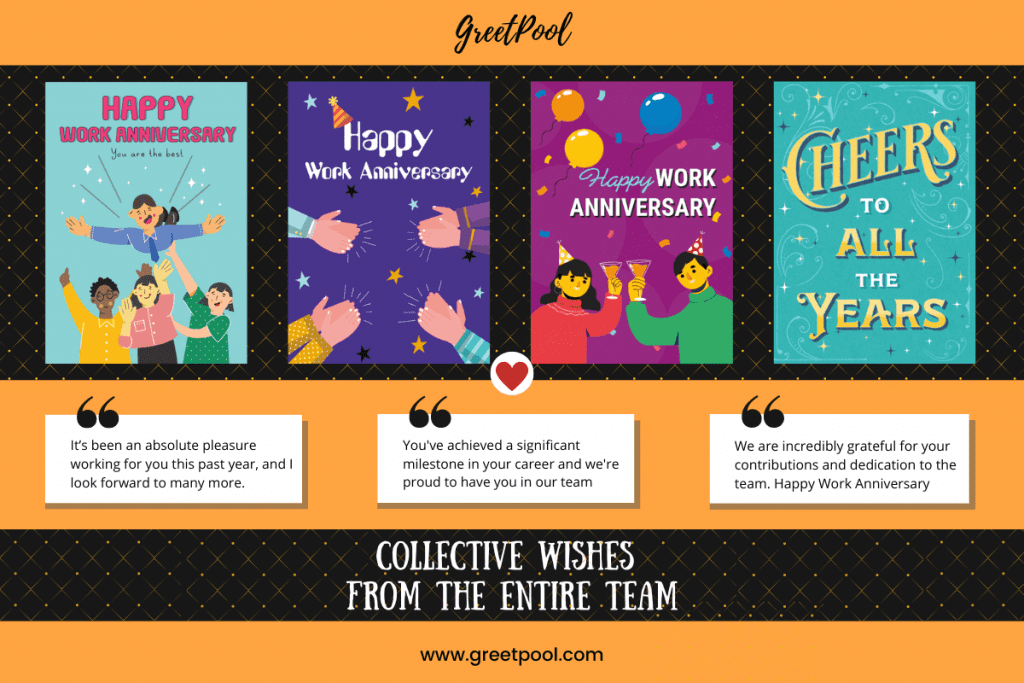 2. Mindfulness Journal
Give employees a perfect work anniversary gift that encourages self-reflection and inner balance. This elegantly designed journal provides a sanctuary for employees to unwind, de-stress, and cultivate mindfulness in their daily lives. With thought-provoking prompts and guided exercises, it empowers them to explore their thoughts, emotions, and goals, fostering personal growth and well-being. As they embark on a new year at your company, this mindful gift serves as a reminder of our appreciation for their dedication and a tool to nurture their mental wellness throughout their journey. Practices like these build a positive work environment.
3. Company Merch Hoodie
A cozy and stylish work anniversary gift that embodies our team's spirit and camaraderie. This premium hoodie, adorned with the company's logo and a special "Work Anniversary" emblem, serves as a tangible token of appreciation for our employees' commitment and hard work. Not only does it keep them warm during chilly days, but it also instills a sense of belonging and pride as they proudly wear it, knowing they are an integral part of our corporate family. With its high-quality material and personalized touch, this hoodie becomes a cherished memento, reminding them of their growth and accomplishments throughout their time in the company.
4. Flowers
'Flowers' as a work anniversary gift for employees is a timeless and heartfelt gesture that conveys appreciation and gratitude in the most beautiful way. Presenting a vibrant bouquet or an elegant floral arrangement on their work anniversary is a simple yet impactful way to celebrate their loyal service and dedication to our company. The colorful blooms symbolize growth, renewal, and the blossoming of their professional journey, making their work anniversary experience pleasant and beautiful. Moreover, flowers have the power to brighten up any workspace, adding a touch of nature's beauty and creating a positive atmosphere. This thoughtful gift serves as a sincere expression of recognition, making our employees feel valued and cherished as they continue to bloom and thrive within our organization.
5. Self-Care Package
The self care gift basket along with the anniversary wishes as a work anniversary gift for employees is the best work anniversary gift. It is a gift that keeps a compassionate and considerate way to honor their commitment and well-being with a employee appreciation gift. Work anniversaries with care packages as the gift are curated packages designed to provide a moment of relaxation and rejuvenation, acknowledging the hard work they have dedicated to our company. Filled with pampering essentials such as soothing bath salts, scented candles, mindfulness journals, and perhaps even a gift card to a spa or wellness retreat, the self-care package encourages our employees to take a step back, unwind, and prioritize their mental and physical health. As they indulge in self-care, they are reminded that their well-being matters, and their continuous service are valued not just professionally but on a personal level too. Gifting work anniversary care package is a gesture of thoughtfulness that not only strengthens your bond with them but also inspires a more balanced and motivated workforce, ready to embrace new milestones in the years ahead.
You may be interested in reading: Ways To Wish Coworkers And Friends A Happy Work Anniversary
6. Treat them with a Personalized Experience
When it comes to work anniversary gifts, there's nothing quite like offering a personalized experience that leaves a lasting impression. These thoughtful gestures go beyond material items and create cherished memories for the anniversary celebrant. Instill a sense of meaning to their special day and build a company culture rich in employee morale. Make their anniversary celebration simple yet memorable. Here are some fantastic ideas for work anniversary to treat your employees with a classic anniversary celebration experience they'll never forget:
1. Movie Tickets: Lights, camera, action! Delight your employees with a trip to the movies. Gift them a pair of movie tickets so they can enjoy the latest blockbuster or a movie of their choice with a loved one, creating an enjoyable spare time. Give the gift of quality leisure time with a loved one.
2. Restaurant Tickets: Celebrate their work anniversary with a delectable dining experience. Present them with restaurant tickets to a fine dining establishment or their favorite eatery. This thoughtful gift lets them savor delicious food and enjoy a delightful evening out.
3. Game Tickets (Courtside Tickets): For the sports enthusiasts on your team, courtside tickets to a live game will be a dream come true. Whether it's basketball, football, or any other sport they're passionate about, this immersive experience promises an adrenaline-pumping and unforgettable time.
4. Amusement Park Tickets: Tap into their inner child with amusement park tickets. A day of thrilling rides, games, and laughter will help them unwind and relive cherished memories. It's a fantastic way to show appreciation for their dedication and hard work.
5. Concert Tickets: If your employees are music aficionados, concert tickets to see their favorite band or artist will be music to their ears. This gift lets them immerse themselves in the euphoria of live music, creating a special and unforgettable evening.
These personalized gifts are also personalized experiences that go above and beyond a traditional gift (like a dinner party or a coffee gift card) showing your employees that you truly value their contributions and want to make their work anniversary a remarkable and tailored celebration. They portray a sense of meaning to the celebration when presented with heartfelt anniversary wishes. Whether they're seeking excitement, relaxation, or entertainment, these experiences will leave them with a profound sense of appreciation and gratitude.
Looking for more work anniversary celebration ideas? Check this: Best Work Anniversary Celebration Ideas
Work anniversary milestones mark significant years of dedication, loyalty, and invaluable contributions to an organization's success. As these dedicated team members reach milestones like 5, 10, 15, or even 20 years with the company, it's essential to make employee anniversary gifts as exceptional as their loyal service. Celebrating an employee's service milestone work anniversary is a momentous occasion that warrants special recognition and appreciation. Below mentioned are the ideas for work anniversary gifts by year list.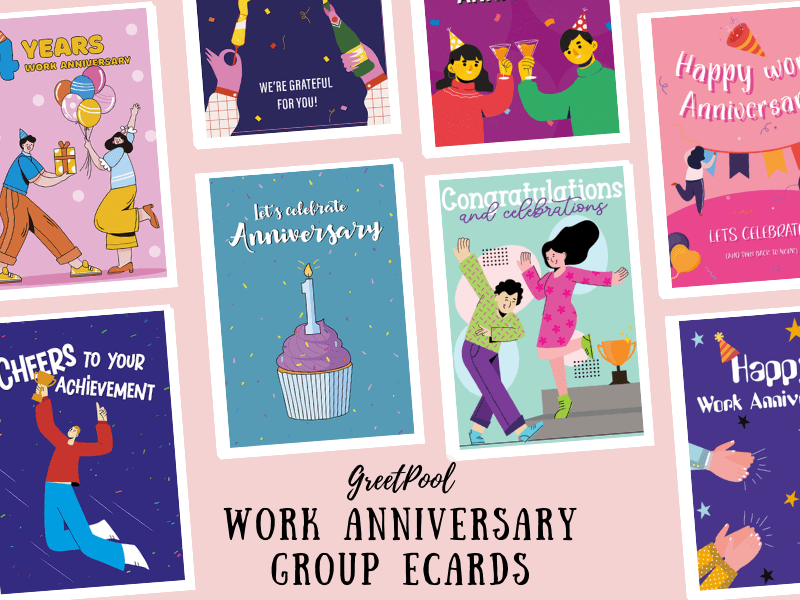 1-Year Work Anniversary Gift Ideas
Reaching the one-year mark in any company from being a new employee is a special achievement, and it calls for a memorable work anniversary recognition. The first year at a new job is a time of growth, learning, and forming strong bonds with colleagues for many employees. As the first work anniversary approaches, it's the perfect opportunity to make employees feel appreciated and recognized for the best work made by them during this pivotal first year. Here are gift ideas to make one year anniversary memorable.
1. Wireless Handsfree – A Wireless Handsfree is the ideal one-year work anniversary gift for the modern professional who values convenience and productivity. This sleek and cutting-edge device offers the freedom of hands-free communication, making it perfect for on-the-go multitaskers and busy individuals. With its advanced Bluetooth technology, it seamlessly connects to smartphones, allowing effortless calls and easy access to virtual assistants. This can be a really good gift option for remote employees. Whether taking important business calls while commuting or enjoying favorite tunes during breaks, this thoughtful gift enhances efficiency and enhances the overall work experience. It's a practical and thoughtful way to show appreciation to an employee on their anniversary, providing them with a valuable tool that aligns with their busy lifestyle and professional needs.
2. Stationery Specials – Stationery goodies, such as journals, notebooks, and planners, make for a delightful and fun work anniversary gift that fosters creativity, organization, and productivity. These carefully chosen items not only add a personal touch but also serve as practical tools to help employees stay on top of their tasks and goals. From jotting down ideas in a stylish journal to planning and scheduling in a sleek planner, these stationery goodies enhance the work experience and provide a sense of empowerment. As we celebrate the dedication and commitment of our team members on their work anniversary, these stationery goodies become a symbol of encouragement and appreciation, inspiring them to continue excelling in their roles and embracing new challenges with enthusiasm. Employees know that their contributions are deeply valued when you take care of the little things they may need like this gift.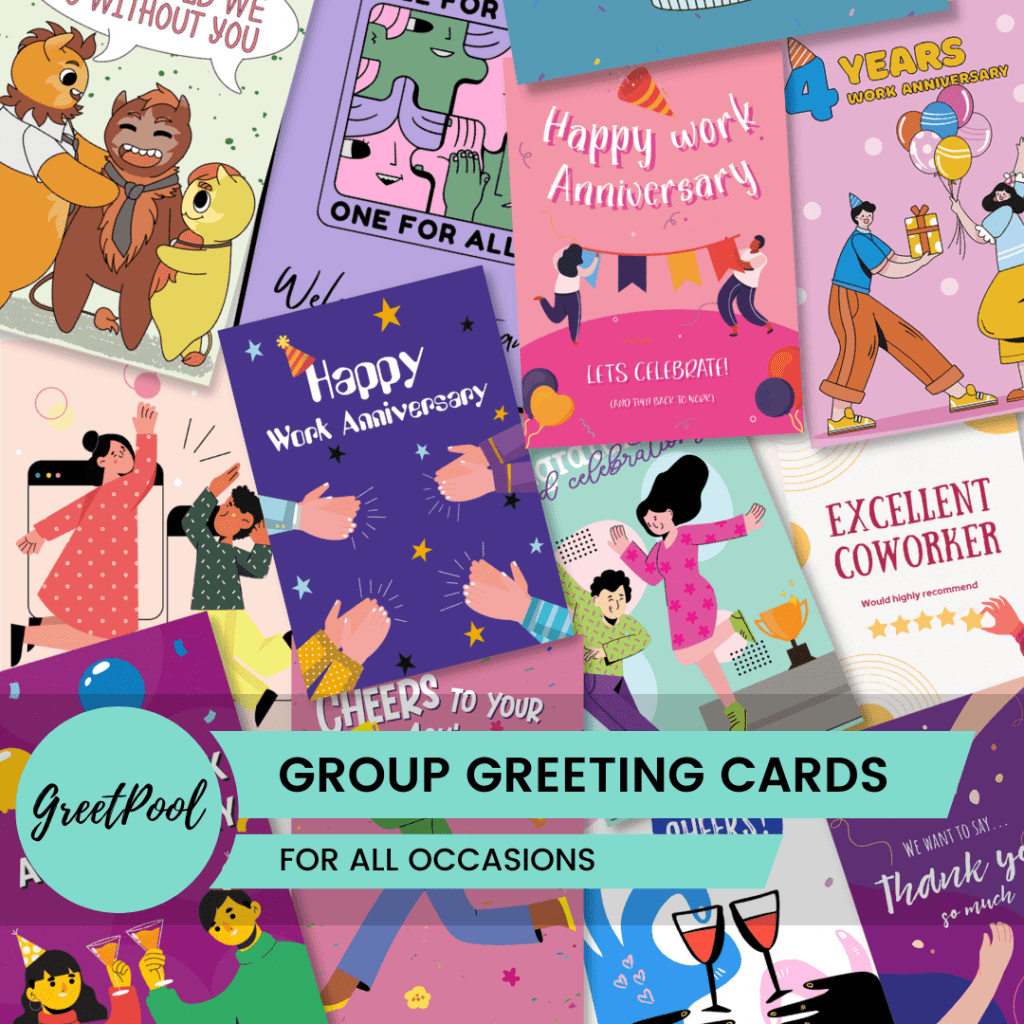 3. Smart Coffee Mug – A Smart Coffee Mug is a cutting-edge and innovative work anniversary gift that elevates the coffee-drinking experience to new heights. This intelligent mug is designed to keep beverages at the perfect temperature for extended periods, ensuring that every sip remains as enjoyable as the first. With its built-in temperature control and app connectivity, employees can customize their beverage preferences right from their smartphones. Whether they prefer their coffee piping hot or perfectly warm, this smart mug delivers an optimal drinking experience, even during hectic workdays. As a perfect gift, it not only adds a touch of luxury but also shows our team members that we care about their comfort and well-being. They don't have to run to a coffee shop or a beverage vending machine all the time. The Smart Coffee Mug is an exceptional token of appreciation.
As the first work anniversary draws near, let's take a moment to reflect on the incredible milestones achieved in just one year. Celebrating an anniversary is to acknowledge the professional growth, achievements, and the promising future that lies ahead. Here is to building a stronger company culture filled with a sense of camaraderie.
5-Year Work Anniversary Gift Ideas
Reaching a significant milestone like a 5-year work anniversary is a momentous occasion that deserves special recognition. Five years is plenty of time. Five years of dedication, commitment, and continuous service to the company have undoubtedly made a lasting impact. As we celebrate this remarkable achievement, it's the perfect time to show heartfelt appreciation to our employees who have been with us on this journey. Here are the work anniversary idea for the fifth employee anniversary recognition.
1. Monetary Gift – A monetary gift, such as a bonus or a special financial reward, is a meaningful and highly appreciated way to celebrate an employee's work anniversary. This gesture goes beyond material items and acknowledges the significant impact the employee has made on the company's success. A monetary gift provides flexibility and freedom, allowing the employee to use it as they see fit, whether it's saving for the future, treating themselves to something special, or investing in personal development. This should be paired with a thoughtful note of gratitude and generous gesture not only shows appreciation for their hard work and dedication but also fosters a sense of motivation and loyalty, inspiring them to continue excelling in their role and contributing to the organization's growth.
2. Plaque – A beautifully crafted plaque is a timeless and elegant work anniversary gift that holds significant sentimental value. This thoughtful memento allows us to express gratitude and admiration for an employee's dedication and contributions throughout their journey with the company. The personalized inscription on the plaque serves as a permanent reminder of their achievements and the positive impact they have had on the organization. It becomes a cherished keepsake that they can proudly display, symbolizing the milestones they've reached and the meaningful connections they've formed with their colleagues.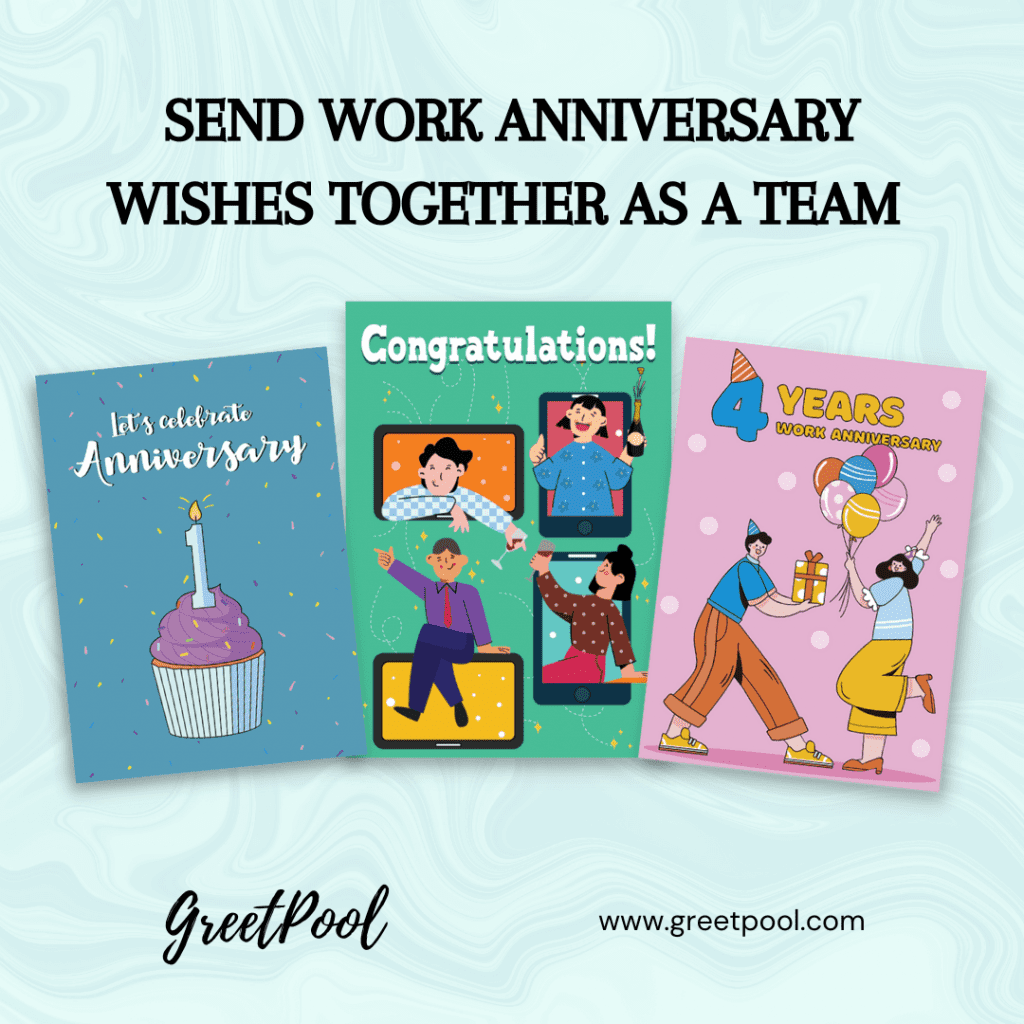 3. Bluetooth Speakers – Bluetooth speakers make a great work anniversary gift that combines cutting-edge technology with a premium audio experience. Choose a portable and versatile speakers that offer superior sound quality, making them perfect for both professional and leisure activities. With wireless connectivity, employees can effortlessly stream their favorite music, podcasts, or conference calls from any Bluetooth-enabled device. The sleek and modern design adds a touch of sophistication to any workspace or home, elevating the overall audio experience. As a thoughtful gift, these Bluetooth speakers show our appreciation for their hard work and dedication while providing them with a valuable tool to enjoy music, enhance productivity, and stay connected with ease.
The journey of five years is a testament to their hard work and passion, and we hope these carefully curated gift ideas have inspired you to find the perfect way to show your appreciation.
You may be interested in reading: The ultimate collection of Congratulations Messages for Coworkers [2023]
10-Year Work Anniversary Gift Ideas
A decade of unwavering dedication and commitment of the veteran employee deserves a celebration like no other. In this section, we present a handpicked selection of remarkable and meaningful gifts to commemorate this momentous occasion. Here are work anniversary gift ideas your employees will love.
1. Extra Annual Leaves or PTO – The gift of extra vacation days or paid time off (PTO) is a valuable and thoughtful way to celebrate an employee's work anniversary. By providing them with additional time off, you acknowledge their hard work and dedication over the years, allowing them to take a well-deserved break and recharge. This gift not only demonstrates our appreciation but also promotes a healthy work-life balance, supporting their overall well-being and happiness. Whether they choose to spend extra time with family and friends, pursue personal interests, or simply relax, the special gift of extra annual leaves or PTO shows that we value their commitment and want to reward them with the gift of time for their continued dedication to the company.
2. A Quality Work Bag/ Briefcase bag – A quality work bag or briefcase is a sophisticated and practical work anniversary gift that embodies professionalism and functionality. This thoughtfully selected accessory serves as a constant companion for our employees, carrying their essentials in style and keeping them organized throughout their busy workdays. A premium work bag not only adds a touch of elegance but also reflects our appreciation for their hard work and dedication. With its durable construction and ample storage, it becomes a trusted partner, facilitating their daily tasks and making their work experience more seamless and efficient.
3. Company-merchandised Hamper – This curated company swag hamper is filled with a selection of branded merchandise, such as company apparel, mugs, water bottles, notebooks, and other goodies that represent our corporate identity. Offering this special hamper to our employees on their work anniversary not only shows our appreciation for their dedicated service but also creates a sense of belonging and pride. Each item in the hamper becomes a cherished keepsake, reminding them of their valuable contributions and the strong bonds formed within our workplace family. As they use these branded treasures from the awesome package in their daily lives, they become brand ambassadors, spreading our company's values and culture with every interaction.
A decade is plenty of time! These thoughtful tokens of appreciation reflect our deep admiration and gratitude for their decade-long contribution to the company's success.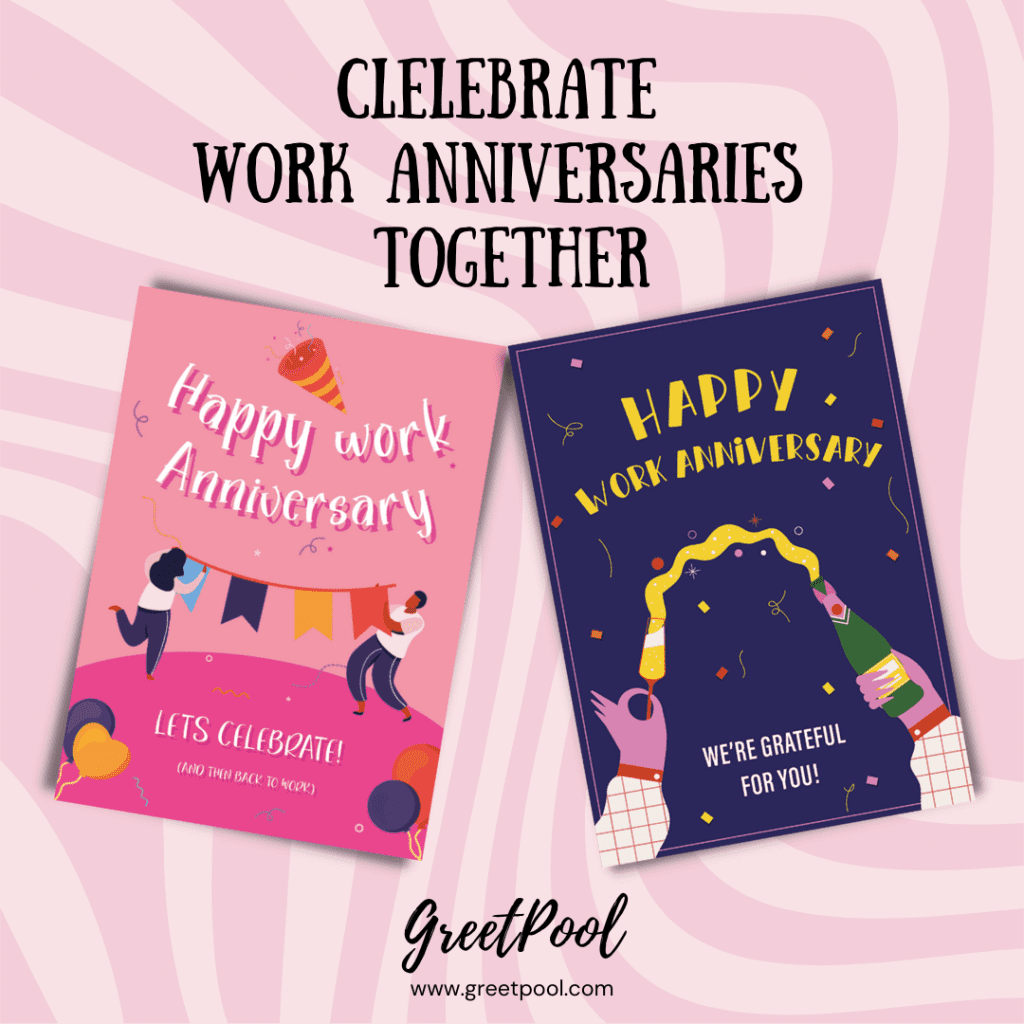 15-Year Work Anniversary Gift Ideas
As you commemorate this momentous milestone for your esteemed employees, finding the perfect 15-year work anniversary gift becomes a heartfelt endeavor. In this section, we present a handpicked selection of remarkable and meaningful gifts to honor this exceptional journey.
1. A Wine/Champagne Basket – A 'Wine/Champagne Basket' is a sophisticated and celebratory work anniversary gift box that marks a momentous occasion in style. This thoughtfully crafted basket includes a selection of exquisite wines or champagne, paired with gourmet treats, chocolates, and elegant glassware. It's a perfect way to raise a toast to our employees' dedication and contributions over the years. The wine/champagne basket not only adds a touch of luxury but also creates a memorable experience to be shared with loved ones or cherished in a moment of relaxation.
2. A Meaningful piece of art – A truly heartfelt and thoughtful work anniversary gift that transcends the realm of material possessions. This carefully chosen artwork carries profound significance, reflecting our appreciation for the employee's impact and dedication to our organization. Whether it's a painting, sculpture, or custom-made piece, art has the power to inspire, evoke emotions, and serve as a constant reminder of their remarkable journey. This gift not only beautifies their workspace or home but also becomes a cherished symbol of their achievements and the lasting connections they've formed within our corporate family.
3. A Branded Watch – A timeless and sophisticated work anniversary gift that symbolizes our appreciation for the employee's dedication and commitment over the years. This elegant timepiece and branded swag not only adds a touch of luxury but also serves as a lasting memento, signifying the value we place on their contributions to our organization. A branded watch is not only a practical accessory but also an exquisite statement of recognition and gratitude. As they wear the watch, they carry with them a constant reminder of their achievements and the remarkable journey they've undertaken with our company.
A decade and a half of excellence deserve the utmost recognition with a branded swag symbol, and we hope these carefully curated gift ideas have inspired you to find the perfect way to show appreciation.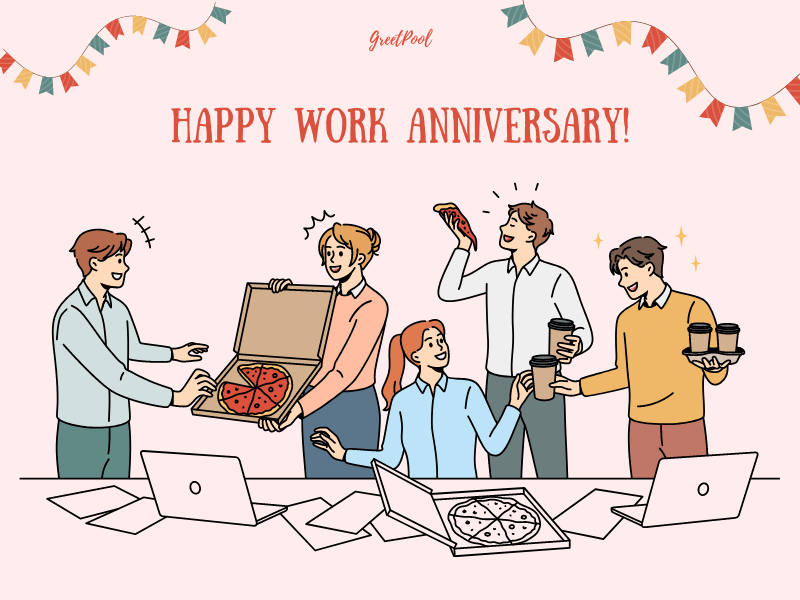 20-Year Work Anniversary Gift Ideas
Reaching a remarkable milestone of 20 years with the organization is an extraordinary accomplishment that deserves the most heartfelt celebration. In this section, we present a handpicked selection of exceptional and meaningful gifts to commemorate this exceptional achievement. Here are gift ideas for employees that have put in years of hard work.
1. Massage/Spa Gift Cards – A wonderful and indulgent work anniversary gift that shows our employees how much we value their well-being and hard work. This thoughtful gesture allows them to unwind and relax with a rejuvenating massage or a pampering spa experience. The gift of self-care not only provides a moment of tranquility but also reinforces the importance of work-life balance. By presenting them with these gift cards, we express our gratitude for their dedication while encouraging them to take time for themselves. As they enjoy this special treat, they'll be reminded that their well-being is a priority, making their work anniversary a truly rewarding and cherished occasion.
2. Exclusive Travel Experience: Offer a luxurious travel experience, such as a business class flight or a vacation package to a dream destination, rewarding them with an unforgettable journey. Gift at least two tickets so they can take a loved one along. It is a gift that your employee is sure to appreciate Set up a work anniversary special travel experience that may include exclusive excursions, private guided tours, cruise life, or access to unique activities that are worth experiencing. Senior employees can be treated to lavish accommodations at five-star hotels, resorts, or private villas, renowned for their exceptional service and exquisite amenities. The accommodations offer comfort, privacy, and a sense of opulence throughout their stay.
3. Membership to Exclusive Clubs – Gifting senior employees membership to prestigious clubs, such as private golf clubs or elite social clubs, is a highly coveted and esteemed work anniversary gift that opens doors to a world of luxury, networking opportunities, and exclusive experiences. A membership to a private golf club grants senior employees access to meticulously manicured courses and top-notch facilities. They can enjoy leisurely rounds of golf in a serene and sophisticated atmosphere, away from the crowds often found at public courses. Private clubs often offer additional amenities like fine dining restaurants, upscale lounges, and state-of-the-art practice facilities. Membership to an elite social club provides senior employees with a coveted ticket to a world of luxury and exclusivity. These clubs offer a range of exceptional services and facilities, such as upscale dining options, private event spaces, fitness centers, and cultural programs. They become part of an exclusive community of influential professionals, allowing them to network, exchange ideas, and build lasting relationships
By offering such a premium gift that has a sense of meaning with their preferences, we not only acknowledge their dedication and achievements but also provide them with a remarkable platform to relax, connect, and explore new horizons. These thoughtful tokens of appreciation reflect the profound admiration and gratitude for their unwavering commitment and invaluable contributions throughout their remarkable tenure.
Final Thoughts
Based on this list of gifts for your employees you can develop a work anniversary gift program for anniversary acknowledgment or even an employee recognition program for that matter to bring a kind of uniformity to a single company. Such activities build a sense of ownership and commitment in the employees for their work.
Celebrating work anniversaries is not only an opportunity to commemorate the years of dedication and commitment but also a chance to express genuine appreciation and gratitude to our valued employees. Each of the carefully curated work anniversary gift ideas presented here is designed to convey thoughtfulness, recognition, and the highest regard for their unwavering service. Decrease employee turnover rates and boost employee engagement and morale.
From personalized messages, awesome packages, handwritten notes, and tokens of appreciation to luxurious experiences that create lasting memories, these gift ideas exemplify our commitment to nurturing a culture of appreciation and employee well-being.
Here's to celebrating employees' remarkable journeys, fostering a culture of appreciation, and many more years of shared success and growth. Let these work anniversary gift ideas be a reflection of our gratitude, a celebration of achievements, and a symbol of the bright future that lies ahead for both our employees and our organization.