Office Birthday Parties – A comprehensive guide to birthday celebrations at work
An office birthday party can be a great way to foster a sense of camaraderie and teamwork among colleagues. They can also be a lot of fun, with decorations, delicious treats, and plenty of laughter and good cheer. Everyone in the office gets a nice break from work for the day and a chance to socialize and have fun. Whether you're an employer looking for ways to celebrate employee birthdays or a team member planning a surprise happy birthday party for a coworker, this blog has everything you need for celebrating office birthdays. We'll look at some fun office birthday ideas to celebrate in style and make office birthday parties memorable and helpful tips for a successful celebration. Let's get started!
Weather you are an experience Party Planning Committee member, or inexperienced party planning novices like Jim and Dwight (check out the IT IS YOUR BIRTHDAY fiasco recap), this blog will give you all the best ways to ensure your office birthday party a huge hit.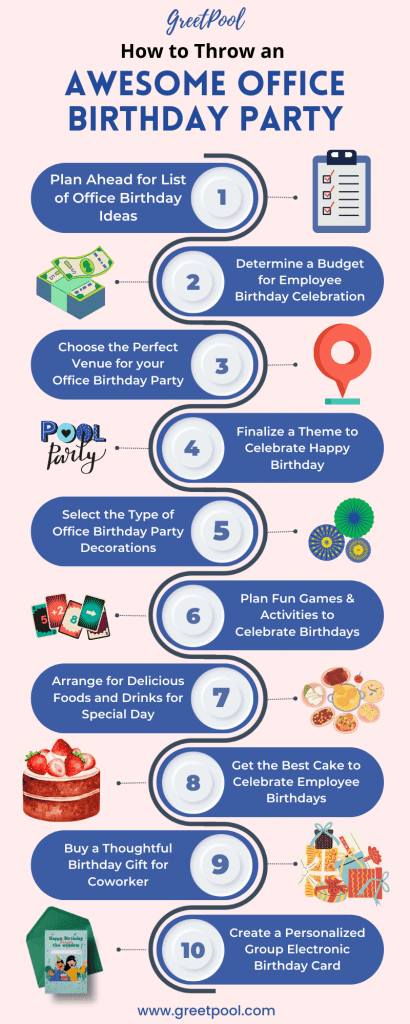 1. Plan Ahead for List of Office Birthday Ideas
By planning celebrations for birthdays in the office ahead, you can make sure that everyone is involved and engaged in this fun activity and promotes a positive company culture. It can also help ensure that everyone is included in the celebration, regardless of dietary restrictions or personal preferences. Also, you can ensure that options are available for everyone and that everyone feels valued and appreciated.
Planning ahead allows you to manage your time effectively, ensuring that you have enough time to get everything done. This includes tasks such as ordering food, venue, decorations, and other supplies concerning the office birthday celebration. Its not everyday that you'd celebrate birthdays in the office afterall.
2. Determine a Budget for Employee Birthday Celebration
Having a budget for an office party is essential to creating a successful event. Taking the time to determine a budget and allocate the right items will help ensure that everyone has a great time.
When determining a budget for the office happy birthday party, it is important to consider several factors. First, consider the total number of people attending the party. This will help determine the amount of food and drinks that need to be purchased. Next, consider the type of food that will be served. If there will be a buffet, it is important to account for the cost of all of the food items. Additionally, the cost of paper goods and decorations should also be taken into account. Lastly, the cost of any entertainment, such as music or a photo booth, should be included in the budget.
Once all of the factors have been considered, it is important to set a total budget for the office birthday party. Allocating the budget to each of the different items is also important. This will help to ensure that everything fits within the budget, while still providing an enjoyable experience for everyone. If birthday bonuses are something the company provides then that should be taken into account as well.
3. Choose the Perfect Venue for your Office Birthday Party
The location of the celebration is essential to its success when organizing an office birthday party. The location, capacity, facilities, atmosphere, and budget should all be taken into account when choosing a venue for your office birthday party. The place you pick should, in the end, complement the tastes and passions of both the birthday person and the invited guests and produce a joyful and unforgettable party.
For an office birthday party, you have a variety of venue choices depending on your preferences and budget. Here are some concepts to think about:
Conference room or cafeteria: If you're on a tight budget or want to keep things simple, you can consider using a conference room or cafeteria to celebrate in the office. You can decorate the room and bring in some food and drinks to make the party festive.
Local restaurant: You can book a private room or section at a local restaurant that fits your budget and preferences. This option allows you to enjoy a great meal and drinks while socializing with your colleagues in a relaxed atmosphere.
Event space: You can book an event space that fits your budget and preferences. This option allows you to have a more formal celebration with plenty of space to decorate and host a bigger crowd.
Outdoor venue: If you're celebrating in good weather, an outdoor venue such as a park or rooftop terrace can be a great option. You can bring in some food and drinks and enjoy the fresh air and scenery.
Activity-based venue: You can choose an activity-based venue such as a bowling alley, karaoke bar, or escape room to add some fun and excitement to the celebration. This option allows you to do something different and memorable with your colleagues.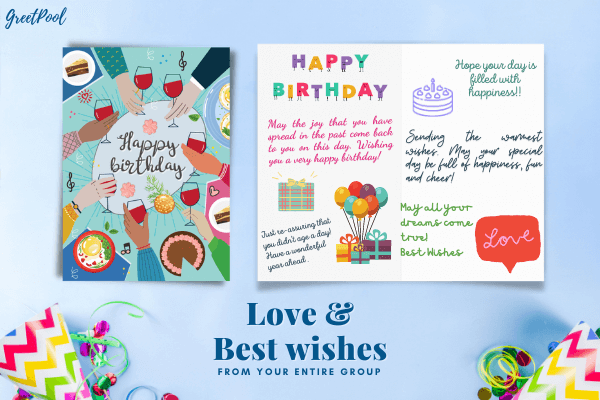 4. Finalize a Theme to Celebrate Happy Birthday
Choosing a theme for your office birthday party can be a challenge as there are so many factors that influence it. But there are a few simple considerations that can help you celebrate in style.
First, consider the budget and the venue that you have decided for the party. Birthday themes can range from simple to extravagant and its important to know upfront how much money you can spend. Also, based on the location, in-person or virtual, the entire party theme can vary.
Then, consider the size of your office team and the number of people attending. Depending on the size, you may want to pick a theme that is more low-key or one that is more extravagant.
Next, think about the type of people who will be attending the party. Are they more formal or more relaxed? Do they prefer traditional themes or something more modern? Their anticipated preferences will help you narrow down your theme choices.
Birthday celebrations in the office can be made even more enjoyable and exciting by selecting an appropriate theme. Here are some fantastic birthday themes to take into account:
The Office theme: "The Office" themed party can be a great way to bring your coworkers together and have fun while paying homage to one of the most beloved TV shows of all time. From decorations to food and drinks, there are plenty of ways to incorporate the show's iconic moments into your party. Encouraging your coworkers to dress up as their favorite characters and playing trivia games or fun activities inspired by the show can create a lively and engaging atmosphere.
Decades theme: Pick a decade, such as the 80s or 90s, and have everyone dress up and decorate the venue accordingly. You can play music and games from that era and serve food and drinks popular during that time.
Sports theme: If the birthday person is a sports fan, you can have a sports-themed party. Decorate the venue with sports memorabilia and have everyone wear jerseys or team colors. You can even organize a friendly competition or game.
Superhero theme: Everyone loves superheroes! Have everyone dress up as their favorite superhero or create your own superhero characters. You can have superhero-themed decorations, games, and snacks.
Tropical/beach theme: Bring a little bit of the beach to the office! Decorate the venue with palm trees, beach balls, and sand. Serve tropical drinks and snacks, and encourage everyone to dress in beach attire.
Hollywood glamour theme: Roll out the red carpet for the birthday person! Have everyone dress up in their best Hollywood-inspired attire and decorate the venue with movie posters and lights. You can even have a photo booth and awards ceremony. Especially if its a milestone birthday,, it makes sense to go big and celebrate the upcoming birthday in style.
Choosing a theme for your office birthday party doesn't have to be stressful. With a little planning and creativity, you can create a fun and memorable event for your colleagues.
5. Select the Type of Office Birthday Party Decorations
There are many fun office decoration ideas that you can use to create a festive atmosphere for a birthday party at the office. Here are a few ideas to get you started:
Balloons: Balloons are a classic decoration for any celebration, and they are easy to set up. You can choose birthday balloons in the birthday person's favorite color or opt for a colorful assortment.
Streamers: Streamers are another classic decoration that can add a fun and festive touch to your party. You can use streamers to create a colorful backdrop or hang them from the ceiling.
Banners: A birthday banner is a simple and effective way to let everyone know that it's time to celebrate. You can make your own banner using paper or fabric and decorate it with the birthday person's name and age.
Photo booth: Setting up a photo booth can be a fun way to capture memories and create a festive atmosphere. You can use a simple backdrop and provide props such as hats, glasses, and mustaches.
Centerpieces: If you are having a sit-down meal, you can create festive centerpieces using balloons, flowers, or candles. This can add a special touch to the celebration.
Cake toppers: A fun cake topper can make any birthday cake extra special. You can make your own cake topper using paper or fabric, or you can purchase one online.
Overall, the key to fun office decorations for a fun work birthday party is to be creative and have fun. With a little bit of planning and creativity, you can create a festive atmosphere that will make the birthday person feel special and appreciated. You may also decorate their desk for making that birthday employee feel even more special.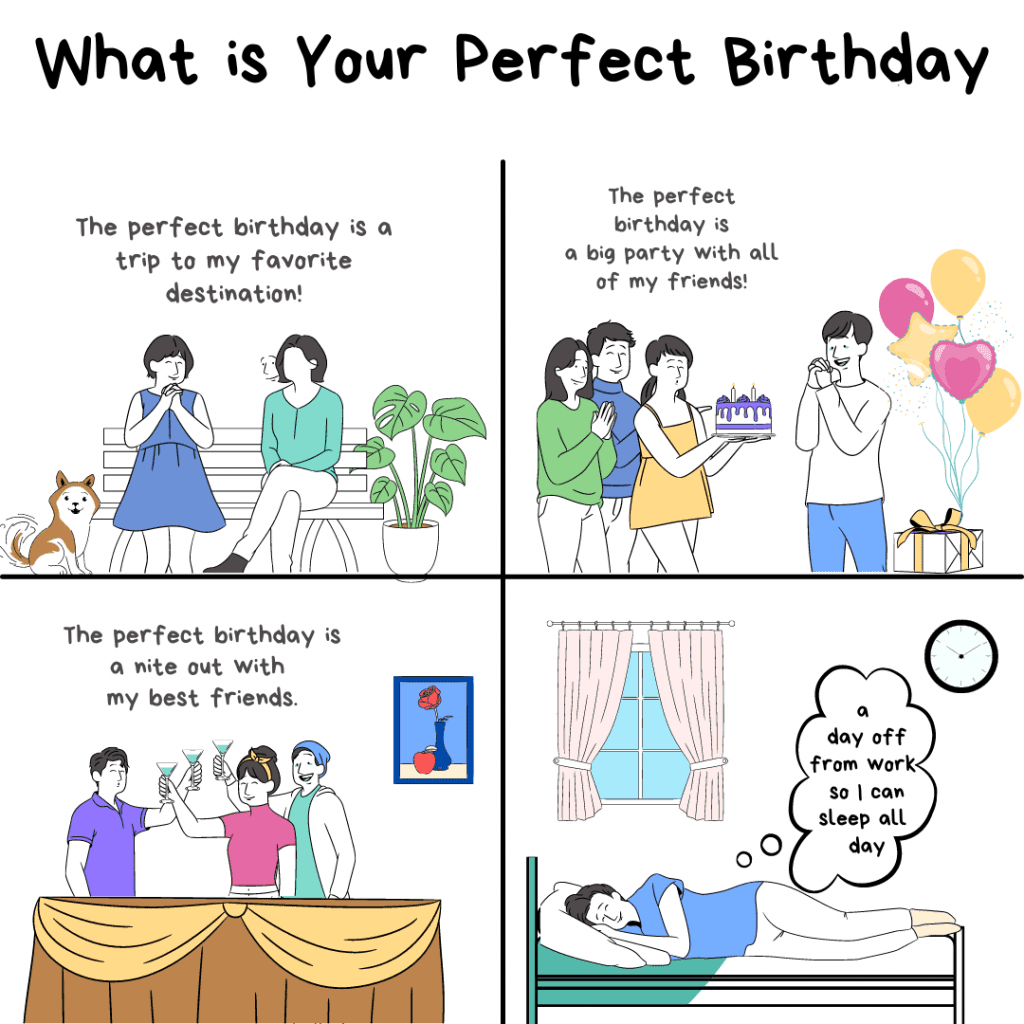 6. Plan Fun Games & Activities to Celebrate Office Birthdays
Organizing a birthday party at work can be a great way to celebrate an employee's birthday while also having a little fun. Any office celebration cannot be enjoyable without some games. Here are some game and activity ideas to make the party a memorable occasion and funny birthday for the birthday honoree:
1. Office Olympics – Create a series of office-related challenges that teams of employees have to compete in, such as a paper airplane contest, a coffee mug race, and a stapler-stacking challenge.
2. Name That Tune – Play clips of popular songs and have teams try to guess the title and artist.
3. Charades – Break into teams and have each team act out different phrases or movie titles.
4. Office Karaoke – Play popular karaoke songs and have people sing along.
5. Blindfolded Drawing – Blindfold each person and have them draw a picture of an object. The team that guesses the most correctly wins.
6. Office Trivia – Test employees' knowledge of the office with questions like, "What color is the breakroom fridge?" or "Who is the office's longest-standing employee?"
7. Pass the Present – Wrap a gift and have everyone sit in a circle. Start a song and pass the present around the circle. When the music stops, the person holding the present gets to keep it.
These fun games and activities are sure to make the office birthday party a memorable one and create a lot of funny birthday stories for all.
7. Arrange for Delicious Foods and Drinks for Special Day
Choosing the right food and drinks for an office birthday party can make a big difference in creating a festive and enjoyable atmosphere. Here are some suggestions for food and drinks that are sure to please everyone:
Cupcakes: Cupcakes are a classic birthday treat and are easy to serve and eat. You can choose a variety of flavors and decorate them with frosting and sprinkles.
Pizza: Pizza is always a crowd-pleaser and is easy to order for a group. You can choose a variety of toppings to accommodate different preferences.
Finger foods: Finger foods such as mini sandwiches, cheese and crackers, and vegetable platters are easy to serve and can accommodate different dietary restrictions.
Snacks: Snacks such as chips, popcorn, and candy are easy to set out and can provide a fun and festive touch to the celebration.
Drinks: You can serve a variety of drinks such as soda, water, and juice. If you want to make it more festive, you can also serve cocktails or mocktails.
Salad bar: A salad bar is a healthy and customizable option that allows everyone to make their own salad. You can provide a variety of greens, vegetables, fruits, nuts, and dressings.
Tacos: Tacos are a fun and festive option that can be customized to suit different tastes. You can provide a variety of fillings, such as beef, chicken, fish, or vegetables.
Pasta bar: A pasta bar allows everyone to create their own pasta dish. You can offer a variety of pastas, sauces, and toppings, such as meatballs, grilled vegetables, and parmesan cheese.
BBQ: A BBQ is a great option for an outdoor celebration. You can provide burgers, hot dogs, chicken, and veggie skewers, as well as sides such as coleslaw and potato salad.
Sushi: Sushi is a tasty and sophisticated option that can be a great choice for a more upscale celebration. You can provide a variety of rolls, such as California rolls, spicy tuna rolls, and vegetable rolls.
Ice cream bar: This could include classic flavors like vanilla, chocolate, and strawberry, as well as more unique options like cookie dough and mint chips. When serving ice cream bars at an office party, it's important to consider the temperature of the room. If it is too hot, the ice cream bars may melt quickly and become difficult to serve. If it is too cold, the ice cream may harden and become difficult to eat. You can adjust the temperature of the room in advance to ensure that the ice cream bars are at the right consistency when they're served.
Meal Kits: If its a virtual party, you can send all the team members meal kits in advance that you can either cook together virtually, or enjoy together as a group while you chat and engage in other party activities.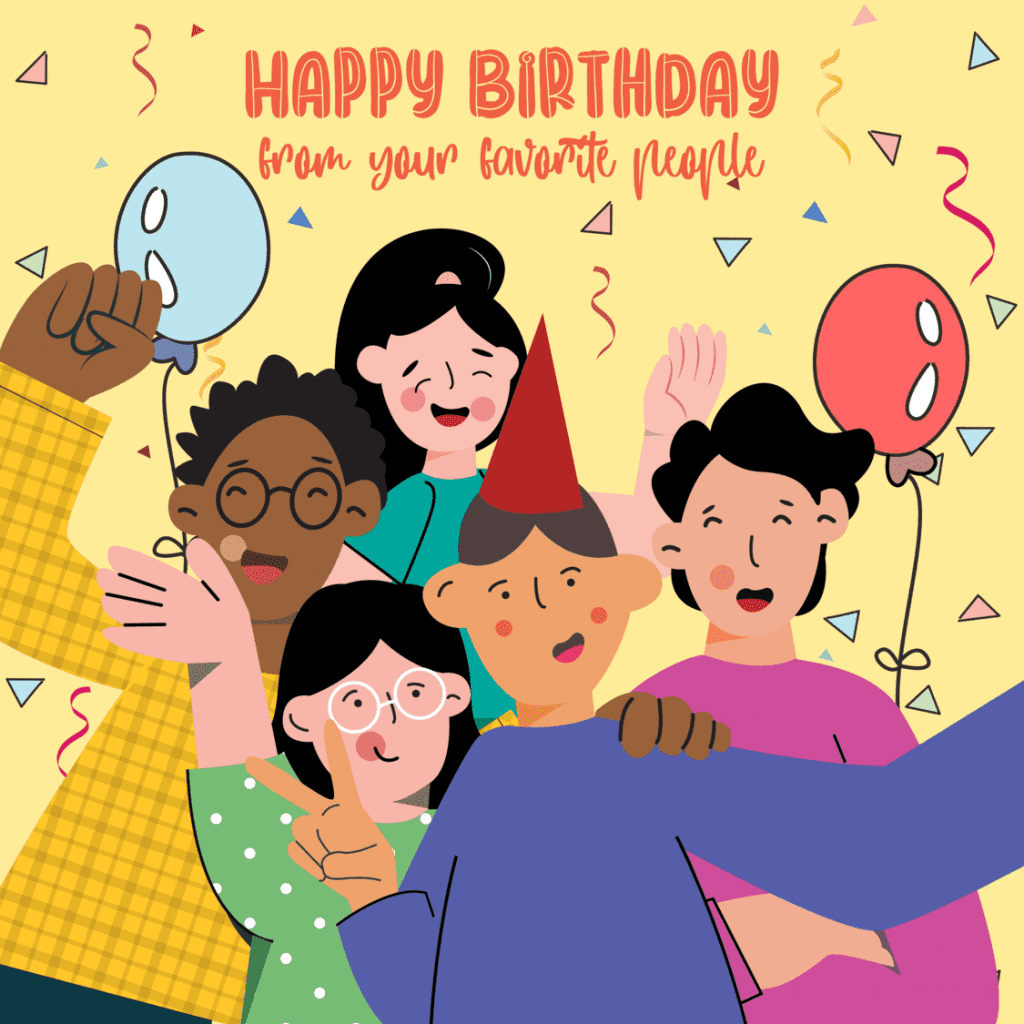 8. Get the Best Cake to Celebrate Employee Birthdays
Wish them a happy birthday with their favorite cake! When selecting a cake, be sure to consider any dietary restrictions or allergies that your colleagues may have. You can also ask the birthday person for their preference and customize the cake accordingly. Don't forget to add candles and sing "Happy Birthday" to make the office birthday celebration extra special.
Some best cake options for an office birthday party can be
Chocolate cake: Chocolate cake is a classic option that is sure to please everyone. You can decorate it with frosting, sprinkles, or fresh fruit.
Vanilla cake: Vanilla cake is another classic option that can be customized with different flavors of frosting, such as buttercream or cream cheese.
Fruit tart: A fruit tart is a light and refreshing option that can be a great choice for a summer birthday. You can fill it with fresh fruit and a creamy custard filling.
Cheesecake: Cheesecake is a rich and indulgent option that can be flavored with a variety of toppings, such as raspberry or caramel sauce.
Carrot cake: Carrot cake is a flavorful and moist option that can be decorated with cream cheese frosting and chopped nuts.
Ice cream cake: An ice cream cake is a fun and festive option that can be customized with different flavors of ice cream and cake layers.
Staff birthdays may happen to be monthly celebrations or more often, but the birthday cake still has to be one-of-a-kind for the perfect birthday surprise.
9. Buy a Thoughtful Birthday Gift for Coworker
Thoughtful gifts for the birthday person at an office birthday party can be anything that will make them feel special. Below mentioned can be some cute birthday gifts
Desk plant: A desk plant is a great gift that can brighten up the birthday person's workspace. You can choose a low-maintenance plant such as a succulent or a cactus.
Coffee mug: A personalized coffee mug is a thoughtful and practical gift that the birthday person can use every day. You can choose a mug with a fun design or a funny saying.
Gift card: A gift card to a favorite restaurant, coffee shop, or store is a great way to show appreciation for the birthday person and allow them to treat themselves. Letting the birthday person pick a gift of their choice is one of the fun ideas for gifting. Make them feel special on their birthday.
Headphones: A pair of noise-canceling headphones can be a great gift for the birthday person who needs to focus on work or simply wants to enjoy music without distractions.
Customized office supplies: Customized office supplies such as a notebook, a pen, or a mouse pad with the birthday person's name or initials can be thoughtful and practical gifts.
A book: A book related to the birthday person's interests or profession can be a thoughtful and enjoyable gift that can provide inspiration or entertainment.
Remember to consider the birthday person's interests and preferences when selecting a gift. If you're not sure what to get, you can always ask your colleagues or friends for ideas. And don't forget to include a thoughtful birthday wishes for coworker or a birthday card to express your appreciation and well wishes.
10. Create a Personalized Group Electronic Birthday Card for Office Birthdays
Birthday celebrations is incomplete without a birthday card. Weather in the office or in a remote set up, an group card with everyone's wishes and messages is always a good idea! Create a personalized electronic birthday card for the birthday boy or girl that they'll treasure forever. Add your own touch with customized photographs, a personal message, funny stickers, captivating GIFs, stylish fonts, and relevant emoticons to make their ecard warm, memorable, and truly special. If your team has remote employees, its a perfect virtual surprise and activity to do with your team members. Definitely a top priority amongst the list of virtual birthday party ideas or remote birthday ideas. If the office party is not virtual, it can still be a fun element of surprise for the birthday honoree.
With GreetPool's 'Happy Birthday' ecards you can gift the joy of receiving heartfelt messages and emotions wrapped in a captivating digital format that can be a memorable keepsake for life for the birthday person. It can be a perfect personalized birthday card signed by everyone (Since we allow unlimited signers).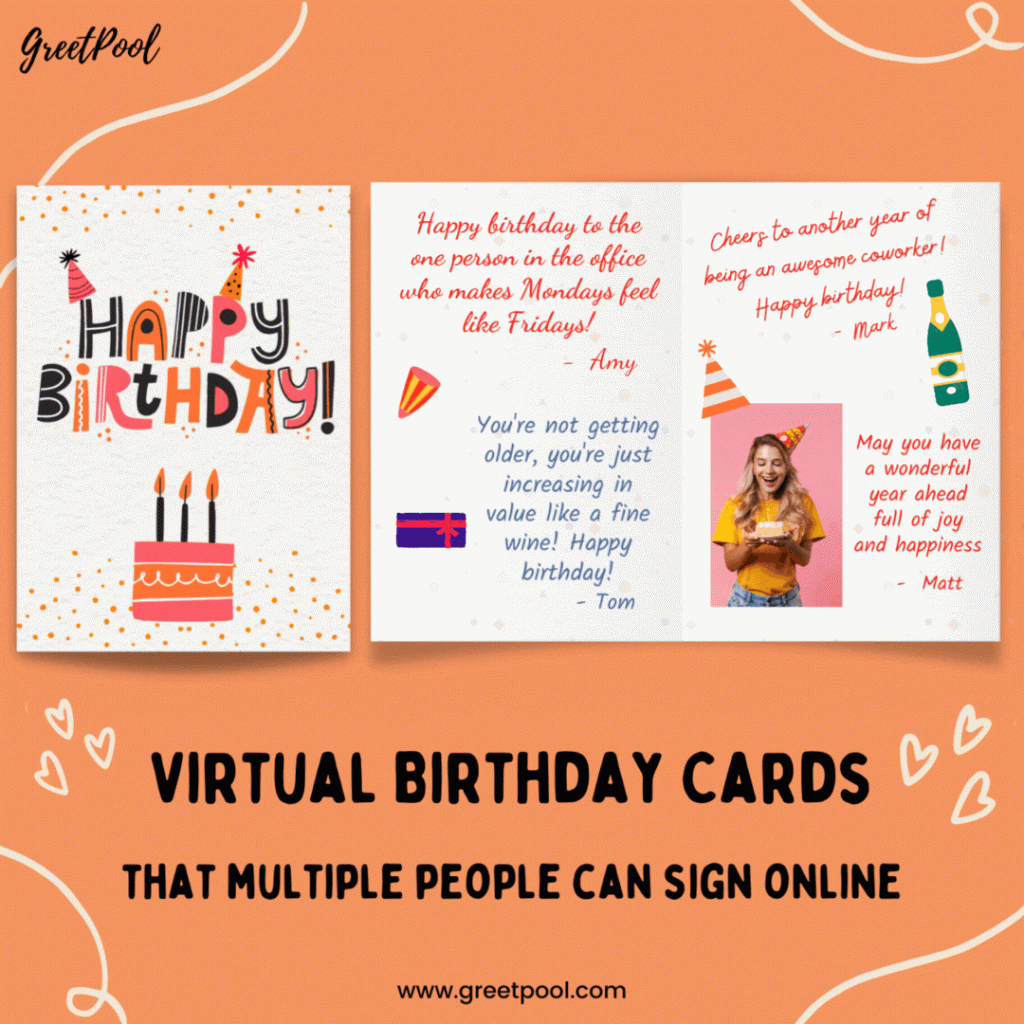 Last But Not The Least…
We hope we have provided you with exciting office birthday celebration ideas. And when you execute these great ideas to celebrate their birthday it yields the entire office an amazing employee engagement experience.
For making things manageable, you may consider monthly birthday celebrations. Dedicate a date for monthly birthday parties. Have a celebration on monthly basis for all the birthdays and work anniversaries that month. This way, everyone in the office gets to celebrate their birthday and anniversary, regardless of which day of the month it falls on. Plan monthly celebration party in the office based on the birthday that month and anniversary that month. Actual birthday days can have something small special planned for every birthday.
Organizing a fun work birthday party for employee birthdays is an excellent way to show appreciation for your hardworking employees and boost morale in the workplace. Whether you go for a potluck, birthday breakfast, a catered lunch at the office, or an afternoon outing, it is sure to be a hit. With the right decorations, food, and activities, you can make the office birthday celebration an unforgettable experience for all. A successful office birthday party will bring your team closer, inspire collaboration, and promote a culture of recognition. So, go ahead and make your next birthday celebration party in the office one to remember for the whole office and the one whose birthday is being celebrated.