How to Create the Perfect Virtual Farewell Group Ecards?
Farewell group ecards are a personalized and unique way to say goodbye to someone who is leaving a job, school, neighborhood, or community. A digital group leaving cards can be signed by multiple people online and customized with messages, photos, and graphics to wish them luck in their next adventure. Unlike physical greeting cards, a virtual farewell card can be easily personalized with unique messages and graphics that reflect the recipient's personality, interests, and experiences. The option of delivering an online card in minutes improves the convenience of sending goodbye messages through remote teams.
Farewell group greeting ecards can be designed to be humorous, sentimental, or both, depending on the relationship between the sender and the recipient. They can also be used to celebrate milestones and memories, making them a great way to commemorate someone's time in a particular role or community. Its the perfect way to say goodbye!
Farewell greeting cards offer a fun, unique, and interesting way to say goodbye to someone special. Whether it's a coworker, a friend, or a family member, virtual group cards can help you express your feelings and create a lasting memory. So, here is how you can create the best group farewell cards online for the perfect send off.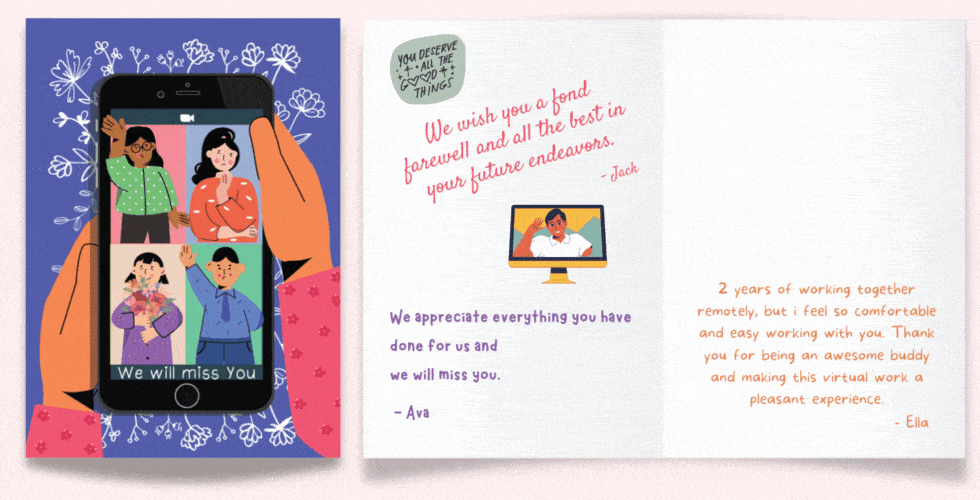 1. Choose a platform to create and send the virtual farewell card
There are many platforms available for creating and sending digital group ecards. Select an option that meets your requirements and is easy to use. GreetPool is one of the top group greeting card platform and offers a trendy collection of group farewell ecards.
2. Pick a theme for the farewell ecard
A theme will help tie your virtual farewell party together and make your goodbye card more cohesive. Consider the person leaving, their interests, or the reason for their departure when choosing a theme. Some classic examples of themes could be sitcoms like The Office, Friends, or the fantasy novels like Harry Potter. 
3. Gather Photos for the farewell group card
 Collect photos of the person leaving or of memories shared with them during their time with the group. Use these photos to create a visual representation of the person's time with the group. Elevate your messaging game with our platform's supercharged features – snap stunning photos, add expressive emoticons, drop hilarious GIFs, and sprinkle in some swanky stickers to take your conversations to the next level!
4. Write a message to say goodbye in the online farewell card
Instead of a generic farewell or 'good luck' message, write a heartfelt personal message to the farewell group ecard. Consider including a memorable moment shared with the person, expressing appreciation for their contributions to the group, or wishing them well in their future endeavors. Our treasure trove of blogs is brimming with tips to help you bid farewell memorably. Whether it is a retirement wishes , or a farewell message for coworker leaving for a better opportunity, we have got you covered in our blogs.
5. Add Personal Touches to the group ecard
Create a virtual farewell card adding personal touches such as favorite quotes, inside jokes, or special memories to the ecard. These will make the ecard more meaningful and memorable. Unlock the secrets to crafting the ultimate ecard with our comprehensive guide!
6. Use a mix of fonts and colors in the virtual leaving card
Experiment with different fonts and colors to create an aesthetically pleasing ecard. You can use a mix of bold and script fonts, and choose colors that reflect the recipient's personality or the theme of the ecard.
7. Add fun graphics or memes to the goodbye ecards
Fun graphics, GIFs, Stickers or memes can add humor into the farewell group ecards and make your message stand out. It can also help lighten the mood and make the recipient feel more at ease during this emotional time. 
Why Group Ecards are a better choice than Gift Cards?
Ecards have become a popular alternative to traditional gift cards for a number of reasons. Here are some of the reasons why ecards may be a better choice:
Convenience: Digital group greeting cards can be sent instantly and are accessible from anywhere with an internet connection. This makes them a convenient option for both the sender and recipient. A physical card require needs to be purchased from a shop, picked up, and delivered to the recipient, which can be time-consuming and inconvenient. Online group greeting cards are something that multiple people can sign online with just a click of a button sitting anywhere in the world. While if it's a gift for say a coworker's farewell someone has to take responsibility for everyone's signatures and spend time and energy around the office for others to sign the gift paper card. 
Personalization: Digital greeting cards allow for greater personalization than traditional gift cards. With an online farewell group card, you can choose from a variety of unlimited card choices for farewell card templates, themes, and custom designs, and you can also add heartfelt messages or even upload your own photo or video messages. This allows you to create a more meaningful and personalized custom farewell card that reflects the special person's (recipient's) personality and interests. GreetPool lets you create card online and add unlimited pages so that you have unlimited space to write as many well wishes as you wish. 
Environmental impact: Online group cards are a more eco-friendly option than traditional gift cards as they can also be team cards(sent by unlimited people together). Gift cards are often made of plastic or other non-biodegradable materials, which can contribute to environmental waste. Ecards, on the other hand, have no physical footprint and can be sent and received without the need for paper or plastic materials. A PDF version of the digital farewell card template is available hence it is a printable if you wish. GreetPool lets every participant (who has created an account on GreetPool) of the ecard download the finished version of the card in minutes using the card link, and the recipient can download the PDF version of the card via email received of the ecard.
Cost-effective: Ecards are often more cost-effective than traditional gift cards. Many websites offer free ecards, or ecards at a lower cost than traditional gift cards. This makes ecards a great option for those on a budget, or for those who want to send multiple cards to different recipients.
Finding the best farewell group ecards for your coworkers or friends
Online farewell cards offer a creative and personalized way to say goodbye to someone who is leaving. They allow you to express your feelings in a unique and memorable way and to celebrate the milestones and memories that you have shared with the person. By creating a personalized and heartfelt farewell ecard, you can show your appreciation, express your well-wishes, and create a lasting memory that the recipient will cherish for years to come. So, whether you're saying goodbye to a colleague, a friend, or a family member, consider creating a farewell ecard to make their departure a little bit more special.
A group card filled with messages from everyone is the perfect way to to show your care and support. GreetPool offers a selective selection of online greeting cards for coworkers, friends, or family. Check it out create an online group ecard now!