The best memories at work are the fun times we spend with our colleagues. Whether its going on coffee breaks together, gossiping after that hectic meeting, solving problems as a team, nailing office presentations, or fun at office parties, many of our coworkers become our friends and we form special bonds with them. So when these special colleagues decide to move on to a new opportunity, finding the right words to wish them goodbye and goodluck can be difficult. In this article, we will share some great examples of heartfelt farewell messages for coworkers that you can say or write for a memorable sendoff.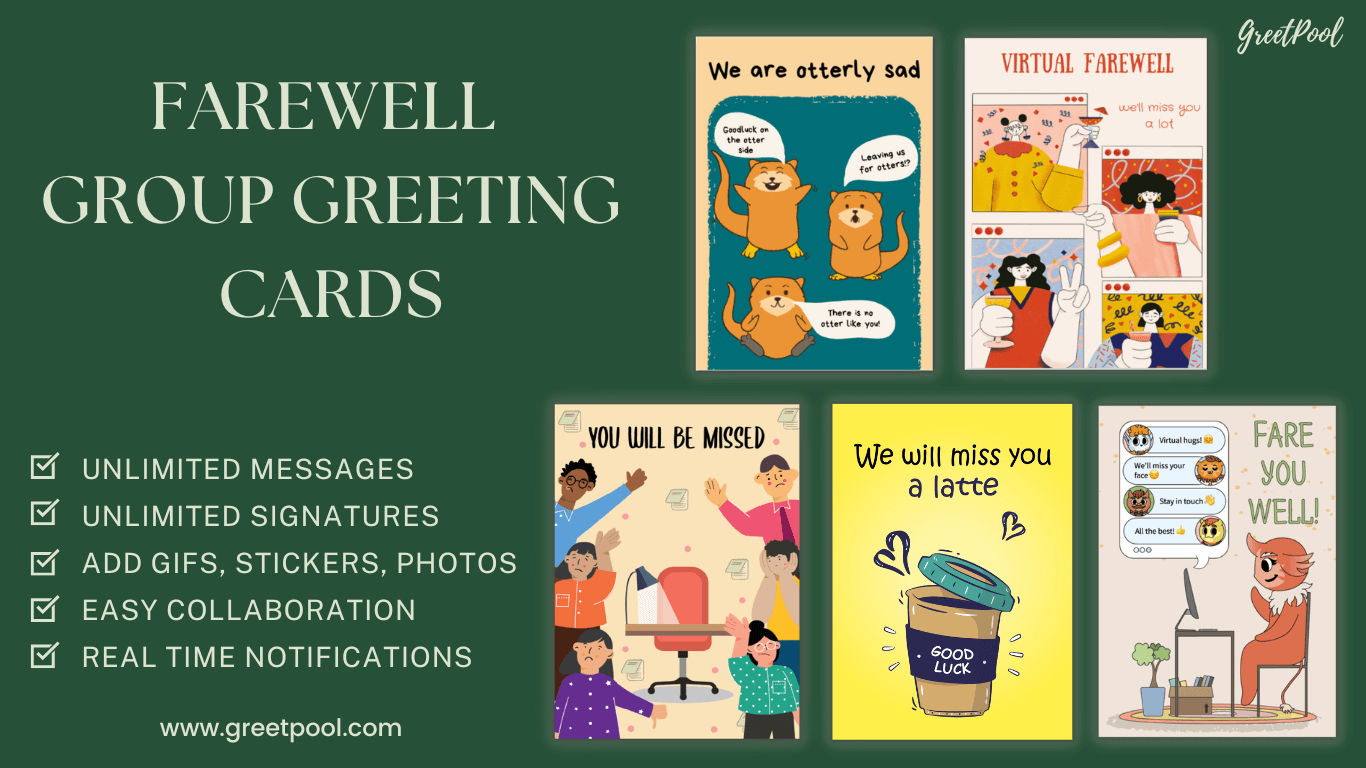 Turn last impression into a lasting impression
Needless to say, it is important to end the co-working journey on a positive note. Weather its your best friend at work, your boss, someone who you barely knew, or even someone with whom you had a bad experience – it is crucial to bid a heartfelt goodbye.
The important thing is to express yourself and show that you care.
Appreciation the coworker with the right goodbye message will make them feel valued and special and leave a lasting memory of the time they spent with you at work. It will strengthen your professional ties, and will come in handy in case you end up working together again in the future.
While there is no right or wrong way to say goodbye to coworkers, a carefully chosen parting words can turn the last impression into a lasting impression.
Best way to say goodbye to a coworkers who is leaving the company
Not all farewells are the same. Based on the connection you had with the person who is leaving the team, or how long you have known them you can choose from different modes of saying goodbye.
A group card
When it comes to expressing your emotions and sharing memorable greeting, nothing beats greeting cards. A goodbye card by yourself is great, but a group card from the whole team can be the perfect memento for a going away present. Encapsulate all the best moments of working together in the form of meaningful greetings and messages, and make the recipient feel like the awesome teammate they were.
At GreetPool, we make Farewell Cards for coworkers a breeze. Skip the trip to the store and choose from hundreds of card designs with a few clicks. Send them directly to your colleagues to sign online and collaborate together. Add GIFs, stickers, and images of your choice to personalize it further. The recipient will receive this bundle of joy at a scheduled time set by you.
A gift
What is the life of every occasion? A gift that is full of precious feelings. Well, who would not like receiving gifts on their last working day? The gift does not have to be expensive or big, even a simple note with a thing your colleague likes can do the wonders for you. If you are close to a colleague who is leaving, deciding on a perfect farewell gift is difficult. Therefore, you can gift them something that they can utilize and be a part of their work-life.
A party
Throwing a nice farewell party is a great way to wish them well and say goodbye. A small get-together in a cafe or restaurant or a goodbye lunch at the office is easy to organize and manage. It does not matter if you throw a big or small party, the focus must be on making it memorable. If the team has remote coworkers, throw a zoom virtual group party to bring everyone together and share farewell messages for the colleague right infront of them. You can also play some virtual games and participate in some fun activities as a team.
What to write in a farewell message for your coworker?
The most important thing is to support the departing coworker and their career choice. Congratulate them, bid farewell and wish for a successful future ahead. Additionally, you can acknowledge their contributions to the team and simply say thank you on your farewell letter. If you don't know the leaving coworker that well, a quick note is still better than a no note.
In this article, we share 100+ sample farewell wishes that are suitable for various types of situations. You will find a wide variety of greetings to inspire your next farewell card. However, if you want to truly create an original, personalized message and learn the framework for it, check out How to write the perfect farewell message. Its a visual guide with illustrated steps to craft the perfect wording.
Here are some tips to write memorable farewell messages to a colleague or coworker: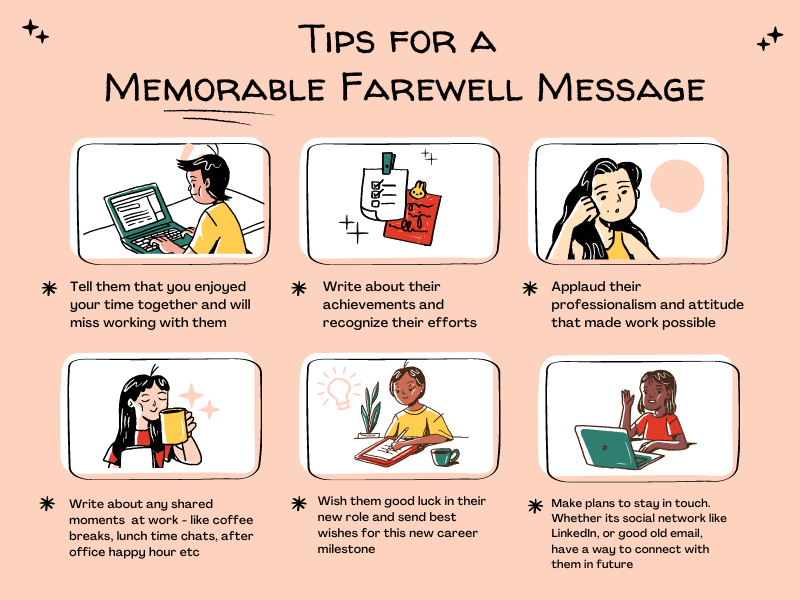 Short farewell wishes for the leaving coworker
Short farewell wishes are a great way to express your feelings in a concise manner. They work the best for employees and colleagues who you did not interact with as much during your time together. Here are some examples :
It has been a pleasure working with you. My best wishes for your future endeavors.
Best of luck with your next opportunity. I know you are going to excel wherever you go. Please stay in touch.
We wish you a fond farewell and all the best in your future endeavors.
You will be missed by all of us here, but we are glad that you are moving on to new opportunities. Thank you for everything.
Here's to closing one chapter of your career journey and starting another exciting opportunity. Best wishes for your new journey.
We will miss your positive attitude and contributions to the team. All the best for your next role.
Congratulations! I wish you boundless success and wish you good luck with your next exciting opportunity.
We appreciate everything you have done for us and we will miss you.
Great work on a job well done! Congratulations on the new opportunity. You are going to kill it at your next position.
Congratulations! You have been a great senior colleague. May you keep on progressing and become a really successful person. Stay connected!
We'll miss your daily dose of sarcasm. Thanks for always keeping the office entertained.
We'll miss your sense of humor (and your ability to make everyone else look good).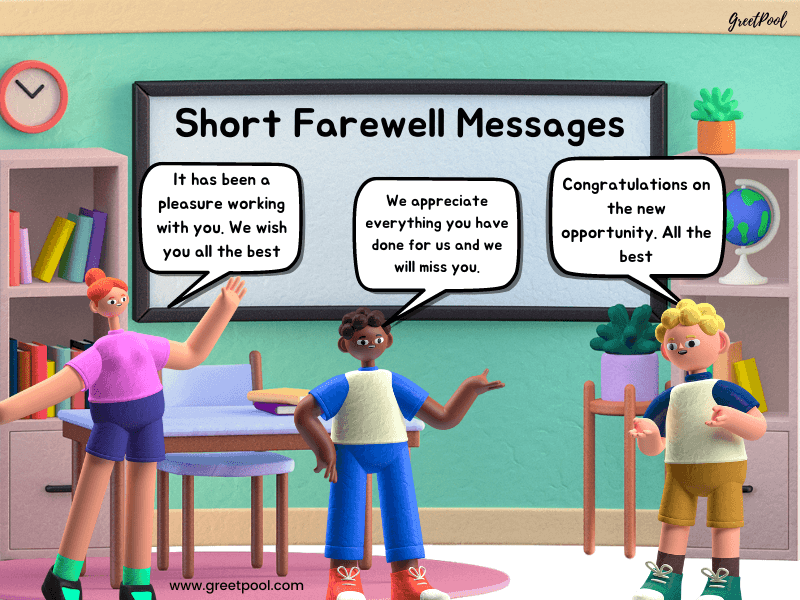 Meaningful messages for your favorite coworker
If you want to stand out, ditch the generic, short common farewell wishes and consider writing something beyond the superficial goodbye. Here are some examples of meaningful messages to bid them farewell:
Thank you for always supporting me. You have been a mentor to me. I hope we'll stay in touch. All the best in your professional life! I will remember our sweet memories! You have been a great help and motivation to the team.
As you work your way across the world to your new destination, we will miss you here at the office. We know that you had to move because of your partner's new job, and wish you the best of luck there. You are always welcomed back here at our office here with open arms, and we hope to see you again soon! Thank you for being such a wonderful part of our team, and we wish you the best of luck and success in your new job!
We cannot still believe that you are leaving us! I am sure we will stay in touch wherever you work. You have been my favorite colleague and I feel really happy for your next opportunity and success. I am positive that you have a bright future and are meant to be a successful person.
Congratulations for your new job. It was a great time working with you. good luck and have an excellent time. I know you will have a bright future ahead. All the best for your continued and boundless success!
Thank you for bringing happiness and productivity to this workplace. Your laugh was infectious. I hope our paths cross again in the future. Best of luck!
I am going to miss the best member of our team. You have been an amazing colleague and always kept us motivated. I hope you would continue to do the same at your new job.
You have always been my go-to person in the office. I hope we have this bond in the future also and stay in touch. Good luck keep it up.
It was a pleasure working with you and I've learnt a lot from you. I hope you have an exciting time and an amazing professional career. Long way to go!
Work won't be the same without you. I will remember you as the best colleague but mostly as a dearest friend whom I could trust for anything. You are a wonderful person. May you get success in your new job role.
Thank you for your continuous support and encouragement. I will remember those monthly targets and performance reviews with you. How much fun we had interacting in weekly meetings. Now that you are leaving, I wish you success in the next job opportunity
Goodbye Message for Remote Coworker
Out of sight doesn't mean out of mind. Remote coworkers are essential part of team and their goodbye card messages should reflect the contributions and efforts they added to the team. Sending farewell message to a colleague who works remotely should be part of the leaving ceremonies. Here are some examples to wish them well:
I'm so grateful to have had a chance to work with you, even if it was from afar. You were always just a Zoom call away and helped us through so many tough times. We will miss you a lot.
I cant believe its already been [X] years! It feels like just yesterday we were all working in the same office. Congrats on the new job and I wish you the best.
2 years of working together remotely, but i feel so comfortable and easy working with you. Thank you for being an awesome buddy and making this virtual work a pleasant experience.
For all the challenges remote work had brought, I can definitely say that working with you was the silver lining. You were such a wonderful colleague and your positive attitude and hard work was evident even beyond the screen lol. I wish you the best in next chapter of life.
Had such an amazing time with you in person at the team offsite. We ate cake, drank wine, and celebrated team achievements together. Cheers buddy, I will miss seeing you through the screen.
The dedication and productivity that you demonstrated in the last 2 years of working remotely are a testimony that remote work can work with the right dedication and perspective. It was an inspiration to all the team members and now we are just sad to loose you.
It was a pleasure to work with a coworker like you and collaborate remotely. Hope you get awesome colleagues like us in your next role as well. I wish you all the best.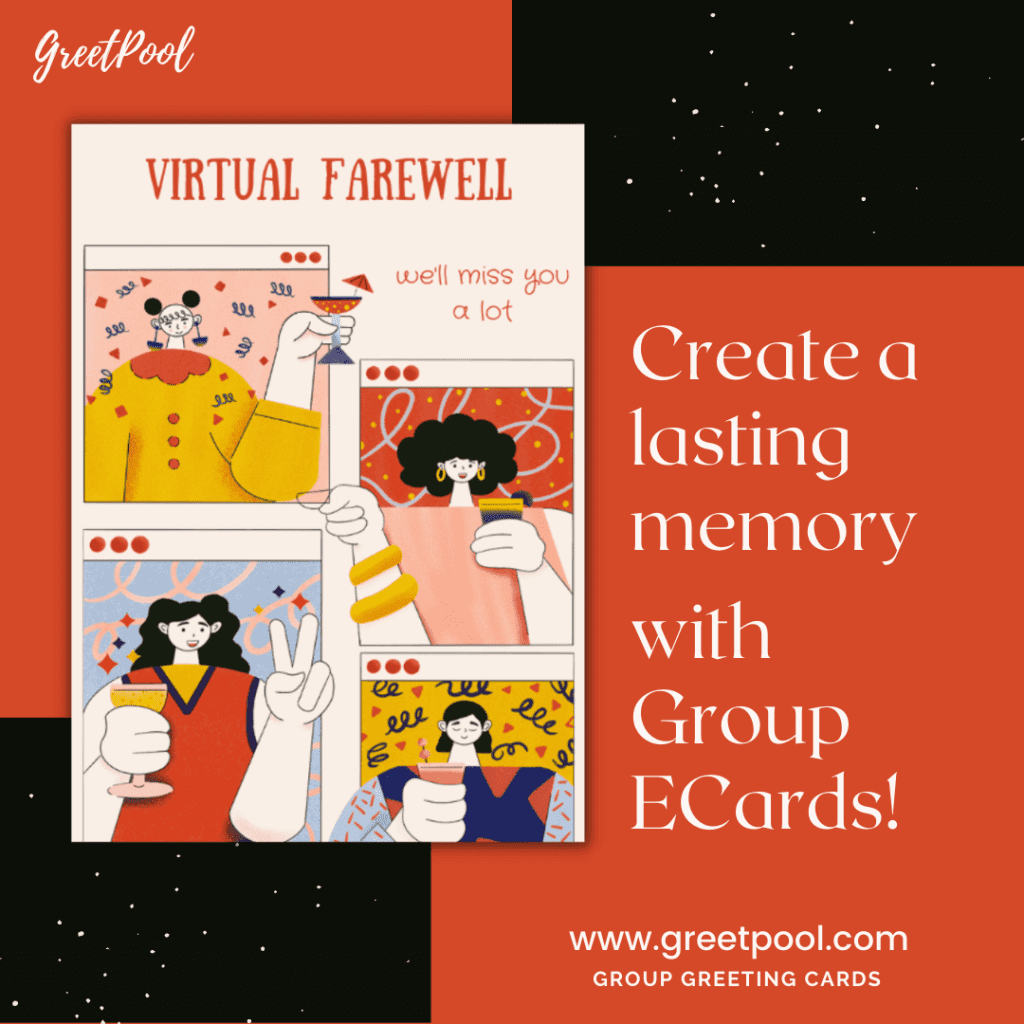 Farewell Messages to Boss who is leaving
Relationships with bosses can be tricky. Some people really hate their bosses, while others are incredibly successful because of good bosses. Either ways, its important to have a professional relationship with them, and maintain the connection even when they are leaving. Here are some samples that can be added to your farewell card messages:
A good boss is difficult to find, and harder to let go. Thank you for all the guidance, mentorship and professional support during all the projects.
Great leaders make a change wherever they go. Your guidance has affected me professionally. Thanks for the support and kindness. I am sure you would be amazing at your new job. Good luck!
You were the Michael Scott of this Office – protecting us, guiding us, leading us, and making everyday fun to work! Thanks for everything.
Dear boss, Thank you for everything. I have learned so much from you and your leadership has been an inspiration to me. I am sad that you are leaving but I know that this is the right decision for you. Best wishes for the future.
Goodbye boss! Give me a call if you are hiring at your new workplace 😉
I say goodbye to you with a heavy heart, boss. You have been a mentor and friend to me over the years, and I will miss you dearly. I know that you will impact more lives and reach greater heights of success in your next role.
It has been an honor and a privilege to work with you. Thank you for your leadership and mentorship over the past few years. I wish you all the best for your future endeavors.
Thank you for your leadership and guidance over the years. I am grateful for the opportunity to work in your team. Farewell and good luck.
We are sorry to hear that you are leaving the company. We wanted to let you know that we appreciate all that you have done for us. Thank you for your leadership and guidance. Goodluck in your next role.
You have been a great leader and an inspiration to us all. Your guidance and leadership will be sorely missed.Thank you for everything.
We will all miss you and your leadership, but we are rooting for your success. Thank you for helping with everything.
We're going to miss your strategic thinking and managerial skills. However, your motivational quotes and speeches will continue to guide us.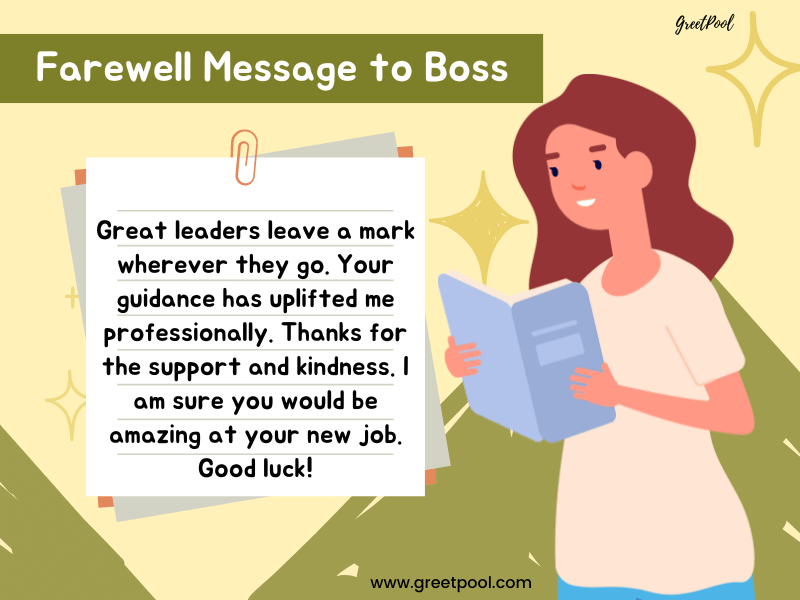 Funny farewell messages to coworker
The "best friends" at work are the ones who hurl abuses at your when you decide to move on, leaving them behind. Add humor to your work besties farewell card message with these funny farewell messages for colleagues :
Goodbye.. goodluck.. yada.. yada.. Dibs on your chair!!
Goodluck finding better colleagues than us.
WTH man! I will have to do all your pending work now :/
Hey wait! How can you leave before me..
Take me with you please?
All the best. Don't come back as our boss now okay?
So long, farewell, auf Wiedersehen, goodbye!
Finally, you can put your out-of-office email reply to good use!
It's been nice knowing you, but I'm glad I'm finally getting out of here!
I'm going to miss seeing your face every day, but I'm sure I'll get over it.
Goodbye and good riddance!
Did you resign or was this cost cutting? Come on, tell us truth
Don't worry, I'm sure you'll find someone else to annoy. I'm just glad I won't be around to witness it.
Can we reject your resignation? I'm gonna start a petition.
You will miss awesome colleagues like us. Good luck and Farewell!
Hope your new coworkers tolerate all your nonsense. If not, just come back you know 😉
Checkout some special Funny Farewell Cards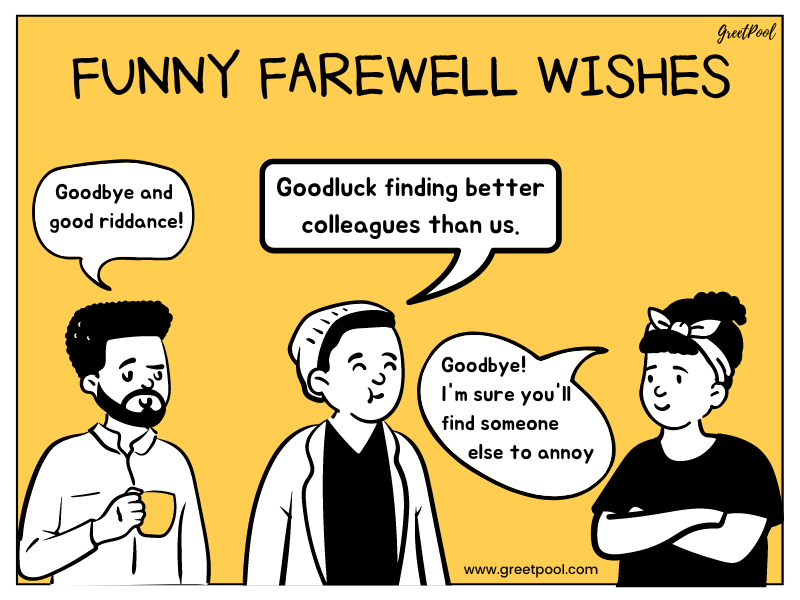 Simple goodbye wishes for a colleague leaving the company
Here are some sample short and simple goodbye messages to colleagues who are not very close to you, or with whom you did not work on a day to day basis.
We are sad to see you go, but we are happy that you are moving on to new opportunities. Goodbye and Goodluck!
Cant believe we are loosing you to another company. Projects and deliveries were fun working with a wonderful colleague like you.
You have been a valued member of our team and we are sad to see you go. You will go a long way in your career and I hope to stay in contact.
You were not only an awesome teammate, but also a great friend. Don't become a stranger now and stay in contact.
You made working in this office fun and entertaining. Thanks you for the good times! Please keep in touch.
New company, new position, new colleagues! Change can be scary, but I know you are more than capable to rise to the challenge and prove yourself all over again. I bid you farewell for now, and hope to stay in touch.
This was a sudden news to me and I still can't believe you're leaving. I will miss my colleague and best friend.
It was truly an honor to work with a coworker like you. You are so professional and dedicated to your work, and it is always a pleasure to see you in action.
You are an excellent role model for all of us here at the office, and I know that we all appreciate your hard work and dedication.
I feel lucky to have had the opportunity to work with you, and I hope that we can continue to collaborate in the future.
Perfect Farewell message for an employee
When sending goodbye wishes as a representative of a company, or a brand, make sure to maintain professionalism and treat the message with respect. Here are some example farewell messages for your employees:
Farewell and best wishes on your new adventure! You will be missed but we know you will do great things.
You were such a valuable member of the team and an efficient employee. Your presence will be sorely missed by the team. Thanks for your years of service and dedication.
Young, ambitious, and full of potential – You were an integral member of the team and we would like to thank for a coworker like you. Farewell!
Thank you for your invaluable contributions to our team. Your insights and hard work have helped us achieve our goals, and we are truly grateful for your dedication.
Your commitment, dedication and hard work was an inspiration to your teammates and we will miss having you around a lot. Good luck with your next chapter of life.
You have always given your 100% for the company. You're an inspiration to everyone who knows you. Goodbye!
We are grateful for your dedication and hard work during your time with the company. Thank you and farewell.
Thank you for making this place better throughout your years of service. We look forward to hearing about your successes in the years to come.
Thank you for being an excellent employee and team member. Good luck in all your future plans.
Your unmatched work ethic and professionalism will be sorely missed around. We wish you the best in your new role.
Say goodbye to your favorite employee with a memorable group greeting card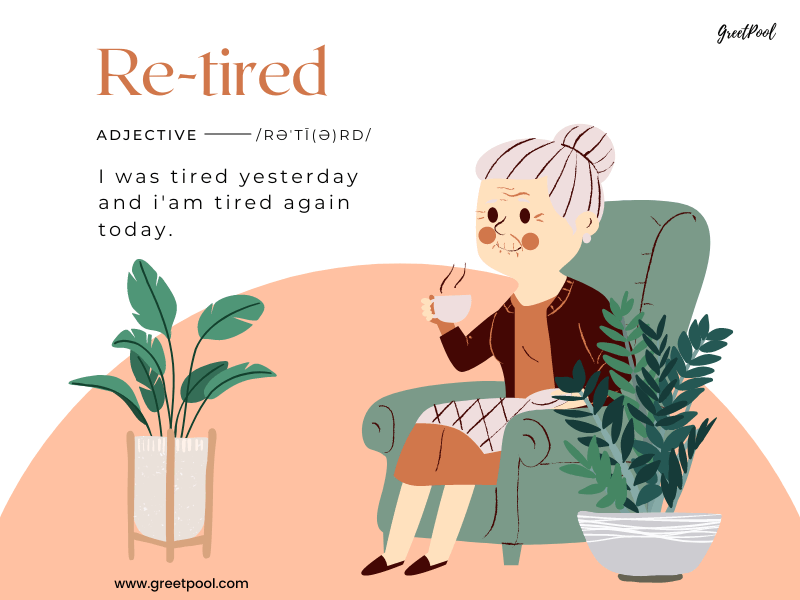 Best farewell messages for a retiring coworker
Saying goodbye to a retiring coworker can be emotional and difficult, but it's important to show appreciation and gratitude for their years of service. When composing a farewell message, it's best to keep it heartfelt, genuine, and personal. See the following farewell messages for coworkers and employees who are retiring:
The knowledge that you shared with us really helped. You have been a true leader to us. Your next team is going to get an amazing coworker. May the success bestow upon you! You have earned this retirement.
I was lucky to work alongside someone like you. I have learnt a lot from you and have fond memories of our time together. Hope we stay in touch even if you are moving to a new job. Good luck and happy retirement! Enjoy the rest and relaxation.
Thank you for your years of service and dedication. You were an awesome colleague, a caring mentor, and a great friends. It is difficult to say goodbye and I will always remember the memories that we shared together. Farewell amigo!
It feels so amazing to work with a person with a good sense of humor. I wonder how good times fly so early. I wish you good luck and exciting times ahead. Your expertise has helped me in many ways. Happy retirement!
You were not only a great asset to the whole department but also my true friend at work. As you embark on a new journey, the fun has begun. Enjoy every minute of your retirement and keep collecting wonderful memories.
Coming to work every day and not seeing you might hurt. It is hard to see your favorite coworker go. But I am happy that you have found your dream job. Hope you get success in life. We will stay in touch.
Retirement is the beginning of a new chapter of life. It can be challenging to unwind and let go, but i'm sure a smart and curious person like you will find new passions and embrace the change in pace with open arms.
Checkout some memorable Retirement cards for a memorable goodbye to a colleague
Writing farewell letter or email to coworkers when you are leaving
When you are leaving a team, it is important to take the time to say goodbye to your colleagues. This can be a difficult task, especially if you have worked with them for a long time. Here are some messages that you can include in your farewell email or say it out loud when you are saying goodbye in person.
It's been a great time working with you all and making memories every day. I hope to cross path with you and work together all again. Thank you for being a great team and wonderful colleagues.
Dear colleagues, working with you all here has been an incredible journey for me. Goodbye to all and my best wishes will be with you. Thanks for being true friends, lunch buddies, supportive professionals, and influential work partners.
Its hard to acknowledge and thank all you amazing people in this goodbye email but you have immensely helped me learn and grow. For that, I am eternally grateful and I will cherish the fond memories of all the time we have spent working together.
I am all set to go on to the next phase of my career and I feel your support had a significant impact on my journey here. Now that I am going to pursue my dreams, I will always appreciate what I have learned from here and from you all. Thank you and Goodbye!
Sitting next to you all and learning every day was one of most favorite things that I have done last year. As it is time that I am moving to a new place and with great opportunities, I will cherish your memories.
It was an amazing experience to collaborate with you all work on challenging project together. I hope I can get team mate like you in the future too. Thank you all for your immense support and guidance.
Shop farewell cards to say goodbye to someone
Saying Farewell to a coworker is a bittersweet occasions that allow us to show appreciation and gratitude towards our departing friends or colleagues. Make their farewell feel extra special with a thoughtful farewell card. In fact, a personalized farewell card, especially one with heartfelt words inscribed inside, is the perfect addition to any farewell gift. To assist you further, here are 6 tips for crafting the ultimate group farewell card.
We hope this extensive list of farewell messages for coworkers provides you with enough ideas and inspiration to make your next farewell card truly memorable. At GreetPool, you can choose from a stunning selection of farewell greeting cards. Pick the one that best encapsulates your appreciation and fondness for the departing individual and make their farewell a truly unforgettable occasion.