A Fond Goodbye: Unique Office Farewell Party Ideas for Coworkers
A farewell party for a leaving coworker is a great idea to celebrate their contributions, reminisce on the memories you've made together, and send them off with a bang. Whether your colleague is moving to a new job, retiring, or relocating to a different city, a going away party is a great way to show your appreciation and say goodbye in style. From decorations and themes to food, there are plenty of ways to make it a warm, heartfelt event. With the right planning and preparation, you can throw an office farewell party that not only your leaving colleague but also the entire team will always remember.
Whether you're looking for creative themes, unique activities, or heartfelt gestures, we've got all the going away party ideas. From decorating their desk with balloons to giving them a heartfelt video tribute, there are plenty of ways to make your coworker's farewell party special. So, let's get started and make the sendoff one that they will never forget!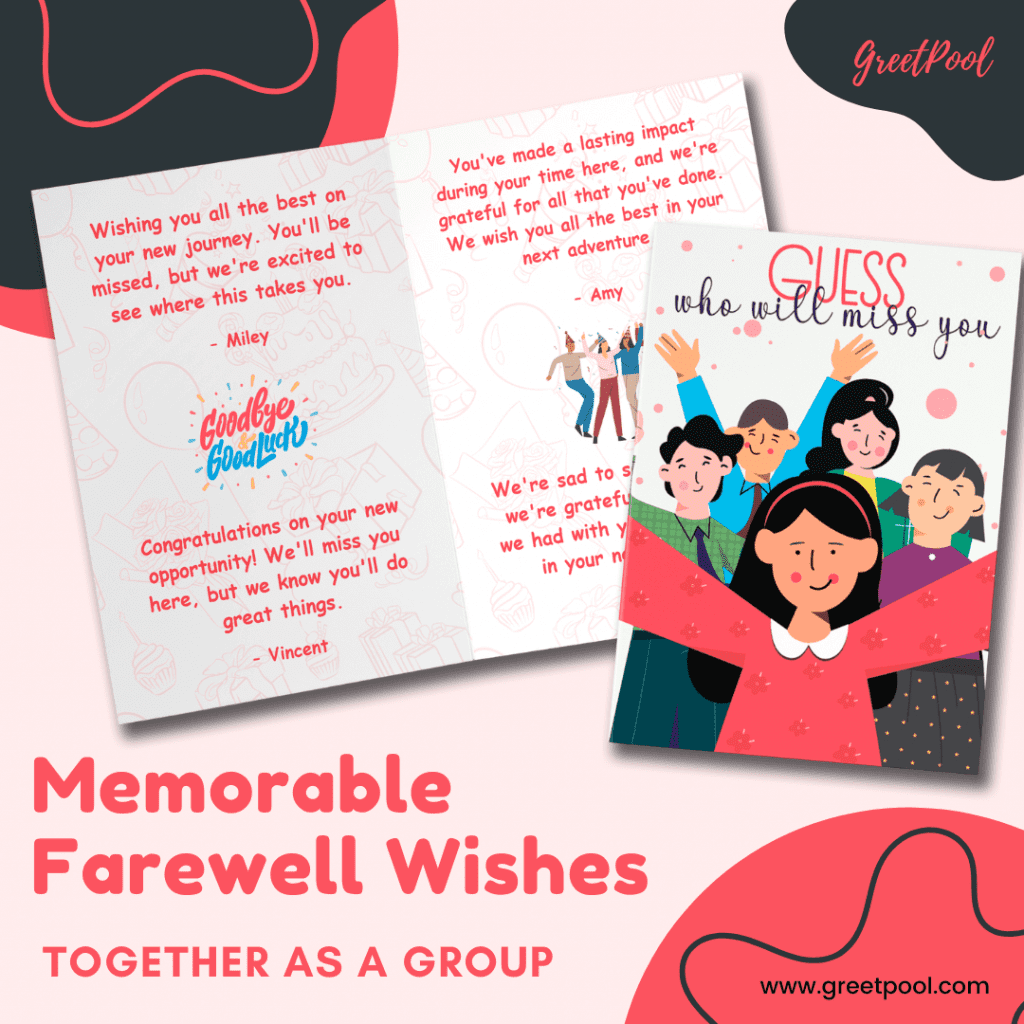 Finding the Right Venue: Where to Host the Farewell Party
Choosing the right venue is crucial for successful going-away parties. Depending on the size of your guest list, you may want to rent a private room at a restaurant or host the party at someone's home. If you're on a tight budget, you can also consider having a potluck party at your workplace.
Office space: If the company has a spacious and comfortable break room or conference room, it can be a convenient and cost-effective option for hosting a farewell event. The office space can be easily decorated to create a warm and welcoming atmosphere, and it allows for easy access to company resources such as audio-visual equipment and catering services.
Restaurant or bar: Hosting a farewell party at a local restaurant or bar can be a great way to create a festive atmosphere and to provide guests with a memorable experience. Many restaurants and bars offer private rooms or event spaces that can be rented for a few hours, and they often provide catering services and bar options to make the event even more special.
Outdoor venue: An outdoor venue such as a park, beach, or botanical garden can be a unique and memorable option for a farewell event. Outdoor venues provide a beautiful natural setting for the event and allow plenty of space for guests to socialize and enjoy the scenery. It's important to keep in mind that outdoor venues may require additional planning and permits, especially if food and beverages are being served.
Arcade or Game Center: If your team enjoys gaming, consider having a farewell party at an arcade or game center. Many of these places have private event spaces and offer a variety of games, from classic arcade games to virtual reality experiences.
Zoom Goodbye Parties: If your team is scattered across different locations, consider having a virtual farewell party. You could use video conferencing software such as Zoom or Google Meet to host the event and include activities such as virtual games or a group activity like a cooking or mixology class. Virtual events can also be easily personalized with digital decorations, virtual games, and other interactive features. If budget allows, consider sending out a care package to each team member in advance, which could include items such as snacks, beverages, or a small gift related to the team or the beloved coworker bidding goodbye.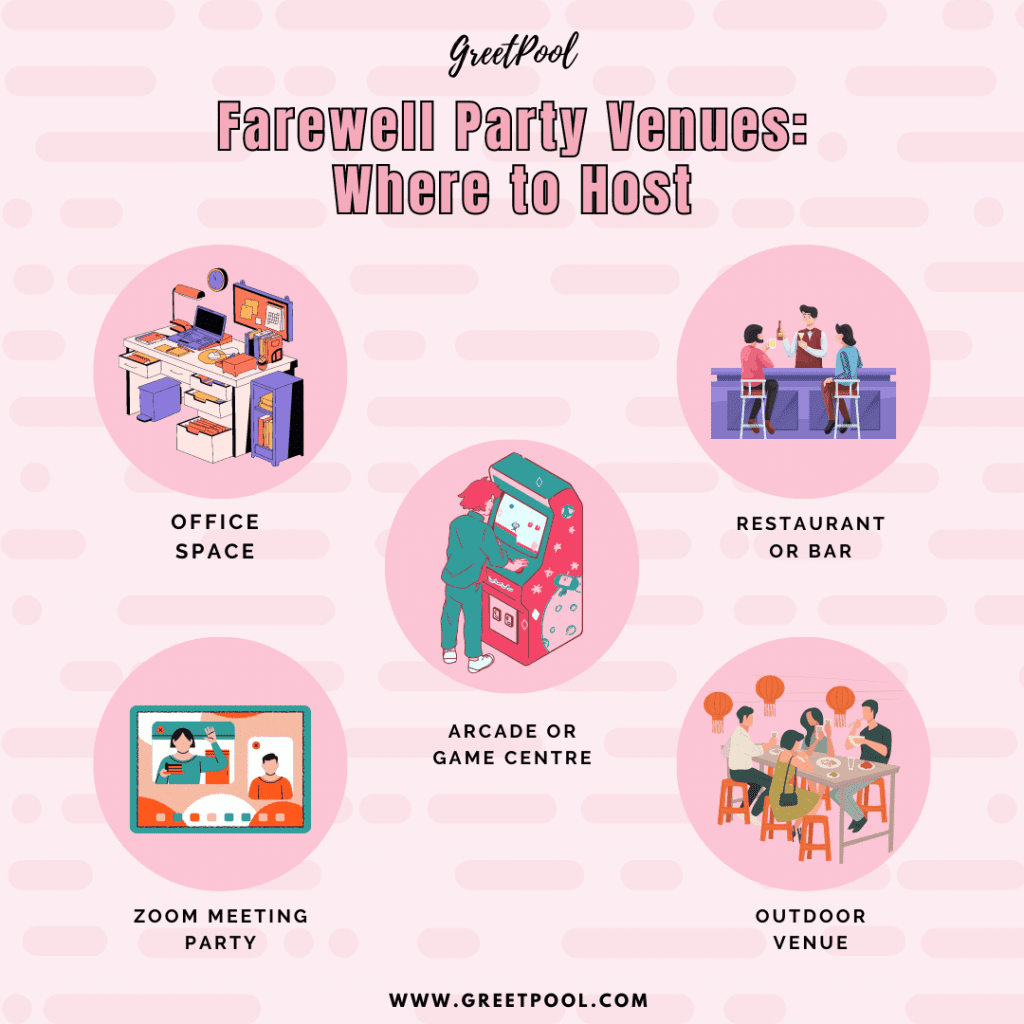 Setting the Stage: Choosing a Theme for the Farewell Party at Work
A theme can add some extra fun and excitement to your farewell party and also the party planning. Consider choosing a theme based on the interests or personality of the person leaving. Here are some suggestions:
Around the World: This theme could feature food, decorations, and activities inspired by different countries and cultures around the world. You could set up stations for guests to sample foods from different regions or have a trivia game about different cultures.
Game Night: This theme could feature a variety of games such as board games, card games, and video games. You could set up different areas for different games and have prizes for winners.
Hawaiian Luau: This theme could feature Hawaiian music, food, and decorations. Guests could wear Hawaiian shirts and leis, and participate in activities such as hula dancing or limbo.
Decades Party: This theme could feature different decades, such as the 60s, 70s, 80s, or 90s. If it is a retirement party, then this theme makes even more sense. Guests could dress up in clothes from their favorite decade, and the music, food, and decorations could reflect that era.
Sports Night: This theme could feature different sports, such as basketball, football, or baseball. You could set up different stations for guests to try out different sports, or have a trivia game about different sports.
Roast and Toast – A lighthearted roast and toast theme allows coworkers to share funny stories and memories about the exiting colleague. It's a great way to celebrate their time at the company while also having some laughs.
Hollywood Glam – A Hollywood glam theme is perfect for a coworker who loves the spotlight. Encourage guests to dress up in their finest attire and roll out the red carpet. You can also set up a photo booth with movie-themed props for guests to take fun photos.
Farewell Party Decoration ideas for coworkers
When planning a farewell party, don't forget to consider the farewell party decorations. They can set the tone for the event and make it extra special. Here are some essential decoration ideas that as an organizer one should keep in mind:
Theme: Consider choosing a theme for the party and coordinating farewell party decoration accordingly. This can help create a cohesive and festive atmosphere. For example, if the employee is a fan of a particular sitcom, use props and decorations inspired by the show to create a fun and playful atmosphere.
Personalized banners: Consider creating a personalized banner featuring the name of the departing employee and a personal message of appreciation from all the team members. This can be a nice way to make the farewell party decoration feel more special and meaningful.
Balloons: Balloons are a classic decoration for any party, and they can be a great way to add pops of color to the space. You can choose balloons in their (employee who is leaving) favorite color or a mix of colors based on the surprise party's theme.
Photo collages: Set up photo collages featuring pictures of the leaving colleague and their team members over the years. This can be a nice way to showcase their favorite memories and pay tribute to the colleague who is leaving. It can also be presented as a slideshow during the event.
Even small thoughtful efforts can go a long way in creating a celebratory atmosphere and in contributing to the best farewell party for your colleague.
Making it Fun: Farewell Party Games
Games and activities are a great way to break the ice and get guests involved in the surprise party. Some popular games to consider for your farewell party include trivia, charades, or a scavenger hunt. Alternatively, you could set up a photo booth with props and encourage guests to take silly photos together.
Farewell Trivia: Create a trivia game based on your coworker's time at the company. Include questions about their achievements, favorite projects, and funny moments. It will be a fun and memorable event for the entire team.
Guess Who: Have everyone write down a memory they have of the coworker who is leaving. Then, have the group read out the memories and see if the person leaving can guess who wrote each one.
Office Scavenger Hunt: Create a list of items or tasks that the coworker who is leaving must find or complete around the office. This can include things like taking a photo with everyone on their team or finding a specific document in the archives.
Two Truths and a Lie: In this fun game, each person shares three statements about themselves, two of which are true and one of which is false. The rest of the group tries to guess which statement is a lie. This game can be played in person or virtually.
Karaoke: Set up a karaoke machine or hire a karaoke DJ to provide entertainment for the party. You can choose songs that are meaningful to the retiring coworker or that are popular within the company. Again, if it's a goodbye retirement party, this game would be very much ideal.
Virtual Escape Room: A virtual escape room can be one of the most fun and challenging virtual going away party ideas. Participants work together to solve puzzles and escape from a virtual room. Even remote team members can play this game.
Choose games that are appropriate for the goodbye party, the guests who will be attending, and that fit within your budget and time constraints.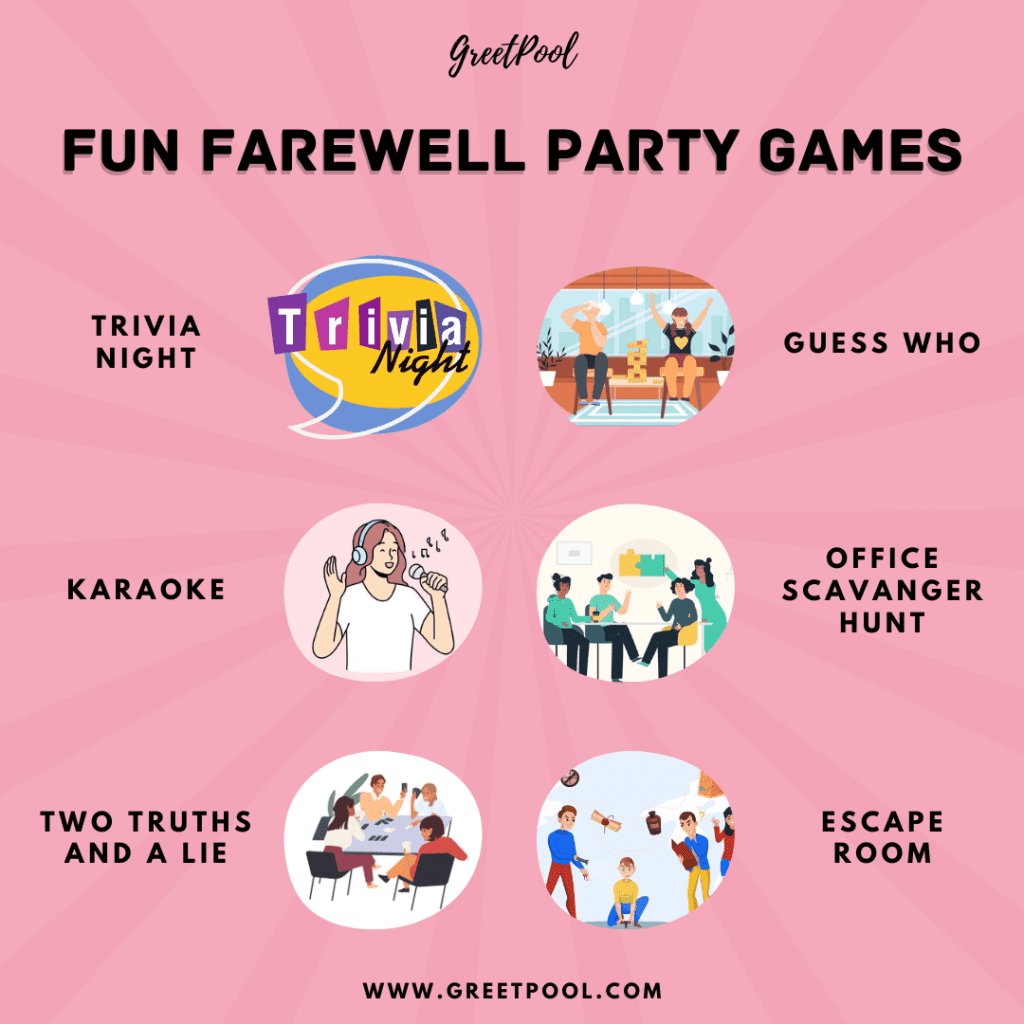 Plan the Party Menu: Office Farewell Party Food Ideas
The food menu can be a critical aspect of a farewell party as it sets the tone for the event and can impact the overall experience of guests. By offering a variety of food options you can cater to different tastes and dietary restrictions, and include your moving-on colleague's favorite food.
Going out
Themed based food- Chinese/Indian/Mexican etc all are great cuisine options that can be chosen based on your theme, or preferences of the leaving person.
Barbecue: If the weather is nice, consider going to a nearby barbecue restaurant.
Sushi: Sushi platters can be a great option for a more upscale farewell party.
Ordering In
Pizza: This classic party food can be easily picked up or ordered from a nearby pizzeria.
Sandwiches/Salad kits: These are great for healthy options, or even to customize based on the farewell theme.
Party Platters: Many delis and restaurants offer party platter catering options for larger groups that are cost effective and hassle free.
Home Delivery for virtual parties
Meal Kits: Consider ordering meal kits that can be prepared at home for a more interactive party experience.
Snack Boxes: Many companies offer snack boxes that can be delivered to your door, including options like cheese boards or charcuterie boards.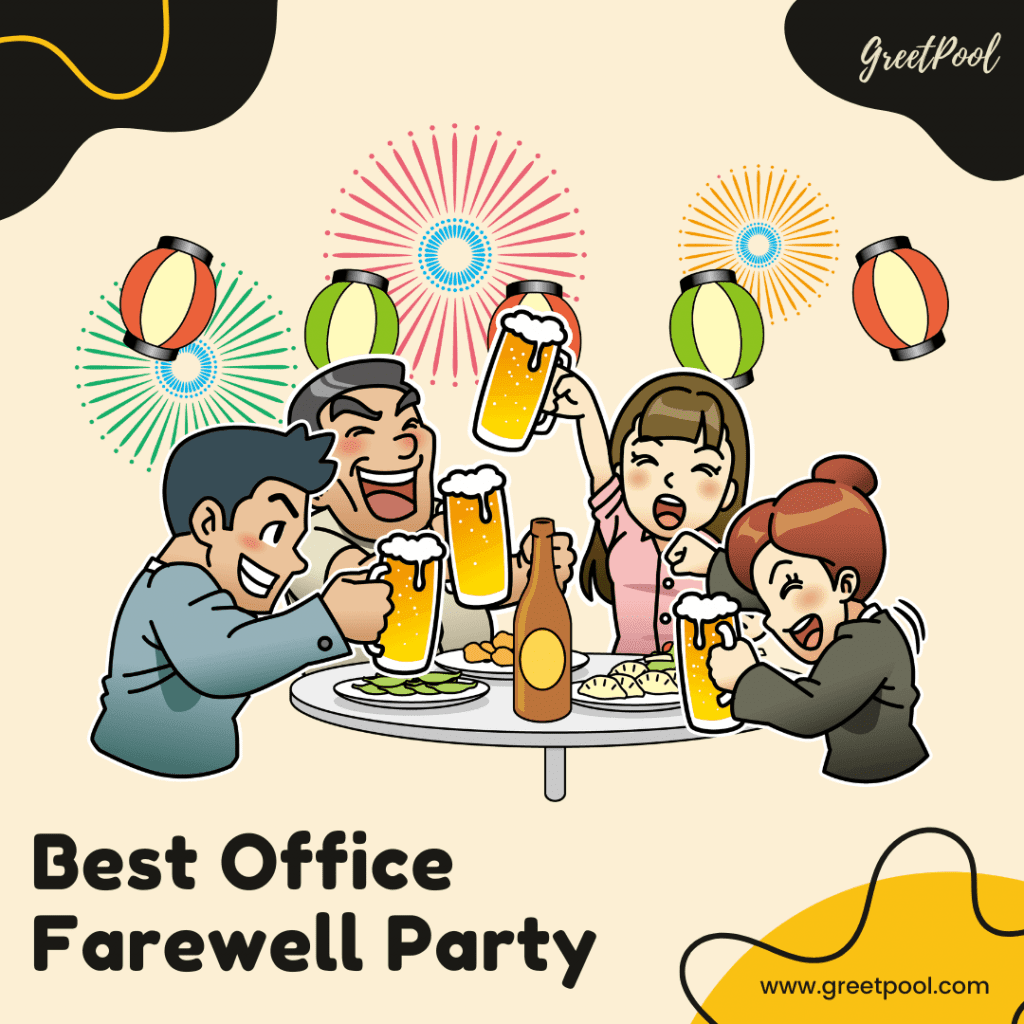 Giving a Thoughtful Goodbye: Gift Ideas for the Exiting Coworker
A farewell party is also an opportunity to give your guest of honor a perfect goodbye gift to remember their time at your workplace. Consider getting a personalized and thoughtful gift, such as a custom-made mug or a photo album filled with memories from their time at work. Alternatively, you could organize a group gift from everyone at the office, such as a gift card to a local restaurant or a spa day. A farewell gift is a great way to show goodbye saying coworker, that how much they meant to you and the team. Here are some farewell ideas for gifts to consider:
Customized items: Personalized gifts are always thoughtful and appreciated. Consider getting your coworker a custom-made item, such as a photo frame, coffee mug, or t-shirt with a meaningful message.
Professional development: If your coworker is leaving to pursue a new career or job opportunity, consider getting them a book, course, or workshop that will help them develop their skills or knowledge in their new field.
Hobby-related gifts: If your coworker has a particular hobby or interest, get them a gift that reflects that. For example, if they love hiking, get them a new backpack or hiking shoes.
Memories: A guest book, photo album, or video tribute filled with happy memories of your time working together could be a perfect gift. You could also make a video montage or a collection of letters from colleagues.
Your thoughtful gesture can go a long way in showing your appreciation and support for your colleague during this transition.
Creating a Memory that will last forever: Virtual Group Card for the Farewell Party
Virtual group cards can be an excellent way to create a lasting memory for your coworker's farewell party. Its basically the office card that you sign and pass around, except online which makes it easy and hassle free. With GreetPool, you can easily collaborate with others to create a unique and personalized card that your colleague will cherish for years to come. Our customizable collection of farewell group cards offers a simple and convenient way to say goodbye in a memorable way.
In a virtual goodbye card, everyone in the team can share their favorite memories and well-wishes for the departing colleague. You can even add GIFs, Stickers, Photos etc and make the card fun and engaging. Whether you are working in the office or remotely, our virtual group cards offer a fun and engaging way to create a farewell memory for the person who's leaving.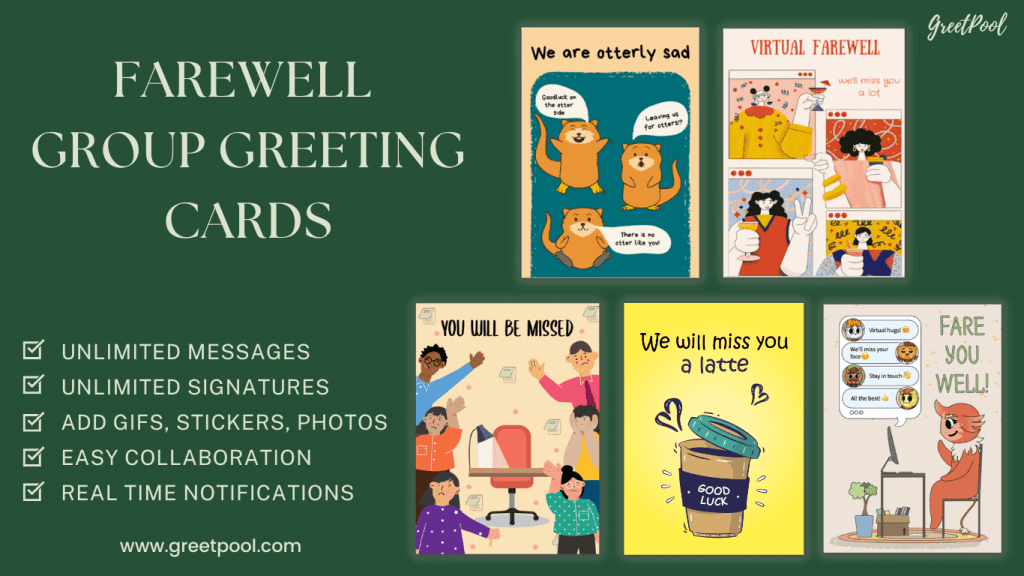 A Heartfelt Send-off: Deliver a Memorable Farewell Speech
No farewell party is complete without a heartfelt speech to wish your coworker well on their new journey. Choose a speaker who is close to the transitioning associate or has worked closely with them, and ask them to prepare a brief speech.
Gratitude: Express your appreciation for the former colleague's hard work and contributions to the team/company. Highlight specific achievements and positive qualities that made them stand out.
Memories: Share some fond memories you have of working with the departing colleague. This can be a nice way to showcase the impact they had on the team and to create a sense of camaraderie.
Well wishes: Offer your best wishes for the transitioning associate's future endeavors. You could express confidence in their abilities, offer words of encouragement, or share some advice that you think might be helpful.
Add a Personalized Touch – Make it special by adding a personalized touch that reflects the personality of the going away team member. This could be a favorite quote, an inside joke, or an anecdote that celebrates their unique qualities and contributions. This can be a nice way to show that you took the time to think about the person and their impact on the team.
A positive, upbeat, and respectful farewell speech will serve as a fitting tribute to your farewell coworker's contributions, and as your guest of honor they will feel valued and appreciated,
Conclusion
In conclusion, hosting an office farewell party is a great way to send off an employee leaving the company, and a farewell party for your coworker is a fantastic idea to bid farewell to someone who's leaving. Whether they're moving to a new place or simply leaving the office, it's important to make the honoree feel special and give them something to remember. A party that will be remembered is the best way to let the departing worker know they were appreciated and a valuable part of the team. We hope these ideas helped in giving you some fun and easy ideas for celebrating a much-loved coworker leaving the company!