Best New Baby Wishes to write in a card for new parents
Babies are such a bundle of joy! The newly minted parents are not only celebrating the addition to their family, but also adjusting the new changes that the tiny human will bring to their lives. It is important to show your love and support for the parents, and to be a part of this milestone celebration in their life. A simple way to convey your best wishes for the happy family is to send a cute new baby card and customize it with some heartfelt and memorable new baby congratulations wishes and messages.
Depending upon your relationship with the new parents, the gender of the newborn baby, or the general situations around the occasion, you should choose the right words for new baby wishes to show your thoughtfulness and leave a lasting impression.
Whatever the situation might be, if you are looking for some meaningful congratulations message to wish new parents and the baby well, we've got you covered. This guide covers most of the common scenarios and provides sample messages for those situations. You will certainly find your next inspiration here!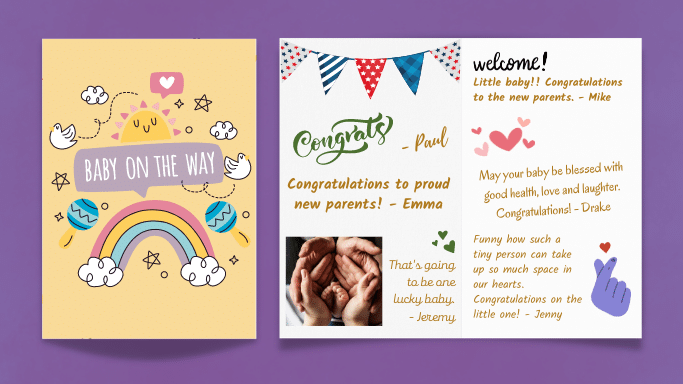 How to address a new baby card
This will largely depend on how close you are to the family and the bonding that you guys share. Also, considering the family setup, it can be addressed to the baby, or both parents, or if it's a single-parent family then just to the one parent.
Here are a few examples of how to address the card:
Dear <mom name>, <dad name>, & Baby <baby name>,
Hey/Hi/Hello/Dear <parent name>,
To the <lastname> Family,
Welcome Baby <name>,
To Baby <name>'s Parents,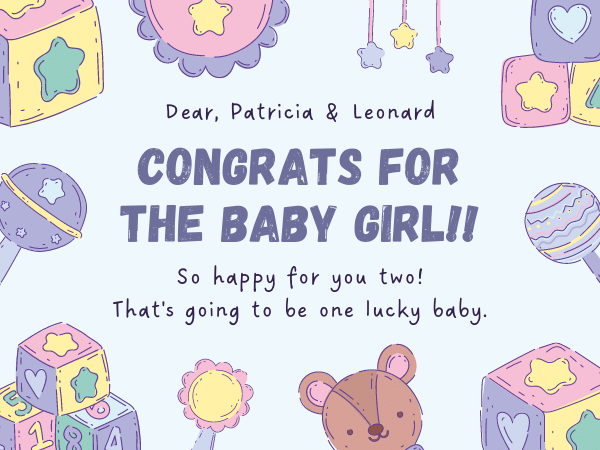 New baby girl wishes
Show your affection for the adorable new family member if you know it's a baby girl. To get you started, check out this list of sweet new baby wishes:
Oh my god! She's the cutest little thing. I wish you, her and the family a wonderful time full of happiness and fond memories.
Welcome to our new little princess! She is blessed to be born with you both as parents (and me as aunt of course). She will be loved, cared for, and cherished from the bottom of our hearts.
Such an adorable little angel with the a beautiful smile and the cutest little dimples. Many congratulations on the birth of your baby girl!
So happy to hear the arrival of your baby girl! Exciting times ahead for you and your family! We are all rooting for you, and wish you and the family the best to sail through the parenting chapter.
A baby girl is every parent's dearest friend and their little princess; everyone will love and take care of her. Congratulations on the birth of your daughter.
Daughters are special – she is going to always be mommy's best friend and daddy's little girl. Congratulations on having such an angel in your life.
Congratulations and best wishes on the birth of your beautiful baby girl!
Check out beautiful new baby girl congratulations cards that multiple people can sign and send together

-GreetPool Team
I hope your sweet baby girl brings you lots of joy, new adventures, and a lifetime of memories. Congratulations!
You are among the luckiest people to be holding an angel from heaven, and I have no doubt that she will transform your house into a paradise. Greetings and congratulations!
Such a wonderful news! Baby <name> has a wonderful smile and I'm glad to hear the she and the mom are both doing well. All the best to you both amazing parents as she makes your way days shorter and nights sleepless lol.
All hail the prophesied princess! The sparkle in her eyes, the touch of her fingers, the whispers of her breath and the tiniest gestures will fill your hearts with warmth and love. God bless her and your family. May her life be full of love, laughter and happiness.
Such a cute addition to the beautiful family. May god bless you all and shower with all the happiness in the world.
Well done! You guys made a tiny human. She's the cutest baby ever! When can we come see her and play with her?
Congratulations on the arrival of dear <name>! She is such a happy baby, and looks just like her mom. Wish her and the family all the love and joy in the world.
Congrats my friend, you entered a new chapter and start a new adventure. Baby girls are a heaven sent gift and I am so happy for the amazing parents. Best wishes for the upcoming journey – enjoy your time and make wonderful memories.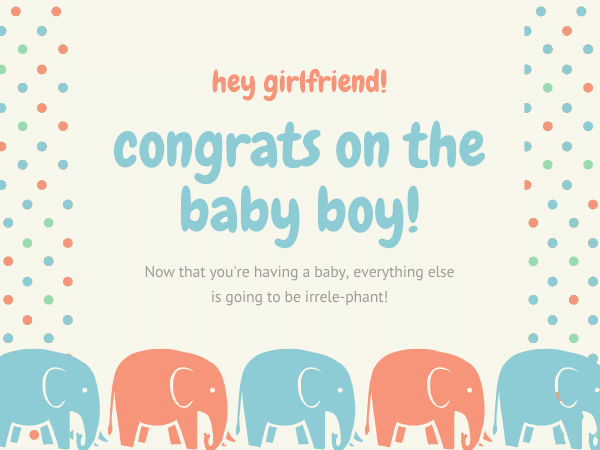 New baby boy wishes
A newborn son is an extremely joyful occasion for the parents. You can send one of these lovely congratulations messages for a baby boy.
Warm welcome to the baby boy! I hope your little champ continues to bring you loads of joy.
Congratulations on your new baby. He appears to be the best of you and your partner and I wish him the best
Fill your heart with new hopes and dreams because one day, this little prince will grow up making it all come true for you! Congratulations for new baby boy!
Congratulations to you both for bringing into the world such an adorable newborn boy. May you experience great delight and enjoyment in his company!
Many congratulations on being parents to a lovely boy! May you always be filled with love, laughter, and happiness by this amazing presence.
Greetings and congrats as you both rejoice in the arrival of a prince charming to your family. I hope you all have a happy and healthy life!
Your newborn son is already more attractive than a Hollywood star. May he become a dazzling star as he grows. Congratulations!
Check out amazing new baby congratulations cards that multiple people can sign and send together

-GreetPool Team
Thrilled to hear the arrival of your baby boy! We are all excited to meet him and we wish you and the family the best to sail through the parenting chapter.
Your new bundle of joy will bring you tons of joy, exciting times, lots of fond memories! Congratulations and we wish you the best.
Congratulations on the arrival of your new baby ; he is indeed a cute and healthy boy.
Congrats on the safe arrival of the mischief packet! Parenthood is such a rewarding experience 🙂
Such a handsome newborn baby boy! My compliments to the chef 🙂
Congrats on your new baby boy. Enjoy the sleepless nights in the first few years, and then a lifetime of mischief after that.
Smallest feet leave the biggest footprints.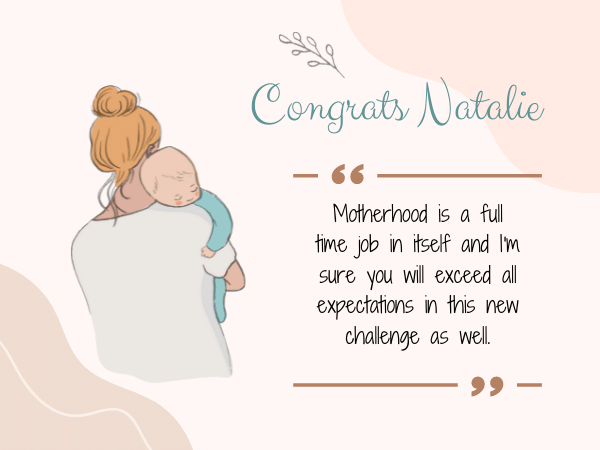 Baby Wishes For Female Coworker or a New Mom
Words cannot adequately express a mother's unwavering devotion to her baby. Here are some wonderful, heartfelt, and considerate new born baby wishes for female colleagues or new moms:
I'm incredibly proud of the mother you will become. Don't hesitate to let me know if you need any help. Many Congratulations!
Knowing your professional achievements and the organizational skills, I know you will be an amazing parent.
A new baby brings so much happiness to the family and brightens the home. You are one lucky new mother, congratulations.
Congratulations, but I hope you're prepared to sacrifice some sleep. Any mother would not trade this wonderful yet exhausting period for anything in the world. Embrace this journey!
Although I am aware that you love your job, having a baby will soon overtake it as your entire universe. You are the only one who can successfully juggle life, family, and career! Love to the newborn!
Dear (Name), I just wanted to say congrats on the arrival of your first child. This is a magical time, and I hope you enjoy every minute of it.
Greetings on the arrival of your baby. Before having a child, you always hear about the club of mothers. But until you become a parent, you really can't appreciate the delight. Welcome to the club!
Heard the amazing news about your new baby! My warmest hugs and lots of love to the recovering mom and the kicking champion 🙂
Congratulations on becoming a mom! A new baby is like a blessing from God and I'm sure this baby will make all your wishes come true.
My warm welcome to the new boss in town 🙂 May your journey into motherhood be a memorable and joyful one!
If you are looking to create group ecards, here are some additional Tips for ultimate group cards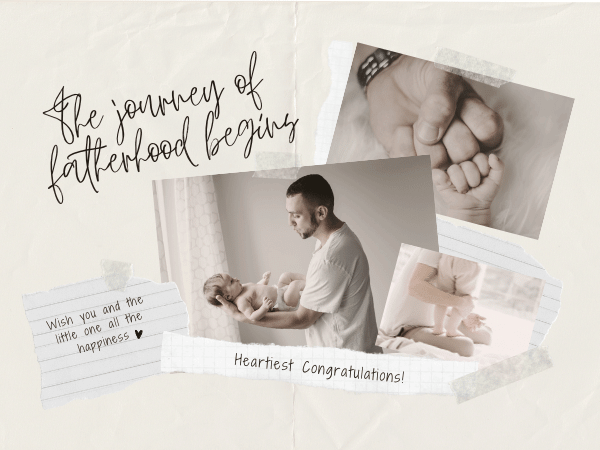 Baby Wishes For Male Coworker or a New Dad
A new father holding his newborn child for the first time may understand for the first time exactly how much his life is about to change. Becoming a parent is an incredible feeling. Here are a few suggestions for congratulating a new father:
Enjoy every hectic moment that parenting offers you. You will embark on a journey of a lifetime when you become a first-time father. Embrace your baby and the challenging early years of their existence since they grow up far too soon.
Hearty wishes to the new father. I pray for you and your unborn child to live long, healthy lives full of joy and happiness.
Parenting Advice – The wife is always right 😉 Welcome to fatherhood
The journey of Fatherhood begins! I wish you and your wife all the happiness in the world.
The sweet touch of your newborn will change you forever. All the best as you make your way through fatherhood!
Congrats on the safe arrival of your bundle of joy! We wish you, the baby, and the mom the best of health and happiness (and lots of sleep)
There are a lot of responsibilities that come with becoming a new father. Without a doubt, it won't take you long to become an expert while experiencing love and delight you never imagined were attainable.
It's finally here—the moment you've been waiting for. You are now the father of a brand-new, adorable child. Be careful and treasure your little one. Enjoy and welcome your new role as parents.
Knowing that you are now a father makes me incredibly happy. Take excellent care of your new child and raise him to be just like his parents—respectful, accountable, and loving.
You have a lovely, healthy baby in your arms today. Enjoy all of your privileges as a father. Always keep in mind how quickly time passes, and make the most of your time with your kid.
We cant wait to see your baby and drown her in hugs, love, and warm wishes 🙂 May all your wishes come true.
Funny messages to write in a new baby card
The attempt at comedy will be greatly appreciated by the new parents, who might be exhausted and on a nonstop diaper-changing schedule, even if they lack the strength to truly laugh out. Here are some funny new baby messages
"Welcome to parenthood. Raising kids is a walk in the park. Jurassic Park that is!"
Congratulations on growing up and becoming a responsible adult 😉
Congrats on b̶e̶i̶n̶g̶ ̶9̶ ̶m̶o̶n̶t̶h̶s̶ ̶s̶o̶b̶e̶r̶ your new baby!
Time to master the art of changing dirty nappies 😉 Best wishes to you and the little one!
Oh the joy of parenting! Welcome to this side of life 😉
Parenting Advice – The mother is always right 😉 Welcome to fatherhood
I congratulate the new parents on the arrival of this new tiny replica of their genes put together.
"Congratulations on the safe arrival of your very own little angel. They're more than just adorable little creatures on whom you can blame your farts."
"If your friend wakes up your sleeping baby, they aren't really your friend. Things new parents should know. Congratulations new parents!"
"Many congratulations lovelies on your baby. It kills you to see them grow up. But I guess it would kill you quicker if they didn't. You will realize soon."
"You will learn many things from children. How much patience you have, for instance. Best wishes for your parenthood!"
"Congratulations to the new parents! It is time to realize people who say they sleep like a baby probably never had a baby themselves."
Wow! that is one tiny baby. Congratulations and wishes for the new journey ahead to grow up into human sizes 😉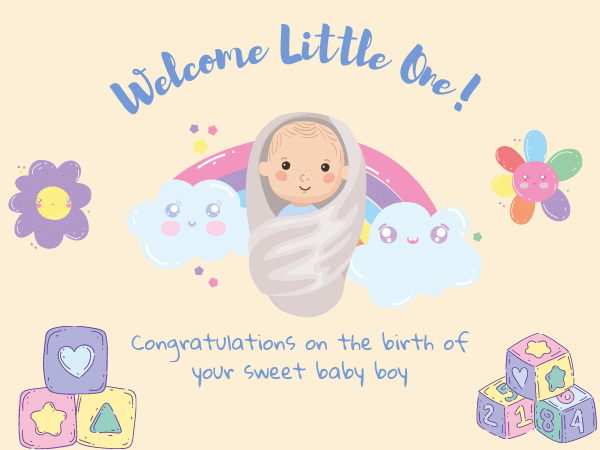 Congrats messages for the First new born baby
Firstborns hold a special place in the heart of a parent. Welcome first baby boy or girl with meaningful words of congratulations. Here are some new baby wishes examples:
Parenthood is a blessed experience. Congrats on this new 'promotion' in life 🙂
Congratulations on the safe arrival of your lovely new baby. They are so beautiful, and I have no doubt that you will be fantastic parents.
There are no words to describe the euphoria on the birth of the first baby! I'm glad you and your partner got to experience a safe and healthy delivery and wish the three of you a happy and joyful time ahead.
Welcome little one! You were long awaited and I cant wait to see you and hug you in a warm embrace.
Wishing you and your new baby health, happiness, and lots of sleep.
Greetings to your new family. As a parent, you will experience love and pride unlike any other. Embrace this new journey!
I'm so delighted for you three. What a lucky baby that will be!
Congratulations on creating your first mini human being. Let the noise begin!
I'm really happy for you two. Bring on the dirty diapers and insomnia!
Congrats on the beautiful bundle of joy! Wish you a successful transition to parenthood and a wonderful time.
The birth of a baby is a transformational experience. We welcome the new member of the family and send our warmest hugs and hearty wishes to this bundle of joy.
We welcome this new addition to the family with open arms and wide hearts.
A new baby is like the beginning of a new phase in life. May you and your partner find the strength, courage and wisdom to navigate this new phase of life.
Congrats wishes and messages for the Second baby
The arrival of second (or later) baby holds just as much significance for the parents as the first one. The fact that the older child is no longer the only infant in the house is a fantastic opportunity to include a message for them. Here are some newborn baby wishes for the second child:
Congratulations on another beautiful blessing! I hope your expanding family is blessed with wonderful experiences and delightful memories.
Welcome <first kid name> to the big sister/brother club.
Well, you've been there, done that already. Welcome to the second bundle of joy.
You have a beautiful new baby once again. Congratulations on expanding your family, and welcoming even more love into your life.
God's blessings be showered upon your newest family member. Heartiest Congratulations!
I'm so happy you get to raise a baby once more. Many congratulations to the xx Family!
As you greet your new, darling sunshine, may your blessings grow. Congratulations on the new family member.
This tiny baby is a wholesome edition to the family. Enjoy this new role of being parents to a little baby girl this time 🙂
A new miracle arrives with this precious baby! My heartiest wishes and warm hugs to the two times champions 🙂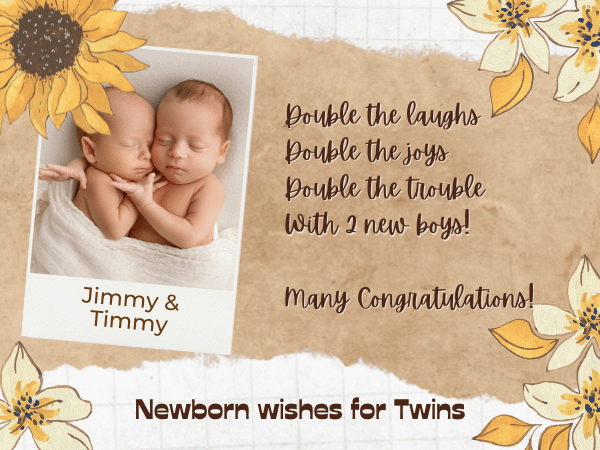 Newborn baby wish for twins
What is more awesome than one baby? Having two. Here are some ideas to send twice as much love and luck to them.
Double congratulations on the arrival of your twins!
Double the laughs, double the joys, double the trouble, with two new boys! Heartiest Congratulations
You have received twice as much joy, love, laughing, and dirty diapers as a blessing! Savor each moment. Congratulations!
Two tiny blessings from heaven. Twice the love, twice the smiles. Congratulations guys!
Consider the positive – you just need to host one birthday celebration, at least! Congratulations to the new parents.
Greetings on the arrival of your twins. Prepare yourself for a riot of noise, laughter, hugs, and fun.
Heartiest wishes on the arrival of your twins! It's double the fun, double the laughs, and double the trouble. Double Congratulations!
Congratulations on becoming double busy 🙂 May God give you and the family all the happiness and joy
My best wishes and congratulations on this double bumper gift hamper 🙂 May your enjoy lots of laughter and joy together.
Check out amazing new baby congratulations cards that multiple people can sign and send together

-GreetPool Team
Adoption congratulations wishes for new parents
The road to parenthood might not have been so easy for some parents. You can acknowledge this in the card and appreciate the journey and the struggle of the new parents and send wishes and quotes to welcome the new member of their family
You are blessed to have this adorable child, and they are blessed to have you. I'm very happy for your amazing family.
All your dreams of parenthood have finally come true. I'm sending my love to you two and your new baby. Congratulations!
Adoption is a selfless and sincere gesture of love. You're a special couple and your family deserves a lifetime of happiness.
The gift of the warmth and love of a family is more than what baby (name) could have ever hoped for. It is amazing you extended your and your family's love to a new member. Greetings and heartfelt congrats.
We are eager to get to know your family because we are aware that love is what truly defines it. Congratulations!
I still am unable to determine who is more fortunate. Your kid for having such wonderful parents, or your own baby for being so adorable. You two will continue to be a blessing to one another.
A new baby is an exciting time and I extend a warm welcome to this newest member of your family.
A new baby makes love stronger. My best wishes to the new family and lots of love to the little one.
A new baby is an epitome of joy. I congratulate you guys on the arrival of baby (name) and wish for a wonderful time for the family together.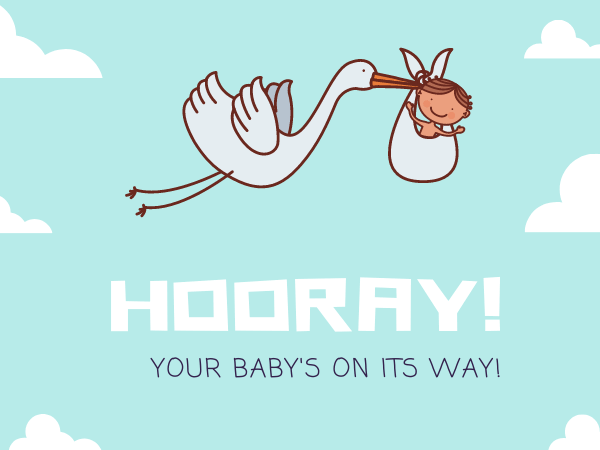 Baby Shower Card Messages to write in a card
If the baby is still in the bun and you are getting together, in person or virtually, to celebrate with the new mom, its a great chance to put some thoughts to welcome the arrival of their new family member. A baby shower card is a great way to collect everyone's wishes and messages into one place and gift that as a memorable memento to the expecting parents.
To a first-time mom: "Becoming a mother is the adventure of a lifetime. Congratulations and best wishes for all the happiness ahead."
To a first-time dad: "The birth of a child is one of life's most amazing events. Congratulations and good luck for the journey ahead."
I congratulate the new parents and wish for the safe and healthy arrival of this new bundle of joy.
We are so excited to meet your little baby ! Congratulations on your new arrival and the upcoming special times.
So thrilled for you both as become parents to a beautiful baby boy! Wishing you loads of love and happiness in this next chapter of your lives.
We can't wait to meet the newest upcoming member of your family! Congratulations!
A new baby is such a special gift from above. Congratulations on the upcoming new addition to your family.
Parenthood is such a magical journey – enjoy every bit of it. Warm Wishes!
Welcoming a new baby is challenging job. Kudos for pulling it through.
You are bringing a new life to the world! May you enjoy this new phase a lot and I cant wait to meet your new baby.
Closing words
When expressing your congratulations to your coworker, keep in mind the type of relationship you two have. There are so many fantastic ways to send your best wishes, no matter how close (or far) you are! Although the birth of a child is an important event, any congratulations will be greatly appreciated by the new parents.
A new baby card is the perfect way to send your messages in a memorable and meaningful way. Instead of wishing alone, try wishing together with your team with a group greeting card. Send collective wishes for the future of the newborn baby and the parents.
We hope this comprehensive list helps you create the perfect message you wanted.