Best wedding wishes to congratulate a coworker
Weddings are one of the most joyous events in a person's life. Its a celebration of two people's love and commitment to one another. When a colleague at work is getting hitched, its a great opportunity to reach out and send some memorable wedding wishes to that coworker to congratulate them.
Greeting a colleague on their wedding day is a time-honored tradition. But in this post-pandemic new order, how should we do it? The virtual divides and remote distances bring a huge challenge in creating the interpersonal ties that we used to share at workplace. However, in the new normal, it's more important than ever to let others know you're thinking of them on their special day.
But what would you write to a coworker on their wedding card?
Why should you congratulate or wish a coworker on their wedding?
Weather you are attending the marriage or not, sending wedding wishes for coworker shows that you care for them, respect them, and are happy for this new chapter of their life. Especially, if you are a manager, encouraging your team to acknowledge and celebrate personal life events of other members helps build stronger bonds and boosts team morale. By taking the time to send your coworkers well wishes note, you can improve workplace morale and make your coworkers feel more included.
It's easy to get so wrapped up in the day-to-day routine work of professional life, or daily chores at home, or general life stuff, that we may forget to wish our coworkers on this special time of their life. It can also be challenging to find the right words, depending on the connection you shared with the colleague. But no matter the degree of closeness you shared, there is always a way to find the best words that touches their heart.
How do you wish a colleague on their wedding?
Finding the appropriate words for wedding wishes can be difficult. Even more so with coworkers, you may not be familiar with. You should, however, strive to make an effort.
From formal to funny and everything in between, this vast selection will be sure to please the beautiful couple in every way. With these lovely wedding wishes, your card will stand out and put a smile on the face of the newly married couple.
Simply select your preferred category from the list below to jump to the wedding message ideas you're looking for, or read this entire guide to combine ideas and create your own unique wedding message brew. For a more personal touch, you can mix in an anecdote or a memory from your experience to share tips for the marriage. Just find the perfect wedding card for your coworker and get going.
We hope you enjoy this list of best wedding wishes for a coworker, and that it frees you up to concentrate on spreading the wedding joy!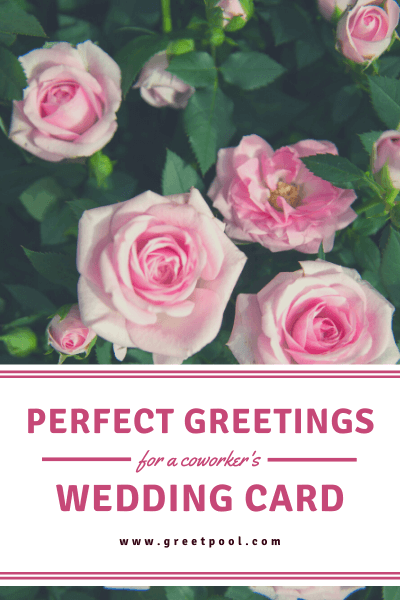 Formal Wedding Wishes for Coworkers
If you are not too close with the coworker, or they are your boss, you might be looking for some formal wedding wishes. They work great for most weddings and generally are seen as a sign of respect for the couple.
When using formal wedding wishes, try to personalize the message and add a little detail that it is relevant to the couple. Also, if you can include some note about formal wedding traditions, or formal wedding sayings, that would be like the cherry on the top.
Funny Wedding Wishes for Coworkers
Funny wedding messages work great for close friends and family. They tend to be informal, with a dash of humor, maybe an inside jokes, or sprinkle of some sarcasm. Make it a unique and personal message by adding some funny advice about marriage if you have personal experience. Here are some examples of funny wedding card message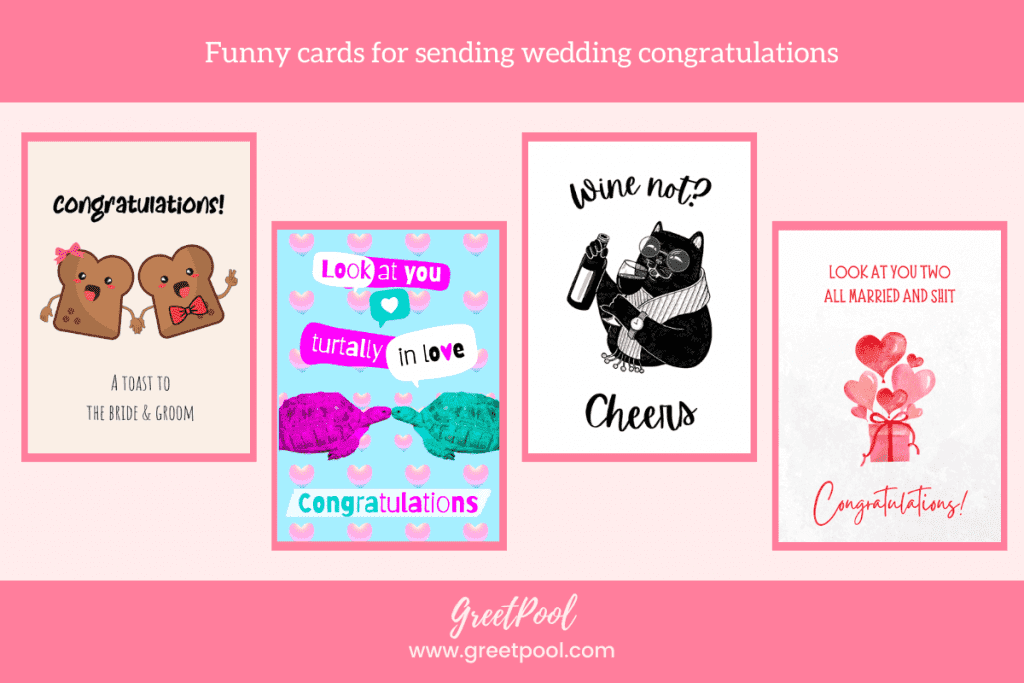 Work won't be able to function without you, so don't remain on your honeymoon for too long! Just kidding. Congratulations and oodles of love.
New challenge unlocked. Congrats! Good luck with what lies ahead.
May this Merger and Acquisition be the best, and the most valuable one, for your entire life.
Remember, Happy wife = happy life. Cheers!
Enjoy your special day because the real job begins tomorrow!
Finally you are out of the single people pool at the office. My odds just improved a lot, thanks! Oh, and happy wedding mate 🙂
It makes no difference how many times you change jobs as a married man. You're always assigned to the same boss. Wishing you a very happy married life!
Congratulations on this "promotion". You got two bosses now – work boss and home boss!
Time to level up your budgeting, accounting and finance skills.
Congrats on a successful joint venture. Best wishes for a happy future.
Hope you made all your stakeholders very happy.
Hope you continue to 'exceed expectations' at this new gig as well. Wish you a happy marriage and a blessed life.
It's time to let go of you. You have a new boss now.
Funny wedding wishes work great for coworkers that are close with you, or coworkers that you dont know much. In the case of the latter, they act as a nice icebreaker the next time you guys meet each other.
Wedding Wishes when both bride and groom are your coworkers
When two coworkers are getting married, its double to cause for celebrations. While light comedy in the wedding congratulations message is great, the wording should be respectful and sincere as you might be spending a lot of time with the couple at work.
Thank god no more pretending that you're not dating. Congratulations!
Well, we saw this coming, but seeing you two end up together today fills my heart with joy. Love and happiness to both of you.
So who's the boss at home and who's at work? Just kidding! Heartiest congratulations, have a wonderful life ahead.
Now I know staying back after work to finish assignments was all part of the plan. And it worked!
You guys are like Jim and Pam from The Office. So cute, and romantic. God bless you.
Its not just the union of two people, its a union of two departments at work. Cheers!
Should we expect more work from home, or home at work now? Congratulations on seeing this through.
I think I missed the orientation where they told about availing the 'life partner' benefits of our company. Lol! Love you both, and I wish you the best in your new 'project' together.
So while we were busy doing all the work, you guys were busy finding life partner? Not fair lol. Jokes apart, so lovely to see you guys together and best wishes on your big day.
There are no two persons I can think of who deserve true love, happiness, and a lifetime of both. Happy wedding day to my closest work besties!
Now that you guys will be hanging out at work even more, an official welcome to this new family member of the team. Cheers!
Wedding Wishes for Remote Coworkers
Though a coworker currently lives in a different part of the world, they are an important part of your team. Whether you get an invitation or note, be sure to acknowledge their special day with thoughtful, personalized wedding wishes.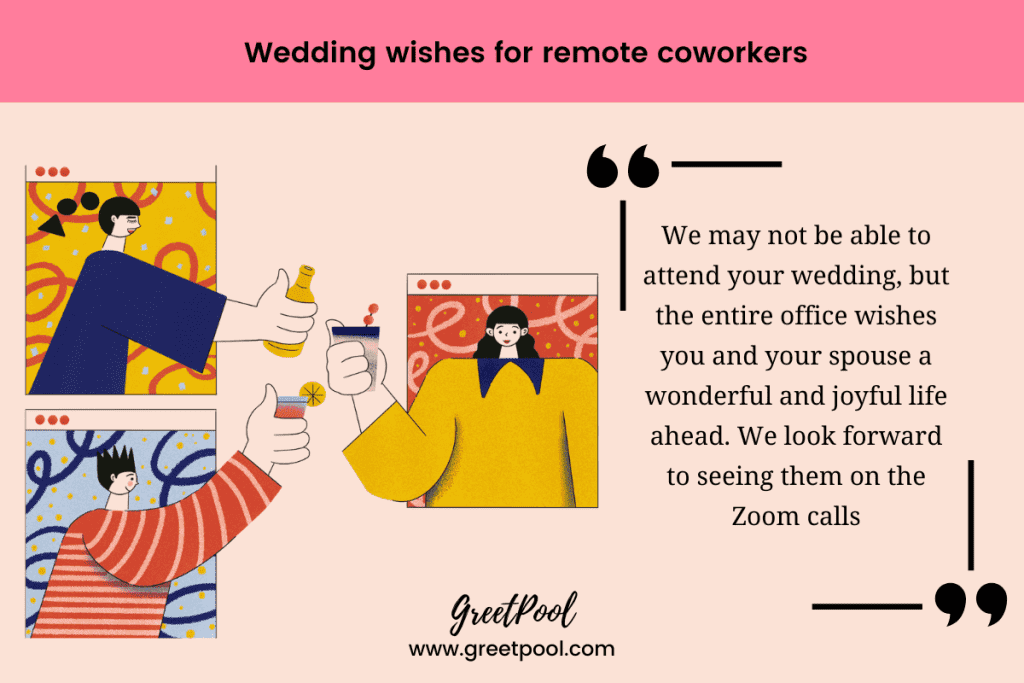 I may not be able to attend your wedding, but I wish you and your spouse a wonderful and joyful life ahead. Please convey my regards to them.
I've seen you dance on our zoom calls. Its a shame I couldn't be there to see those moves in person. Cheers to this new adventure, I wish you the best.
Sending Virtual hugs and best wishes on this joyous occasion in your life. Wish you both health, wealth and success.
We've not met, but i know you have a kind heart. Your partner is lucky to have found you and I wish you both a happy and wonderful journey ahead.
Alas I can't be there, but I wish you a beautiful wedding day with lots of festivities and joy. Give my regards to your spouse, and the next time i'm in town, I'd love to meet you both in person and grab a drink together.
Cant wait to meet your spouse in our next team call. A big welcome to her to our extended office family!
Even though we have not met, I know you are a wonderful human being and your partner is lucky to have found you. I wish you success and happiness in this new stage of life.
Looking forward to seeing the wedding ceremony picture, especially you as the bride. Virtual hugs and kisses!
I love Indian weddings. So jealous I could not be there in person but i hope you have a blast and get to enjoy every second of this wonderful occasion. Best wishes to you both!
The whole office virtually sends its love, regards and warmest wishes to the bride/groom on this joyous occasion.
A group ecard from the entire team is a great way of sending wedding wishes to your remote coworker, together. While the office should try to send a wedding gift to the newlywed, but if that is not feasible, the least you can do is send a collective greeting card with warm wishes for the newly married couple.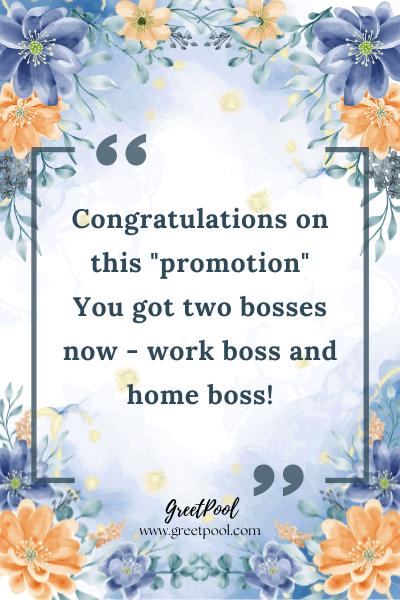 Meaningful Wedding Wishes for a Coworker
The perfect wedding congratulations message comes straight from the heart. When you mean well for the couple, and are truly joyful for their union, you will find it really easy to share heartfelt and meaningful words to bless their life. Here are some examples of beautiful wedding wishes for coworkers that show that you care:
Congratulations on this wonderful occasion from us all here at work to both of you. We are wishing lots of happiness as you start on this exciting new journey together.
It gives me great pleasure to extend my deepest wishes for your future together On such a lovely occasion I wanted to wish you my congratulations. May God bless both of you always
For years, we've needed and relied on you, but now it's time for someone else to stand to gain from all of your efforts. Best wishes for your wedding
The only thing that matters is your love for each other. Congratulations on deciding to take the leap. Have a companionship filled happy married life!
May your marriage be filled with all of the right ingredients: a heap of love, a sprinkle of comedy, a glimmer of passion, and a teaspoon of understanding. May this union bring you a happiness that lasts a lifetime. Congratulations!
May you be forever blessed with love and happiness, dear couple, as you look forward to the wonderful life you've dreamed of! Congratulations on starting this amazing journey!
The epitome of happiness and prosperity is to love and be loved. In all your days together, may you never lose sight of this priceless gift. Congratulations to the perfect couple for this momentous occasion!
We want to wish you happiness and love like the infinite circle of your wedding ring on this special day of your wedding. All our love and best wishes to you for a fun-filled future with lots of cute babies.
Wishing you a home filled with sunshine, two hearts full of joy, and a love that grows stronger with each passing day. Congratulations newlyweds.
May your married life together be filled with serenity, beauty, adventure, satisfaction, humor, insight, healing and renewal, love, and wisdom. Best wishes on your beautiful marriage.
May you always have the feeling that you have enough. Heartfelt congratulations and best wishes for a happy future together!
Congrats! your family grows with this new family member. I wish you all the best to live, love, and laugh together harmoniously.
May you two find in each other the companion you've always wanted and the love your hearts have always yearned for. Best wishes for your wedding.
Short Wedding Messages for Colleagues
Sometimes its best to keep things short and simple. Check out these one-liners for the next time you need to keep it brief.
Best wishes for a happy married life.
Here's to a lifetime of love and happiness. My best wishes to you both.
Warm congratulations to you as you begin a beautiful chapter of your life.
Exciting times ahead! Wish you love and happiness.
Good luck navigating this new stage of life. I wish you the best.
Enjoy your wedding day and have lots of fun.
You guys are a perfect match. Stay blessed.
Sending a bouquet of warm wishes, hugs and loads of love!
May you build a beautiful life together.
Warmest Congratulations on this beautiful occasion.
Congratulations on your wedding day! Wishing you a life filled with joy and love.
The whole office sends its warmest wishes to the bride/groom.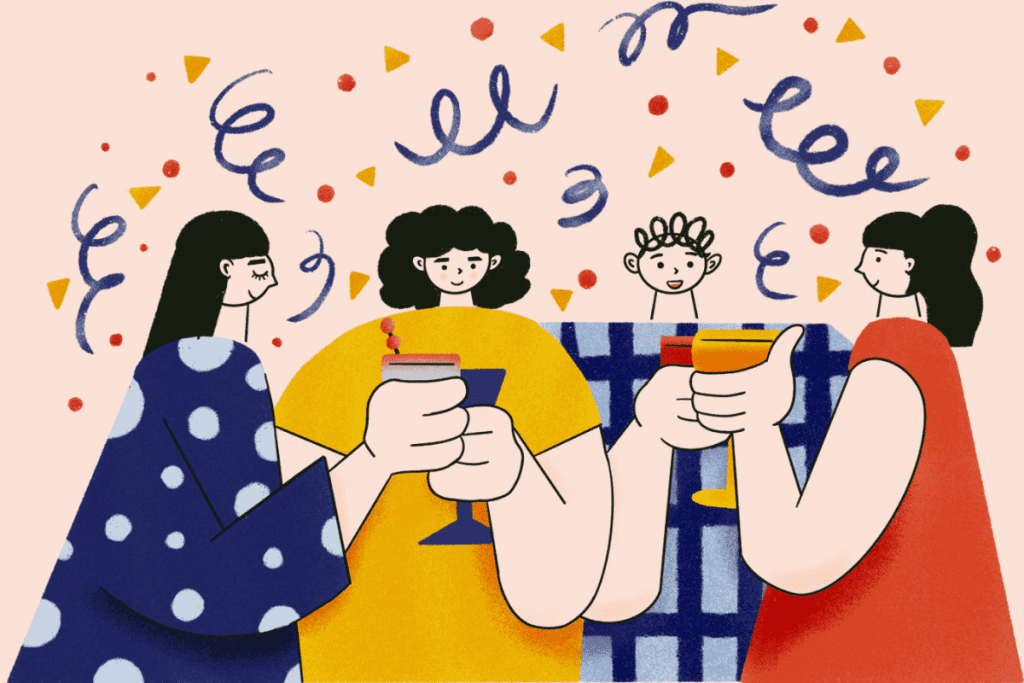 Thoughtful Wedding Wishes For Colleagues
Its always a good idea to think deeply about the person and bring in their real life qualities, and personal traits into a thoughtful wedding wish. Impart some wisdom and marriage advice to the newly weds as you wish them good luck. Here are some wedding message examples
I've always admired your dedication, loyalty, hard work and passion towards your work. These same qualities will make you a great wife/husband and I wish you the best.
Your problem solving abilities, commitment to tasks, and can-do-attitude will come in really handy as you tackle this new phase of life. Your partner is lucky to have you and I wish congratulations to you both.
True love triumphs over everything. Make it your guiding light as you begin on this new journey. Many congratulations!
I hope that as time progresses, both of you become closer friends and experience all sorts of joy that life has to offer. Congrats on the wedding!
Congratulations to both of you! We love you dearly and wish you the happiest, most loving marriage. May the love you both have for each other continue to grow.
Warmest wishes on one of your life's most memorable days! Best wishes for a happy and wonderful union of two people who truly deserve each other.
Wishing you a magnificent ceremony and a lifetime of beautiful memories! On this joyous day, I congratulate you both on finding your life partner for life in each other. Stay blessed together always!
Best wishes for your wedding. Praying you have everlasting happiness and that you continue to fall in love with each other over and over again. Congratulations on your D-Day.
Marriage is similar to a chemical reaction in which two elements interact and produce completely different substances. I'm excited to see what compounds you'll encounter over the course of your happy marriage. Congratulations to two of the most amazing people I've ever met!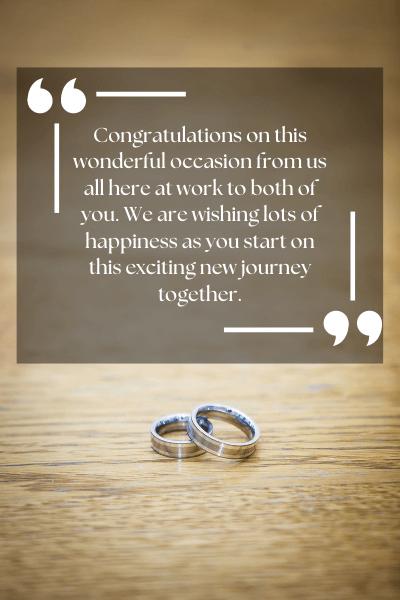 Signing off Greetings for a Coworkers Wedding Card
If your wedding card wishes are warm, sincere, and written from the heart, you cant go wrong. Simply consider the types of emotions you'd like to see in your own wedding cards and use them as a starting point. Make sure to include a lovely ending for the couple before signing your name on the card!
Best wishes,
Cheers,
Lots of love,
Your well-wishing colleague,
Your work buddy,
With love and blessings,
Warmly,
Regards,
Gratefully,
Final Thoughts about best wedding wishes for a coworker
Weddings are happy occasions that bring together not only the bride and groom but also their friends and family. Make the newlyweds feel special with your wedding congratulations card. In actuality, a thoughtful wedding card, especially one with the correct words engraved inside, is the ideal addition to personalized wedding gifts. To help you further, here are 6 Tips for creating the ultimate group cards.
Hope this comprehensive list of wedding wishes for coworkers gave you sufficient ideas and inspirations to make your next greeting stand out.
At GreetPool, you get to select congratulations on your wedding card from a beautiful collection of wedding greeting cards. Choose the one that perfectly wraps your love and joy for the newly married happy couple and add to their most special occasion memorably.