The Office is a beloved American television series that ran from 2005 to 2013. The show follows the daily lives of employees at the fictional Dunder Mifflin Paper Company, and its humor, relatable characters, and quirky storylines have made it a cult classic.
One of the most memorable episodes of The Office is "Lecture circuit ", which features a hilarious subplot involving Dwight and Jim planning a birthday party for their colleague Kelly Kapoor. Things go south, as they often do in the show, and the party planning results in a series of blunders and hilarious moments.
The "It is Your Birthday" moment has become one of the most memorable scenes from "The Office" and has been widely celebrated by fans. Its popularity has even inspired merchandise, including t-shirts, mugs, and greeting cards.
In this article, we'll explore some of the best quotes and moments from this iconic episode, and we'll also provide tips and ideas for planning your own office birthday celebrations. Whether you're a fan of The Office or simply looking for ways to recognize your staff birthdays, this article has something for you.
The Office's 'It is Your Birthday' Scene Recap
Michael goes on a lecture circuit with Pam to spill the secret's of Scranton Branch's success to other branches. While back in office, Jim and Dwight have been named the reluctant heads of the Party Planning Committee by Michael due to previous fights between Phyllis and Angela.
Jim and Dwight realize they have forgotten Kelly's birthday, and they try to make up for it by throwing her a party. However, their lack of party planning skills quickly become apparent. When Kelly asks about the theme of her birthday party, Jim says "Birthday" and Dwight says "Frosting". This further makes Kelly mad and she walks out!
Dwight's decoration choices are odd, to say the least – He's scattered partially-inflated brown, silver, and gray balloons (because they matched the carpet) and attached pitiful-looking streamers to the ceiling with masking tape. A banner on the wall simply reads, "IT IS YOUR BIRTHDAY." Jim, doesn't have any better luck either. He not only misspells Kelly's name on the cake, but also forgets the frosting.
They finally settle on offering her one hour of napping or one hour of watching television. She is happy with the idea and chooses the nap. As soon as clock finishes 1 hour, Dwight jumps back in the meeting room, bangs trash can covers loudly and yells "Birthday time is over! Now go make up for all the work you missed when you were taking your nap"
Overall, the episode is a fan favorite for its humor and relatability. Many viewers have likely experienced similar situations in their own offices, where well-intentioned party planning goes awry due to miscommunications or mishaps.
The Best Quotes and Moments from The Office 'It is Your Birthday' Episode
One of the standout elements of The Office's 'It is Your Birthday' scene is the abundance of hilarious and memorable quotes. Here are some of the best quotes and moments from the episode:
"It is your birthday period." – Dwight
This quote has become one of the most iconic lines from the episode, and for good reason. Dwight's deadpan delivery and insistence on the use of "period" instead of "exclamation point" make for a laugh-out-loud moment.
The banner and decorations One of the most memorable visual elements of the episode is the banner that Dwight creates, which simply reads "It is your birthday." The simplicity and absurdity of the banner make it a standout moment, as do the decorations that Dwight puts up in the conference room, including streamers and balloons that match the meeting room carpet.
"Schrutes don't celebrate birthdays, idiot." Dwight
Dwight acts tough and proclaims himself as being against the idea of celebrating birthdays because it is not a traditional practice in his family or community. We all know office colleagues who say things like that now dont we?
"Birthday time is over! Now go make up for all the work you missed when you were taking your nap." Dwight
Back to reality of work – play time is over. As soon as Kelly's 1 hour of allotted nap time is finished, Dwight gets her back to work with this classic quote. No exceptions! not even on birthdays!
"OK, so far our ideal party consists of: beer, fights to the death, cupcakes, blood pudding, blood, touch football, mating, charades and, yes, horse hunting." — Jim,
The fresh party planning heads struggle to come up with a single decent birthday party idea and Jim realizes this as he reads off the checklist he and Dwight put together for Kelly's office festivities
Overall, the 'It is Your Birthday' episode is full of quotable moments and laugh-out-loud scenes. These moments are not only entertaining, but they also provide insights into the personalities and dynamics of the characters in the show.
Lessons Learned and Tips for Planning Office Birthday Celebrations
While the 'It is Your Birthday' scene of The Office may be a comedic exaggeration of a funny birthday party at work, there are still some valuable lessons that can be learned from the episode when it comes to planning office celebrations. Here are some tips to help make your next office birthday celebration a success:
Know your audience – When planning an office celebration, it's important to consider the preferences and interests of your colleagues. While the final present of 1 hour nap may have been over-the-top, taking the time to understand what your colleagues like and dislike can go a long way in making them feel appreciated and valued.
Personalization is key: Every birthday party should be unique and personalized to the person being celebrated. In the episode, Jim forgets Kelly's age and mistakenly misspells her name, showing how important it is to pay attention to the details of the person being celebrated. Make sure to consider the individual's interests, preferences, and personality when planning the party.
Collaborate and delegate tasks – Party planning is often a team effort. Jim and Dwight's failure to collaborate and delegate tasks effectively led to a poorly planned party. To ensure a successful party, it's important to work together and divide tasks among the team to ensure that everything is covered.
Don't forget the theme – As the episode illustrates, no office birthday celebration is complete without a theme. Weather its about the birthday lunch, birthday cake, or decoration, there is always a theme (as Kelly would say). You don't have to go all-out, providing some kind of dessert or birthday treat can help make the celebration feel special and unique.
Remember the Birthday Gift – Who doesn't like a gift on their birthday. A celebration is incomplete without a small ceremony of cutting the cake and singing the Happy Birthday song.
Embrace the unexpected – While the 'It is Your Birthday' episode shows what can go wrong when a party is too meticulously planned, it also highlights the potential for unexpected moments of fun and humor. Embrace the unexpected and be open to improvisation or spontaneity during the celebration to keep things light-hearted and enjoyable.
By following these tips and taking inspiration from the 'It is Your Birthday' scene of The Office TV Show, you can plan a fun work birthday party that is both enjoyable and memorable for all involved.
Other Ways to Celebrate Birthdays in the Office
While the 'It is Your Birthday' scene of The Office provides some great inspiration for celebrating fun work birthday party in the office, there are many other ways to make your colleagues feel special on their big day. Here are some additional ideas to consider:
Send a Group Greeting Card: If you're looking for a quick and easy way to show your colleague that you're thinking of them on their birthday, consider sending a group greeting card. This can be a great option for everyone to add a personal message if your office is large or if you're short on time to plan a more elaborate celebration.
Decorate their desk or workspace: Consider decorating the birthday person's desk or workspace with balloons, streamers, or other festive decorations. This can be a great way to make them feel appreciated and celebrated, even if you don't have a formal party planned.
Create a birthday tradition: Establishing a birthday tradition in your office can be a fun and meaningful way to celebrate each person's special day. This could be anything from a group lunch outing to a personalized birthday card signed by all colleagues.
Organize a group activity: If your office is looking for a more interactive way to celebrate birthdays, consider organizing a group activity such as a team-building exercise, game day, or even a volunteer event. It will be a fun work birthday idea to include everyone in the activity for fun times.
Allow for time off or flexible scheduling: Sometimes the best way to celebrate a colleague's birthday is to simply give them some time off or flexibility in their work schedule. This can allow them to spend the day with friends and family or engage in a special activity they enjoy.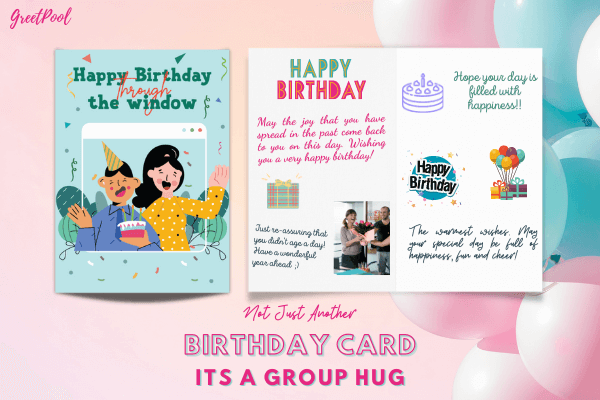 Create your own It is Your Birthday moment
Group greeting cards can be a great way to create your own "It is Your Birthday" moment in the office. By getting everyone to sign a card and adding personal birthday messages, you can make your colleague feel special and appreciated. You can even customize the card to suit their personality or interests, adding an extra touch of thoughtfulness. Plus, the act of everyone signing the card can be a bonding experience for the team, helping to foster a positive work environment. Consider pairing the card with a small gift or token of appreciation, such as a coffee gift card or a bouquet of flowers, to make the gesture even more special.
If you're looking for some great birthday ecards for your coworkers, check out our collection and start creating your own "It is Your Birthday" moment today!. We have a variety of options to suit different personalities and occasions. And with our easy-to-use interface, it's simple to create a card that everyone will love.
Conclusion
In conclusion, 'It is Your Birthday' is a classic scene of The Office that has become a fan favorite over the years. With its hilarious quotes, absurd moments, and relatable office dynamics, the episode perfectly captures the show's unique blend of humor and heart.
But beyond its entertainment value, the episode also provides some valuable lessons and tips for planning office birthday celebrations and coworker birthday ideas. By taking inspiration from Dwight's over-the-top dedication and Jim's misguided attempts to spice things up, you can create a celebration that is both memorable and enjoyable for your colleagues.
So next time you find yourself planning an upcoming birthday party, remember to keep it simple, communicate clearly, and don't forget the cake. And of course, make sure to channel your inner Dwight and remind everyone that "it is your birthday, period."