Sending the Perfect New Baby Congratulations Group eCards
When celebrating the arrival of a new baby girl or baby boy, sending congratulations greeting card is a heartwarming gesture. In today's digital age, digital group cards have become a great way to involve a larger circle of well-wishers and share the joy collectively (An email that feels like a virtual group hug). However, navigating the etiquette of sending baby congratulations group eCards is important to ensure that your best wishes are thoughtful, appropriate, and warmly received.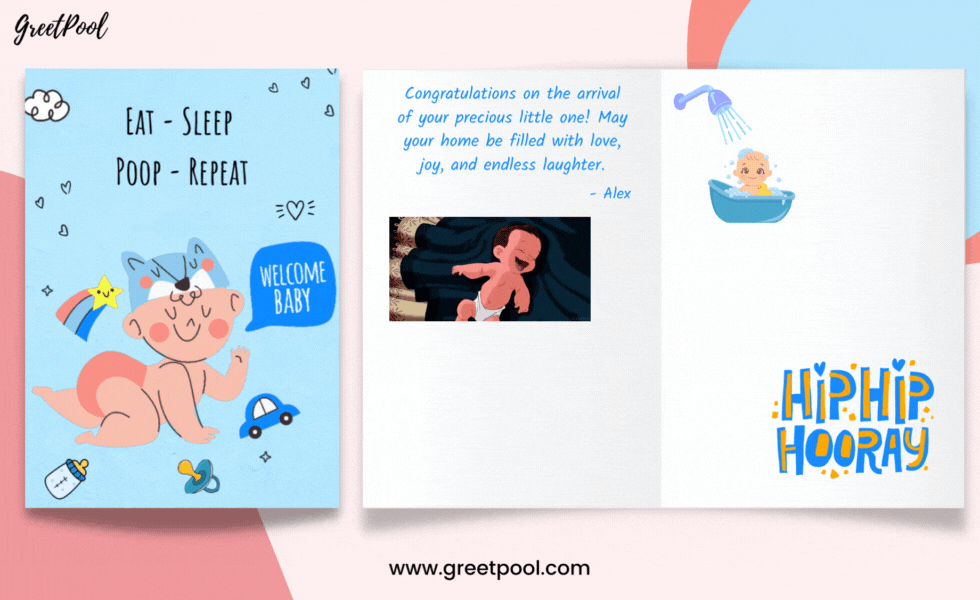 With congratulations on baby ecards, the joy of celebrating the impending arrival of a baby can be shared across distances and time zones. It allows loved ones who may be far away to still be a part of this joyous occasion, bringing everyone closer together in spirit. Whether it's a virtual baby shower or an in-person gathering, sending baby shower ecards adds an element of surprise, delight, and personalization to the festivities. In this blog post, we'll explore the essential etiquette tips to consider when sending these virtual baby shower cards.
Timing is Key: One of the first considerations when sending virtual baby congratulations card is the timing. Respecting the new parents' privacy and allowing them time to settle into their new roles is essential. Generally, it's best to wait until a few days or weeks after the baby's arrival before sending the virtual card. If you're part of a larger group, coordinate with others to collectively ensure that the baby eCard is sent at an appropriate time.
Choose Your Words Thoughtfully: Crafting the right message is vital when sending baby congratulations group eCards. Consider the tone and content of your personal message, ensuring that it is warm, heartfelt, and appropriate for the occasion. Personalize your message by addressing the new parents and expressing your joy and well wishes for the baby. Avoid sharing any sensitive or personal information in the virtual group card unless you're certain the parents are comfortable with it.
Involve the Group: When sending a group eCard, it's important to involve all the well-wishers in the process. Seek input and ideas from the group members to create a collaborative and inclusive experience. This can be done through brainstorming sessions, collecting individual messages, or even organizing a virtual group signing where everyone can contribute their personal notes.
Respect Cultural and Religious Differences: Consider the cultural and religious backgrounds of the new parents when sending virtual baby shower greeting cards. Be mindful of any specific customs or traditions they may observe and tailor your message accordingly while congratulating them. Avoid including any content that may be offensive or contrary to their beliefs. Showing respect for their cultural and religious practices will ensure your online congratulations card is received with appreciation.
Keep it Positive and Supportive: A baby congratulations group eCard is an opportunity to celebrate a joyous occasion and offer support to new parents or soon-to-be parents. Keep your message positive, uplifting, and encouraging. Avoid negative or judgmental comments and focus on expressing your excitement, admiration, and confidence in their parenting journey. Offer words of encouragement and let them know you're there for them whenever they need support. If you need assistance, check out our comprehensive collection of baby congratulations messages for your online group ecard.
Maintain Privacy and Confidentiality: Respecting the privacy of the new parents is paramount. Avoid sharing any personal or confidential information about the baby or the family without explicit permission. If you want to include photos or details in the eCard, ensure that you have obtained consent from the parents first. Respecting their privacy will help create a safe and comfortable environment for everyone involved.
Sending congratulations for the new baby cards is a perfect way to collectively celebrate the arrival of a new baby. By following the etiquette tips outlined in this blog post, you can ensure that your online baby congratulations group card conveys your heartfelt congratulations and support while maintaining respect for the new parents' privacy and cultural sensitivities. Let your message be a source of joy and encouragement as you celebrate this special occasion of the recipient.
Dive into the Wide Variety of Baby Congratulations Group Ecards!
Step beyond traditional solitary well-wishing and embrace the power of unity when celebrating the arrival of a precious little bundle of joy. Say goodbye to individual cards and unlock the magic of a group greeting ecard that weaves together the heartfelt messages of your dear ones virtually. With GreetPool, we offer you adorable card designs (that multiple people can sign) for 'baby congratulations group ecards' that will leave a lasting impression on new and happy parents and create cherished memories for years to come. Browse our wide selection of ecards and pick the one you like the best and customize it as per your desire. You can add an image, gif, sticker, and emoticons to elevate the appeal of your thoughtful wishes and also choose the font of your choice for the same.
Involve as many loved ones as you wish because we give features like unlimited signatures and unlimited pages with a quick and hassle-free card creation and editing process for collaborative greetings. Feel free to involve as many cherished individuals as you desire, as our platform offers unlimited signatures and pages. Experience a seamless and efficient card creation and editing process that fosters collaboration, allowing you to create heartfelt greetings with ease.