A Guide to Online Retirement Card and Group Ecards
Retirement, a word that carries a bittersweet melody. It signifies the end of an era filled with years of hard work, dedication, and countless memories. But as the curtains close on a remarkable career, the next chapter begins—one where the retiree can finally embrace the joys of leisure, adventure, and cherished moments with loved ones. It is during this poignant transition that expressing gratitude and conveying heartfelt well-wishes become paramount. In this digital age, retirement group ecards have emerged as a powerful and tender way to honor retirees, allowing us to come together and create, personalize, and send heartwarming retirement tributes that celebrate their hard work over the years with deep appreciation and genuine warmth. 
What makes Digital Retirement Cards Unique?
Retirement ecards are a great way to bid goodbye due to their convenience, personalization options, and eco-friendliness. They offer a digital platform to express gratitude and well-wishes collectively, allowing colleagues, friends, and family members to contribute their personal messages in a unified and meaningful way. These virtual retirement cards are not only visually appealing but also provide an opportunity to convey heartfelt emotions, celebrate the retiree's accomplishments, and express appreciation for their contributions.
One of the greatest advantages of online retirement cards is the ability to customize them according to the retiree's preferences and personality. Consider incorporating elements that reflect their hobbies, interests, or memorable moments from their career. Personalize the message by sharing anecdotes, highlighting their achievements, or expressing how they have positively impacted the lives of others. By tailoring the virtual card to the retiree, you can create a truly unique and meaningful token of appreciation. This farewell gift can be a wonderful keepsake for the recipient for life.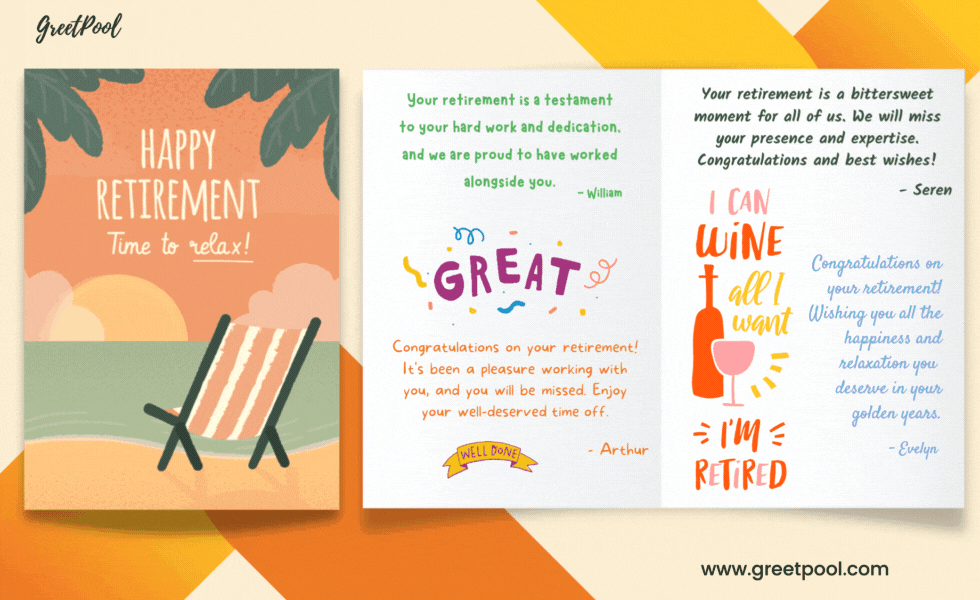 Creative Ideas for Online Retirement Group Card
Here are some creative ideas for a group happy retirement ecard that multiple people can sign:
a. Interactive Timeline: Design an interactive ecard that takes the retiree on a journey through their career. Create a timeline showcasing significant milestones, achievements, and memorable moments. Add interactive elements such as pop-ups with photos, videos, and messages, making the ecard engaging and nostalgic.
b. Digital Scrapbook: Transform the retirement group ecard into a digital scrapbook filled with photographs, quotes, and messages from colleagues. Include pictures from memorable events, team outings, and work milestones to create a visual journey that celebrates the retiree's professional achievements.
c. Playful Ecard: Make the retirement group ecard interactive by including quizzes or trivia related to the retiree's career or personal interests. This adds an element of fun and engagement, allowing everyone to reminisce and celebrate the retiree's accomplishments together.
d. Quotation Compilation: Curate a collection of inspirational quotes about retirement, aging, and new beginnings. Design the digital greeting card to present these quotes creatively, using appealing typography, colors, and graphics. This idea allows everyone to contribute their favorite quotes and well-wishes, creating a collaborative and uplifting digital group card.
Remember, the key to a successful online retirement group card is personalization and thoughtful design. Tailor the ecard to the retiree's interests, accomplishments, and personality to create a truly meaningful and memorable tribute.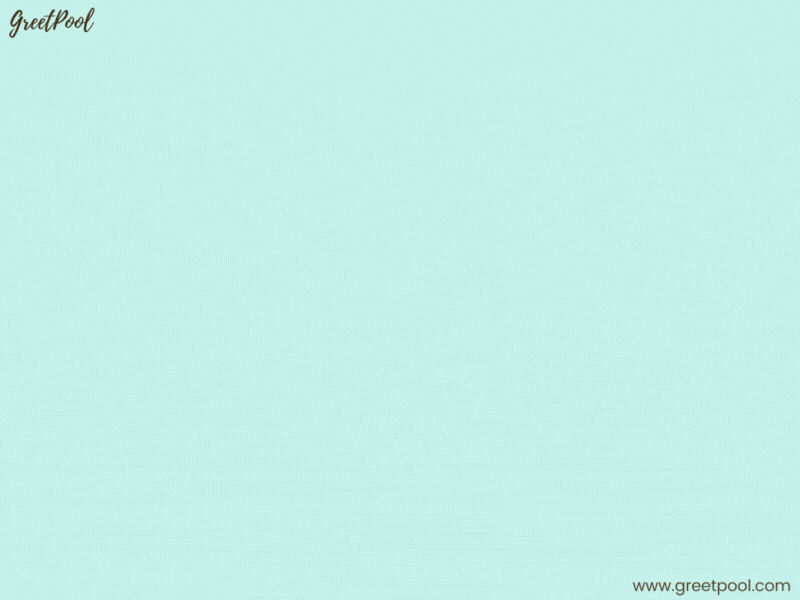 Sending a virtual retirement card in a remote team setup
When it comes to sending online group cards, timing, and presentation are key. Plan the happy retirement cards to be delivered on the retiree's last day at work or during their retirement party to create a memorable surprise. Coordinate with colleagues and friends to ensure that the retiree receives the online group retirement card at the perfect moment, surrounded by loved ones. Additionally, encourage everyone to share the virtual group card on social media platforms to extend the reach of gratitude and well-wishes.
How to send retirement ecards as a group?
Sending an online retirement group card via email or a pdf version of the group ecard by using the platform GreetPool is a simple and straightforward process. Here's a step-by-step guide to help you navigate through it:
Visit the GreetPool website: Start by visiting the GreetPool website (www.greetpool.com) using your preferred web browser. We offer electronic group greeting cards for every occasion.
Explore retirement greeting cards: Click on occasion and browse through the available retirement ecard templates on our website to find the design that best suits the occasion and reflects your desired theme. Whether it's a birthday, farewell, congratulations, anniversary, wedding, or any other special event, GreetPool offers a wide range of options to choose from.
Customize your card: Once you've selected a template, it's time to personalize your retirement group ecard by adding messages to congratulate the retiree on a successful career and wish them luck for a new chapter ahead. Add a thoughtful message of your choice to convey your heartfelt wishes. GreetPool provides easy-to-use editing tools, allowing you to customize the text, font, color, and even add images or gifs.
Add the recipient's detail and make payment: Add the recipient's details and schedule the delivery time and date of the group ecard and checkout to make payment.
Invite contributors: A link to the ecard will be generated by now which you can share via any communication channels like WhatsApp, Slack, Email, etc to invite others to make their contributions to the ecard.
Collaborate and add wishes: As the invited contributors use this link, they can add messages, photos, gifs, stickers, etc. with our easy to use features to give it a personal touch. The collaborative nature of GreetPool allows everyone to contribute unlimited messages and make the card truly special. If you need help crafting a perfect retirement message, our blog 101+ Best Happy retirement wishes and messages can assist.
Preview and make final adjustments: Once all the contributors have added their wishes, take a moment to preview the digital card. Check for any final adjustments or edits to ensure everything looks perfect.
Enjoy the shared celebration: The recipient can open the virtual group greeting card sent to them (as per the scheduled date and time) and experience the joy of reading heartfelt messages and viewing the shared moments captured within the card.
Embrace the convenience of digital greetings and celebrate special occasions with heartfelt wishes that bring people together. Create a group ecard with ease using our features like multiple signatures and pages. Experience a seamless, hassle-free card creation and editing process, involving as many loved ones as you wish. Foster collaboration and heartfelt connections effortlessly.
Conclusion
Retirement group ecards offer a powerful and convenient way to express gratitude and well-wishes to retirees. They allow colleagues, friends, and family members to come together and celebrate the retiree's accomplishments in a unified and heartfelt manner. By customizing the ecards, incorporating creative ideas, and timing their delivery effectively, we can create a truly memorable and meaningful tribute to honor the retiree's contributions. So, let's embrace the digital age and use retirement group ecards to express gratitude, celebrate, and wish our beloved retirees a fulfilling and joyous retirement journey.