Did you do some nuisance today for which your amazing teacher forgave you with an easy punishment? Or maybe your wonderful teacher helped you with a project so well that you scored an A+, or you are a parent who is impressed with the manners your child is learning at school? Either of these three or many more can be the reason you are looking for thank you card ideas for teachers. Well, you have reached the right place. We, at GreetPool, will assist you with everything related to that. From the gift cards template and its contents to what to write in a thank you card for teachers. We will take care of everything.
The University of Pennsylvania has discovered that 33% of teachers quit their careers within three years and 46% within five years. The numbers are rising with each passing year. One of the reasons can be because teachers make 14% less income than people in other professions that require a similar level of education. So, if you are fortunate to have an awesome teacher or teachers who genuinely care about you and your career, sending them a thank you card is both a good idea and an important thing to do.
Appreciation is the greatest form of encouragement. As a parent, if you are aware of the contribution of your child's school teacher in the growth and development of your child, sending a thank you card would not even be like going the extra mile. Such special teachers deserve so much more too.
Among all occupations in the United States, teachers come in second only to military personnel for contributing to society's well-being. For the teachers, no amount of thanks and appreciation can ever be enough. In this profession, one needs to constantly update their academic knowledge and also be proficient in child psychology. For them, the challenges never diminish. Difficult time persists. In response to that, every time, given the opportunity, one must never fail to express massive gratitude for all that special teachers do.
GreetPool offers you a great opportunity to thank your teachers for all that they do. Thank them with a heartfelt note written on a teacher appreciation card. We bring you a great assortment of thank you cards for teachers that you can send them digitally and together. Only you and your classmates know how disruptive you can be during lectures. We offer the possibility to collaborate with those classmates to thank the teachers. What's great is that you can do it in the simplest way possible. GreetPool is here to assist you in expressing your gratitude to your teachers.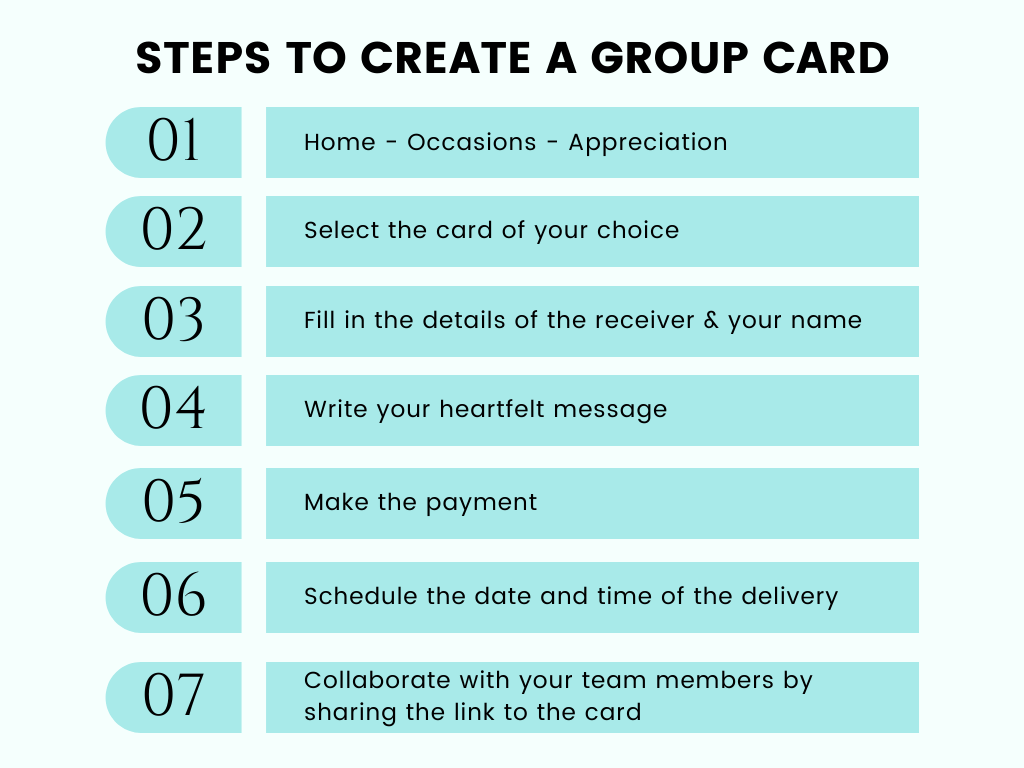 The idea of a group card feels like a task at first, but we have a way out. It will surely require the least time and effort of yours. Let us explain how.
Go to GreetPool and click on 'Occasions'. From the drop-down, select the category of 'Appreciation'
Browse all of the lovely card templates and choose your favorite.
Fill in the basic details of the receiver (name and email address) and the sender's name.
Personalize the card with your heartfelt messages, fun stickers, GIFs, fonts, and photos.
Make the payment by choosing your preferred mode of payment.
Schedule the date and time you want it to reach the recipient.
GreetPool will generate a link for you. Copy that link and share that link with your group/team/friends/colleagues so that everyone can get access to the particular ecard and make their contribution.
GreetPool sends the necessary reminders to all the concerned people and also notifies them once the recipient has opened the card.
Isn't it the simplest way to group greetings?
Insert your desired text and messages to make the group card personalized and customize it by adding photos, stickers, GIFs, emoticons, fonts, and more as per your desire. Here are a few suggestions from our side on what to write in a thank you card for teachers.
 Examples of messages or wishes that students can write for teachers:
A teacher is a guide and a compass. You have shown me the path to success and walked with me along the way. Your high expectations towards me have helped me in building confidence. Thanks a lot to my favorite teacher, for every guidance and help!
Thank you for being a truly wonderful teacher. Your passion for teaching arises the enthusiasm for learning in your students. Your dedication to your students is obvious in everything you do. I feel so lucky to be your student. I hope you realize the incredible impact you are having on so many lives.
You did more than just prepare me academically, you prepared me for life. Thank you for all the learning. I will remember them and you forever. Thank you so much, Mam.
Your class was my favorite in all the semesters, and I am so grateful for your fun and engaging approach to teaching. You never failed to create a positive learning environment. It made the lessons interesting and made me want to learn more. Thank you for always being the amazing teacher that you are!
Well, you managed to do the impossible – made me excited to come to an 8 AM class! You are incredibly talented at what you do. Thank you for being my teacher.
Examples of messages or wishes that parents can write for teachers:
We thank you from the bottom of our hearts for the eminent role you play in shaping our child into the respectable adult he is quickly becoming. Please know that we recognize and value the positive influence and moral guidance that you impart on my child. You are his/hers' and our favorite teacher.
Our respect and admiration for you as our daughter's/son's teacher cannot be explained in words. You have a noteworthy effect on the lives of the students in your class, and they will remember you for life. Thank you for being an incredible role model to them and an amazing school teacher.
I appreciate your patience while teaching my children. You have no idea how much that means to me/us. Thank you for accepting my/our child as your student.
Passionate and responsible teachers like you deserve all the praise and appreciation. Thank you for teaching our children good sense, manners, and wisdom beyond academics. We are highly grateful to you.
The school may have found a preschool teacher in you, but our child found a role model in you. Thank you for being the best of all. I am so relieved when I know my children have you as their teacher. You have been a blessing.
At GreetPool, all you have to do is choose a card of your choice for your teacher and everything else related to your thank you card for teachers, we are here to assist.
Happy Group-Card Creation!