'Goodbye' came from 'God bye', which was the shorter version of 'God be with you'. Discovering this, the word 'Goodbye' seems beautiful now, doesn't it? This should help you to feel better when you write goodbye in your farewell cards. We hope it does! Nobody likes bidding farewell to their favorite people, but we all know goodbyes are inevitable.
All of us have been there when it comes to contributing to an office group card; our minds freeze when we have to jot down a thoughtful goodbye note. One in three people, globally, face issues with expressing themselves through words and writing. We are here to assist with the same.
Whenever there is a farewell or any other occasion at the office, one person gets the mocking responsibility of getting the farewell cards or the respective occasion's cards signed by the team. It can be a time consuming and tedious process. Everyone requires time to figure out what to write in a farewell card or whatever may be the occasion regarding that. It's not only this reason that physical cards are not convenient. After the pandemic, many organizations have permanently shifted to a remote working model or a hybrid work model. It has become much easier to send an online group card in today's times.
At GreetPool, we bring you group greeting cards that you can send online and together for every occasion. The process is quick, simple, and very affordable. The features of unlimited signers and unlimited pages offer you the opportunity to collaborate with many people. Furthermore, you can personalize the farewell cards or any other group cards as per your desire with our features like attaching photos, GIFs, stickers, emoticons, and fonts.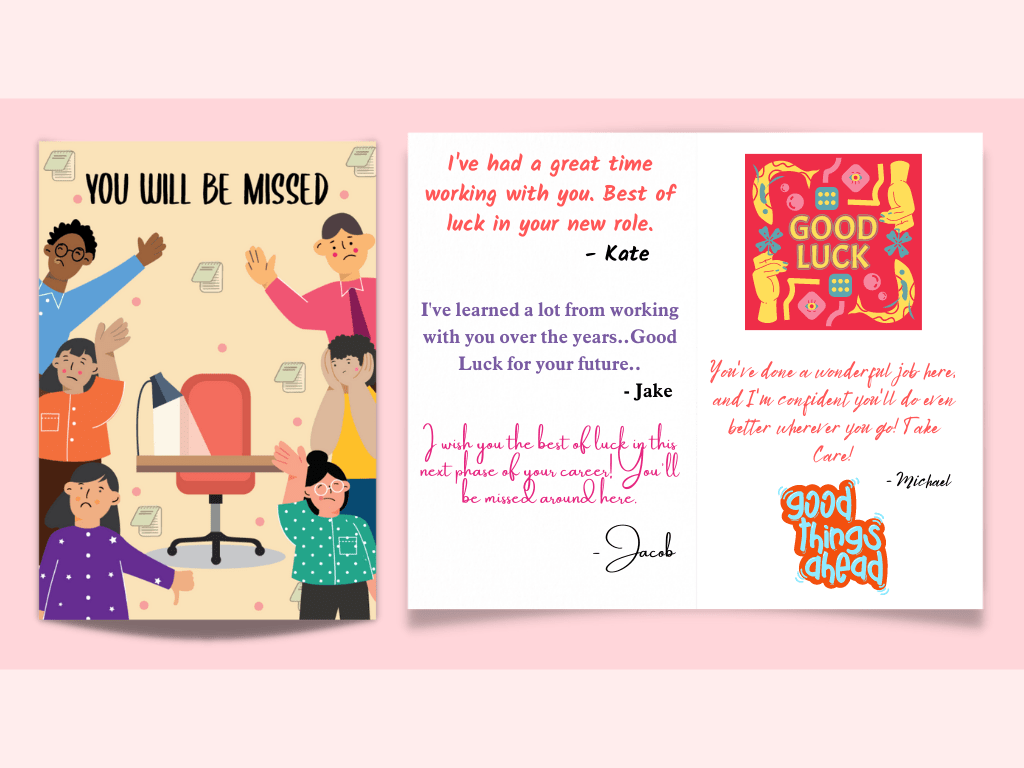 As there can be a variety of equations that you can share with your coworkers, we have categorized the list of messages based on that. Based on the categorization mentioned below, you can select your answer to what to write in a farewell card.
Short and Straightforward Farewell Messages:
I've had a great time working with you. Best of luck in your new role.
Best wishes for the future, and best wishes for your new chapter – stay in touch.
I wish you the best of luck in this next phase of your career! You'll be missed around here.
Congratulations on your new job. I hope we can keep in touch!
You've done a wonderful job here, and I'm confident you'll do even better wherever you go! Take Care!
You were an amazing coworker and a great friend. Goodbye and Good luck for your next adventure.
It was a delight working with you. Best wishes and farewell!
Thanks for your time and contribution here. Wishing you nothing but success at your next workplace.
Funny Farewell Messages:
Congratulations on your new job that you probably won't like any better. Farewell!
I've been wanting to sit in your chair for a long time, and I'm grateful that you've finally given me the chance. I hope your new office provides you with a more comfy chair.
I'm stressed out by the thought that we have to train another guy to be one of us. Please don't leave.
You're moving away; this office is going nowhere. However, if you need someone to help proofread your work, don't hesitate to get in touch with us. Here's wishing you the best of goodbyes!
The rest of us won't have to pretend to work as hard now that you've decided to leave the company! We can all unwind and relax. We will gain more money, better job satisfaction, enhanced job performance, and increased production as a result of your leave. Best of luck!
If you thought leaving meant you'd finally be able to get rid of me, my friend, you've made a huge mistake. I will come and visit you all the time. Best wishes.
Please allow me to taste the cakes before writing anything nice or contributing to your farewell.
We had planned to give you a spectacular celebration and shower you with gifts next month, but now that you're leaving, that won't be possible. So please let us know if your mind changes. Farewell.
Farewell Messages for the Retiring Coworker:
You know, if you miss us too much, you're always welcome to come back! Without you, the office will feel empty. Enjoy retirement—you have earned it.
How does it make you feel? You've given so much to this organization, and I hope you're looking forward to some time off! Wishing you a happy retirement and farewell.
You've had a substantial influence on this group, and your wisdom will be greatly missed. However, I'm happy for you and this new adventure you're going to take. I wish you the best of luck in your new phase of life.
Coworker. Friend. Mentor. To me, you've been all of those and more. I consider myself fortunate to have had the opportunity to work with you, and I wish you well in this new chapter of your life.
It's okay to be sad about your retirement, but it is much better to be happier about the awesome days that lie ahead. Congratulations and Farewell.
Relax and enjoy yourself, but don't let the fire in your belly go out. Goodbye and farewell!
Life is full of great adventures and you are about to embark on a brand new one. Good luck and farewell!
Congratulations! I hope you savor every minute of your retirement. You will be missed at the office.
Meaningful Farewell Messages for your Special Coworker:
Your encouragement and support were unwavering in both the good and bad times. I 'll just talk about the wonderful times I had with you here. Best of luck in your future pursuits!
Nothing can compare to the knowledge you shared with us and the learning you acquired. For us, you have been a great and incredible leader. Thank you so much for everything. Your new coworkers will be privileged to have you as a member of their team. May you be blessed with every success!
I'll think of you and miss you. Thank you for all of the wonderful moments we made together! I never imagined that the day would arrive when I would have to say goodbye to you. Thank you for everything, as well as the fond memories we shared while working together.
When you were there, the gruelling office hours appeared a lot more enjoyable. With each passing day, you will be missed here. Farewell and all the best!
Our boss may be unhappy because he is losing a hardworking and efficient employee, but we are sad because we will no longer see your heart-warming smile. Goodbye, and I hope to see you again soon.
Our team's sense of humour and heartbeat will be lost today. Goodbye to the coworker who made every day seem like a getaway.
Our team will be eternally grateful to you for bringing us out of a bind and shouldering all of the burdens. You'll be a part of this group for the rest of your life. Any organisation would be fortunate to have you on board. Best wishes and farewell, friend!
Your ambition makes me nervous at times, but I am confident that you will have a successful career. Even before you realize it, you'll be the next great thing. Continue to put in the effort. My friend, I bid you farewell.
The messages in the farewell cards create lasting impressions. Make sure you select the best message as per your desired sentiment to make a positive and memorable impact on your coworker.