All about Welcome to the Team Group Ecards!
Welcome, fellow workplace adventurers! In the ever-evolving professional landscape, making new team members feel valued and embraced is more important than ever. That's why we're excited to introduce you to a game-changing solution that combines personalization, convenience, and digital magic: Welcome to the team group eCards!
Starting a new job is an exciting and often intimidating experience. It can be a daunting task to join a new team and find your place within it. At such a moment, a kind gesture can make a world of difference. What better way to offer a warm welcome than with a personalized eCard?
Virtual group cards that multiple people can sign are a fun and creative way to celebrate new beginnings. This holds even more true for remote teams. We all know how much more special a personalized gift makes the recipient feel. With a personalized eCard, you can express your excitement and enthusiasm for the new addition to the team.
In the dynamic world of professional environments, welcoming new team members with open arms is not only a gesture of kindness but also a strategic move to foster a positive work culture. Gone are the days of traditional paper greeting cards; today, we have the perfect solution to elevate your welcome game – personalized eCards! These digital gems are designed to leave a lasting impression, making new team members feel valued and excited about their journey ahead. Join us as we explore the wonderful world of Welcome to the Team digital group cards and how they can enhance the onboarding experience for everyone involved.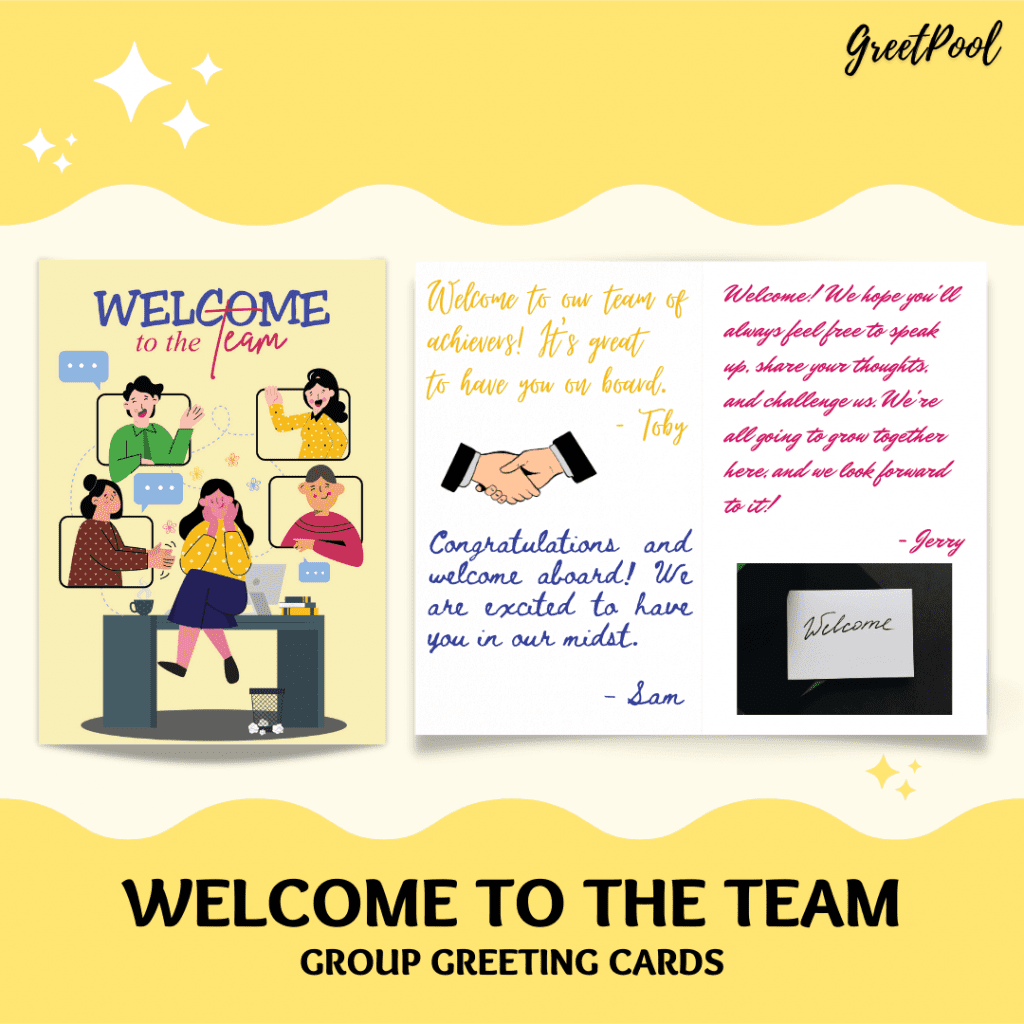 What is a Welcome to the Team Ecard?
A Welcome to the Team eCard is an online group card sent to new team members to express a warm welcome, introduce them to the team, and make them feel valued and appreciated from the start. It is a personalized and convenient way to celebrate new beginnings and foster a positive onboarding experience. These virtual cards are an excellent way to celebrate your team's newest members and make them feel welcomed and appreciated.
Why Welcome to the Team eCards are the Perfect Digital Welcome for a Coworker?
Welcome ecards are a great way to send online group welcome and to show your appreciation and excitement for a new team member. Whether it's for a job, club, or other organization, these ecards provide a unique and personal way to greet someone on their first day. Not only do they create a positive atmosphere from the start, but they also add that special touch of individuality that helps make a noteworthy impact, and below mentioned are the reason for the same.
The Power of Personalization: First impressions matter, and what better way to make a new team member feel special than by sending them a personalized eCard? Make them feel included from the beginning by sending a customized group ecard. By tailoring the digital eCard to reflect the individual, you demonstrate that your team genuinely cares about each member's uniqueness, fostering a sense of belonging from day one.
Convenience in the Digital Age: In our fast-paced, technology-driven world, it's essential to adapt to remote work environments and distributed teams. Sending fun eCards is a seamless solution that transcends physical boundaries. With just a few clicks, you can deliver a heartfelt group ecard directly to your new team member's inbox, no matter where they are in the world. Embrace the convenience of digital communication and bridge the distance with an online team group card that conveys warmth and enthusiasm.
Creating Lasting Connections: Welcoming a new team member goes beyond a simple gesture; it sets the stage for building meaningful connections within the organization. Personalized eCards serve as a catalyst for future interactions and conversations, allowing both new and existing team members to find common ground. By investing in these small yet powerful gestures, you promote a culture of inclusivity, collaboration, and support, fostering an environment where everyone feels valued and motivated to contribute their best.
Tailoring eCards to Your Company Culture: One of the greatest advantages of personalized eCards is the ability to align them with your company culture. Showcase your brand's identity, values, and unique vibe through carefully curated designs, colors, and themes. Whether your organization embraces a fun and vibrant atmosphere or exudes professionalism and elegance, our platform offers a range of options to reflect your company's essence and make the welcome experience truly memorable.
Elevating the Onboarding Experience: The onboarding process can be overwhelming for new team members as they navigate unfamiliar territory. By sending personalized messages wrapped creatively and delivered virtually, you provide them with a friendly lifeline that reassures them they're part of a supportive community. Alongside essential information and resources, these team greeting cards offer a personal touch, reminding new hires that they're not alone in this journey and that the team is ready to guide and empower them.
You may also enjoy reading: 101+ Congratulations for New Job Messages | Best wishes for new role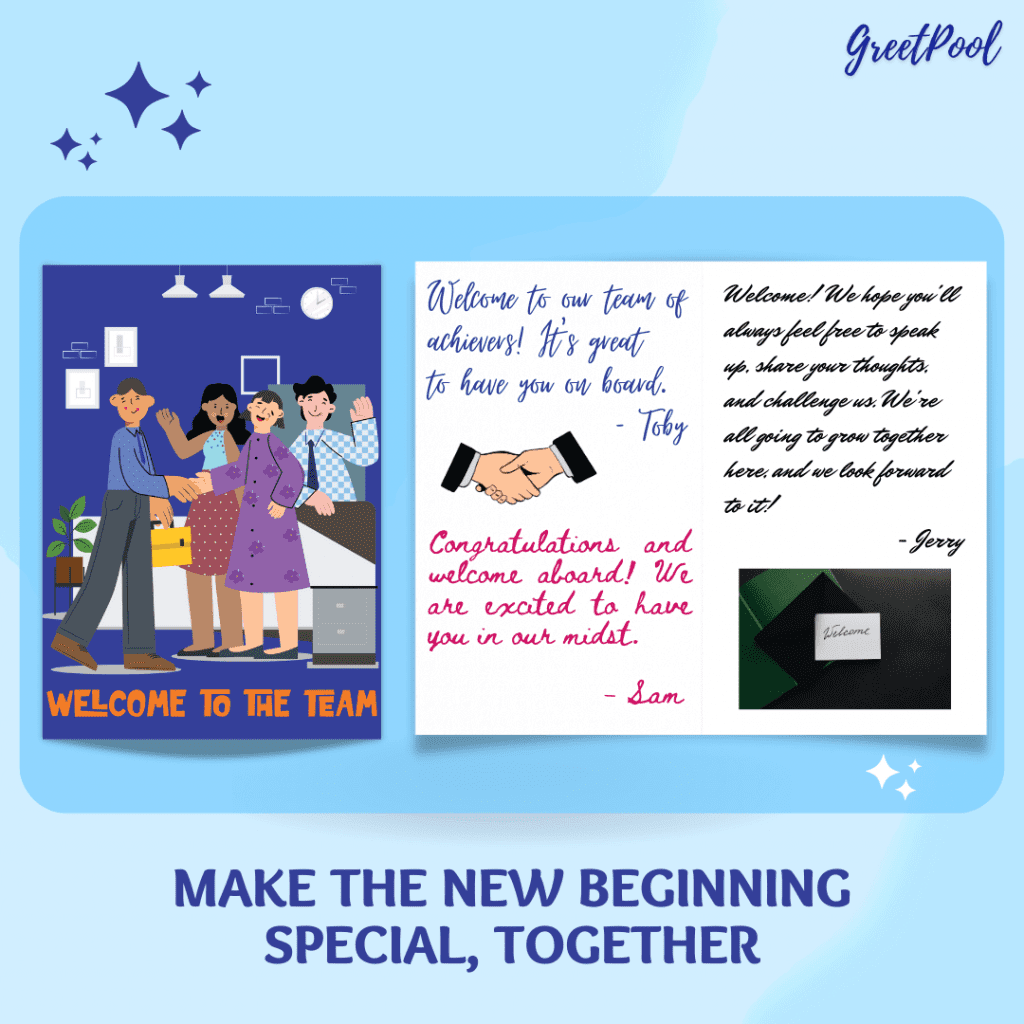 How to Send a Digital Welcome to the Team Group Card?
Sending beautiful group greeting card as a group can be done in a few simple clicks. Here's a step by step guide on how to create an online group card with multiple signatures:
Choose a Platform: Select an online platform, such as GreetPool, that offers group ecard functionalities. There are various digital greeting card companies and ecard services available with differing features. Choose one that works the best for your team, or the one that has the card designs you like the most.
Create a Group Card: Browse through the available card designs and pick a Welcome to the Team card template or create a customized ecard specifically for the occasion. Choose a design that suits your team's style and preferences.
Invite Contributors: Send out invitations or share a unique link via email, slack, or any other communication channels with the desired contributors, such as friends, family members, or colleagues. Make sure they understand the purpose and deadline for submitting their messages or contributions. On our platform, you can collaborate with unlimited people and add unlimited messages to the ecard.
Watch the messages roll in: Each contributor can add their personal messages, well wishes, photos, or gifs to the ecard. Encourage them to include their name or a personal signature to make it more meaningful.
Preview and Edit: Before finalizing the ecard, preview the content to ensure everything looks as intended. Edit or make adjustments if needed, such as resizing images or reordering messages.
Send and Share: Once the ecard is ready, send it to the new team member or share it with them via email, social media, or a dedicated link. Make sure the newly joining member knows how to access and view the ecard. You can even print a copy and share that as a physical card keepsake as well.
Enjoy the Reactions: As the recipient receives the group ecard, they can enjoy the heartfelt messages of wishes of a warm welcome and congratulations.
GreetPool provides a user-friendly interface that facilitates seamless collaboration among contributors. With features like customization and personalization, contributors can easily add their own messages, photos, and gifs to the group card, ensuring a personalized touch for the recipient. The platform also offers various privacy settings, allowing the group card for coworkers to remain private and accessible only to the invited contributors and the newly joining team member.
Our platform also ensures a seamless delivery process, allowing the recipient to receive the group card via email, a unique link, or as a digital download, ensuring easy access and enjoyment of the heartfelt messages and well wishes. However, it's important to note that there are other platforms and methods available for sending a welcome to the team and a congratulations card to coworkers online. It's recommended to explore different options and choose the one that best suits your specific requirements and preferences.
You may also enjoy reading: Most Amazing Office Greetings For Work Anniversary, New Employees, Farewell & Job Promotion Wishes
Closing thoughts
Together, we have the power to elevate the onboarding experience, turning it into a journey of excitement, discovery, and unwavering support. Personalized eCards are not merely tokens of welcome; they're expressions of care and genuine interest in the success and happiness of every individual who joins your team. So, join us in celebrating new beginnings and say 'Welcome to the Team' with our personalized eCards. Let's embrace the digital revolution, strengthen connections, and create a workplace where every team member feels like they've found their professional family from day one. Get ready to embark on an extraordinary adventure!