How Get Well Soon Group Ecards Benefit the Office
In today's world, with so much stress and strain on the job, it is more important than ever to remember to take time out to show appreciation and recognition for our colleagues. In any office setting, the well-being of employees plays a crucial role in maintaining a positive and productive work environment. When a colleague falls ill or faces a health setback, it's essential to extend our support and show that we care. One simple yet impactful way to boost employee morale and foster a sense of togetherness is through the use of Get Well Soon Group Ecards. These thoughtful digital greetings not only convey heartfelt wishes for a speedy recovery but also demonstrate the power of unity and compassion within the office.
We understand the importance of feeling connected and valued in the workplace. Offering well wishes and support to your coworkers is essential in creating a positive work environment. That's why we know that sending an online get well soon card to a coworker in need is a perfect way to boost employee morale! It is a thoughtful gesture that will bring a smile to your coworker suffering from an illness and brighten their day. So go ahead, spread the love and good vibes!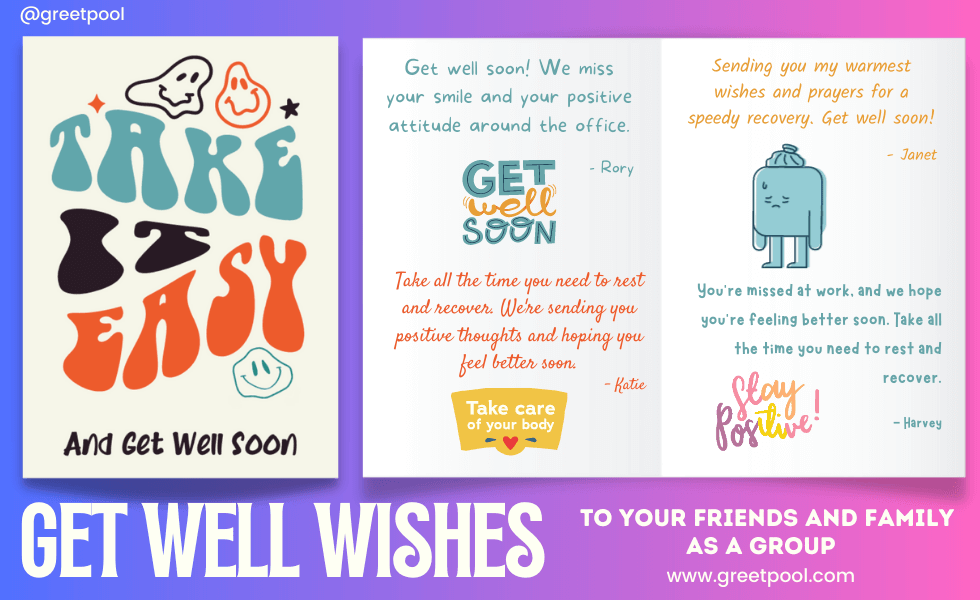 Why Create an Online Get Well Soon eCard for Coworkers?
Creating an online group get well soon card for coworkers is a thoughtful gesture that holds numerous logical, sensible, and great reasons. Here are a few positive outcomes:
It shows Empathy and Support: Sending a Get Well Soon eCard demonstrates your genuine empathy and support for your coworker during their difficult time. It shows that you care about their well-being beyond work-related matters, fostering a sense of camaraderie and compassion within the office.
Boosts Morale and Team Spirit: When a coworker falls ill, it can create a sense of concern and a dip in office morale. By creating get well eCards, you contribute to boosting morale and lifting the spirits of not only the recipient but also the entire team. It reminds everyone that they are part of a supportive community that rallies together during tough times.
Fosters a Positive Work Culture: Creating a digital get well soon card for a coworker's recovery promotes a positive work culture centered around well-being and care. It sets an example for others to follow, encouraging a workplace environment where individuals are valued not just for their professional contributions but also for their personal welfare.
Enhance Employee Engagement: Engaged employees feel a strong sense of connection and belonging to their workplace. By taking the time to create a get well soon greeting card online, you actively engage in fostering a sense of community and interpersonal relationships. This engagement can lead to increased job satisfaction, productivity, and loyalty among employees.
Encourage Speedy Recovery: Positive vibes and warmest wishes can have a profound impact on an individual's recovery process. When a coworker receives a get well soon card online filled with kind words and encouragement, it can uplift their spirits and contribute to a more positive mindset, which in turn can aid in their healing journey.
Bridge Physical Distances: In today's world, where remote work and dispersed teams are common, virtual group get well soon cards that multiple people can sign provide a means to bridge physical distances. Regardless of geographical location, coworkers can still show their support and care for their colleague's healing process, reinforcing a sense of unity and belonging.
How do Get Well Soon group ecards work?
Get well soon group ecards work by allowing multiple people to contribute heartfelt messages of well wishes and support to a recipient who is recovering from an illness or going through a difficult time with recovery from any sickness. The process usually starts with one person initiating the digital greeting card and inviting others to participate. The initiator selects a thoughtful get well soon ecard design or template and adds a personalized message. Then, they invite other colleagues or team members to join by providing their email addresses or using a shared link. All the participants can add their thoughtful messages, along with adding multimedia like photos, gifs, stickers, etc. Once everyone has contributed their personal message, the ecard is sent to the recipient's email inbox, allowing them to read all the well wishes from their wonderful colleagues. Group ecards provide a convenient and heartfelt way for a community to come together and show their support to someone in need of encouragement and healing vibes.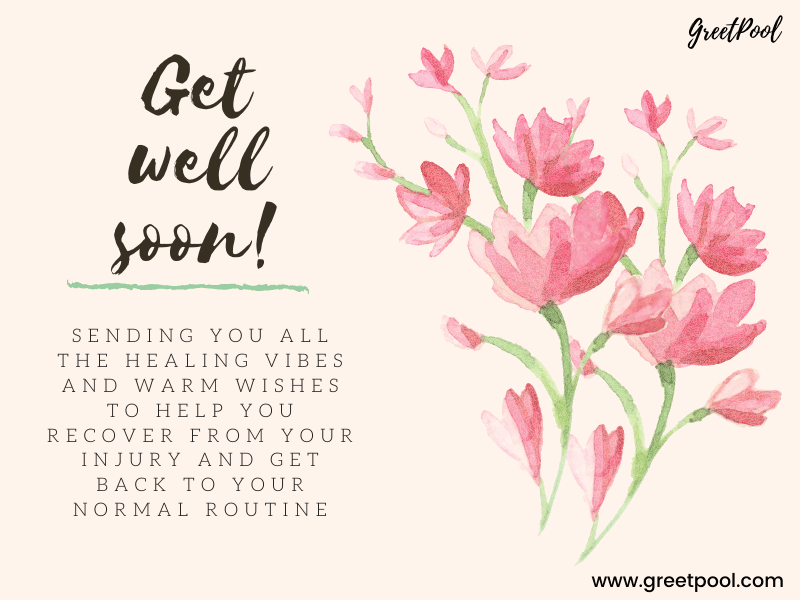 What to Write in the Get Well Soon Group Card?
Show genuine empathy by acknowledging the recipient's illness or difficult situation. Let them know that you understand and care about what they're going through to add your personal touch and make it much more meaningful. Share your wishes for a speedy recovery or a resolution to their challenges. Use positive and encouraging words to uplift their spirits and provide hope. While it's important to convey your thoughts and feelings, try to keep your message concise and focused. Aim for a positive tone throughout, avoiding any negative or worrisome comments that could potentially dampen their spirits.
End your message with a warm closing, such as "Sending you healing thoughts," "Wishing you strength and good health," or "Take care and get well soon." Sign your name or include your team's or department's name, so the recipient knows who the message is from. Remember, the purpose of a group card to someone is to collectively show support, so even a short message expressing your care and well wishes can make a significant impact. If you require some examples to refer to, here is our blog 75+ Best Get Well Soon Messages for Coworkers that can guide you.
How to Send a Virtual Get Well Soon Card?
Sending a virtual get well soon card is a convenient and perfect way to show support and offer well wishes to someone who is unwell or going through a difficult time. Here's a step-by-step guide on how to send a memorable group virtual get well soon card:
Choose a digital platform: There are various online platforms and greeting card websites, such as GreetPool, that offer virtual card creation and sending services. Select a platform that provides customizable get well soon card templates or allows you to create your own design.
Choose an appropriate card design: Once you've chosen a platform, select an ecard design or template that suits the situation and conveys the purpose of the card. You can choose a funny design to put a smile on recipients face when they open it, or keep it simple and choose a thoughtful design. GreetPool has a wide variety of get well soon group ecard designs that can fit various situations and emotions.
Craft your message: Take the time to write a thoughtful and personalized message. Express your good wishes, offer support, and provide words of encouragement. Consider recalling positive memories or sharing anecdotes to uplift their spirits. Be genuine, warm, and compassionate in your words. You can often customize the card by adding text, gifs, images, stickers, or even add photos and videos to make it more heartfelt and unique.
Preview and finalize: Before sending the card, take a moment to preview the final version of the get well soon card signed by everyone around the office. Double-check for any errors or misspellings, ensuring that your message is clear and accurate. Make any necessary adjustments or edits to perfect the card for it to be received warmly by the colleague feeling under the weather.
Provide recipient details: Provide the recipient's email address or any other required contact information to ensure that the card reaches the intended person.
Invite others to sign: If you want to send online get well ecard as a group, make sure you share the card singing link with others so they can contribute to the get well card.
Send the card: You can schedule the card delivery in advance or manually send when the card is ready. The card will be delivered to the recipient's email inbox, providing them with a digital representation of your care and well wishes.
Remember to check if the greeting ecard platform you're using offers delivery confirmation or read receipts. This can help you ensure that the recipient received and opened the ecard. Sending a virtual get well soon card is a convenient and thoughtful way to show your support and wish someone a speedy recovery. It allows you to reach out and connect, even when physical distance may separate you.
If you're looking for a convenient and easy way to send get well wishes to a coworker, consider using GreetPool group greeting cards. With GreetPool, you can create a personalized get well card for your coworker and invite everyone to sign in your team and add messages of support. It's a quick and easy way to show your coworker that you're thinking of them and wish them a speedy recovery. So why wait? Start creating your next get well soon ecard for a coworker today with GreetPool!
Conclusion
Get well soon digital cards are a powerful way to extend comfort, support, and encouragement to individuals in need, whether in a personal or office setting. These virtual cards allow a community to come together, pooling their well wishes and positive energy to uplift the recipient during their recovery or challenging times. By leveraging the convenience of technology, friends and colleagues can easily contribute their heartfelt messages, creating a collective display of care that reaches the recipient's inbox. Whether it's a team rallying behind a coworker or loved ones showing solidarity, group ecard makes it easy to foster a sense of togetherness and remind the recipient that they are surrounded by a caring community. So, the next time someone in your office or circle of friends needs a boost, consider organizing get well soon ecards to make a meaningful impact and spread the warmth of support in a digital, yet deeply personal way.