Connecting Hearts Virtually: How Sympathy Group eCards Offer Comfort in Times of Grief
In times of grief, when the weight of sorrow feels unbearable, we often find solace in the embrace of our loved ones. The warm touch, the shared tears, and the heartfelt words of support bring a sense of healing and strength. But what happens when physical distance separates us from those we hold dear? How can we bridge the gap and extend our empathy across miles? Sympathy group eCards are a helpful resource in such difficult times. Virtual condolences cards offer a way to express sympathy and condolences virtually, connecting hearts in a compassionate manner.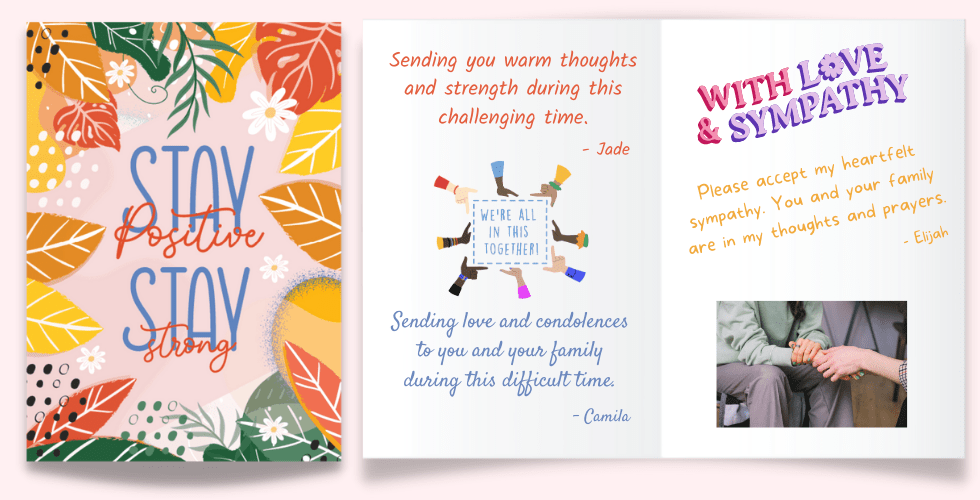 How to send condolences virtually?
Group sympathy ecards provide a platform for collective grieving and empathy, allowing friends, family, and even distant acquaintances to come together in a shared space. These virtual cards offer a thoughtful and accessible way to send sympathies, as they can be easily personalized with heartfelt messages, comforting images, and even shared memories.
The beauty of group ecards lies in their ability to create a virtual support network. By inviting a community of well-wishers to participate, they foster a sense of unity and collective strength during difficult times. Each person's individual sympathy message, when combined, forms a tapestry of compassion that envelops the recipient in a virtual embrace.
What makes Digital Sympathy Cards Unique?
Digital sympathy group cards provide a lasting keepsake for the bereaved, offering them a tangible reminder of the outpouring of love and support they have received. They can revisit these personal messages whenever they need a source of comfort and find solace in the knowledge that they are not alone in their grief. Physical cards can be more difficult to keep and revisit than electronic cards.
In a world where physical proximity may not always be possible, sending sympathies virtually through sympathy ecards allows us to bridge the distance, connecting hearts and offering solace across any geographical boundaries. It's a meaningful way to demonstrate our care, compassion, and unwavering support, reminding those who are grieving that they are surrounded by a community that genuinely cares.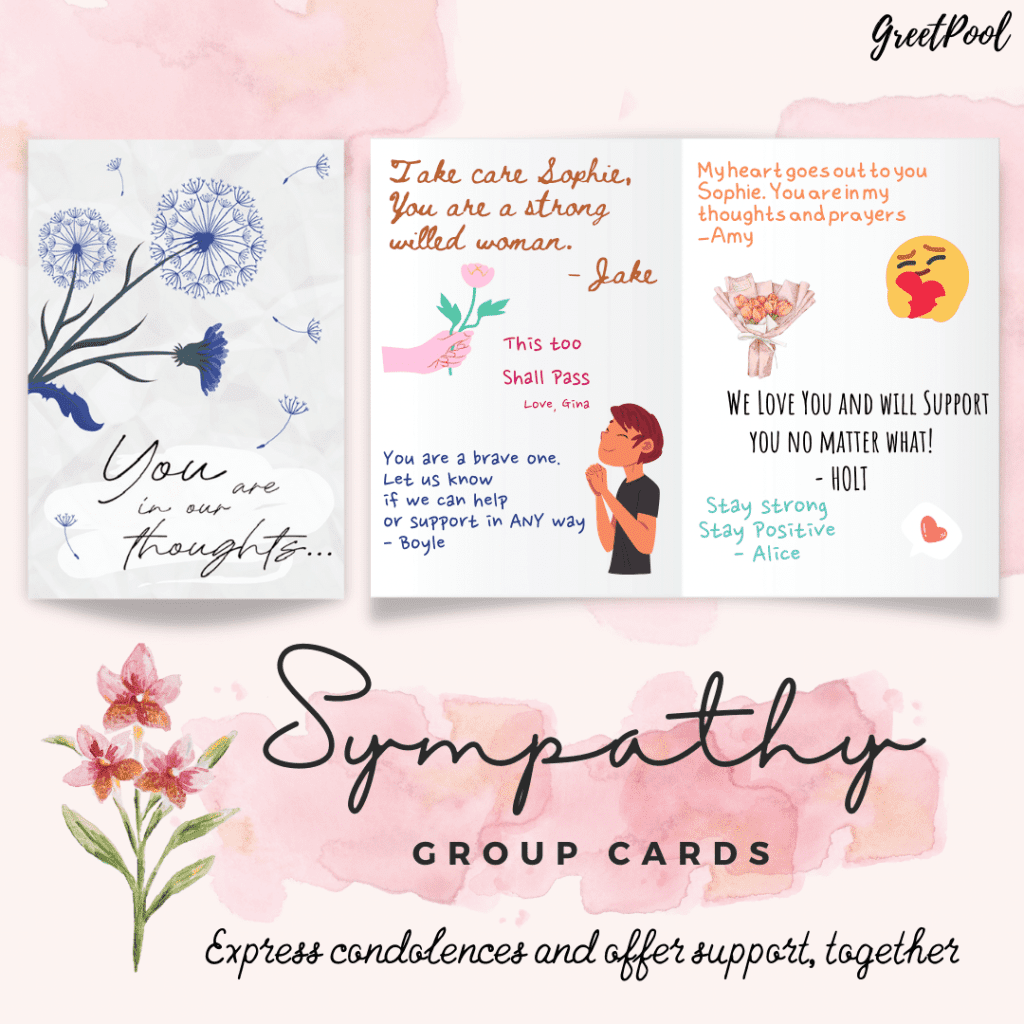 What to Say in Sympathy Group Ecards?
When writing a sympathy ecard, it's important to choose your words thoughtfully and compassionately. Here are some helpful pointers to consider when crafting your message:
Begin with a heartfelt greeting: Start your sympathy and condolences card with a warm and comforting greeting, such as "Dear [Recipient's Name]," or "To the [Last Name] Family."
Express your condolences: Acknowledge the loss and offer your sincere condolences. Use gentle and empathetic language to convey your sympathy, such as "I am deeply sorry for your loss" or "My heart goes out to you and your family during this difficult time."
Share fond memories: If you knew the deceased, consider sharing a brief, heartfelt memory or anecdote that illustrates their positive qualities or the impact they had on your life. This can bring comfort to the grieving family and serve as a reminder of the person they lost.
Offer support and comfort: Let the recipient know that you are there for them and willing to offer support in any way possible. You can say, "Please know that I am here for you if you need anything" or "If there's anything I can do to help lighten your burden, please don't hesitate to reach out."
Reflect on the person's life and legacy: Acknowledge the significance of the person's life and the impact they had on others. You can mention their accomplishments, values, or the ways they touched the lives of those around them. This can be a source of comfort and validation for the bereaved.
Offer a message of hope or faith: If appropriate, you can provide a message of hope or faith that aligns with the beliefs and values of the grieving family. Words of comfort and encouragement can help provide strength during the grieving process.
End with a closing sentiment: Close your message with a thoughtful sentiment, such as "With deepest sympathy," "Sending you love and healing thoughts," or "Keeping you in my prayers."
Remember, it's essential to be sincere, sensitive, and genuine in your message. Tailor your words to the specific relationship you have with the recipient and the nature of their loss. Offering your support and expressing your condolences can provide comfort and solace during their time of grief. In case you need some references or examples to refer to, here is a blog you must refer Condolence Message Examples: Finding the Right Words For A Sympathy Card 
How to make a Virtual Sympathy Card?
Creating a virtual group sympathy card allows you to express your condolences and offer support in a digital format. Here's a step-by-step guide on how to make online group sympathy cards:
Choose a platform or application: Look for greeting card companies that offer group ecards for bereavement or group ecards for condolences. Compare all of them based on your requirements and make an informed decision. Select a digital platform or application that allows you to design and send virtual cards in the most hassle-free way. There are numerous options available for greeting card websites, including GreetPool. Experience the ease and joy of digital group card creation with GreetPool! Our platform facilitates unlimited signatures and unlimited messages, hence multiple people (unlimited people) can sign and send a sympathy or condolence ecard together. Choose online group cards from our amazing selection of ecards for every special occasion.
Select a template or start from scratch: Depending on the platform you choose, you can either select a pre-designed sympathy greeting card template or start with a blank canvas and design your own.
Pick an appropriate design: Consider choosing a design that conveys a sense of warmth, comfort, and heartfelt sympathy. Soft colors, gentle imagery, or floral motifs are often suitable for sympathy cards. Send a virtual sympathy card that feels like a virtual group hug.
Add meaningful elements: Customize the online condolence card by adding elements that convey your message of sympathy. Include a personalized message or quote, such as "In loving memory" or "Forever in our hearts." You can also incorporate symbols, stickers, or gifs like doves, angels, or flowers to symbolize peace and comfort.
Personalize the message: Write a heartfelt message that expresses your condolences and offers support. Consider using the pointers mentioned earlier in this conversation to craft your message. Make sure your words are sincere, compassionate, and empathetic in the online sympathy card.
Include the recipient's name: Personalize the virtual group card by addressing it specifically to the recipient. Add their name at the beginning or within the message to show that it is meant specifically for them.
Enhance with multimedia (optional): Depending on the platform, you may have the option to include multimedia elements like photos. These additions can add a personal touch and further enhance the emotional impact of the digital greeting card.
Review and finalize: Take a moment to review the virtual sympathy card before sending it. Double-check for any errors or typos in the message. Ensure that the design and overall appearance align with the tone and sentiment you wish to convey.
Send the virtual sympathy card: Once you are satisfied with the card, send it to the intended recipient. Depending on the platform, you can usually invite others via email, messaging apps, or by providing a link to the online card.
GreetPool offers a user-friendly interface that enables smooth collaboration among contributors. You can customize your ecard with ease, adding personalized messages and photos for a unique experience. Our platform includes privacy settings to ensure that the group card remains private and accessible only to invited contributors and the recipient.
The Bottom Line
Sympathy group eCards are a thoughtful way to offer comfort, support, and deepest condolences during times of grief to family, friends and colleagues. They help create a virtual community that shares in the sorrow and uplifts the spirits of those who experienced a loss and show you care. Sympathy group ecards signed by multiple people are a perfect way to show support and foster a sense of unity, empathy, and solace in the virtual realm. Let us embrace the profound impact of these virtual expressions of sympathy as we navigate the digital landscape. We can connect hearts, offer unwavering support, and remind one another that we are never truly alone. Through the compassion of group ecards we offer condolences, we forge bonds that transcend space and time, weaving a tapestry of comfort and healing for those in bereavement.