5 Mistakes to Avoid When Congratulating Someone for their Promotion
Congratulating someone on their promotion is a wonderful gesture, showing your support and happiness for their career advancement. However, it's necessary to be mindful of the words and phrases used in such messages. Sometimes, certain statements, even if unintentional, can be perceived as insensitive or even offensive. In this article, we will explore what not to say while congratulating someone on their promotion, helping you avoid potential pitfalls and ensuring your well-wishes are received with genuine warmth and appreciation.
Before we begin the list of things you must avoid when writing to congratulate someone on a promotion, let us talk about that one thing you must do!
Best Way To Congratulate someone on their Promotion
The best way to recognize and celebrate someone's Promotion at Work is to do it collectively.
With GreetPool's Promotion Congratulations Group Ecards, you can express your genuine excitement and support for the coworker's career advancement in a personalized and heartwarming way. Our ecards are carefully crafted to steer clear of any undermining language, negative jokes, or comparisons with others, ensuring that your congratulations are received with warmth and appreciation. Whether it's a professional setting or a casual group celebration, Our promotion card templates and designs allow you to celebrate the promotion in a respectful and encouraging manner, together; making the recipient feel truly valued, celebrated, and cherished. Embrace the power of Promotion Congratulations Group Ecards to spread positivity and goodwill on this special occasion while adhering to the best practices outlined in the blog ahead.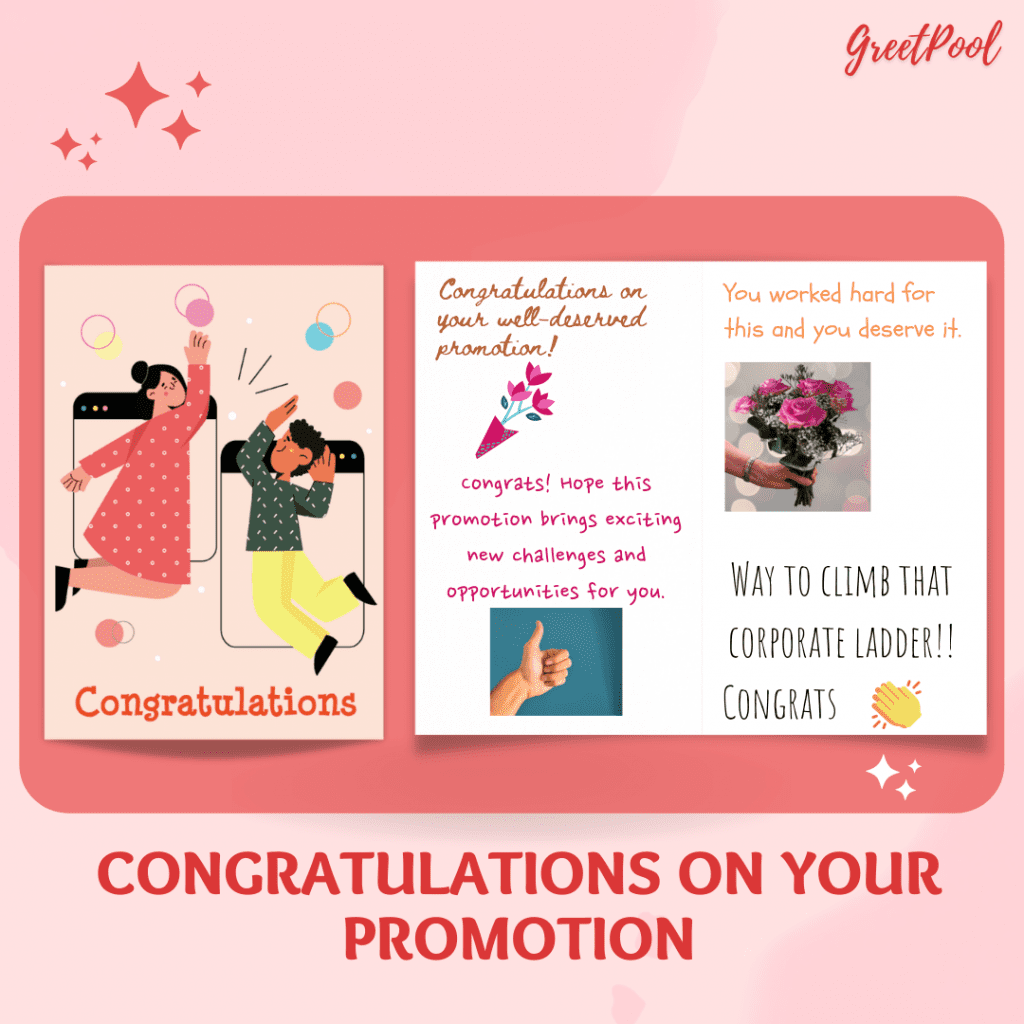 Mistakes to Avoid When Sending Promotion Congratulation Wishes
Don't Undermine Their Achievement
It was your turn to get promoted
While it may seem like a lighthearted remark, this phrase can diminish the significance of the person's promotion and come across as belittling their previous efforts. Instead, focus on expressing your delight for their success and the positive impact they will have in their new role.
I'm surprised you got the promotion
Implying surprise in their promotion might be interpreted as doubting their capabilities or qualifications. Opt for more positive language that highlights their skills and hard work leading to their well-deserved advancement.
You're so lucky to get promoted
Attributing their promotion to luck can undermine their efforts and achievements. Instead, recognize their dedication and accomplishments that made them stand out among their peers.
You may want to read: 75+ Best Promotion Congratulations Messages and Wishes
Be Mindful of Cultural Sensitivities
It's about time a [race/gender] got promoted here
Comments related to race, gender, or any other personal characteristic can be offensive and inappropriate. Base your message solely on their skills, qualifications, and accomplishments.
Avoid Comparison with Others
You deserved it more than [Name]
Comparing the promoted individual to their colleagues can create unnecessary tension and resentment in the workplace. Avoid making comparisons and instead focus on the person's unique strengths and contributions.
I thought [Name] would get the promotion, not you
This type of comment can breed insecurity and a sense of inadequacy. Celebrate the person's promotion without referencing others and their qualifications.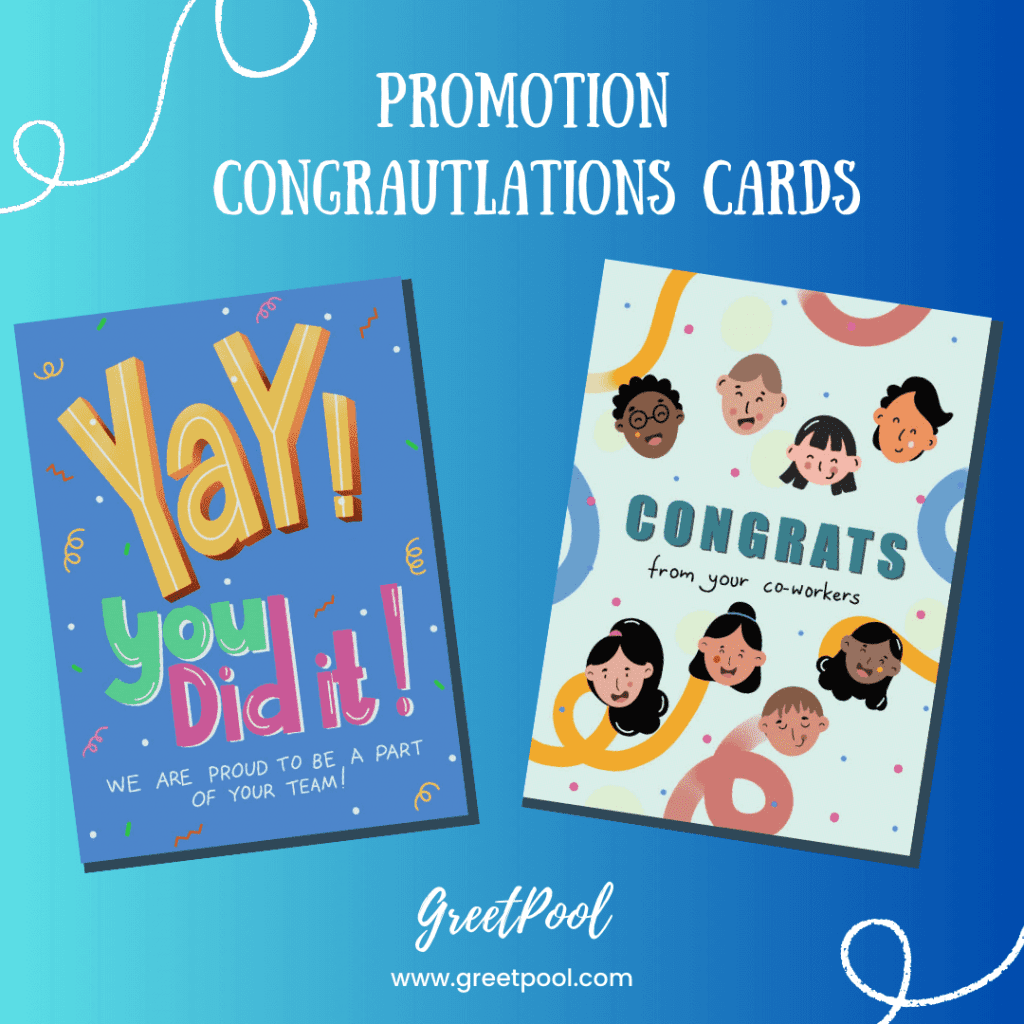 Steer Clear of Negative Jokes
Now that you're in charge, can you get me a raise and unlimited vacation?
Joking about financial benefits after someone's promotion can be seen as self-centered and insensitive. Keep the focus on their achievement, not on personal gain.
Does this mean you'll be a workaholic now?
Implying that a promotion will lead to excessive work hours can be discouraging and may not reflect the reality of the person's new role. Instead, wish them success in their new responsibilities.
You may want to read: Most Amazing Office Greetings For Work Anniversary, New Employees, Farewell & Job Promotion Wishes
Avoid Sarcasm
Oh great, another boss to deal with
Sarcasm can be misinterpreted, and in this context, it may imply a negative attitude towards their promotion. Be sincere and supportive in your congratulatory message.
Congratulations, I guess
Using a lackluster tone can make your message appear insincere and unenthusiastic. Make an effort to express genuine joy and excitement for their achievement.
You may want to read: Creative ways to send Promotion Congratulations – Group Greeting Cards
Final thoughts
Congratulating a coworker or a close friend on their new position is an opportunity to show your support and appreciation for their hard work and dedication. However, certain phrases can inadvertently dampen the celebratory mood and even offend the recipient as your offer them your best wishes. By avoiding undermining language, comparisons, negative jokes, sarcasm, and being mindful of cultural sensitivities, you can ensure your congratulations are heartfelt and well-received.
Remember, the key to a thoughtful congratulatory message is sincerity and positivity. Focus on the individual's achievements, their unique qualities, and the positive impact they will have in their new role. Celebrate their success and be a source of encouragement as they take on new challenges in their career journey.
Let's celebrate each other's accomplishments with genuine joy and respect, fostering a positive and supportive work environment. So, the next time you congratulate someone on their promotion, be mindful of your words, and convey your heartfelt wishes with authenticity and enthusiasm.