The 9 Golden Rules for Sending the Best Holiday Cards
As the holiday season approaches, many of us are filled with the joy and excitement of sharing love and warm wishes with our friends and family. One of the most heartwarming ways to express our feelings during this time is by sending holiday cards. Whether it's Christmas, Hanukkah, Halloween, or New Year a well-crafted holiday card can truly touch the hearts of the recipients.
Sending a holiday greeting card is more than just a customary gesture; it's an opportunity to connect with the people who matter most in our lives. A heartwarming holiday card serves as a reminder of our love, appreciation, and gratitude for having them in our lives. It's a chance to convey warm wishes and spread joy, which is especially important during the holiday season.
Here are the 9 golden rules of making the best and most personalized holiday cards.
1. Switch to the Digital Holiday Cards
In today's digital age, customizable ecards have become an incredible alternative to traditional printed cards. GreetPool offers a wide selection of Holiday Group Ecards that will ensure the hearts of those you love are filled with joy and warmth during this holiday season. Our ecards provide a unique way to connect with friends, family, and colleagues during festive occasions, making your holiday greetings even more special. Here is how
Cost-Effective: Sending traditional paper cards to multiple recipients can be costly. Holiday Ecards eliminate postage and printing expenses, making it a budget-friendly option. At GreetPool an ecard costs about the same as a cup of coffee.
Environmentally Friendly: By choosing digital ecards, you contribute to reducing paper waste and the carbon footprint associated with conventional cards.
Convenience: With just a few clicks, you can add photos, gifs, stickers, and emoticons to personalize your card as much as you desire.
Fostering Connection: GreetPool Holiday Group Ecards promote a sense of togetherness, allowing everyone to celebrate and interact in a shared digital space.
Instant Delivery: Your holiday greetings reach the recipients instantly, ensuring that your warm wishes are received on time.
Trackable: Our platform allows you to track the delivery and interaction of your ecards, so you can stay informed about the impact of your greetings.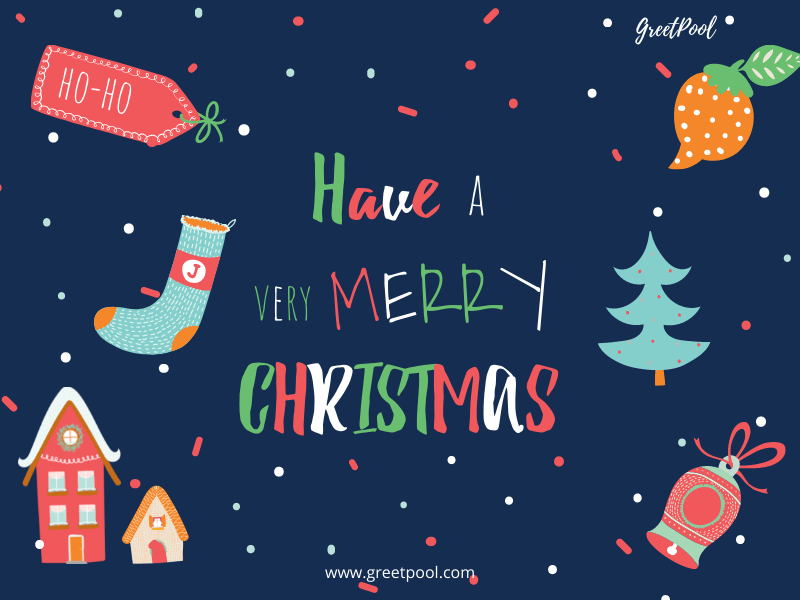 2. The Power of Personalization
When creating a holiday photo card, personalization is key. Avoid generic mass-produced cards and opt for personalized messages that reflect your genuine feelings for the recipient. Address the card to the individual or family by their names, and mention specific memories or shared experiences to make it even more meaningful.
3. Choosing the Right Design and Theme
The design and theme of your holiday card template play a significant role in conveying the right emotions. Whether you choose a classic Christmas motif, a festive winter landscape, or a multicultural design, ensure that it aligns with the recipient's preferences and the occasion you are celebrating.
4. Craft a Heartfelt Message
The message inside the custom holiday card design is the heart and soul of your greetings. Take your time to craft a heartfelt message that resonates with the recipient. Express your love, appreciation, and warm wishes in a sincere and authentic manner. Keep the tone warm, friendly, and positive.
5. Add a Touch of Humor
Incorporating a touch of humor can lighten the mood and bring a smile to the recipient's face. Consider including a funny anecdote or a lighthearted joke, but be mindful of the recipient's sense of humor and cultural sensitivities.
6. Including Quotes or Poems
If you find it challenging to express your emotions in words, consider including a meaningful quote or a heartfelt poem in your holiday card. There are plenty of sources online where you can find beautiful quotes and poems that align with the spirit of the occasion.
7. Showcasing Your Creativity
Get creative and make your card a visual treat by adding beautiful family photos, gifs, emoticons, etc. Give it a personal touch. Customize your holiday card to add text in the font style of your choice and amplify it with the visual aid of your choice that supports your heartfelt seasons' greetings in the card.
8. Emphasize Gratitude
The holiday season is an excellent time to reflect on the things we are grateful for. Take a moment to express your gratitude to the recipient for the role they play in your life. Let them know how much they mean to you and how grateful you are for their presence.
9. Timing Matters
To ensure your holiday cards are delivered on time, plan ahead and mail them well in advance. Postal services are often busier during the holiday season, so it's best to send your cards early to avoid delays. In order to avoid all this hassle, the best decision would be to switch to digital cards!
You may want to read: 70+ Best Merry Christmas Wishes to Write in a Christmas Card in 2022
Spread Joy and Warmth with GreetPool Holiday Group Ecards
The holiday season is about cherishing the relationships we have and spreading happiness to those around us. So, let your holiday card be a reflection of your love and care, and watch it bring smiles to the faces of your loved ones.
This holiday season, make your greetings truly memorable and heartwarming with GreetPool Holiday Group Ecards. Embrace the power of digital technology to connect with your loved ones, friends, and colleagues, and create lasting memories together. Experience the joy of celebrating as a community, sharing laughter, love, and happiness with our ecards.
Make this holiday season unforgettable with GreetPool Holiday Group Ecards!