7 Mistakes to Avoid While Sending a Retirement Card
Retirement is a momentous occasion in one's life, a time to celebrate the culmination of a fulfilling career and embrace the beginning of a new chapter. For many, retirement marks the transition from the hustle and bustle of the working world to a period of relaxation, leisure, and spending quality time with loved ones. One way to convey your well-wishes and appreciation for someone who is retiring is by giving them a thoughtful retirement card.
However, some retirement cards may inadvertently miss the mark despite the best intentions. In this article, we will delve into the 10 most common retirement card mistakes to avoid, ensuring that your message is heartfelt, sincere, and cherished by the retiree. So let's get started!
Tips for a Memorable and Meaningful Retirement Card
A retirement card is more than just ink on paper; it is a vessel for conveying gratitude, admiration, and warm wishes for the retiree's new journey. In this article, we present a collection of invaluable tips and insights to help you create a retirement card that will not only leave a lasting impression but also touch the retiree's heart, filling their transition with joy and nostalgia. Here are some best tips for a memorable next chapter
1. Choose the Right Retirement Card
A retirement card is a valuable memento for life and the design and card wording play a pivotal role in conveying the right emotions. Making the mistake of choosing the wrong card design can inadvertently dampen your well-wishes for the retiree. Opting for a card that doesn't match their personality or interests may result in a disconnect, leaving them feeling unappreciated. Additionally, poorly chosen wording, such as generic messages or humor that falls flat, can create awkwardness or even offense. To avoid this pitfall, carefully select a card with a design that resonates with the retiree, and craft heartfelt wording that reflects your true sentiments, ensuring the card becomes a cherished keepsake of this momentous occasion.
GreetPool provides a wide range of beautifully designed Retirement Cards, allowing you to choose the perfect theme that resonates with the retiree's interests and personality. You can customize the card with heartfelt messages, fond memories, and well-wishes, making it a collective effort that showcases the retiree's impact on everyone's lives. With just a few clicks, you can effortlessly send the card to the retiree, no matter where they are in the world.
You may be interested to read: A Guide to Online Retirement Card | Group Retirement Ecards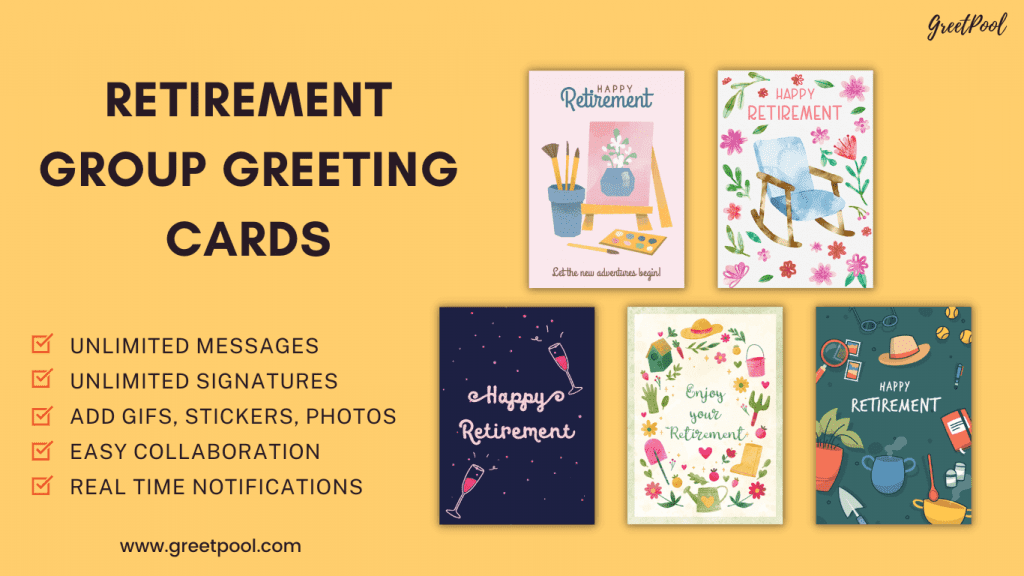 2. Make it a Group Card
Greetings and Wishes are better, together. Sending appreciation and best wishes together along with friends, family or coworkers will make the retirement card even more memorable. Group effort will be much appreciated by the recipient and the gesture is bound to leave a lasting impression on their mind.
Weather you are sending a physical card, or an online ecard, make sure you get signatures and wishes from as many people as possible. As you seek the perfect retirement card, consider exploring the delightful world of Retirement Group Ecards by GreetPool. Our digital cards offer a unique and thoughtful alternative to traditional paper cards. With our wonderful Retirement Group Ecards, you can collaborate with colleagues, friends, and family to create a personalized message that truly captures the retiree's essence. With just a few clicks, you can create and manage a retirement group ecard online and get it signed by unlimited number of people. You can even track who signed, and when it was delivered to the recipient and when they opened it.
3. Write Meaningful Wishes and Messages
Your retirement message should come straight from heart. The personal touch will show the retiree that you genuinely care and cherish your relationship. tailor your wishes to their unique personality, accomplishments, and future plans. In your message, acknowledge the retiree's accomplishments and contributions to their field or community and emphasize how their hard work and dedication have positively impacted others around them. Mention specific memories or experiences you've shared, highlighting the impact they've had on your life personally. Share a light-hearted and funny anecdote that showcases the retiree's sense of humor or an amusing incident from their career. This will not only bring a smile to their face but also demonstrate your thoughtfulness in reminiscing about the good times.
For some beautiful and meaningful examples, check out 101+ Best Happy retirement wishes and messages
What NOT to write on a Retirement Card
Crafting a memorable retirement card requires a blend of creativity, personalization, and positivity. It is crucial to crucial to maintain a positive and uplifting tone in your message, and steer clear of any negative or sensitive topics that could unintentionally mar the retiree's celebration. Here are some topics to avoid writing in a retirement card
1. Avoid Age-Related Jokes
While humor can add a light-hearted touch, jokes about age may inadvertently come across as insensitive and hurtful. Aging is a natural part of life, but making light of it in a retirement card can undermine the retiree's accomplishments and downplay the significance of their retirement. Instead, focus on celebrating their achievements, expressing gratitude, and conveying warm wishes for their future endeavors.
Avoid: Happy Retirement! You're getting older, but at least you won't have to work anymore.
Say Instead: Congratulations on your well-deserved retirement! May this new chapter be filled with joy and fulfillment.
Avoid: Welcome to the old folks' club! You're officially ancient now!
Say Instead: Congratulations on joining the exclusive club of retirees! Now you have more time to enjoy life's adventures.
2. Avoid Work-Related Regrets or Failures
Refrain from expressing regrets about missed opportunities or unfulfilled aspirations during the retiree's career. This could evoke feelings of disappointment and diminish their sense of accomplishment. Also, Do not bring up past failures or setbacks in the retiree's career. This could be disheartening and overshadow their achievements.
Avoid: If only you had retired earlier, you'd have more time to enjoy life.
Say Instead: Congratulations on a successful career and the exciting new possibilities that await you in retirement.
3. Avoid Comparisons to Other Employees
Avoid comparing the retiree to other current or past employees in terms of achievements or contributions. Such comparisons can be hurtful and undermine the retiree's unique journey. This day (and the retirement card) is about the retiree and should focus on their achievement and accomplishment only.
4. Don't instill Job Insecurity or Fear
Steer clear of mentioning job insecurity or fears of an uncertain future. Retirement should be celebrated as a positive transition, free from worries about what lies ahead.
5. Avoid Negative Messages or Sensitive Topics
Retirement is a time of excitement and apprehension, as retirees embark on a new chapter. Your retirement card should reflect this spirit by keeping the tone positive and inspirational. Use uplifting language to express your confidence in their future endeavors and the joy of witnessing their accomplishments during their working years.
Avoid: Retirement means you'll be bored all day. Good luck with that!
Say Instead: Wishing you an amazing retirement filled with endless opportunities to explore your passions.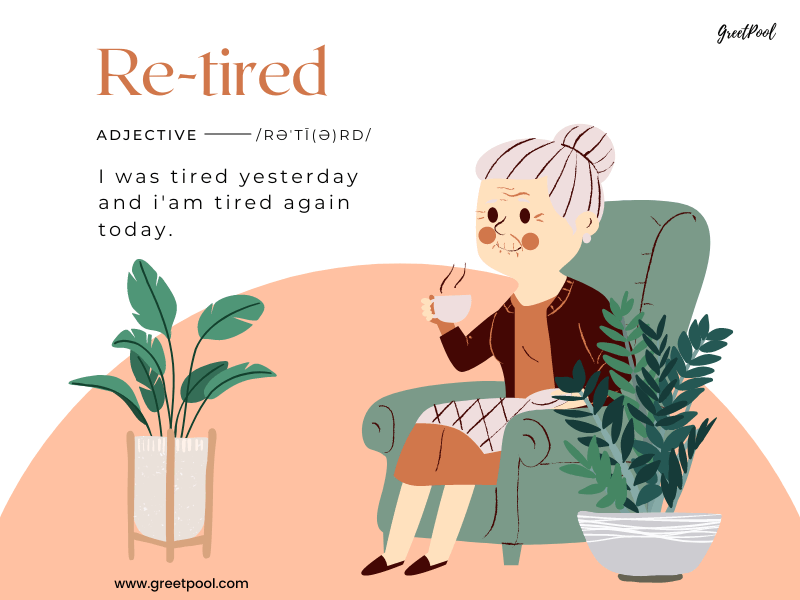 6. Dont Mention Unpleasant Aspects of Retirement
Retirement is a positive and exciting time, so it's best not to mention potential downsides, such as boredom or loneliness. Instead, highlight the retiree's skills and hobbies that will make their retirement fulfilling and enjoyable.
Avoid: Now that you're retiring, let me give you some advice on what you should have done differently.
Say Instead: Your dedication and expertise have been inspiring. Wishing you all the best in your retirement journey.
7. Avoid Generic Wishes and Clichés
Retirement cards that simply say, "Happy Retirement" or "Best Wishes for Your Retirement," while well-intended, lack personalization. They come across as generic and fail to capture the essence of your relationship with the retiree. Instead, take the time to craft a heartfelt message that reflects your unique connection and expresses your genuine appreciation for their contributions. Add some inside jokes, work anecdotes, or memories of time you spent together.
For example,
Avoid: Best Wishes on Your Retirement!
Say Instead: Congratulations on reaching this incredible milestone. Your dedication and hard work have made a lasting impact not just on our team, but in the entire organization.
Top 10 Creative Virtual Farewell Party Ideas for a memorable goodbye
Conclusion
A well-crafted retirement card can leave a lasting impression on the recipient, conveying your genuine sentiments and appreciation. Avoiding these common retirement card blunders will help ensure that your message resonates with the retiree, making their transition into retirement all the more special.
Remember, retirement cards are more than just pieces of paper; they are tokens of your respect and admiration for someone who has made a significant impact in their career. By taking the time to create a thoughtful and personalized card, you can leave a heartwarming memory that the retiree will treasure for years to come.
So, whether you're bidding farewell to a beloved colleague or congratulating a family member on their retirement, follow these tips to craft a retirement card that stands out from the rest. Celebrate the retiree's accomplishments, express your gratitude, and embrace the joyous occasion as they embark on a new and exciting chapter in life.