Employee Appreciation Quotes & Messages for Exceptional Coworkers
Imagine a workplace where every exceptional contribution, every extra mile taken, and every moment of dedication is met with heartfelt appreciation. A place where employees are not just seen as cogs in a machine but as valuable individuals whose efforts are acknowledged and celebrated. It can be easy for everyday achievements of the employees to go unnoticed. But taking a moment to pause, reflect, and express gratitude with a simple employee appreciation message or a card can work wonders for both individuals and organizations.
Workplace appreciation goes far beyond mere words on a page; it holds the power to uplift spirits, boost morale, and create a positive work environment that inspires greatness. Think about the smile on a team member's face when they receive a genuine and personalized employee appreciation message acknowledging and recognizing their outstanding performance. Imagine the ripple effect it creates, as that person's motivation and passion radiate to those around them. Employee recognition and appreciation have the remarkable ability to ignite a spark, fueling a cycle of excellence and fostering a company culture where the entire team feels valued and inspired to go above and beyond.

Why Employee Appreciation Matters?
Recognizing exceptional achievements is more than just a formality; it holds the power of boosting employee morale, fostering a positive work environment, and motivating continued excellence. When employees feel appreciated, they are more likely to stay engaged, committed, and go above and beyond in their work.
When employees receive genuine appreciation, it creates a sense of fulfilment and encourages them to take pride in their work. This leads to increased job satisfaction, higher levels of motivation, and a stronger commitment to achieving organizational goals. In addition, employee appreciation fosters strong relationships between employees and their managers or leaders, promoting effective communication and teamwork. Overall, a culture of appreciation enhances employee well-being and contributes to the long-term success of the organization.
Employee Appreciation as a Team with Group Ecards
Expressing group appreciation to your teammate has never been easier or more impactful than with employee appreciation group ecards. These digital greetings go beyond simple text messages, incorporating vibrant photos, personalized messages, gifs, and other interactive elements to create a memorable experience. The main feature is that multiple people can sign and add appreciation messages and wishes to make the acknowledgement and recognition more meaningful and memorable.
Boost morale, foster a positive work culture, and enhance employee engagement by recognizing and celebrating your team's victories. For a hassle-free and meaningful way to show appreciation, try Employee Appreciation Cards by GreetPool. Craft personalized messages and invite your team to add their heartfelt notes and recognize your employees together.
You may also be interested to read: Celebrating Team Wins: Employee Appreciation With Group Ecards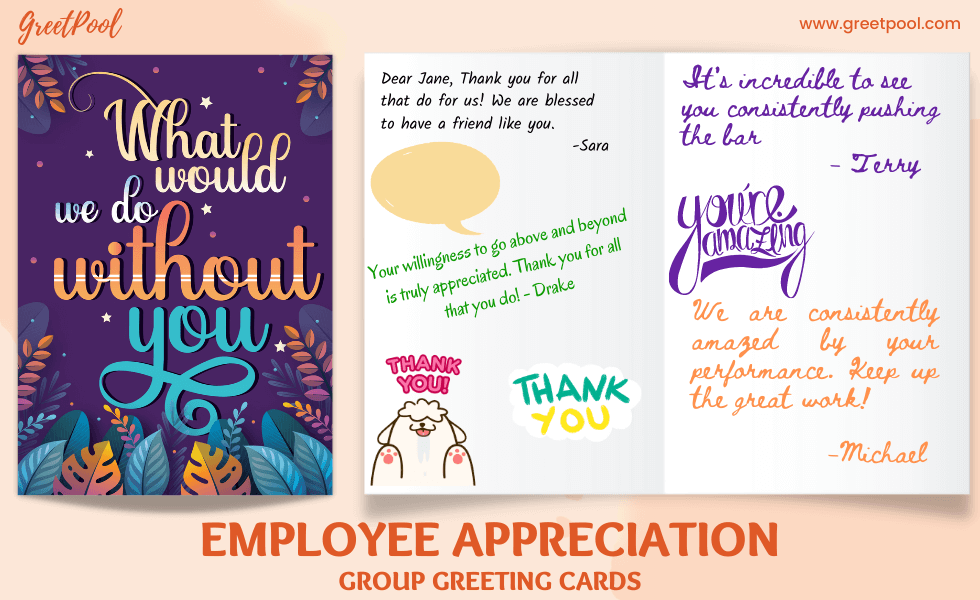 Crafting Meaningful Employee Appreciation Messages
Crafting meaningful employee appreciation messages requires thoughtfulness and personalization. Show your appreciation by choosing the right words. Instead of using generic phrases, highlight specific achievements or actions that you appreciate. Mention the project they excelled in, the skills they demonstrated, or the impact they made. This shows that you have noticed their efforts and adds a personal touch to your message.
Say thank you and express your appreciation sincerely and authentically. Let your employees know how their contributions have made a difference and how you genuinely value their work. Avoid using clichés or generic statements that may come across as insincere. While it's important to provide specific details, ensure that your message remains concise and focused.
Appreciation Messages for Employee Appreciation Day
Employee Appreciation Day is a special occasion to recognize and honor the hard work, dedication, and contributions of the incredible individuals who make your organization thrive. It's an opportunity to express genuine gratitude and appreciation for their efforts. In this article, we'll provide you with seven cool and heartfelt appreciation messages to celebrate Employee Appreciation Day in a meaningful way.
1. Happy Employee Appreciation Day! Your positive attitude, teamwork, and exceptional skills have a profound impact on our organization. Thank you for always going above and beyond every single day. Your work and dedication are valued and appreciated.
2. On this special day, we want to take a moment to express our gratitude for your dedication and professionalism. Your positive energy and can-do attitude inspire those around you. Thank you for being an invaluable member of our team.
3. Your ability to inspire others and create a harmonious work environment is truly remarkable. Thank you for being a true asset to our team. On this Employee Appreciation Day, we want to express our sincere gratitude for your dedication, positivity, and unwavering commitment to excellence.
4. Happy Employee Appreciation Day to the backbone of our organization! Your passion, teamwork, and relentless pursuit of excellence make us proud. We would like to thank you on behalf of entire company for your outstanding contributions. You truly make a difference.
5. Today, we pause to recognize the outstanding talents and skills each of you brings to the table. You have always delivered every project work well and on time. Your diverse perspectives in every brainstorming team meeting, expertise, and unique approaches have had a transformative impact on our organization. Thank you for making a difference.
6. Your innovative ideas, proactive approach, and remarkable problem-solving skills have brought about positive transformations. Your dedication to continuous improvement is highly appreciated. Keep up the great work.
7. Today, we celebrate the superheroes of our organization: our employees! Your passion, resilience, and determination never cease to amaze us. Thank you for your hard work and dedication for unwavering commitment to excellence. Happy Employee Appreciation Day!
Appreciate your employees by customizing these messages to recognize their individual strengths, talents, and contributions, making the day truly special.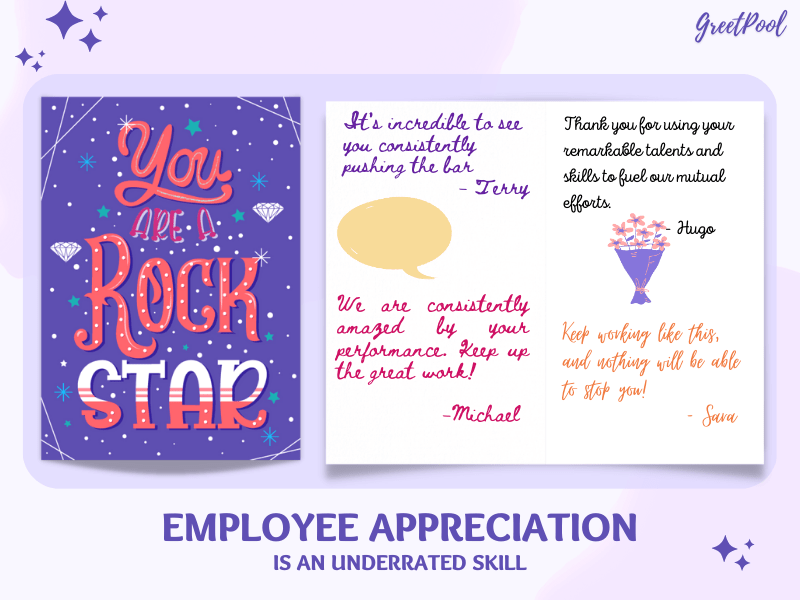 Thank You Note to Employee for Going the Extra Mile
Going the extra mile is a quality that sets exceptional employees apart. When an employee consistently goes above and beyond their responsibilities, it deserves recognition and appreciation. Here are some great examples of employee appreciation messages to acknowledge going the extra mile:
1. Your consistent efforts to go the extra mile have not gone unnoticed. Whether it's staying late to meet deadlines, stepping in to support colleagues, or taking initiative on projects, your exceptional work ethic and willingness to go above and beyond have made a significant impact.
2. Thank you for setting a high standard and inspiring us all and being an outstanding part of our team. Your attention to detail, innovative problem-solving, and willingness to take on additional responsibilities have been instrumental in the success of our team. Keep up the good work!
3. Your tireless efforts have not gone unnoticed, and I want you to know how much we appreciate your exceptional work. We are very grateful for a hard-working employee like you. Thank you so much for delivering every project on time always!
4. I wanted to personally reach out and extend my heartfelt thanks for the outstanding effort you consistently put into your work. Your dedication, passion, and initiative have not only made a positive impact on our team but also created a productive and inspiring work environment.
5. Your commitment to delivering exceptional quality, even in challenging situations, demonstrates your exceptional work ethic and dedication. I am grateful to have you as part of our organization. Thank you for your extraordinary efforts.
6. You are the perfect employee that our team is extremely fortunate to have on board. Thank you for being the best at what you do and being consistently the best at it. Here is to your dedication!
7. Thank you for going the extra mile and bringing your meaningful contributions to this organization. Your critical thinking, wit, and positive outlook have bought us many successes. Thank you so much!
These unique and personalized words of appreciation for employees aim to express heartfelt gratitude to employees who consistently demonstrate exceptional dedication, initiative, and outstanding contributions.
Employee Recognition Messages for Outstanding Performance
Effective team collaboration is the cornerstone of success for any organization. It requires mutual efforts, excellent performances, a culture of recognition, and the collective dedication of team members. Giving recognition and appreciating the collaborative efforts of your team is crucial for fostering a positive work culture and achieving shared goals.
1. To the Collaborative Dream Team, your tremendous efforts and exceptional teamwork have truly made a difference. Your consistent performances and ability to work cohesively have resulted in incredible outcomes. We sincerely appreciate all your hard work. Thanks a lot!
2. Your fresh ideas and innovative approaches have brought new perspectives and opportunities for growth. Together, we have made the company successful. Thank you for your dedication and hard work.
3. I wanted to take a moment to recognize the outstanding team collaboration we have witnessed. Your collective efforts have not only achieved remarkable results but also fostered a supportive work environment. I am really fascinated by your strong work ethic. Thank you for everything!
4. Your consistent performance, effective communication skills, and ability to work seamlessly with others have been invaluable. Thank you for your individual valuable contributions to the company goals and for being a collaborative force within our team.
5. We are lucky to have an effective employee like you on our team. I am absolutely blown away by your ability to crush it at work while still taking on more. You, my friend, are an absolute superstar! Thank you for being an exemplary employee to our valuable team.
6. Having a self-managing team member is like finding a diamond in the rough for any leader. Your contribution is deeply appreciated. Thank you for taking the road less traveled and being outstanding!
7. Your work ethic is legendary! You never settle for mediocrity when greatness is within reach. Thank you for pouring your heart and soul into everything you do!
Personalize these messages with specific details about the employee's contributions and their impact on team collaboration.
Appreciation Messages for Creativity and Innovation
Creativity and innovation are the lifeblood of progress and growth within an organization. Appreciating and recognizing employees for their contributions to creativity and innovation not only boosts morale but also encourages a culture of continuous improvement. Here are some examples of such messages.
1. I wanted to express my heartfelt appreciation for your exceptional creativity and innovative spirit. Your ability to think outside the box, come up with unique solutions, and bring fresh perspectives to our projects has been truly inspiring.
2. Your creative contributions have not only solved complex problems but have also opened doors to new opportunities. Thank you for helping us grow with your remarkable creativity and dedication to innovation.
3. To the Creative Visionary, your ability to envision possibilities and translate them into reality is awe-inspiring. Thank you for bringing your A-game always and being one of the biggest assets to our team. Excellent work on the project!
4. I wanted to take a moment to acknowledge your exceptional creativity and innovative mindset. Your willingness to take risks, challenge conventions, and explore uncharted territories have been instrumental in driving our organization's success. Thank you for being a creative force and for continuously pushing the boundaries of what's possible.
5. Your ability to combine imagination with practicality, your fresh ideas, and your willingness to take calculated risks have led to breakthrough moments. Thank you for being a beacon of innovation and for making a huge impact on our organization's success.
6. To the Master of Innovation, your inventive thinking and breakthrough ideas have left an indelible mark on our organization. You are the most valuable asset any team could ever ask for! Thanks for your support always.
7. Your contributions have not only enriched our work but have also inspired others to think creatively. Thank you for being such an amazing team player and keeping everyone's team building spirits high. We wouldn't be the same without you!
By celebrating their unique skills, we inspire and encourage a work environment that nurtures creativity and innovation, leading to greater success, team work, and progress.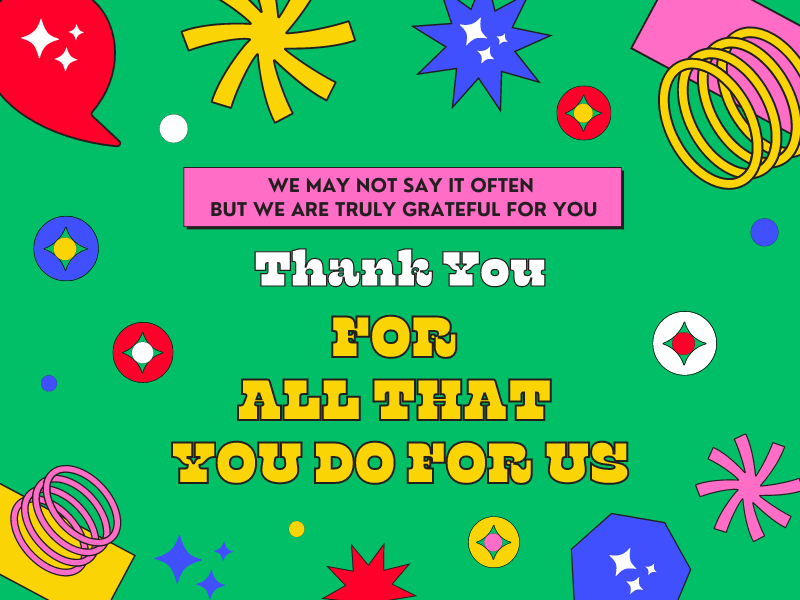 Messages for Leadership and Mentorship Appreciation Cards
Leadership and mentorship play a vital role in shaping individuals and driving the success of organizations. Effective leaders and mentors inspire, guide, and empower their team members, helping them reach their full potential. Here are some great examples of employee appreciation messages that aim to honor and recognize the exceptional contributions of leaders.
1. Your ability to lead by example, inspire greatness, and provide valuable insights has made a lasting impact. Thank you for being the best leader. You bring out the best in the entire team!
2. To a Remarkable Leader and Mentor, your dedication to nurturing talent and fostering growth is truly admirable. You are truly leading the team by example. Thank you for keeping your invaluable contributions consistent.
3. Your ability to listen, empathize, and provide guidance has been a source of inspiration for me. Your insights, experience, and genuine care have had a tremendous impact on the team. Thank you for your helpful attitude that takes our company to new heights!
4. Your ability to provide guidance, share your expertise, and empower individuals to overcome obstacles is truly remarkable. Thank you for doing your part so well in achieving the company's goals.
5. Your commitment to developing the next generation of leaders has set a benchmark for success for our company. Your strong sense of decision-making and problem-solving have worked wonders. Thank you so much!
6. Your ability to empower and inspire me has made a phenomenal impact. Thank you for being a beacon of leadership and mentorship. Great employees like you are what every team needs. Shine on!
7. You're the talk of the team! Everyone's raving about your hard work and helpful attitude. You're a true role model, and we're lucky to have you on board. Thank you for being awesome!
By expressing gratitude and appreciation for their guidance, wisdom, and support, we acknowledge the role they play in shaping careers, fostering growth, and creating a culture of excellence.
Employee Appreciation Quotes for Overall Contribution to the Organization
In any organization, the contributions of employees are the driving force behind its success. Their hard work, dedication, and commitment shape the company's growth and achievements. These employee appreciation quotes to say thank you serve as a tribute to their efforts, highlighting the immense value they bring to the organization.
1. In the tapestry of our organization's success, each employee's contribution weaves a thread of excellence. Thank you for being an integral part of our journey.
2. Teamwork and collaboration are the cornerstones of our organization's achievements. We appreciate your outstanding contributions in making our company thrive.
3. Every achievement and milestone we reach as an organization is a testament to the collective contributions of our employees. Thank you for being an essential part of our success.
4. Our organization thrives because of employees like you who go above and beyond every day. Your commitment and contributions are truly invaluable.
5. Rejoice in your accomplishments, because they helped us achieve our goals! Thank you for all that you do for us.
6. Your hard work has paid off in a major way! Keep crushing it and basking in your well-deserved success!
7. A company is only as good as its employees, and employees like you make it great!
These employee appreciation quotes for work acknowledge the overall contributions of employees to the organization's success. They serve as a reminder of the significant role each employee plays in achieving milestones, fostering growth, and creating a thriving work environment.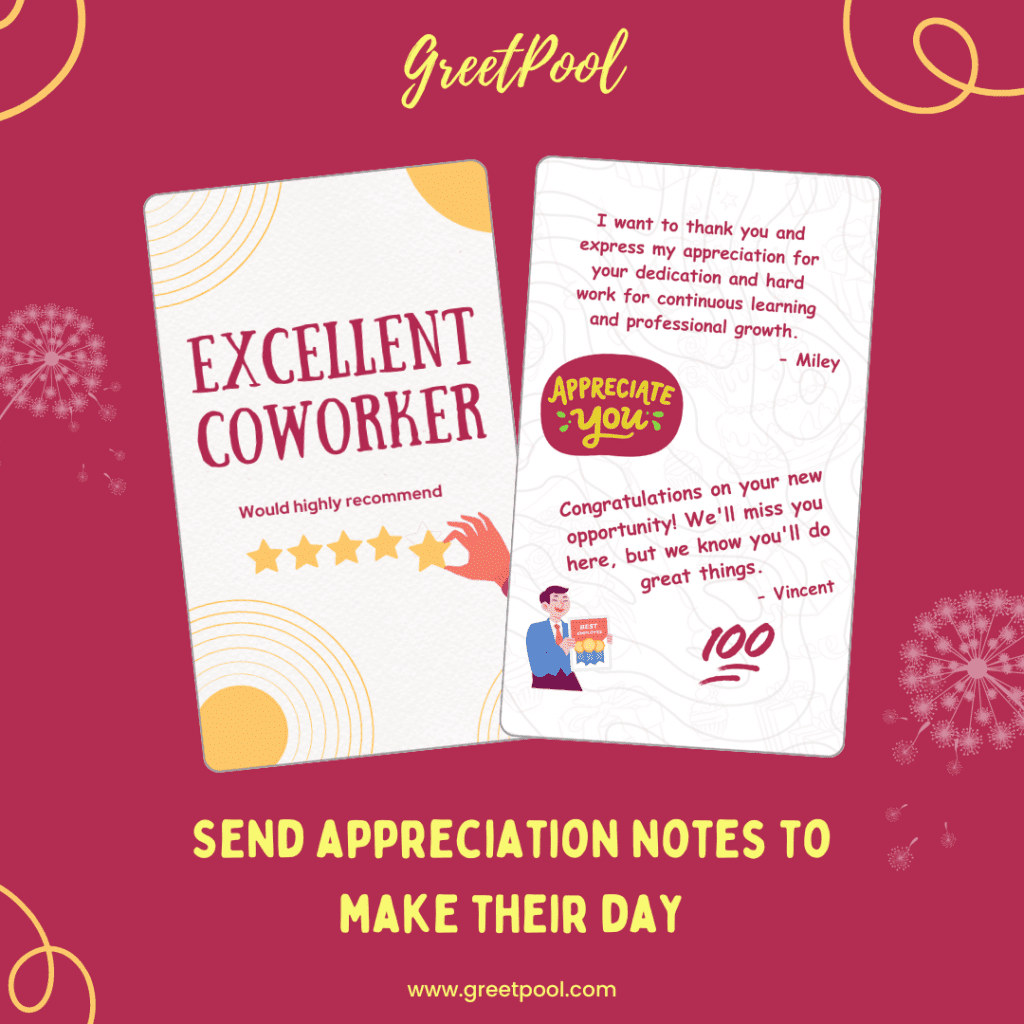 Appreciation Messages for the Employees Leaving the Company
Saying goodbye to valued employees who are leaving the company can be bittersweet. It's an opportunity to express gratitude for their contributions, wish them well on their new journey, and let them know they will be missed. These messages aim to convey heartfelt appreciation, acknowledge their achievements, and leave a lasting impression as they embark on new adventures.
1. As you move on to new horizons, we want to express our deepest appreciation for your exceptional contributions to our organization. Your talent, dedication, and positive impact will always be remembered. Best wishes for a bright and successful future.
2. To a remarkable employee who has made a significant difference during their time with us, we want to express our heartfelt appreciation. Your hard work, professionalism, and positive attitude have left an indelible mark on our team. Thank you and Goodluck for the future.
3. Your contributions have been invaluable, and your positive energy will be greatly missed. Best of luck on your exciting journey ahead.
4. To an extraordinary employee who has brought creativity and innovation to our organization, we extend our deepest appreciation. Your fresh ideas, enthusiasm, and unwavering commitment have propelled our success. Thank you for leaving a lasting impact.
5. Your consistent performances, exceptional work ethic, and teamwork have greatly contributed to our company's success. Your presence will be deeply missed, and we express our sincere gratitude for your outstanding contributions.
6. To a valued team member who is moving on to new ventures, we want to express our appreciation for your tremendous efforts and dedication. Your contributions have been instrumental in driving our company's growth. Thank you for being a wonderful employee.
7. Your professionalism, leadership, and commitment have helped shape our company's success. We extend our warmest wishes for an exciting and fulfilling journey ahead.
Farewells may be bittersweet, but they serve as an opportunity to celebrate the employee's contributions and wish them success and fulfillment in their future endeavors with these appreciation quotes for the employee leaving.
Key Takeaway
Recognizing and appreciating the best employees is not only a thoughtful gesture but also a powerful tool for fostering a positive work culture and boosting morale. As we have explored in this guide, crafting meaningful and sincere appreciation messages requires careful thought and personalization. By acknowledging the specific achievements and qualities that make each employee exceptional, we not only validate their efforts but also inspire them to continue going above and beyond. Let your team receive the much-deserved appreciation and recognition so that they continue to deliver high-quality work and look forward to coming to work every day.
Remember, the employee appreciation and employee recognition program is not a one-time event but an ongoing practice that should be woven into the fabric of your organization. Whether it's a heartfelt note, a public recognition, or a small token of gratitude, taking the time to express appreciation can make a world of difference to your employees' motivation and satisfaction.
So, let us embrace the power of words and celebrate the extraordinary contributions of our employees. By doing so, we not only create a more engaged and dedicated workforce but also build a workplace where everyone feels valued, respected, and inspired to reach even greater heights. Together, let's cultivate a culture of appreciation that transforms exceptional achievements into a collective success story.