10 Unique Ideas to Celebrate Boss Appreciation Day
Boss Appreciation Day is right around the corner, and it's time to break free from the shackles of mundane boss day gift-giving and predictable gestures. While traditional thank-you cards and store-bought gift cards have their place, why not inject a burst of excitement and surprise into celebrating Boss's Day 2023?
National Boss's Day is a special day celebrated annually on October 16 every year which allows us to express gratitude and recognition for the leaders who guide and support us in the workplace. It's an opportunity to acknowledge their hard work, dedication, and the positive impact they have on our career path. Instead of resorting to the usual national boss day card and generic boss appreciation gifts like a customized best boss mug or something such, let's explore some exciting and unconventional ideas to make this Boss Appreciation Day truly memorable.
In a world where a manager or a supervisor often finds themselves on the receiving end of clichéd appreciation, it's time to flip the script and create a truly unforgettable experience. By infusing our great boss appreciation day ideas with elements of surprise, personal gifts, and out-of-the-box thinking, we'll make the way to celebrate a Happy Boss's Day in a fun way for the whole team and help you become the best employee! Here is a list of unique ways to celebrate and show your appreciation to the boss on their big day.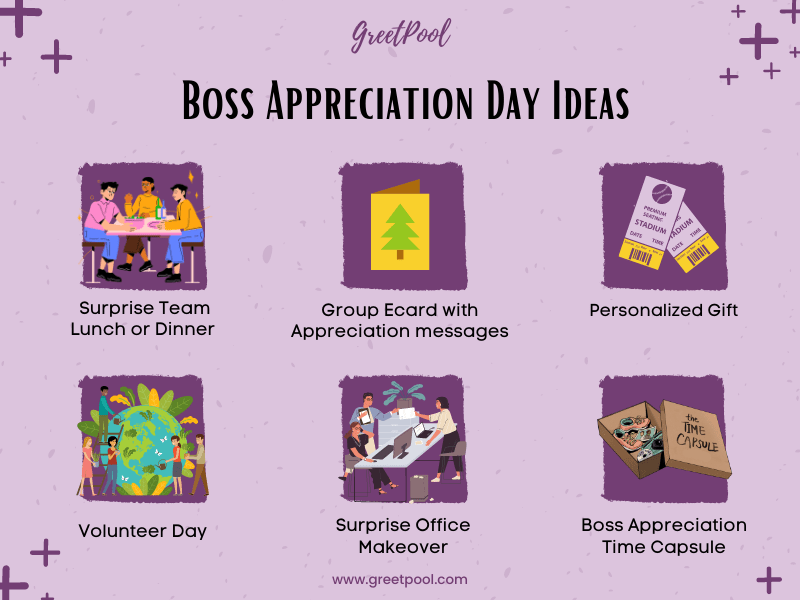 1. Send a Personalized Happy Boss Appreciation Day Group Ecard
Celebrate your incredible boss in style with GreetPool, your go-to platform for sending the perfect boss appreciation group ecard. With a diverse assortment of quirky and adorable designs, from classic to funny, we have a card that will suit everyone's taste. Take a moment to browse through our collection and select the perfect card that captures your heartfelt appreciation sentiment for your employer.
With our boss day group greeting cards, the entire team can come together to send their well wishes, appreciation messages and thank you wishes all together in one card. Customizing the ecard is pretty effortless, allowing multiple team members to sign with personalized messages, upload photos, and even lively gifs.
A group ecard is a great memento to acknowledge your boss's dedication and hard work while showing your genuine appreciation. Let them know just how much you value their exceptional contributions to the organization's success.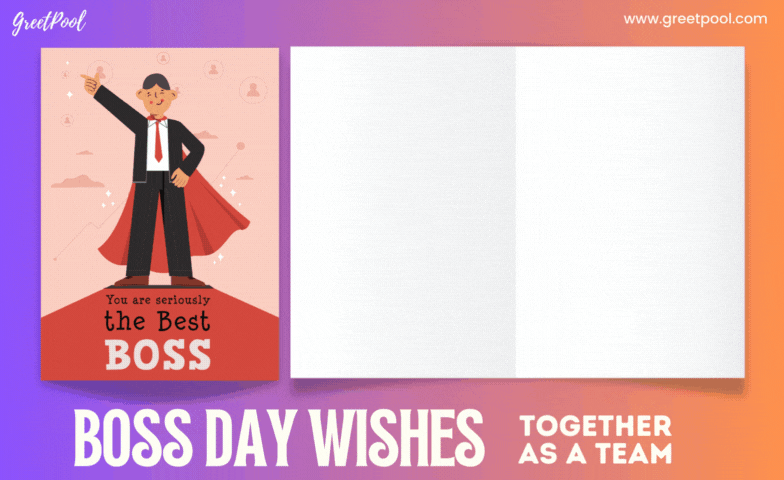 2. Appreciation Wall
Set up a designated area in the office where employees can leave written notes, messages, or drawings expressing their appreciation for the team leader. Decorate the wall with colorful paper, sticky notes, and pictures. This visual display of gratitude serves as a daily reminder of the positive impact your boss has on the team. Bosses need to know about a job well done. If you need any help, with what to write to appreciate your boss, our blog 50+ Best Thank You Messages for Boss to Appreciate and thank them [2023] can help. 
3. Office Décor Surprise
Coordinate with your colleagues to decorate your boss's office or workspace as a surprise. Use balloons, streamers, banners, and flowers to create a festive atmosphere. You can also incorporate elements that reflect your boss's personality, hobbies, or interests. The surprise decoration will not only uplift your boss's spirits but also create a joyful environment for everyone in the office. This can be done in the part of the office that is close to boss or manager's office so that they can enjoy and appreciate the sweet gesture even days after the event.
4. Lunch Treat
Arrange a surprise lunch treat for your boss. Coordinate with your team or colleagues to organize an office potluck party or order food from their favorite restaurant. Make sure to include their preferred dishes and create a relaxed and enjoyable atmosphere during the lunch break. Invite colleagues and team members to appreciate and celebrate their achievements and contributions. Personalize the event by including heartfelt speeches or creating a memory book with messages of appreciation from human resources or the entire team.
5. A Simple Thank You never gets Old
How often do you express gratitude to your boss? Most people admit they do so only occasionally or never. This Boss's Day, take a step further and directly approach your boss to say, "Thank you for your support and guidance. I genuinely appreciate it every single day." Rest assured that any exceptional boss would consider this gesture as the most valuable gift they could receive. This gesture goes a long way than you can imagine.
And here's an additional suggestion: To make your appreciation even more memorable, you can utilize GreetPool Thank You Group Ecards. With GreetPool, you can gather heartfelt messages from your team members and compile them into a beautiful digital card. This personalized and collaborative approach will surely touch your boss's heart and emphasize the collective gratitude of the entire team.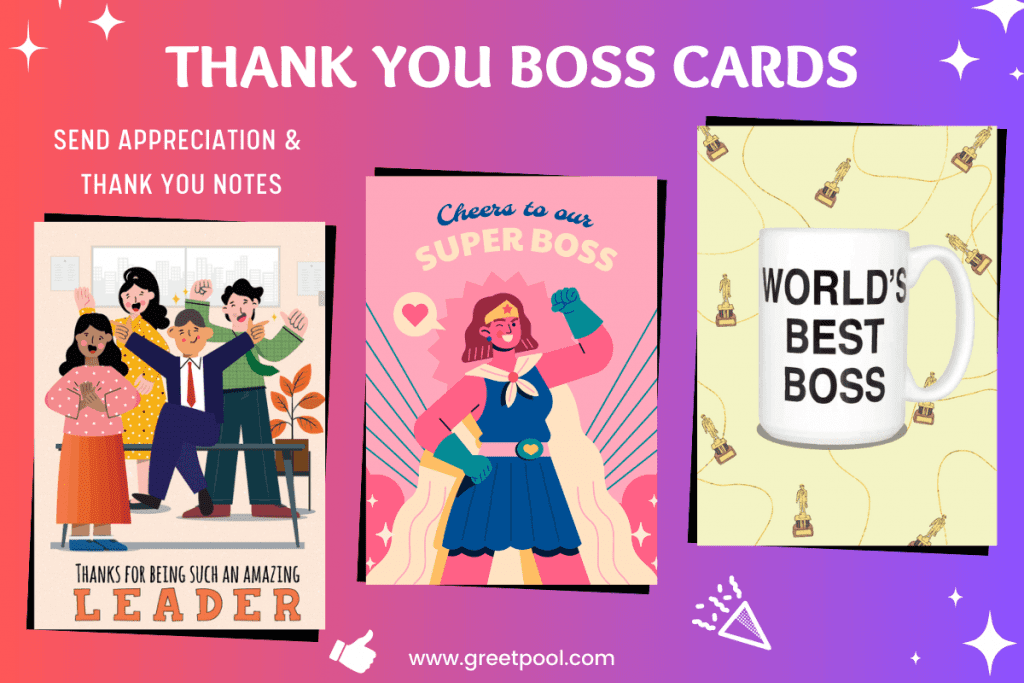 6. A Video Tribute
Collaborate with your colleagues and create a heartfelt video expressing your gratitude and appreciation for your bosses and managers to send one of the best boss day gifts to your leader. Include personalized messages, funny anecdotes, and examples of how your boss has positively impacted your work experience. This is an amazing way to show appreciation and celebrate remotely or in person. Present the video during a team meeting or send it as a surprise gift. You may also consider preparing a document or presentation highlighting the achievements and successes of the team under your boss's leadership. Include specific examples of projects, milestones, and positive outcomes. Share this compilation during a team meeting or send it electronically to your boss to demonstrate the positive impact they have made. This video tribute can be a perfect gift for National Boss's Day if done creatively. 
7. Boss Appreciation Day Personalized Gift
Instead of a traditional gift or generic gift ideas for National Boss' Day, think outside the box and get your boss a gift of appreciation that reflects their personality and interests. For example, if they are a fan of a particular sports team, surprise them with tickets to a game or a customized jersey or gift them a customized gift basket full of self-care goodies or gift cards they love. Bonding over common interests is a great way to celebrate always. The ideal gift would always be the one that is related to their interests. 
8. A Skill Workshop
Arrange a surprise professional development opportunity for your boss keeping the management team in the loop. Whether it's a workshop, conference, or online course related to their interests, side hustle, or career aspirations, this gesture will demonstrate your commitment to their growth and success. It is one of the best ways to commemorate this extra special day and also a productive gift that your boss might appreciate the most.
9. Coffee Break with a Twist
Take your boss out with all the company employees for a coffee break, but with a twist. Plan a coffee-tasting experience at a local café or set up a mini coffee bar in the office where you and your colleagues can brew different types of coffee and enjoy sharing interesting stories. It's a unique way to bond and show appreciation to the great leaders.
10. Team Building Adventure
Organize a team-building activity specifically designed for Boss Appreciation Day. It could be a fun scavenger hunt, a friendly sports tournament, or a team outing to an adventure park. These activities not only show appreciation but also foster team bonding and a positive work environment. This interactive experience will strengthen the bond between your team and your boss – a fantastic employee engagement activity indeed! Remember, the goal is to make your boss feel valued, appreciated, and recognized for their leadership and guidance. The more personalized and thoughtful the celebration, the more impact it will have in creating a positive work culture.
Boss Appreciation Day is the perfect opportunity to go beyond the ordinary and express your gratitude in a unique and memorable way. By implementing these refreshing ideas, you can foster stronger relationships, boost team morale, and create a positive work environment. Remember, small gestures can have a significant impact, so let your appreciation shine through with creativity and thoughtfulness.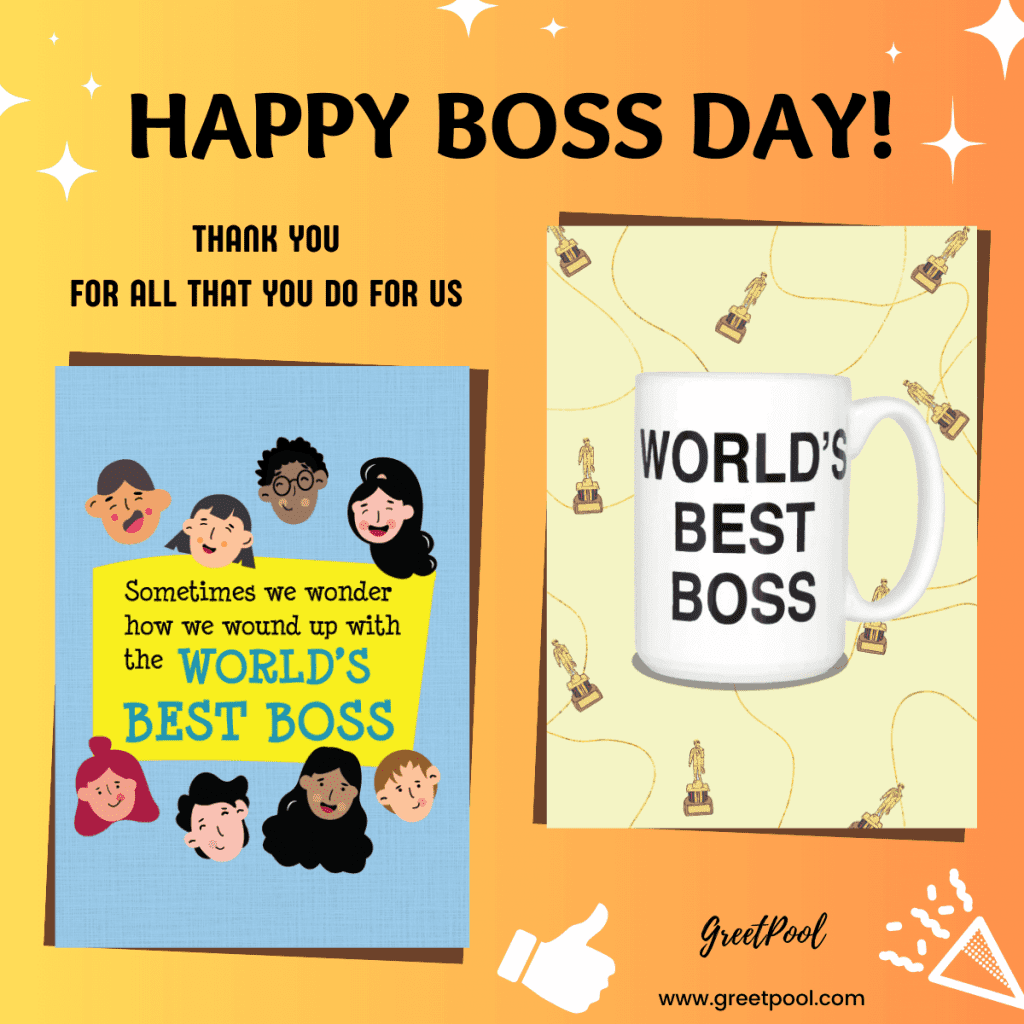 In Conclusion
Boss Appreciation Day is an excellent opportunity to honor and recognize the incredible leaders who guide and inspire us every day. By thinking outside the box and implementing these refreshingly unique ideas, we can create memorable celebrations that truly convey our gratitude and admiration.
Whether it's through heartfelt videos, personalized gifts, team-building activities, or acts of kindness, we can demonstrate our appreciation in ways that resonate with our bosses' personalities and preferences. These celebrations not only strengthen the bond between the team in the office culture and the boss but also foster a positive work environment where everyone feels valued and motivated and boosts office morale.
Remember, the key to a successful Boss Appreciation Day celebration is authenticity and thoughtfulness. Tailor the ideas to suit your boss's interests and create a meaningful experience that leaves a lasting impression. And don't forget the power of simple yet genuine expressions of gratitude—saying "thank you" directly can make a world of difference.
Let's embrace Boss Appreciation Day as an opportunity to celebrate the leaders who have made a positive impact on our professional lives. Through these creative and unique ideas, we can show our bosses that their guidance, support, and leadership are truly valued and cherished.
So, go ahead and plan a celebration that will make this Boss Appreciation Day one to remember—a celebration that will leave your boss feeling deeply appreciated and motivated to continue being an outstanding leader.